Archive
Reports from Spring 2004
16 April
Our predecessor
As a result of the piece that Adam Trimingham put in the Argus the other week I had a call from Brian Hutton. Brian is the paper's long time cycling correspondent and may be known to some of you (eg Alun). He was a member of a Brighton section of the Club in the later 1940s. Apparently the leading figure was Wally Newman, a local Labour councillor, who I've certainly heard of and I'm sure so have some of you (Andy being my best bet on this one). They apparently went in for racing pretty seriously and included some local champions. Most of the members, though, like Brian himself, tended later to concentrate their efforts with other local clubs like the Brighton Mitre (Bob has sent me an e mail about a jumble sale they're having in May which I will send on later) and the Clarion, Brian believes, disappeared sometime in the mid-1950s. Certainly, we know from that Handbook for 1962-63 that Ted turned up that it had disappeared by then. He's sent me a copy of an article he did some time ago about his early days as a racing cyclist in Brighton of which I'm getting some copies made for you as well as suggesting he sends a version of it for possible publication in Boots and Spurs.
Inaugural Ride
10 April - The Cuckoo Trail
Three of us managed the 'inaugural ride' in the end – Joyce, our newest member (we're now up to 7 with about as many more prospective joiners) Sheila Schaffer who some of you at least also know.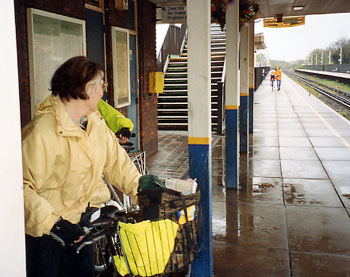 Joyce – Treasurer – arriving at the station
The weather was awful – cold, wet and windy and the Golden Martlet pub where we'd reckoned on having a break was covered in scaffolding and closed – but having survived World War II we were not going to let a spot of rain deter us. In spite of the weather we had an enjoyable day – and thanks largely to Joyce thoughtfully bringing a flask of hot soup we survived.
We decided that for the moment – and subject to general agreement – we'd reckon on having a ride every other Sunday and have sketched out plans for a couple of nice easy-peasie little ones of no more than 23 miles at the most for the next two. Ian
Sunday 25 April
Veteran Cycle Day at Amberley Working Museum
Bob had alerted us to this event and we arranged to meet him there. There were lots of interesting machines from all periods – I did note that the 'youngest' entry (in the 'Sports Machines' Group was only two years older than the bike I'd just ridden to Amberley on. This photo shows some rather older bikes – including a 'high ordinary' without which no event of this kind could be complete.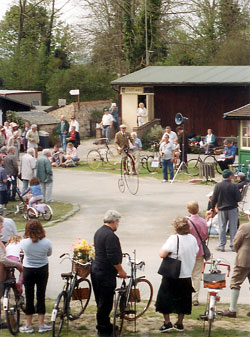 Sue and Ed arrived by car and after a while we found Bob and Colette.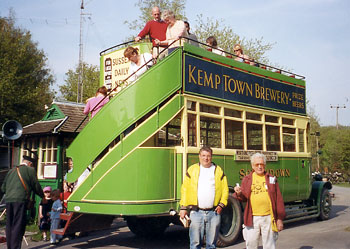 The Secretary (L – Ian) and the Chair (R – Ed) illustrating just how much they were in need of regular cycling opportunities. The ad on the vintage bus hints at how they may have got this way.
Sunday 2 May
Downs Link – Upper Beeding – Shoreham Airport
Weatherwise there could not have been a greater contrast with our first effort on the Cuckoo Trail a fortnight previously when we froze in soaked clothing. This time thank goodness the weather was perfect. Six of us made it – Joyce, Sheila, Chris, Sharen, Ed and me – and we were joined at the Bridge pub by Bob who terrified the rest of us with tales of 400 km (= 250 miles) Audax rides and Colette (who didn't terrify us at all!).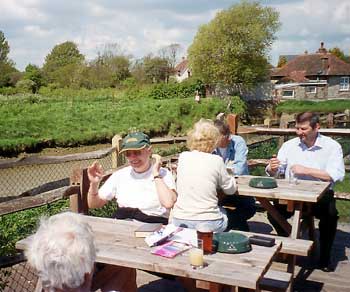 All except Ed – who we lost on the way back, or more accurately he lost the rest of us – had tea at the Shoreham airport terminal – and the consensus was that a good time had been had by all.
Ian

Sunday 16 May
Chichester Harbour
Four of us – Joyce, Sheila, Sue Pringle (joining us for the first time) and myself had a very pleasant ride (our 3rd) last Sunday in the Chichester Harbour area. The weather was better than forecast and the roads – mostly – very quiet.
Ian
Sunday 30 May
Pevensey/Normans Bay
There were six of us this time, Joyce, Sheila, Chris, Sharen and – for the first time – Richard, plus me. As with the previous 'run' we were lucky and the weather turned out a lot better than forecast.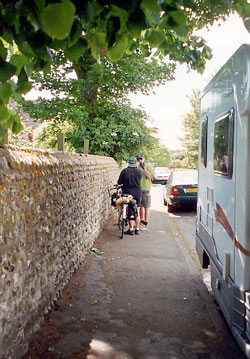 Joyce and Chris by Pevensey Castle
The route was nicely varied and – as a 'bonus' we stumbled on a 'mediaeval' event at Pevensey castle.
Ian