Brighton and Hove Section of the Clarion Cycling Club
There are currently no items for sale from the Brighton Section- please see the national website for availability of the items below.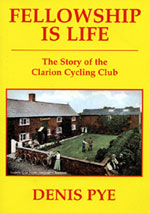 Book
Denis Pye Fellowship is Life. The Story of the Clarion Cycling Club. 2004 edition. Originally written for the 1994 centenary of the Clarion CC, this is a very good short paperback history of the Club with some fascinating illustrations. £4.95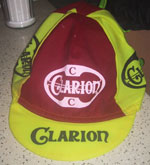 Hat/Cap
Popular headgear in Clarion colours red and yellow. Not a substitute for a cycle helmet but very good for recognition purposes. £3.50
Badges
The new badge is a silver' trumpet. This is in fact a reproduction of the original badge some of which have apparently been sold on eBay for up to £80. £6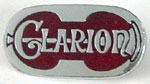 The old oval' badge. Smaller with a deep red background. Now only £2!
For other items see the national website.