Dear fellow members and friends

27 November 2006
If you are puzzled by the unusual gap of three weeks before the next ride, cast you mind back (always difficult!) to the circular of 21 August where I pointed out that if we kept to our normal schedule we'd have rides on 10 December and …. Christmas Eve. I'm not free on the 10th so someone else would have to volunteer to organise that one, but my suggestion – and I invited alternative views and objections – was that we go for one December ride and make that 17th. After a couple of months – wait to give time for alternative suggestions/volunteers (no takers) – I confirmed the arrangement on 19 October.
As it turns out it will be just a couple of days before the lunchtime get-together organised by Ed. It's a very short and easy ride – even by our undemanding standards. If you can't make the lunch on Tuesday why not come out on this one as a 'social' event?
And in the meantime, Tessa invites us all to a 'Christmas Bonanza' at the Biscuit Studio – 12b Wilbury Grove, Hove BN3 3JQ. It's in the cobbled mews off Wilbury and Eaton Road. We're promised a glass of mulled wine and lots of ceramics, paintings, prints, jewellery, accessories and cards by Tessa and her colleagues Karen Barron and Kellie Miller. All for sale with end-of-line reductions and, as she says, 'gift opportunities galore' and 'unique Christmas gifts'. It's taking place on the first two weekends in December – 2/3 & 9/10 11am-6pm. Do try and drop by.
 
The 'New Year's Day' brunch ride to Carats was popular last year and some people were, I'm told, even suggesting something similar for the Christmas get-together. But we can have both and suit all tastes and degrees of mobility!
Boots! 
Ian
The Next Events
Sunday 17 December
Berwick Circular – only about 16 miles…and pretty flat at that!
We did this in January this year and in 2005, but it seems to me a nice one to finish off the year – and I expect that the Christmas tree may be up outside the pub in Ripe.  
All on quiet and pleasant country roads from Berwick station to Chalvington and Golden Cross then back down to Ripe (stop for an early and/or long lunch at The Lamb) then Selmeston (tea rooms?) and back to Berwick with another 'tea' opportunity at the Berwick Inn next door to the station.
Trains are one an hour, so catch the 10.20 from Brighton station or meet at Berwick station at 10.43. Trains back 14.48 (arrives Brighton) 15.12 or 15.48 (16 12).
Brighton Clarion Christmas Get-together
Tuesday 19 December – from 12.30
 
In the upstairs Function Room of the Open House, Springfield Road
Members and friends all welcome. The pub is next door to the [back] entrance to London Road station and on the following bus routes – 5, 5A, 5B from Preston Circus 26, 46, 46A, 50, 50A, and 79 from Ditchling Road
 
New Year's Day - Special Brunch Ride
Monday 1 January 2007
I'm once more hoping that this easiest of starts to the year may tempt out some of those we seldom see – or even have yet to see.
Meet by the Palace Pier at 11am - or along the route at eg Maroccos. Only about 9 miles – plus from home and back to the Pier.
The Last Ride - Anne's report
Sunday 26 November – Essence of autumn
Hassocks – Twineham - Blackstone – Bramlands
After last time's bumper turn-out, a sparse 3 was all that we could muster for the last run of November, penultimate of 06. Having been engulfed on the gold course yesterday, Mick was allowed a game with his brother, leaving Anne a golf widow. She, or I, in fact, was delighted to see Fred at Brighton station, though he was a bit wary, or weary, having over-consumed at Carluccios, the previous evening. Train took a 10 minute detour through Hove to Hassocks, due to works on the line. No-one joined us there, but Ian awaited us at Hassocks and a lightly clad young woman was pleased to take the team photograph at the station. Sorry, there's no photo of her. She was only lightly clad for November and I was heavily over-clad and sweated in my snow-boarding trousers and layers of woolies, discarding hats and gloves atop all the hills and Fred left his hat in both the pub then the tea-room. Ian was far more sensibly clad in his cycling helmet, which was just right. [Ian adds: I was wearing clothes as well - it was far too cold for just a helmet!]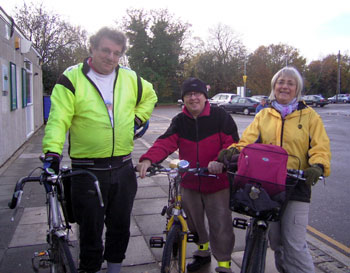 Ian, Fred and Anne at Hassocks station
 
We kept a steady pace up the hills to Hurstpierpoint College and all along the lanes lined with oak and beech leaves and abundant berries on holly and blackthorn bushes; super views of the Downs and away to the North the woods of the Weald. Bob Lane and the electricity farm/plantation were all bright from autumnal sunshine after yesterday's deluges. Ditches and fields were full of water and so were some of the lanes we cycled. We got a bit splashed but no falls, fortunately. We went through many a golden avenue of overhanging branches and arrived at the pub at 12.30 to watch a carriage driven by 2 beautiful black horses pass by us. The landlord of The Royal Oak said the horses used to pull the Harrods carriage, though Ian thought he said harrows and Fred said it may be the Duke of Edinburgh. The controversial Air Street cycle route [North Street Quadrant to be exact! - Fred] and its politics was dissected over a light lunch, by a log fire, also enjoyed by a greyhound with a bad leg.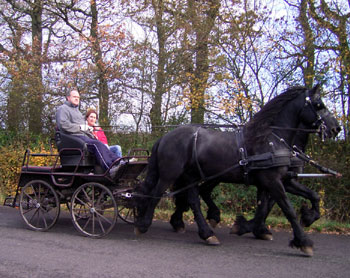 Harrods horses?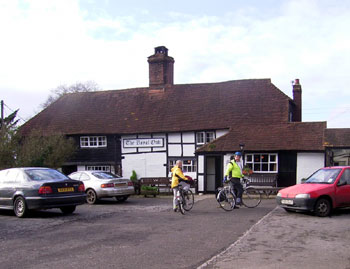 Lunch at The Royal Oak, Wineham
Ian and Fred approaching Blackstone - Anne's photo
Ian and Anne pause to admire Blackstone
 
The leafy village of Blackstone thanked us for visiting it and/or, driving carefully. We saw some shetland ponies and had earlier passed an odd hybrid pony/mule/donkey? Fields full of mixed cows, then mixed sheep looked a complete Guardian wallchart of their respective species. Next sight was the birds Joyce thought were ostriches last time we cycled that way. However, doubts surfaced as they looked a bit small for ostriches, which Fred, with his artist's eye, attributed to perspective and us being a long way away from them. At tea at Washbrook Farm, I asked the tea-girls what the big bird in the pen opposite them was, which looked like an ostrich, but was still too small for true ostrichness, even though, bigger than aforementioned, farmed 'ostriches'. After enquiring from experts herself, the tea-girl said that all ostrich-like birds in the vicinity were, in fact, rheas. Fred took a photo of their rhea, though not from too close, in case it pecked his rear. Ian bought us some tea and Fred and I bought some quail eggs, after both men had visited the whole of the Washbrook zoo-farm for free, while purporting to go for a wee – should have cost £4.50p. A whole horde of cyclists arrived for tea there; both Brighton and Adur and Arun CTC, but they were doing 60 miles to our 16 and had many miles to go before they sleep.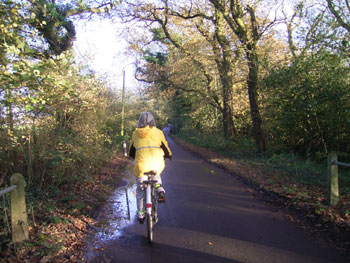 View from the Lanterne Rouge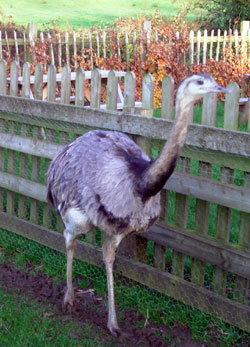 Ostrich or rhea?
 
A few more hills to climb as we wended our way back through Hurstpierpoint town and up on to Hassocks. The fine views of Devil's Dyke and Wolstonebury hills were tinged with pink evening sky. Thanks to Ian and Clarion we had enjoyed some fine exercise in late autumn sunshine to sustain us through the dreary wintry days to come.
Anne