Dear fellow members and friends

21 August 2006

Thanks, Neil, for organising the next ride. While we're on the subject, can Jim, or whoever is involved with the Isle of Wight weekend project, let me know what dates they have in mind – if things have progressed that far – so I can avoid scheduling a 'normal' Clarion ride for the same weekend?
By the way, if we stick rigidly to our present schedule for Sunday rides the second one in December would be on Christmas Eve which doesn't strike me as a brilliant idea. What I propose, but as ever am prepared to be argued out of, is that we skip the 10 December which would need someone other than me to organise anyway since I can't make it and have our one December ride on 17th. Then with our usual very short ride on New Years' Day we can resume 'proper' rides the following week (7 January) and go fortnightly thereafter. Hope that's OK with anyone.
Mention of Christmas reminds me that last year there were some suggestions about doing something different for a 'social' event, but in the end no one volunteered to organise it and we just did the same as the year before and met at lunchtime on a pre-Christmas Saturday at the Swan at Falmer. That still suits me but by all means let's try something else as long as someone else will take it on! Seems a long way off but time flies when you're enjoying yourself. Which I trust lots of you will on 3 September too.
Boots!
Ian
The Next Rides
Sunday 3 September
Worth Way – Crawley Down – West Hoathly – Balcombe c 21 miles
Starting at Three Bridges Station we'll almost immediately join the National Cycle Route, though for the first half mile or so this is indistinguishable from the residential streets of east Crawley. Worth Way proper begins after a mile or so and we'll then be traffic free for a good six miles. Through Crawley Down we'll continue on the cycle path to the edge of East Grinstead where we'll leave the path and head south on the relatively quiet roads to West Hoathly. We can stop for lunch at The Intrepid Fox and then take the scenic (and almost exclusively downhill!) Hamingden Lane, through the village of Highbrook. We'll then have a tough decision: a straight run back to Haywards Heath perhaps stopping for tea in Lindfield
OR the much more pleasant but extremely hilly in parts road to Balcombe via Ardingly and the reservoir with tea either at the Half Moon in Balcombe or the tearoom we went to on Jim's ride a few weeks back. We can put this to the vote on the day.
Catch the 10.46 from Brighton gets to Three Bridges at 11.10 (direct).
Returning on 16.23 from Balcombe or 16.28, 16.33 or 17.03 if we finish at
Haywards Heath. A return to Three Bridges is probably the cheapest ticket option. [Neil]

Sunday 17 September
Shoreham – Steyning – Wiston – Buncton – and back c 20 miles
I thought it might be good to do a ride to take in a lunch stop at the Wiston Post Office Tearooms where many of us took a break during the Shoreham Tollbridge ride while it's still likely to be warm enough to sit outside and enjoy the collection of animals there. And this time we can take our time there without being hurried on!
The route is largely a truncated version of the Tollbridge route. ('New to Clarion' stretch in italics as last time). We'll cross the Toll Bridge and take the Coombes road as far as Botolphs and then avoid the hills at Annington by taking a stretch of the Coastal Link. Through Steyning and towards Ashurst tuning west along Spithandle Lane to Wiston and our lunch stop. Then we'll continue on for just about half a mile and have a look at Buncton Church before almost unavoidably* - doing a couple of miles along the busy A283 back to Steyning from where we'll retrace our steps with the possibility of a tea stop at Shoreham Airport (perhaps at Terminal Two for a change?)
Catch the 10.50 from Brighton station or meet at Shoreham station at 11.05. Return trains are at 9 and 39minutes past the hour. [Or make it a longer ride by cycling to and/or from Shoreham too]
Points of interest. Apart from the hens, ducks, geese, pigs and goats – including if the website is to be believed, the goats, Martha & Honey, Henry the infamous "Ashington pig" ho was found wandering in the nearby village of Ashington and his friend George' at Wiston tearooms and the view of Chanctonbury Ring still recovering from the 'hurricane' of 1987 the main interest is Buncton Church. This is (part of) how Ian Nairn described it in the Pevsner guide. 'Delightful approach down a wooded ravine and up again. Unrestored Norman nave and chancel with C19 represented only by a bellcote.' We'll also pass, of course going and returning the small medieval churches at Coombes and Botolphs.
* There are two possibilities of avoiding this c 2 miles of busy road.
1) we could retrace our steps (wheels?) back along Spithandle Lane etc.
2) we could use the footpath which becomes a brideway at the back of Wiston House on the lower slopes of the Downs but this, though just about do-able, involves getting over 4 or 5 stiles. In years gone by one could avoid much of the main road (and all of the stiles) by cutting through the Wiston House grounds but now with hi-tech security fences etc this is no longer possible. Hence, putting up with a bit of main road seems to me the best option but we can decide on the day. [Ian]
The Last Ride - Roger's Report
20 August 2006
Norlington – Vert Woods – Golden Cross
Four Clarion members met at Brighton station, John, Joyce, Suzanne and Roger. We found space four our bikes on the fairly crowded 10:20 to Ashford and about twenty minutes later we met up with Ian at Glynde.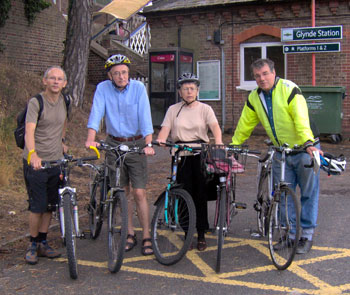 John, Roger, Suzanne and Ian at the start
Ian was the leader for this ride. We set off up the hill and made our way around Ringmer on some pleasant and (to me at least) unfamiliar roads, including the evocatively named Potato Lane.
The most notable landmark en route was a roadside plot with two small bumps which, allegedly, are the graves of two men who died in a duel nearby in 1800. There was some debate about why there were two graves, since a duel usually has a winner and a loser.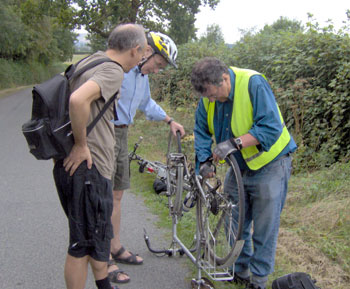 Trying vainly to sort Ian's bike
A few miles further on Ian's chain jumped off and refused to go back because of a twisted link. Various attempts to straighten it failed and Ian decided to walk back to Glynde, leaving the rest of us with a map and instructions for the remaining route. Leaderless now, we pushed on through the woods, braving muddy potholes, barking dogs and nose to tail traffic on the A22 heading for the Eastbourne air show.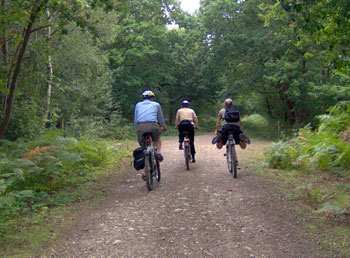 In the wood
We enjoyed a good lunch at the pub in Golden Cross, followed by a good soaking on the road through Ripe. Any dampened spirits were soon lifted however, when we arrived back in Glynde with only two minutes to wait for the Brighton train.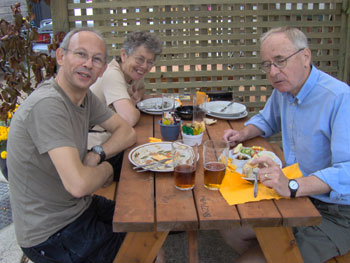 At lunch
Thanks to Ian for a well-planned route – sorry you didn't get to finish it!
Roger
Note from Ian. Got back without too much difficulty, taking full advantage of the downhill bits and finding that to a limited extent I could still pedal very gently in a very low gear – very slow but quicker than walking. Fortunately, although we'd done over 9 miles before the problem arose, the route had wriggled about so much that we were still less than half that distance from the station.