Dear fellow members and friends

19 October 2006
I've just received a 'Christmas Fayre' catalogue from the milkman – I'm old enough to remember when they just delivered milk – so it's clearly time to be thinking about our Christmas get-together.
You'll remember that Ed responded nobly to my plea for someone to do the organising this year.
His suggestion is that we meet for lunch at The Nelson, Trafalgar Street on Monday 18 December at 12.30. The venue sounds fine for public transport, but not for bikes, and is not too far from Sheila's house; it would be really nice to see her, but I'm not so sure about the day. Obviously the pub will be far less busy on a Monday lunchtime, but on the other hand, though retired folk of leisure – like me – would have no trouble making it, those still slaving down various saltmines – and we do have quite a few of them – might not find things so easy.
If you cast you mind back to the Circular of 21 August (no mean feat!) you may recall that I proposed – to avoid a schedule that would have us doing a ride on Christmas Eve – that 'we skip the 10 December ride' – which would need someone other than me to organise anyway since I can't make it – and have our one December ride on 17th. No one objected, as invited, and in such matters 'silence means assent'. So my variation on Ed's proposal is same place and time but on Saturday 9 December – which seems to me near enough Christmas from the celebratory point of view while early enough to be less busy than the following week.
Let's call Ed's original proposal A and my variation B. Please let me know your preference, or even alternative suggestion, by the end of October, so that if we decide for 'Plan B' Ed has a reasonable chance of altering the booking and a better idea of how many are likely to be there.
Boots!
 
Ian
The Next Ride
Sunday 29 October
Hassocks – Barcombe – Hassocks (c. 21 miles)
I planned this ride last winter but had to shelve it because of the
engineering works between Brighton and Hassocks. Having ridden it again to
make sure all the roads are still there now would seem as good a time as
any to give it another go.
Meeting at the station, we'll ride through Hassocks and using the conveniently positioned farm tracks will be able link up with Underhill Lane which runs along the foot of downs to the bottom of Ditchling Beacon. The road busies a bit at Westmeston but is worth staying on for the Downland views and trees. We'll join the Offham Road briefly before turning left for Hamsey and quieter terrain all the way to Barcombe where we can have lunch at the Royal Oak. We'll return crossing the A275 north of Chiltington and then it's quiet roads and bridleways (via Plumpton Green and Streat) all the way back to Ditchling where there's a tearoom. We can then follow Lodge Hill Lane passing Oldland windmill and complete the final half mile or so back to Hassocks.
Catch the 11.00 from Brighton or meet at Hassocks station at 11 10 Trains back leave at 38 minutes past the hour (so probably the 4.38)
Neil
The Last Ride – Suzanne's report
Sunday 15 October 2006
Polegate to nearly Heathfield
[Warning: the text below may contain clichés which you find excruciating]
Fred, Joyce, Marc, Roger and Suzanne started the day well with a lively conversation on Brighton station concourse about how trains no longer had guards'-vans for bikes as this meant wasted energy on trailing empty carriages. We then got on the train to Polegate… and it was trailing four locked carriages. Fortunately this did not make us late at Polegate as Anne and Mick were waiting for us and after the traditional hapless passer-by had been dragooned into taking the official photo, off we set up the Cuckoo trail.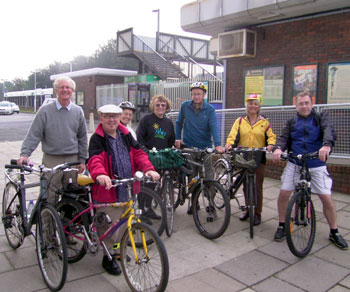 Mick, Fred, Suzanne, Joyce, Roger, Anne and Marc
The autumn sun dappled through the branches as we wended our way northward along the old railway line. An excellent surface made easy riding and as we rode we saw rabbits, woodpeckers, badgers, horses, foxes, cyclists, walkers, mushrooms, berries, bushes and trees – admittedly many of these were depicted in delightful woodcarvings along the way or on the lovely filigree railings of Cattle Creep Bridge but we enjoyed them all, real or artistic. We passed by cool dingly-dells and sunlit rolling fields; we caught a glimpse of lake and rode across a vertiginous embankment built by manual labour some hundred and fifty years ago; under and over graceful brick-built railway bridges and we even whizzed along the abandoned platform of Horam Station. And then back into the car-borne world via a short footpath.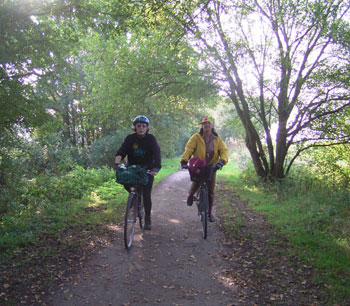 The Cuckoo Trail
Water and view stop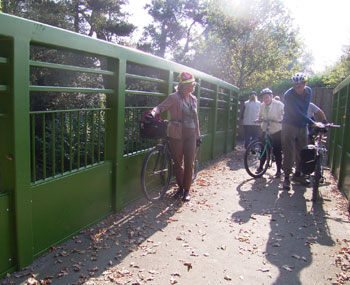 A new bridge over 'steep descent to road'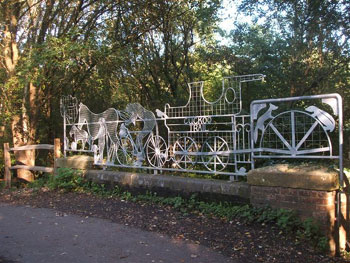 Sculptural bridge – Anne's photo
We had arrived at the 'Runt in Tun' pub. Lunch in their sunny garden with the view toward the south spread before us was a delightful break. This didn't satisfy Roger who had to challenge anyone in the assembled company to a game of chess. As the pieces were 18 inches high and the board measured 6 foot by 6 foot there was no disguising the fact that he was roundly trounced by Mick.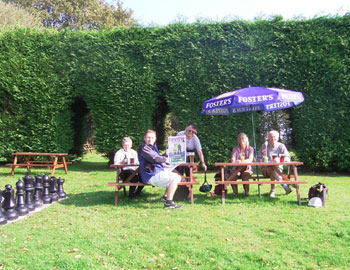 In the pub garden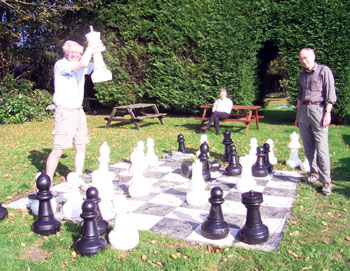 Victory for Mick in the first Clarion Chess Challenge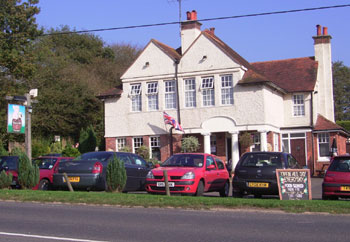 The Runt in Tun
It was all downhill after lunch. We had risen from Polegate (40 metres above sea level) to Heathfield (80 metres above sea level) so we reaped the benefit of what we had sown in the morning as we gracefully glided southward to a welcome cup of tea at the The Old Loom just north of Polegate by-pass.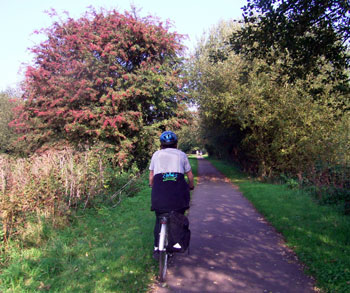 Joyce approaches tree full of berries (Rowan?)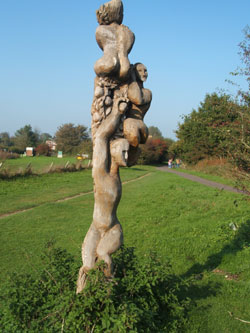 The Harvesters (appropriate for Autumn) – photo by Anne
It had been a grand cycling day out – for Clarion riders, but for so many more including the many children seen riding on the Cuckoo Trail (thank you National Cycle Network).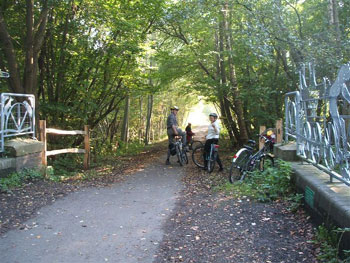 Looking down the lane - photo by Anne
We arrived at Polgate station to find a train waiting for us (engineering works can have their silver lining) and a helpful guard. More cyclists were accommodated elsewhere on the train and even more got on at Lewes. Nothing to mar the day. If it wasn't for the yawns, the creaking knees and the rather painful backsides, you would never have known we had all done 21 (and a half, Joyce assures me) miles.
Suzanne
[NB Anne's photos of Fred getting stuck on the childrens' slide in the pub garden, used as a surrogate Tate Modern have been censored! - Fred]