History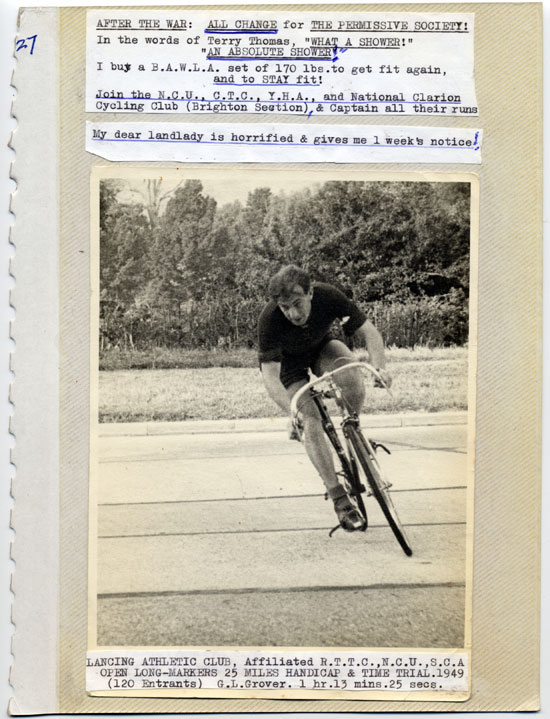 Wally Newman and the old Brighton section
Ever since we started the Section back in 2004, I have been trying to find out more about the old Brighton section and its members. There are pieces by Brian Hutton and Ken Wells on our history page of the website as well as a photo of a youthful Dave Gravett during a race. Just before Christmas Brian put me in touch with Margaret Newman, the widow of Wally Newman the former Brighton CCC Secretary, and another former member, Derek Cover. Sadly, we missed getting in touch with Gilbert Grover, who died aged 93 in 2008, but Derek has much of the material from Gilbert's collection and I hope to be able to gradually use as much of it as possible in circulars and/or on the history page. I also hope to be featuring Margaret's – and possibly Derek's – memories of the Brighton Clarion in those days.
The old Brighton Section
There are still mysteries to be solved. No one is sure when the section started or exactly when it finished! One of the few bits of information we have is a page headed 'Brighton Clarion Cycling Club 1948/49' written by Gilbert Grover which on internal evidence must have been written in the later 1990s – possibly at the time of Wally's death in October 1995. This lists the following:-
Founder - A Giles,
President - Christopher Shipham
Secretary - Wally Newman
Club Captain - Gilbert Grover
Then there's a list of members – some with what seem to be then current addresses. Listed are Derek Cover, Stuart Brenchley (who lived in Burgess Hill), Peter Brookhurst, Margaret Newman, Vera Hill, John Meeres, Cedric Nicholson, Ron Pearcey, Marion Pearcey, D Thornton, D Picken.
There then follows a list headed 'Defectors' listing those who had left the Clarion to join either the Prestonville Nomads or the Brighton and Hove Wheelers. This, says Margaret, is when 'the rot set in' The Clarion was involved in racing but it was not a 'pure' racing club and some of the Clarion members were attractive subjects for poaching – especially Colin Whitingham, who is one of the two riders featured in the photo that accompanies Brian's recent piece on the Preston Park 'velodrome'. Derek adds that some of the 'opposition' were fond of telling people not to join the Clarion – because 'they're all Communists' - which was far from the truth, though it is thought that probably Gilbert Grover was in the CP at that time.
The 'defectors' listed are Derek Marsh, P (Michael) Moreton, Kenneth Wells, A Boniface, Peter Howarth, E Howell, Peter Humberstone, Derek Payne, Colin Whittingham and Colin Moon.
If anyone mentioned above reads this, or anyone who has any information about these Clarionettes or about the Brighton Section of those days please contact me, Ian Bullock, (01273) 682133 or i.bullock@ntlworld.com.

Wally Newman 1913-1995
Wally was born in Brighton and attended St Luke's School. Before and after World War II he worked for the Alliance Building Society. He retired in 1973. During the War he was in the Parachute Regiment, was captured at Arnhem in the autumn of 1944 but subsequently escaped from a working party with two others who managed to make their way to Allied lines.
He had been stationed in Somerby, near Melton Mowbray in Leicestershire and during this time had made friends locally. Amazingly he used to cycle there and back from Brighton to see them about once a month for years after the War.
He met his wife, Margaret, the source of this information when she joined the Brighton Clarion C C, of which he was Secretary, in 1949. They married in 1951.
Wally was a Labour councillor representing Moulsecoomb ward between 1952 and 1976 when he lost the election. He had been in line to become mayor the following year. He was also Secretary/Treasurer of the Brighton Branch of the Clerical and Administrative Workers' Union for many years.
Wally Newman: Gilbert Grover's Tribute
[Margaret remembers that Gilbert spoke at Wally's funeral, but is uncertain whether this was his 'script' – which I suspect it is - but it is clearly at tribute to Wally written after his death.]
I came back from India after the War to find my life a wreck; well, not quite but very nearly. Impossible to pick up the threads where they had been broken. The process was called 'settling in' or 'resettlement' when it should have been termed unsettlement. We hear a lot about counselling nowadays - talking things through. Wally was an expert at it. Not by words for his words were few, but better still by sheer practical example.
I meet Wally when he happened to be Chairman of the local branch of the National Clarion Cycling C C and later its honorary branch secretary. Persuaded to become a member, I soon found myself on its committee. Wally was indeed the king-pin of our Club in an unostentatious way, encouraging youngsters to take a really healthy interest in the countryside and in harmless open-air pursuits.
There were cycle runs every Sunday in all weathers throughout the year to all parts of Sussex and adjacent countries as well as competitive race meetings and road time-trials, Throughout 1947-1950 I cannot recall him missing a meeting, run or event. His energy and enthusiasm were quite contagious, maintaining control not as a bossy boots but because he earned the Club's great respect.
My records show that from February 1947 to May 1948, the membership more than doubled mainly due to his encouragement. He added a ladies section to our Club, and soon had us joining the Youth Hostel Association to cycle further afield exploring fresh woods and pastures new – as Milton would say – giving the impulse to cycle through 26 counties into mid-Wales, an exhilarating experience beyond description which could not be equalled by any other form of transport.
Throughout our friendship, I never remember Wally using bad language and he was always ready to lend a hand to those who needed it. Richard Jefferies, the great naturalist, mystic, and philosopher (who once lived in Hove and is buried in Goring) wrote, 'How pleasant it would be each day to think, to-day I have done something that will tend to make future generations more happy.' I believe that sums up Wally's outlook. He devoted so much time and concern to others, with quick wit and ready humour which was one of his most admirable characteristics.
Without him realising it, helped me to face great change in my life and make momentous decisions. We have much to thank him for.
---
I've borrowed some of Gilbert's annotated photos of the old section which Fred is putting on the history page.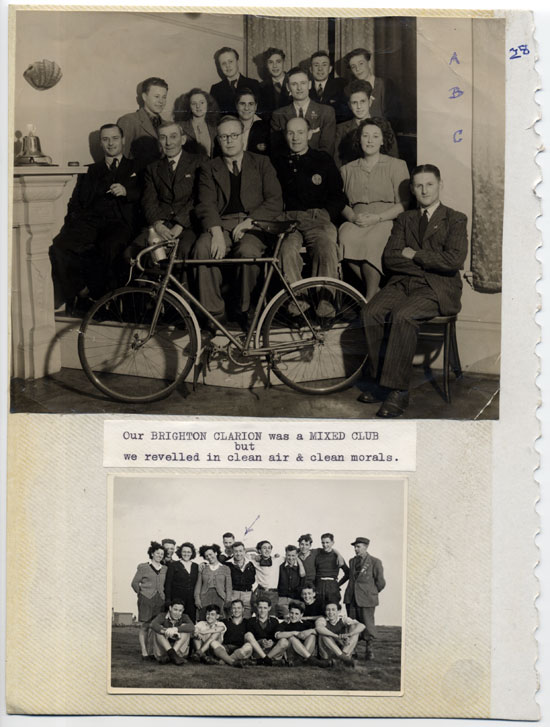 Gilbert Grover, one-time Captain of the Brighton Clarion in the post-war years seems to have put these annotated photos together as part of a scrapbook record of some sort - notice the numbering of the pages. I will try to find out more about this from Derek Cover from whom I borrowed the material. The captions were obviously written much more recently. [Gilbert died last year.] The term 'permissive society' only came into general use decades later. I was puzzled at first by Gilbert's reference to being thrown out by his landlady [see top photo] - it seemed an unlikely reaction to someone for just joining a cycling club - even the Clarion! But Derek explained that it was Gilbert's weight training activities - with the house vibrating from heavy weights crashing to the floor that understandably alarmed her.

In the indoor group photo - probably from 1946 or '47 Wally is the one on the left with a cigarette in his hand. Margaret, who hadn't seen this photo before was shocked. Wally didn't smoke when she met him just a few years later and she wasn't aware he ever had. Gilbert is second from the right in the back row. Giles - I think that's his surname - is described elsewhere by Gilbert as the 'founder' He's the balding chap, second from right (next to the woman) on the front row.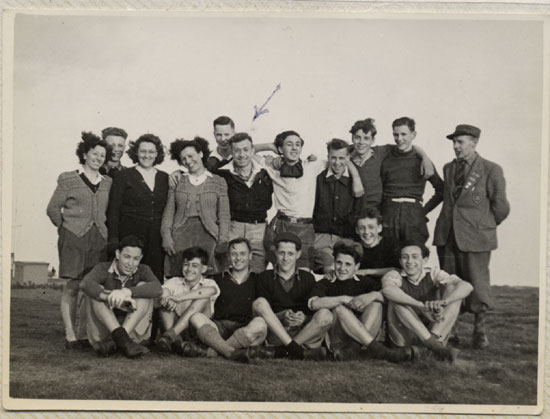 Close-up of the outdoor group shot.