History
This is destined – together with a photo – for the history page of our website. But in the meantime it makes an excellent postcript to Jim's report. He mentions Brian's account of earlier days. During the conversation Angela mentioned that the children at her school enjoyed visiting the 'velodrome' in Preston Park. Brian then told us a great deal about the history of the cycle track and said he had a photo of an event there c 1950. I asked him if he'd write us a little piece and lend us the photo to put on our history page. And quick as a flash – no, even quicker than a flash - he has done this.
Brian is our one current member who was in the original Brighton Clarion and is cycling correspondent for the Argus. If you've recently joined us you may like to have a look at some of the other pieces about cycling in Brighton more than half a century ago which feature on our history page. That will do for the intro – so here he is on
The Glory Days of Sussex Track Cycling
by Brian Hutton
Track cycling is booming in Britain thanks to the efforts of the Great Britain team who won a host of medals in the 2008 World Championships and the Olympics. Track riders such as Chris Hoy, Bradley Wiggins and Victoria Pendleton, and road racer Nicole Cook, have scooped the headlines and justifiably so.
But the packed indoor Manchester Velodrome is a far cry from Brighton's 'velodrome', which is twice the size of most tracks, has very little in the way of banking and surrounds the cricket pitch at Preston Park. But racing has been going on there from around 1900. Go there on Wednesday evenings at 7 pm between the beginning of May through to the second week in August and there you will find local riders from around Sussex as well as visiting riders from London who put on a good couple of hours of free entertainment taking part in the Sussex Cycle Racing League's meetings, cheered on by their enthusiastic supporters.
Yet, although it may seem hard to believe now, in the immediate years after the Second World War and into the early 1950s, 5000 or more people used to pack the Preston Park track to watch the big open meetings which drew world stars such as Reg Harris, Arie Van Vleet, and Sid Patterson to contest the thrilling Sprinters' Grand Prix events. On one occasion a track meeting clashed with a Brighton & Hove Albion home game and it was the cycling which drew the biggest gate! And several thousand fans used to regularly support the Sussex League meetings because the local riders, such as "Tiger" Cooper, Dennis Sutch, Colin Whittingham, and Alan Limbrey were hugely talented and knew how to play to the crowds.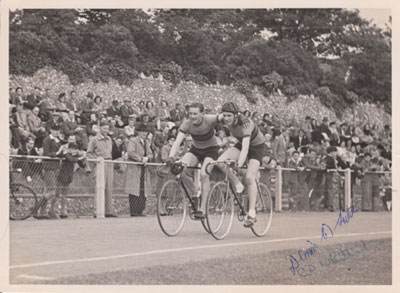 Dennis Sutch and Colin Whittingham - whose signatures you can see at the corner - celebrating victory at a meeting in around 1950
So why not come along next summer and see for yourselves this exciting sport? Sussex is producing top riders again, such as 16-year-old prodigy Felix English, who two years running has humbled the older riders by winning the senior track league and Peter Mitchell, who won a gold medal in the 2007 Junior Championships in Mexico. Who knows – with your support Brighton may one day have its own indoor velodrome and we can recapture the glory days again!