Archive
Reports from Winter 2008/2009
[More photos on Flickr]
Sunday 8 March 2009
Hassocks – Wivelsfield – Plumpton – Westmeston – Hassocks
Was it a record?* Seventeen eager cyclists on Hassocks Station platform:  Alan, Alice, Angela, Anne, Fred, Ian, Jeff, Jim, Lawrence, Leon, Luke, Nick, Richard, Steve, Sue, Suzanne and Tessa.  Hassocks Station not being the busiest on the network, no 'external' photographer could be found, so Leon photographed the group – then Fred photographed the group and off we set.
[More photos as ever on Flickr]
We explored the mysteries of the byways of Hassocks and then followed a B road to the outskirts of Burgess Hill (a hilly area confusingly known as the Low Weald). A tricky right turn took us though the fringes of the town, a sharp left onto the B2112 took us over part of Ditchling Common Country Park and an area that must have been known as 'Convent Corner' before the ecclesiastical establishments of St Mary's House and St George's Retreat were partially turned into rather exclusive apartments.
But did we notice? Did we care?  No, we were flying along enjoying the sun, the breeze in our helmets and the swish of rubber against tarmac. That was when someone decided to put hills into the equation. Past Wivel's Field (yes, Mr Wifel really did have his field here circa 765) and its eponymous Green. The Hundred Acre Lane brought us to Streat. Hard to pinpoint at which exact point the interspecies moustache competition took place – but in that epic clash of the hirsute upper lip, Leon v. horse, I have on good authority that Leon won 'whiskers down'.

We splished and sploshed along the delightful bridleway past the southern end of Plumpton Racecourse before turning right onto Plumpton Lane;  the home straight. At the top of the last of those 'undulations' promised by Ian ('undulation noun – gentle rise and fall' Readers' Digest Dictionary!) was the Half Moon public house.  We hitched our trusty steeds to the railings and set off the find reserved table(s) for 17 that Ian had warned them of some two weeks ago and had phoned to confirm not two hours previously.
They must have misunderstood. They must have thought the message was: 'I am bringing 16 midgets with me and two can easily share one stool and eat off a surface of some 5 square inches.' The one table that had been reserved for us might just have accommodated 12 at a pinch. It was a Harvey's pub, however, so it was not all bad. Beverages were in hand, food was ordered and the wait was waited – 1 hour and 10 minutes in the case of two hapless souls. The good news is that Nick got a good photo of the tomato and chilli soup to add to his collection of soup photographs.
The ride back to Hassocks was not to be too long. Pity it had started to rain. And the wind to blow. However, Clarionettes are anything but wimps. We saddled up and set off along the scenic Underhill Lane, through picturesque Westmeston. The run down into Keymer was most welcome. The three generations of L, L and L peeled off toward home in Hassocks, Angela and Ian made their way back to their motor vehicles, Nick wended his solitary way onto the north-bound platform of Hassocks Station as the rest feasted on fudge, ginger and toffees on the southbound one (sorry, Nick, you could only watch).
A great day out (many thanks, Ian) with neither the tool kit, the puncture repair outfit, nor the First Aid kit needed.
Suzanne
* A second record was Suzanne producing this brilliant report so speedily. Ian
Sunday 22 February 2009
Seaford and Newhaven
When I arrived on Brighton station there was already a group of cheerful Clarionettes eager to get started.
Roger and Suzanne were busy supplying all with 'group four' or 'group three' rail tickets in exchange for £2.60 minus a small adjustment to equal our total number. Things were happening quite quickly due to the Seaford train leaving at 10.10am. There was plenty of room on the train for us all; Roger, our ride leader, Suzanne, Alice, Joyce, Sue, Annette, Fred, Jeff, Kevin and Leon.
The air was buzzing with happy chatter all the way to Seaford where we met Angelika, Liz, Angela and Ian. I think several photos were taken in the station car park before setting off, but wait, a head count was necessary to help keep ourselves organised and prevent loss of any falling behind.
There were fourteen of us, this is the second largest number since Jim's ride on 04-11-2007 when we numbered sixteen.
We were underway and heading through the small streets of Seaford in what seemed to be a circle before reaching a high point above Seaford Bay. Pausing a short while to take in the view we could see the East pier and breakwater of Newhaven harbour, the furthest point of our journey.
Down we went to sea level and passed the Martillo tower and headed west to Newhaven. After a short while cycling on the Esplanade and Marine Parade we left the tarmac behind and walked on the pebbles that covered the path almost to the remains of the Tide Mills. The site was not very impressive but there was a notice to explain what had been there.
Leaving via a small track down to Mill Creek and a concrete footbridge over the railway. The path and bridge were in a disgusting state due to antisocial dog walkers. Then through the sheds and terraced houses backing the harbour until reaching the swing bridge on the A259.
The route now improved along the riverside with some quite nice flats and boat moorings until we reached Fort Road and our lunchtime break at the Hope Inn. The clamber to quench our thirsts with jugs of ale and tea for the more refined members introduced us to the landlady; a very prim and proper North Country woman who exuded an air of authority that must not be tested. The meals came in good time and were of good quality and reasonable cost. The toilet facilities here were guarded with a coded lock to prevent unauthorised use by non-customers.
After a very relaxed lunch break we mounted our machines and headed back to the swing bridge where we needed to share our space with motor traffic for a while before joining a super new cycleway that led us back to Seaford. Along this very welcome route that wended between areas of marsh-grass and meadow were adult rabbits scurried this way and that, not showing much fear of humans or even Clarionettes.
Now it was journey's end and farewells to Angela and Sue, then Liz and Ian at the station.
The train was waiting so we quickly boarded and were happy with such good timing. Angelika was next to leave when we reached Lewes where the train started to fill, and again filling more at Falmer. At Brighton station I lost sight of most of the riders and dashed for my Hassocks train, only to sit and wait fifteen minutes for it to depart.
I enjoyed this winter ride of just sixteen miles and by the smiles on the faces of all other riders I am sure I can say a big thank you from all of us to Roger for organising it.
Cycling with fellowship is a winner for me.
Leon.
Sunday 8 February 2009
Lewes Circular Ride
[Many more photos on Flickr]
Ask not how they got there, just admire them for making their way to Lewes station by 10.30 am on a not-quite-so-bright Sunday morning: Alice, Angelica, Angela, Anne, Helen, Jim, Joyce, Mick, Simon, Suzanne and Tessa stood ready and posed for the group photo. Don't be surprised by the open mouths in the photo: our friendly passer-by was obviously a proud Lewes man and insisted that we say 'Harvey's' instead of the more traditional 'cheese'.
Jim then lead us on a nostalgic tour of the sites of the two former (now vanished) Lewes railway stations: this is where we learned that if a picture is worth a thousand words, an 1873 map is worth 10,000,: so thanks to Jim for bringing documentary evidence to support his fascinating insights into some hidden corners of the county town and of its railway history.
Then pedal power came to the fore as we clambered slowly up out of Lewes, across the A26 and onto the up gradient of the Ringmer road. On the outskirts of Ringmer, a headcount revealed that we were missing Angela and Angelica – it transpired that Anglica had had to give first aid to Angela's new bike which had succumbed to cramp in its brakes. And then we were off, flying over those lovely flat(ish) lanes: Norlington; Green and Harvey's (of course!) of that ilk, round Crump's Wood, along Horsted Lane and, Oh Heaven, Oh Joy: stopping at the Laughing Fish at Isfield station – a hostelry and former station hotel, despite its bizarre 1960s name. In the absence of Fred we actually had to eat all the delicious food instead of just letting it be photographed – and excellent it was.
Then the moment of truth, as the already aching limbs climbed back into the saddle for the rather more challenging and longer part of the ride. Isfield Mill towered impressively by the road, still advertising Pig Meal and Ground Oats on its brick walls. But where there's a millstream, there's valley sides – no, let's call a spade a spade: the words Buckham Hill tell the tale. But the sun was out, walking was a pleasure, the ancient houses pleased the eye and, as well we all know, fellowship is life – so we were really living.
Piltdown came and went, as did the village / hamlet of Spithurst where the tomb of the local worthy family seemed to be nearly as big as the Church itself. Spithurst was closely followed by Mount Pleasant … and by this time several members of the party were beginning to suspect that anything to do with a Mount was not at all Pleasant.
It was decision time at Barcombe Cross: to sup or not to sup of tea and cakes. The non-suppers carried the day, which is probably 'A Good Thing', for as we passed Curds Farm and Packham's Brow (who on earth makes up these names?) the clouds began to gather and a cold rain started to fall. At the southern end of The Drove, a little turn and a steep incline brought us onto the main A275 at Offham … and brought us nose to beak with a Red Tail Buzzard who just happened to be off for a walk (or a hunt) sitting calmly on his owner's gauntlet – brave Angela to have stroked the sharp-billed predator.
The wetness underfoot precluded the quiet, scenic route from Offham down to Lewes, but with the help of the pavement to keep up clear of speeding cars on the narrow main road we eventually swooped our way back to our starting point. Some did their swooping faster than others and managed catch the 4.15 train for an early hot bath; Angelica hopped upon a waiting Victoria train; cars were ready to convey other home and the stragglers brought up the rear on the 4.45.
Many thanks for Jim for a superbly planned ride; it had a bit of everything and was a good training to begin to get us fit for the longer 'summery' rides.
Suzanne
Sunday 25 January 2009
Michelham - Wilmington – Milton Street
The rain was smashing down on the Velux window in my bathroom at 8am, it was dark and overcast and I so very nearly went back to bed ! But, not allowing my mind to think about it, I found myself hauling up the station road, still in the rain, to find ... no-one. Not wanting to believe that I was the only one, I hung on so long that I almost missed the train and as I sat on the train I had the fleeting thought that perhaps Ian would not be there either. But of course there he was. After a very short consultation we decided that the ride must continue and so it did, after the usual photograph taken by a solitary man waiting at the bus stop, who told us how he had cycled all the lanes of Sussex in former times.
So off we rode, still under a strong downpour which did not let up all day, into a rain-soaked countryside where the fields had become lakes and I worried where the sheep had gone. This was a ride where we were going to be at one with the elements! Through Upper Dicker to Michelham Priory, check the gatehouse and note the unusual height of the moat, and the way the Cuckmere was now about 4 rivers (one could see why the flood plain is so important). Fortunately the bridge was still high and dry and there was pleasure to be had riding in a countryside which was like an etching, all colour gone except shades of grey and when we got to him the Long Man seemed more lonely and solitary than ever. After Wilimington we bravely took a 'shortcut' along a path which was extremely steep and so muddy it was like an ice rink, no riding here, we both crawled down hanging on to the bike like dear life. Arriving (early) at the Sussex Ox was welcome indeed – a fire and an opportunity to take off some of our dripping clothes. Great service, good food and we were able to have a leisurely lunch, a chat about any number of things and still leave plenty of time to get back.
Then we found a 'closed' barrier across the road – not difficult to guess it was flooded. But since there was no option but to go miles back, on we went and, when the vast area of flood loomed up, closed eyes and cycled through, after all once you are soaked you can't really get much wetter. From then on it was on the little cycle track to Berwick where it felt as if our familiar Downs, in the constant rain and a lowering grey sky, had transmuted into the northern moors and, with perfect timing, we got to the station with ten minutes to go for my train and for me – straight to the sauna and Ian a hot bath, the perfect end to what was an exhilarating, and - yes believe me – a pleasant ride – Thanks comrade Ian (or captain...)
Joyce
Sunday 11 January 2009
Polegate to Normans Bay
[More photos on Flickr]
Clarion Rule No. 1: Stick with the group.
The first meeting of the year on the concourse of Brighton Station was well attended by Fred, Joyce, Leon, Roger and Suzanne. Result of sticking with group: one Group saver ticket.
The first meeting of the year on the forecourt of Polegate Station brought the welcome addition of Anne and Mick with the essential presence of Ian, aka the ride leader or, if he's not careful, aka the Ride Captain.
Clarion Rule No. 2: Stick with the group.
The first cock up of 2009 was completed in record time with two Clarionettes zooming off up the Cuckoo Trail. Enough mobile phone calls to require a forest of masts later, the two missing souls turned up. Our absent friend, Amanda, driving down from London to join us and not wishing to be left out, also kept in touch with Fred by mobile, but by now she seemed to be irreparably lost.
Turning north over the Polegate by-pass and then east to Normans Bay, we had the wind behind us, the sun above us and the Star before us – no, not the Epiphany Star in the East but the popular hostelry in the aforementioned settlement. Fred photographed the rather glum looking ducks standing on the frozen river-ette and then photographed the huge plates of food which arrived in front of the far from glum looking Mick, Ian and Leon.
As we were heading back into said wind, Ian kindly decided to abbreviate the trip back and goaded us on with the prospect of tea at the Loom. Pevensey castle impressed, as ever, with its square keep and Roman walls, but by now Christmas indulgence, New Year merriment and d…mned cold weather – all of which had kept us out of our saddles for stretches of time – were taking their toll. Legs began to wobble, chests began to heave, the slightest inclines were met with groans.
Clarion Rule No. 3: Stick with the group
And thank goodness we all followed Rule No. 3, as poor Joyce found the black ice and was down and muddy in the twinkling of an eye. Fortunately no damage done and we could all rally round to pick up Joyce and bike, both still in their original one piece. Having had a couple of contretemps with irritable lady drivers and 4x4 gas guzzlers in the country lanes, we were all put temporarily back in favour of motorists when a very kind lady stopped and helped brush our victim down with a towel – the dog towel, admittedly … but any port in a storm.
Tea was ordered and drunk and much appreciated in the space 17 minutes at the Loom and then off for the last dash back to Polegate Station for the 15.42, all perfectly timed by Ian. So many thanks to the day's Ride C………n.
Suzanne
[Not so much of this C…n, please? It's that Fred I blame! But weren't we so lucky with the weather on Sunday? Ian]
New Year's Day 'Brunch Ride' to Carat's Café
[More photos on Flickr]
Ian had requested a prompt 10.30am start at the pier, which I had resolved to achieve. Good to have a ritual to mark the New Year and to push you out of a warm bed. However, our blocked kitchen sink at home diverted all my good intentions/resolutions and I was 6 minutes late, but warm at the rendez-vous and was most warmly greeted by Jeff, Ian, Fred, Angela, Jim and Liz;- Mick having just made the deadline. Joyce had been diverted en route by a suffering seagull and she was tending to it and intending to catch us up when she could. A pier security officer took the group photo. So far there was little traffic, but what there had been had caused pain to the young sea bird.
We swiftly headed westward with few obstructions or others on the sea-front bike track. The sea was calm and the air nippy. Most of the way to Marocco's we could ride 2 abreast and chat over the events of Xmas [just] past. We were enthusiastically greeted at Marocco's by three more eager cyclists; Betty, Wilma and Wendy, who had brought her dear little dog - Sydney. They already had a soft tyre and were grateful for Jim's swift action with the pump. Sydney was popped in Wendy's basket and we were off again, with still no sign of Joyce.
We seemed to soon arrive at Carat's Café. Basin Road can be tedious, but it flew by for me, though others were curious about the blue pipes at the power station. Jim, our physicist, was asked at brunch what they were, but, sadly, he didn't seem to know.
Sue and Sheila had already arrived in warm coats by car at Carats and there may have been tables inside but Angela took the bold option of outside and the rest of us joined her, though there was no sign of the sunshine with which 1.1.7 had been blessed. Looking back in the archive I see I was sitting out in cotton sweater then and Ted was resplendent in his Clarion top. He is sadly missed.
Food and drinks were ordered and arrived swifftly and copiously. The patio heater was lit up for us by the proprietor and although we know they are pollutors, we didn't turn it off. In fact the heat never really reached far downwards and an under-table Japanese-style stove would have been more efficient as all our toes started to freeze. In spite of boots. I was cursed with cheap socks, but even the woollier, wintry ones wouldn't have helped much as the cold climbed upwards to the plastic seats and cold bottoms. Twas tasty, hot food and drinks - 4 leek and potato soups, several of their speciality big breakfasts with crunchy potatoes and scrambled eggs for Jim. Betty, Wendy and Wilma regaled Mick with their bike and barge holiday in Holland and encouraged me to join the Silver Sounds Samba Band. Jim and Angela recalled their best Clarion rides of 2008. Ian took some subs for 2009 and duly noted the payers. Sydney barked at bigger dogs who tried to befriend him but allowed the smaller ones to approach him.
At last Joyce arrived, soon after our plates had been cleared away. She told us the tale of attempts to save the poor seagull with a broken leg and broken wing. She'd phoned the RSPCA who had asked her to put the bird in a box to await their collection, but this was not easy to do if you had no box and only a bicycle, with which you had intended to cycle swiftly to Carats Café. Now there was a long queue at the café and we were feeling cold.
Liz was feeling ill and Mick wanted to return home with her swiftly. Fred relayed their message to me to hurry off so I said hasty goodbyes and Happy New Years and remounted; trying unsuccessfully to catch up with them. Losing sight of them by Hove Lawns and finally reunited with husband in Taj, where I got warmed up at last, before trekking home by 1.30pm; thus missing The World at One. Liz made it to her daughter's flat. Hope she is not now flu-bound and that the rest of the Clarion Club braved the inclement east wind [which Metcheck said made 0degrees feel like -3] and safely wended homewards amid the now throngs of sea-front cyclists, joggers and walkers. 2009 starts with Israel bombing Gaza and around 300 Palestinians being killed, all calls for a ceasefire from UN and EU being ignored. Let's hope the bright promise of Obama's inauguration on 20.1.09 brings some hope of peace in the Middle East and elswhere.

Anne
7 December 2008
Clarion Christmas Social
This was a game of three halves (at least), and the personnel came and went as the day progressed. Now read this carefully, or you will get very confused, like me.
1. Pétanque (pronounced pétanque) or boules (pronounced boules)
Angela, Anne, Ian, Jeff, Joyce, Leon, Mick, Roger, Sue Pringle, Terry and myself arrived at the pétanque pitch and Roger explained the rules of the game. Unfortunately Jeff and I arrived at the wrong pétanque pitch, so we missed all that. However, Jeff had played before (albeit by different rules) and I picked it up … eventually. We then split into four teams of 2 ¾ people each and proceeded to play.
It goes like this. You throw the jack (pronounced jack) or cochon (pronounced cochon) and then get your balls out and throw them at it. Of course it isn't a real cochon, and it isn't named Jack. After all the balls have been thrown, the nearest ball to the jack wins the game, and any others that are nearer to it than the nearest of the other side's balls also score. You also have to shrug your shoulders frequently and make suitable Gallic noises in your throat, although you don't actually get any extra points for this.
To win the match you need 13 points, except that we couldn't decide if it was the best of 13 or the first to reach 13. Angela, Anne and Ian's team solved this by winning 13-0, with Anne the hero(ine), winning 8 or 9 points despite not having played before. The other heat was more balanced, and went to 9-all before Joyce and Leon streaked ahead to pick up the last 4 points. Joyce and Leon were the smallest team, since we decided after a long debate not to actually cut people up to make the teams the same size, but what they lacked in numbers they made up for in style – both displaying elegant ball-throwing stances.
By the time this marathon heat was decided, some of the other players had got bored and Anne had actually left to go to the cinema. But reinforcements had arrived in the form of Brian and Mary Hutton, Suzanne, Sheila and Sue Bullock, who cheered the players on along with a growing crowd of onlookers. Fred also put in a brief cameo appearance, cutting a fine silhouette up on the prom – but was that a ukulele in his pocket, or was he just pleased to see us?
The two winning teams were then supposed to play each other, but we were all hungry by now and so we went to lunch.
2. Lunch at Al Fresco
At lunch I sat next to Brian, who had been in the Clarion since 1948, and his wife Mary. It was fascinating to meet them and hear about the old days. Miraculously, Anne had managed to return after watching not just one but several films, but we had lost Sue Pringle and Terry. Fred again put in a brief showing but missed the food. Joyce gave a nice speech and thanked all the ride leaders, and we thanked her, and then it was time to go on to the next stage, Tessa's Open House.
3. Tessa's Open House
Joyce, Jeff and I cycled up to Lorna Road, and this enabled me to inspect the high-kerbed cycle lane that had been mentioned at the Cycle Forum. (See my report in the 17 November circular.) I have to say it didn't look too hazardous to me, and I like the idea of segregating the cycle lane off from the cars so that the b****rs can't park in it.
Arriving at Tessa's we were just in time to miss the increasingly elusive Fred, who had just left. However, it was nice to see not only Tessa but also Angelika, and also to drink the mulled wine and eat the mince pies and make suitably approving noises at the lovely works of art. Sue P and Terry reappeared, having been Christmas shopping. Soon Angela, Leon, Roger and Suzanne also arrived. Leon spent ages looking at Brenda's etchings and talking about the shapes of men's bottoms.
It was also good to see Linda and Helen, neither of whom I'd seen since summer 2007. Helen is looking for nice gentle rides to get back into practice, so there's a hint for anyone organising a ride in 2009.
Thanks to Joyce for organising the pétanque and the lunch, and to Tessa for the mince pies and mulled wine and art. It would be good to play with our balls again some time; maybe we could hold the final on a non-Clarion Sunday in the new year?
Jim
This is destined – together with a photo – for the history page of our website. But in the meantime it makes an excellent postcript to Jim's report. He mentions Brian's account of earlier days. During the conversation Angela mentioned that the children at her school enjoyed visiting the 'velodrome' in Preston Park. Brian then told us a great deal about the history of the cycle track and said he had a photo of an event there c 1950. I asked him if he'd write us a little piece and lend us the photo to put on our history page. And quick as a flash – no, even quicker than a flash - he has done this.
Brian is our one current member who was in the original Brighton Clarion and is cycling correspondent for the Argus. If you've recently joined us you may like to have a look at some of the other pieces about cycling in Brighton more than half a century ago which feature on our history page. That will do for the intro – so here he is on
The Glory Days of Sussex Track Cycling
Track cycling is booming in Britain thanks to the efforts of the Great Britain team who won a host of medals in the 2008 World Championships and the Olympics. Track riders such as Chris Hoy, Bradley Wiggins and Victoria Pendleton, and road racer Nicole Cook, have scooped the headlines and justifiably so.
But the packed indoor Manchester Velodrome is a far cry from Brighton's 'velodrome', which is twice the size of most tracks, has very little in the way of banking and surrounds the cricket pitch at Preston Park. But racing has been going on there from around 1900. Go there on Wednesday evenings at 7 pm between the beginning of May through to the second week in August and there you will find local riders from around Sussex as well as visiting riders from London who put on a good couple of hours of free entertainment taking part in the Sussex Cycle Racing League's meetings, cheered on by their enthusiastic supporters.
Yet, although it may seem hard to believe now, in the immediate years after the Second World War and into the early 1950s, 5000 or more people used to pack the Preston Park track to watch the big open meetings which drew world stars such as Reg Harris, Arie Van Vleet, and Sid Patterson to contest the thrilling Sprinters' Grand Prix events. On one occasion a track meeting clashed with a Brighton & Hove Albion home game and it was the cycling which drew the biggest gate! And several thousand fans used to regularly support the Sussex League meetings because the local riders, such as "Tiger" Cooper, Dennis Sutch, Colin Whittingham, and Alan Limbrey were hugely talented and knew how to play to the crowds.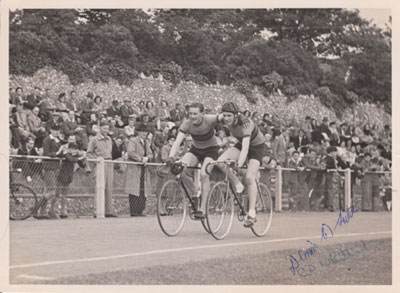 Dennis Sutch and Colin Whittingham - whose signatures you can see at the corner - celebrating victory at a meeting in around 1950
So why not come along next summer and see for yourselves this exciting sport? Sussex is producing top riders again, such as 16-year-old prodigy Felix English, who two years running has humbled the older riders by winning the senior track league and Peter Mitchell, who won a gold medal in the 2007 Junior Championships in Mexico. Who knows – with your support Brighton may one day have its own indoor velodrome and we can recapture the glory days again!
The Last Ride - Anne's Report
14 December 2008
Berwick Bleak Midwinter; morning punctuated with puncture and afternoon punctuated by yet another puncture.
Our late arrival at Brighton station called for a hasty realignment of the groupsave and senior tickets. Joyce was bold enough to ask for a refund on the 2 seniors, as Mick and I [Anne] made a 2nd 4 with Leon, to Suzanne, Roger, Jeff and Alice. As the 2-carriage Ashford International train pulled into platform 8, Sue rushed up, having had no breakfast. More cyclists got on at Lewes, as Joyce finally sorted out the financing of the groupsave bargain tickets;- £2.90 for half an hour's return journey, in best trains on offer this side of the Channel, smooth, swift and cosy without claustrophobia, though well used. The 2 cyclists from Lewes warned us that last week 4 of them had fallen off on black ice, as we alighted at Berwick, with no sign of any sunny intervals, as promised by BBC weather forecasts. There'd been rain in Brighton in the morning and a few bright patches, but North of the Downs looked decidely dull and dank. However, Ian was there to meet and greet us and Leon, being the only one in possession and control of a camera phone, took the group photo for the archives.
Sue had come in such a rush that she had no head gear, but, lo and behold! A wayside stall sold cheap hand-made hats and scarves right opposite the station. She was able to buy a charming knitted purple scarf for 50p [in the fuzzy wool like Angela's super red scarf of the Xmas dinner], a bargain at any time, but a life saver in the chilly Northerly wind that now assailed us. On the train Jeff had shown us his collection of old postcards of the Volks railway which he had exhibited at Brighton Museum, showing the horse and carriages, the angry seas crashing over the track on its old trajectory over the sea by the Banjo Groyne and the charming light effect ones that shone. Leon had given Jeff his previous mobile phone and carefully explained how to use it all, putting in all our phone numbers. Mick also updated his mobile with Jeff and Leon's numbers. These were all to come in useful as the day's adventures unfolded.
We saw more cyclists than cars on the quiet, hedge-lined roads and more horses than cars. There were little wrens darting into the hedges and huge mansions with their own lakes and even one with its own cannon and some Tudor homes; one with a thatched roof so steep that it almost reached the ground on the East side, whereas on the West face the thatch was covered in green moss. A flock of geese flew overhead, doubtless heading for sunnier climes, as Suzanne and Roger were to do that night , as they head off to Madiera for a week early on Monday morning. For them it was the last dark day of the year but the rest of us have another 7 before the solstice and The Burning of the Clocks ceremony on Brighton Seafront. At least this year we had the thrill of a brilliant new moon, followed by the conjunction of Venus, Jupiter and moon, then the nearest and biggest full moon for 15 years [perigee on 12th]. Anyway, we wanted to catch the 2.48pm home in the light so presssed on apace through Ripe and on towards Chalvington, looking for the Yew Tree.
At the crossroads to the A22 we halted and saw that we were only 8 and Roger and Jeff were missing. It was only twenty to twelve so too early for the 2 nearby pubs to be open. Even the petrol station on the other side of the hurtling A22 offered no facilities to those of us travellers in need. Leon tried phoning and Ian rode back to Roger and Jeff who were having trouble with a puncture on Jeff's bike. Seven of us headed off to the pub which was another 10 minutes or so down a quiet road. The Yew Tree had a lovely warm fire which we huddled round and ordered our food from, until we were overcome with the smoke issuing from it. We moved to a side room with a large table, big enough for 10 and awaited our broccoli soups and Sunday roasts – child's portions a steal at £5 for super meal with loads of tasty vegetables. Joyce mentioned that she had 2 inner tubes with her as the 3 repairers finally arrived and ordered their meals, explaining what had happened by the wayside.
Sue's 'child's roast' brought to mind Swift's 'Modest Proposal' for the solving of the hunger of the Irish peasants and led to talk of children and grandchildren. We were joined at our meal by a dear little black dog, to whom Sue offered her left-overs via the waitress, should the dog be allowed such treats. The meals were all so ample that, though delicious, there was quite a bit of left-overs, but even so, Anne and Sue were able to show the benefits of their yoga training by escaping from the centre of the table in order not to disturb the latecomers - Roger and Jeff - and allow them to finish their meal in peace, by limboing under the table, which Leon was able to capture on his phone camera, if it's not a blur of Sue's bottom. Joyce told us about her choir practice after the ride where O Little town of Bethlehem's verse "How still we see thee lie," would be replaced by the reality of tanks that go charging by. I initiated a debate on whether the Palestinians should have the right to return, then we all returned to our bikes.
Leon, who had a brand new bendy bike, was able to pump up Jeff's semi-repaired tyre, with the saddle stem of his brilliant new Dahon[like Amanda's]. Having done over 9 miles to reach the pub, only 5 miles remained to reach Berwick station and hopes of the earlier 1.48 train, so Mick, Jeff and Joyce steamed off and the rest followed. I was near the end but trying to keep up with Mick. However, as we passed a sign saying Berwick 2 ½ miles and Leon rode up to talk to me, my bike shuddered and I pulled over, only to see that my back tyre was punctured. Alice and Suzanne stopped too, as Leon tried to pump it up. All seemed well until he removed the pump and the air all fizzed out by the valve again. Leon phoned Mick and Ian rode off in hot pursuit to try to claim one of Joyce's spare inner tubes. He was marooned the wrong side of the level crossing, but Leon contacted Mick before he could get the 1.48 train, and managed to grab the necessary from Joyce.
I took to running along pushing my bike for a mile or so to keep warm and get nearer to the station, in case no more cycling was possible. Fortunately, Ian, then Mick and Roger came back and helped Leon to mend the tyre. First Leon's spanner was broken by my too tightly fixed back wheel, but fortunately Roger had another. Suzanne and Alice [who had been at work all night] had stayed too in solidarity and support. So, Fellowship is Life and a team effort got me back in the saddle and back to the Berwick Inn, hot drinks all round and the promised 2.48 train was caught by the remaining 7 with Ian waving goodbye from the opposite side of the track. Our previous CTC cyclists were already on board, but the ever accommodating Ashford International took us comfortably home, where it rained again an hour or so later.
The weather may have been bleak, but the fellowship was fantastic and thanks to Ian for planning the ride and going the extra miles to ensure we all enjoyed the peace of the Susssex country lanes and ancient villages with hospitable pubs and returned safely from the last Clarion ride of 2008.
Anne
Sunday 30 November
Hassocks – Fulking – Newtimber
The Last Day of November
[More photos on Flickr]
Checking back to Fred's account of May 07, I see how lucky we were with the weather [especially compared to them] but how unlucky not to have Fred's photography skills this time, though I hope that Jim's pics have come out better than mine. Metcheck was forecasting sleet and NE winds so I piled on the layers and packed spare clothes of all description, but although there was a short, sharp shower as I started to leave the house and the rain is thumping down on our roof again now and many lanes we cycled down had huge puddles for splashing through with legs akimbo [unfortunately not able to photograph exuberance as too afraid of falling of and taking a soaking] a white sunshine accompanied us for most of the morning and we were able to eat lunch in the garden with splendid view of steep slope of Downs and pleasant brook. Ian's feet were cold so he and Leon had the last remaining table inside the popular Shepherd and Dog.
It's a cheap train ride to Hassocks and 4 of us caught the late running 10.44 to be met by anxious Ian and Leon. [Jim had tried to phone but tunnels must have interrupted the transmission] and quickly joined by Simon from the slightly later Southern train. So a Magnificent Seven set out after persuading a passer by to do the group photo. Annoyingly he seems to have missed out Simon and we only have the 1 pic of smiling six. However, I feel that the view from the inside of the station is more picturesque than the usual outside shot we take. Autumnal trees grace the track and the sky looks white, though fortunately, not with sleet.
Carefully crossing the treacherous road beneath the station we head off to Hurstpierpoint, down Blackstone Lane and Bramlands. It was around there that I again saw the ostriches or emus that I'd seen on a previous Clarion ride with Joyce. This time I had a camera and tried to immortalise them, but, as I was on the end, didn't take enough time or care and the resultant photo is such a disappointing blur that ostriches can not be identified, even by me on it, which is such a shame as this time there were baby ostriches as well and no-one else seems to have seen these chimeras. The route was a bit more undulating than usual for us and on the uphills it has to be said that the 4 men outrode the 3 women, but all equally enjoyed the downhill, especially when there was a large puddle to ford. Fortunately no-one fell off on the whole ride, in spite of some of the lanes being coated with large expanses of wet autumn leaves, leaving only a narrow path to steer, which we all skilfully managed. Hardly any cars bothered us, again this was just as well as there was so much water around and a couple we did see were going fast and thus splashing up huge waves of spray when they did hit puddles.
The Shepherd and Dog has a marvellous setting but the food was gastronomically priced [or should that be astronomically priced?]. It was good but not good value, though swiftly served and swiftly eaten by my companions. Us girls had extra hot water for our teas too, thanks to Angela's boldness and her dismay at their prices. It was a pub with no soup though and that is disappointing for me. The Royal Oak looked even more gourmetted up, as we passed it by afterwards and not much sign of the jollity of the 1880s or garlands. Simon left us shortly afterwards for a trip up and over the Downs to home. He had told us over lunch of his trip to Norway , Northern Lights and sparkling snow and other sea crossings were recalled and savoured.
We had a quick detour for Newtimber Place – the moated grange with huge, gorgeous oaks and geese, sculptures and glimpses of the lives of the richest 1% who'll doubtless suffer from Alastair and Gordon's extra 5% of tax to solve the credit crunch - hardly think it will make their pips squeak. The geese seemed to be having an exciting game across the other side of the moat, but my photos don't record it – hope Jim's do.
The equestrian route was fun and challenging, being muddy as equestrian routes often are, but no damage from dung, though Leon had to clean his bike earlier from dog droppings dropped carelessly and irresponsibly in his way. There was a vote on whether to stop for tea at Washbrooks Farm and it was agreed by 2-1 that we should. I was the one voting for a swifter return but was glad to be outvoted and adored the food and the farm. Amazingly beautiful and bountiful turkeys greeted us and after tea, when a great selection of goodies, scones and chocolate cake, at reasonable prices and with extra free hot water were offered, I visited the animals in the barn. A very messy llama was enjoying his tea too inside and the pigs and pygmy goats, ponies and carthorses enchanted me and other young[er] visitors.
Ian said goodbye as he rejoined his car at Hassocks station and we 4 sailed under the bridge and back up to the homebound platform. Leon waved us off on the train and Ian waved from the other side of the tracks. Jim's computer said 17.25 miles at average speed of 8.1 m.p.h with max speed of 26.4mph. Jim thought that may be a bit too fast, but it sounds good and felt good, going both up and down.
When we arrived home around 4pm it was still light [just] and Radio 4 had a programme on CF Cavafy's 'Ithaca' poem, parts of which seem to apply;
But do not hurry the voyage at all.
It is better to let it last for long years;
and even to anchor at the isle when you are old,
rich with all you have gained on the way,
not expecting Ithaca to offer you riches.
Ithaca has given you a beautiful voyage.
Without her you would never have taken the road.
For 'Ithaca' read 'Ian' [and 'her' him] and thanks very much to all 6 for a delightful trip.
Anne
Thanks Anne, but if I start showing any tendency to see myself as Odysseus please do not hesitate to send for the folk in the white coats.
Boots!
Ian
Sunday 16 November
Cuckoo Trail and Pevensey Levels
There we were on Brighton Station needing to buy TWO group save tickets for eight of us: Tessa, Suzanne, Roger, Mick, Leon, Joyce and Anne plus Roger's guest riders Bob and Andrea. Sue and welcome new rider Peter made eleven. The platform-based guard looked at the huge group… we looked at her - the Mohican haircut was a bit challenging and the Germanic accent asking 'Are you all going to try and get on the train?' initially sounded rather daunting – but in the event she was jokey and cheerful and helpful. Of course we all managed to tuck ourselves into the various nooks and crannies of the train and during the journey had an enjoyable crash course on our star signs from Joyce's book.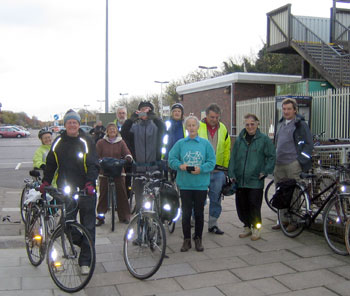 Polegate was soon reached and Ian was there to welcome us. The photo was taken, the loo was visited and then off up the Cuckoo Trail, where the bike was knackered – yes, our leader had a major mechanical failure and had to abandon sheep, leaving his shepherding duties (and, fortunately, the map) to the tender mercies of Leon, Suzanne et al. But you lose one and you gain two. Alan (of the Hinton variety) and partner Debs joined us soon after. The cycle track to Horam was its usual delightful, leaf strewn autumn self. Sue had to leave us to go back to Brighton – thus causing horrendous problems to anyone trying to lead, as by then none of us could remember how many of us there should have been.
Off down Vine Cross Lane. Or at least some of us went down Vine Cross Lane, but an incompetent Suzanne failed to do her duties correctly and abandoned some of the group who did not see the going of the first bunch (don't tell Ian) but eventually we arrived at the Brewers Arms. Oh look, there's a lot of cyclists here already. Not just any cyclists, but no less than the Brighton wing of the CTC. Fraternal greetings were exchanged and then all the Clarionettes squeezed into to a lovely little room (not much bigger than an inglenook) to be plied with huge quantities of home made rolls and 'lashings of' butter before all the excellent meals turned up accompanied for some with even more rolls and butter. (Sorry Fred, Roger only got round to taking the photos of the food AFTER it had almost all been eaten.)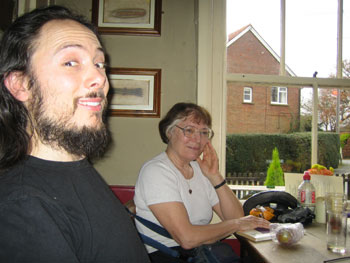 We finally prised ourselves away from the warmth and snuggery to set off in orderly formation from the pub car park, only for one patron to remind us that we had left a map and for another of the group to have left his/her (no names, no pack drill) rucksack. Down several exhilaratingly long hills, turning right into Hammer Lane, through Cowbeech, up Cowbeech Hill and right at Stunt's Green – all except Hinton junior who got overexcited and tried to go whizzing off to Hurstmonceux until retrieved by Leon, Peter and Bob. Through Ginger's Green and an elegant waft down Cricketing Lane brought us to the wet and reedy Pevensey Levels. Unfortunately at this point the water on the marshes was joined by the water coming from the sky, but nothing daunted, we turned right at Rickney Farm and made our gentle way back to the Cuckoo Trail.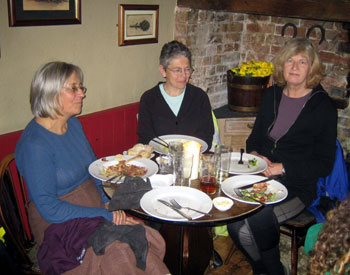 Despite some concern about the fading light it was decided that The Loom Tea Rooms beckoned. Much tea and cake was consumed on said premises. Necessary fortification for the shortest of short rides back to Polegate Station in the fading light, and the very brief wait for the Brighton train.
Many thanks to Ian for a very well planned ride and to everyone who helped with shepherding.
Suzanne
2 November 2008
Shoreham Beach and the Old Toll Bridge
[More photos on Flickr]
It was 10:30 am on the first Sunday of November, so the veteran cars were starting to trickle onto Madeira Drive in Brighton, as nine Clarion riders assembled in the sun in front of the Palace Pier. They were Angela, Ian, Jim, Joyce, Leon, Roger, Sue, Suzanne and Terry. Tessa joined us at Hove seafront, where a coffee drinker at Marrocco's café kindly volunteered to take the group photo.
Then we were off westward along the seafront and the harbour road. At the next café (Carats) near to the Shoreham locks we split briefly into two groups, one opting for refreshments and the other taking a detour down to the harbour entrance, which also marks the end of the Monarch's Way, and hence the point from which Charles II escaped to France after his defeat by Cromwell at the battle of Worcester in 1651.
On across the newly configured locks, through Southwick and into Shoreham itself, where we walked over the footbridge to Shoreham Beach, stopping on the way to enjoy the sun and watch the sailing dinghies making the most of what little wind there was.
We circumnavigated Shoreham Beach (if that's the right word), with short stops to admire the recently established lookout station (run by the National Coastwatch Institution), and to photograph the Gaudiesque seat on Beach Road. We then crossed Widewater Lagoon and made our way into Shoreham Airport for a welcome break at the Fly-In Bar and Restaurant in the 1936 art-deco terminal building. The food was promptly served and tasted very good, except perhaps Jim's after he had dropped a full salt cellar into it.
Then came the celebratory bit of the ride. From the airport we returned to Shoreham via the 'old' toll bridge, now re-constructed and officially opened just a few days earlier by the Duke of York. Congratulations to the many enthusiasts who helped to make it happen, including quite a few Clarion members!
As is often the way with rides along this bit of the coast, members left the group at various stages on the return journey, but all were agreed that it was a splendid day out. Many thanks to Ian for planning the ride, and for leading the way in spite of suffering from an early winter cold.
Roger

[Again, even more and bigger photos on Flickr. ]