Archive
Reports from Winter 2007/2008
16 March 2008
Three Bridges – Ifield – Rusper – Charlwood – Crawley – Three Bridges
Fred, Jeff, Jim, Joyce and Roger met at Brighton Station and took advantage of the 'Groupsave' discount to get returns to Three Bridges for £4.65 each. (I used my magic plastic ticket). Jeff had had his saddle vandalised, and Joyce took this as further evidence that everyone has gone mad and We Are All Doomed. In fact, the dolphins may have already left the planet!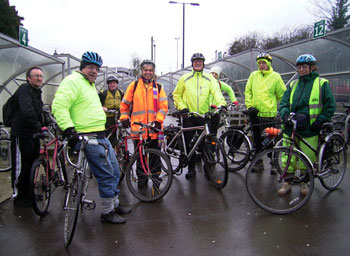 The start at Three Bridges station (with superior cycle parking facilities)
We met Amanda, Ian, Leon and Nick at Three Bridges. This was the first ride Leon had organised for us, and Roger thought it might have suffered from 'First Ride Syndrome' (a.k.a. continuous rain) like his own debut last year. It certainly did rain all day. But did it dampen our spirits? Yes! I mean, No! (But it did dampen my map, my wallet, and my ride notes, so this could be a rather short report!)
Considering that much of the ride was through the suburbs of Crawley, Leon had found us some surprisingly 'green and pleasant' little paths, the first of which we shared with a robin, a blackbird and a squirrel. This took us through Furnace Green to Tilgate Park, which used to extend nearly all the way to Three Bridges Station. In the park, we saw Tilgate Lake, also known as Campbell's Lake, after the late Donald Campbell who used to keep his world-water-speed-breaking boat Bluebird here. Jeff also has a Crawley connection, and was able to supplement Leon's commentaries very effectively; he told us about the manor house that used to stand here, and the place nearby where his mother is buried.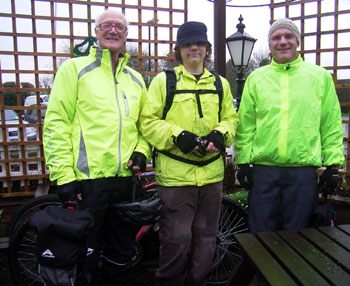 Leon, his grandson Luke and son Laurence
After crossing the A23, and being joined by Leon's son Laurence and grandson Luke, we had a look at Broadfield House, a Grade II Listed Building dating back to 1830 which is sadly neglected and only partly occupied. (It apparently used to house Radio Mercury). It looks out over a lake with ducks etc. Very nice. I'll leave it to Ian to supply the relevant architectural jargon, or you can look it up in Pevsner.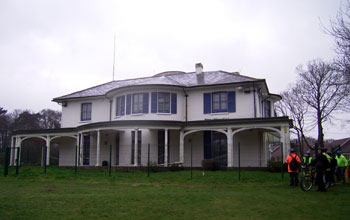 Broadfield House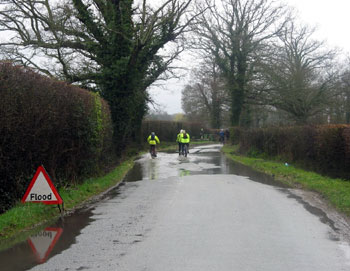 Flood! - Jim's photo
On towards Ifield, alongside the Broadfield Brook, a tributary of the Mole, which was very swollen after (and indeed during) the rain; the ducks didn't seem to know quite where to go. There was also an interesting Garden Centre where you could also buy kittens and carpets, but we passed it by.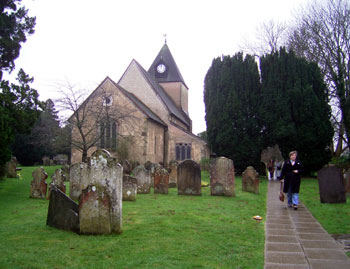 St Margaret's church at Ifield
We stopped to look at St Margaret's 13th century church at Ifield, while Laurence and Luke minded the bikes (they'd seen it before). Unlike all the empty churches I'd visited before on Clarion rides, it was a hive of activity and we only just squeezed in. I felt slightly awkward, as though we were intruding. I noticed that most of us were removing our cycle helmets before entering, out of some sense that this was the right thing to do, although Amanda said that ladies were supposed to keep their heads covered. I was reminded of the line from Philip Larkin's poem 'Churchgoing':
"… Hatless, I take off
My cycle clips in awkward reverence"
(they didn't have cycle helmets in the 1950s!) When I got home and read the guide booklet I had bought in the church, I was amazed to find a quote from that same poem included. Larkin, like myself and, I would imagine, most Clarionettes, was an atheist, but, like us, was interested in the architecture, and clearly experienced the same 'awkwardness' in entering a church.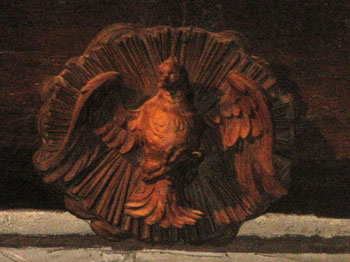 The angry dove - Jim's photo
The service had only just finished, and lots of people were milling around, and a couple of singers were practising a choral piece. We were welcomed, and shown round by a gentleman who was clearly very proud of his church. He showed us the woodcarving of a dove which had been in the original church, and pointed out that close examination reveals it to be 'not exactly a peaceful dove'.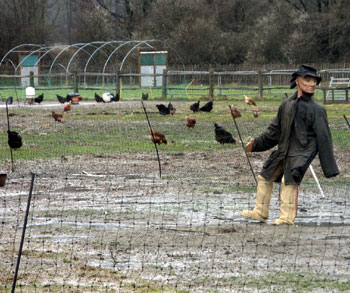 Scarecrow - Jim's photo
After Ifield we made for Rusper, and on the way we passed a farm with some very healthy-looking free-range hens looked after by a very lifelike scarecrow – a good place to get eggs – but the scarecrow would not budge when I asked him for some. The Star Inn at Rusper was a very welcome oasis for nine soggy Clarionettes and two soggy temporary Clarionettes, even though the log fire was not lit. We had some lovely food, washed down in my case by a very nice pint of Spitfire; when Amanda and Nick had finished their sandwiches, a truly enormous plate of Cheesy Chips arrived for them, which, even among the eleven of us, we failed to finish. The conversation was of future rides, including the Naked Bike Ride (of course), and Ian's piece in the latest Boots & Spurs magazine; and we all got our Clarion membership cards.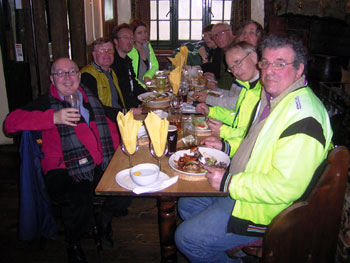 Lunch at the Star Inn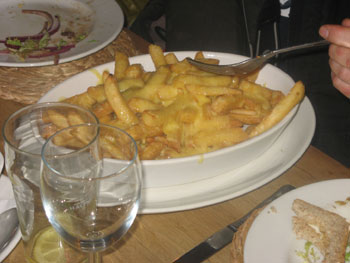 Small portion of cheesy chips! - Jim's photo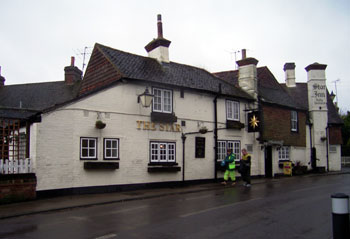 The Star Inn
Laurence and Luke left us in the pub, making for Colgate and a promise of a future ride. From Rusper, we whizzed down Russ Hill to Charlwood, passing on the way the Lowfield Heath windmill, which had been moved from its original location when Gatwick Airport was built; it was minus its sails, or "sweeps" as they are apparently known in Sussex. (We were in fact almost in Surrey at this point, and would have been before they moved the border some years ago).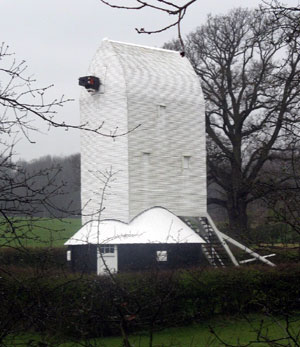 Lowfield Heath windmill - Jim's photo
Charlwood is apparently under threat from the proposed second runway at Gatwick. I know which I'd prefer! Even with only one runway, the airport was making a dreadful noise as planes were constantly revving up for takeoff, and those coming in to land would roar across our heads every few minutes. I think that if anything sums up the ugliness of modern life it was that abominable roaring, booming noise in the midst of otherwise beautiful countryside, although of course the emissions are far more deadly.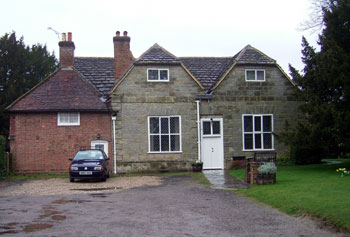 The first Friends Meeting House to be built in Britain
Our return route then ran alongside the outward one for a while before diverging again. We stopped to look at the first Friends Meeting House to be built in Britain, and wondered 'why here?' Convenient for the airport? Back across the A23, and hurrying past the macabre home of acid-bath murderer John George Haigh, we reached Crawley, which does actually have an old town centre amongst all the shopping malls and precincts; the main landmark is the 'gallows' structure outside the George Hotel, although I was not clear as to whether it was ever actually used as a gallows. Finally returning to Three Bridges station and bidding farewell to Ian and Amanda, we were pleased to note that lifts are being installed there, which will save us lugging our bikes up the steps in future.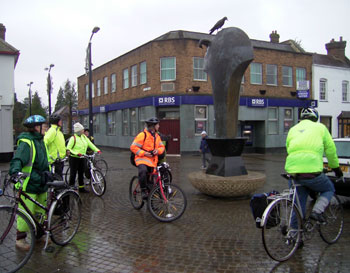 Public art in Crawley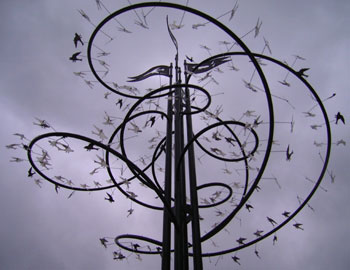 Flock of martlets - more public art in Crawley
Sorry this has been so long, but there were so many treasures to tell you about, thanks to Leon, who put an enormous amount of preparation into this ride, as evidenced by the papers he gave me to help with the write-up. I hope I have done it justice.
Jim
Sunday 2 March 2008.
Tracks, lanes and cycle-ways of East Surrey; 9 Cyclists.
Alice, Joyce, Tessa, Sue Pringle, Jim and Fred met at Brighton station to board the 10am train to Horley. I (Leon) joined them on the train at Hassocks and met Amanda and Ian at Horley station at 10.41.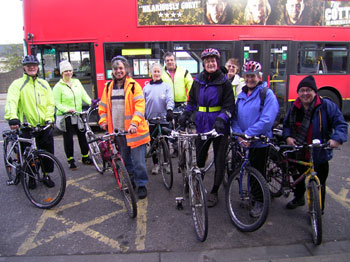 The start at Horley station
At the entrance to Horley station we found an agreeable young man to take our group photo. The backdrop of this photo is a big red bus that was waiting to take rail passengers around the now usual Railtrack work that is affecting most routes at this time.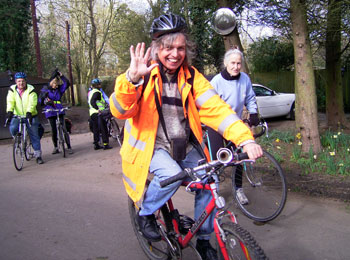 Our leader for the day, Jim
Off we go in glorious sunshine, downhill, eastward to the Balcombe road where we join our first track. Only slightly damp at this point but turning progressively muddier as we approached the remains of Thunderfield Castle. On route we could hear a woodpecker busily pecking at a tree for a meal.
A local to the area helped us to locate the position of the castle by pointing to a coppice and confessing that although he had lived within a hundred metres of the site for over thirty years, he didn't know it was there until quite recently.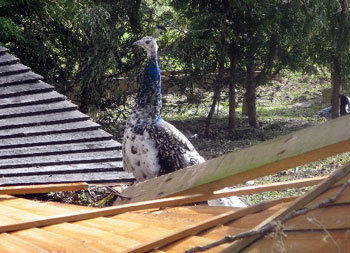 Jim's photo of a peacock
Continuing along the track, we came to a farm gate, and beyond a stable with two Shetland ponies, a few peacocks and hens and a couple of chickens; this was worthy of a short stop.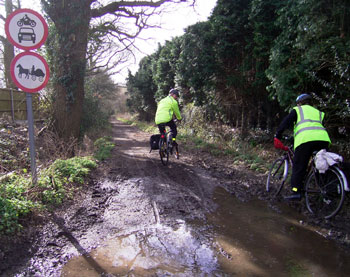 Mud - and a horse and wagon sign
Now turning right into Brook Lane, a track that got rather wet with some large puddles that proved useful to ride through in an effort to wash off some mud.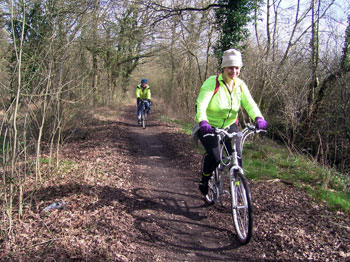 Amanda and Ian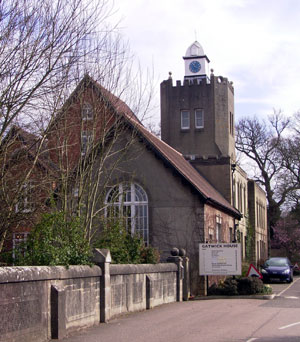 Gatwick House
The first bridge over the M23 was quickly traversed to escape the traffic noise.
Soon we came to Gatwick House, a large impressive building that had passed into commercial ownership. Turning left into Church Lane and crossing the M23 to access Cross lane where we encountered a greater volume of traffic. Calls of 'Oil' were frequent.
Now onto Cogmans Lane running north. These lanes were very pleasant with a little less traffic, allowing us to become part of our surroundings and enjoy the flora and fauna whenever we were lucky enough to pass quietly by.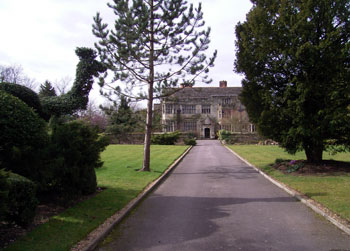 Smallfield Place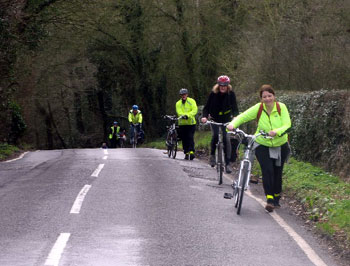 Up the hill - Jim's photo
Jim's description of "One serious hill" turned out to be Scott's Hill, not really so bad after all. Only two of us walked up the last part, but our intrepid Fred got back on his bike when Amanda went to his rescue and pushed him 'running quite fast' up the last 25 metres. Fred arrived with a grin a mile wide. Near to the top of the hill is a farm, it is more like a smart home for a wealthy owner, it's called rather obviously 'Hillcrest Farm'. At the crest of the hill is a sign warning drivers of toads crossing, but there were no toads to be seen today.
Overgrown greenhouses - Jim's photo
Leon looks for toads
Beyond the crest was a gentle downhill slope with woods to our left and a beautiful lake 'Marl pond' on the right. Ahead was a left turning and beyond lay Outwood Common with the black post mill coming into sight. At this point we noticed Jim slowing to a stop at the left turn at Millers Lane; at the same time Joyce was now at the common near to the mill a quarter mile ahead. It was pointless calling out to her, as we knew she wouldn't hear us so we waited, she turned to see where the group was, and we waved to her to return. She said it was so lovely coasting slowly downhill with birdsong to accompany her as she enjoyed the moment. That's what it's all about; enjoy every moment you can.
With Joyce back in the group of riders we headed west down Millers Lane and at the end of Brickfield Road turning left onto Prince of Wales Road where we arrived at the Dog and Duck for our lunch. We were expected at the pub thanks to Jim's arrangements over the cell-phone. The ale and meals were top quality; I think I can say quite honestly that we all enjoyed our short stop here. Thanks Jim.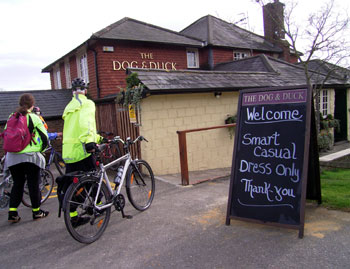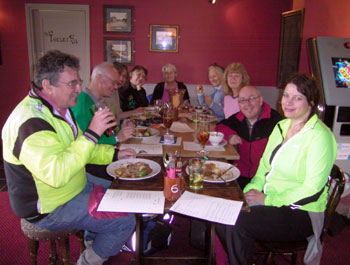 At the Dog and Duck
On leaving the pub we decided to attempt a simple mechanical task on Tessa's bike.
A bell needed fitting to the handlebars but a redundant hooter needed to be removed first. Out came the tools, now the tools that we carry need to be few and lightweight. Because a suitable sized socket wrench couldn't be found, a substitute was produced. A multi-tool with pliers was offered up to release the socket screw retaining the hooter. Bang went the pliers, Jim looked quite shocked to see that the metal failed; the hooter stayed put, but I think Tessa is happy with her new bell.
Now back on the Prince of Wales Road northbound, and on to Crabhill Lane via the outskirts of South Nutfield and Kingsmill lane to Redhill Aerodrome for a cup of tea.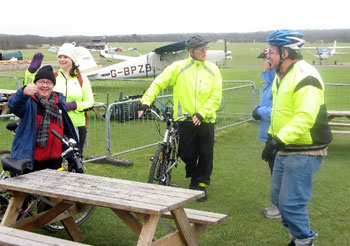 Jim's photo of Redhill Aerodrome
The coats and jerseys went on as the temperature was dropping and we cycled south through some pleasant lanes with a view to Earlswood and the North Downs on our right. Soon we came to the National Cycle Route 21. Now we were among walkers and children on bikes with their parents. This was a pleasant change from motor traffic. All too soon we were back in Horley bidding farewell to Amanda and Ian and climbing down the steps at the station to wait only a few minutes for our train.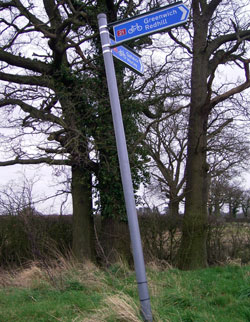 Greenwich anyone?
The train was packed to standing. I was getting off at Hassocks so needed to board last of our group. The guard was blowing his whistle at me to hurry up and get clear of the doors, but I had to wait for bikes and passengers to shuffle to make enough space for me to get in.
I did get in and home safe and well after another most enjoyable day cycling.

LEON
Sunday 17 February
Crossing the border - 11 cyclists, 2 golden hinds, 1 black swan and hundreds of pigs.
Tessa and Ian were waiting on the platform at Chichester for the arrival of the Brighton train, from which appeared: Alice, Joyce, Fred, Suzanne, Roger and Leon, [all the way from Hassocks]. Mick and I, Anne, made 10 and we all trekked back to the car park to welcome Amanda, who had driven all the way from East London, with the help of her Satnav. It proved tricky to find a photographer from the public, so Fred did the honours himself and we set out, somewhat late, along the trail to the Centurion Way, the fine Sustrans track.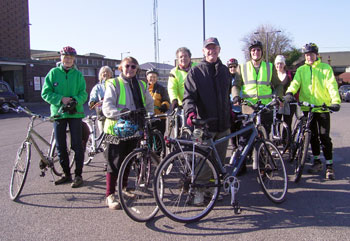 The start at Chichester (Fred behind the camera)
Amanda's Satnav was still commanding her from her backpack, to turn right or U-turn and head back to the station, but it eventually surrendered to the peaceful charms of the old railway path crossing the Roman Road, heading north. We were overtaken a few times by racers in streamlined kit, but mostly were able to relax and chat as we pedalled between the hedges and bushes, with fine views of West Sussex fields, hills, woods and trilling birds on a beautiful, sunny, crisp day. We had to pass by Sustrans volunteers trying to do surveys and press on and were amused at an elderly walker's attempt to herd us into single file, even though he, his wife and a trailing dog, didn't appear to be walking in an orderly line! The centurion sculptures were photographed with Amanda and Leon, as they hadn't seen them before. The iron-age fort was to our left, but we continued north, under the bridge decorated by mobiles of local fauna made by local schoolchildren.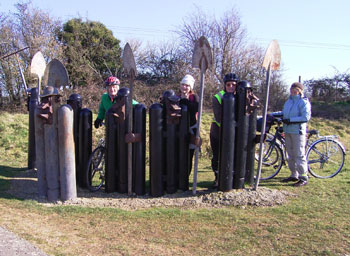 Centurian navvys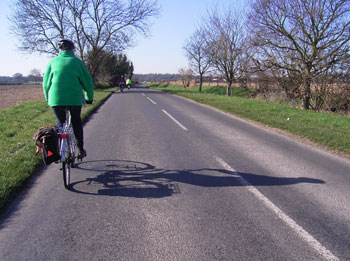 Tessa's shadow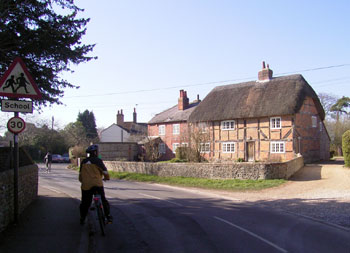 Suzanne admires the thatched cottage
Heading west from Lavant, Watery Lane led off from a roadside lake with ducks, geese and a black swan, perhaps more familiar to Amanda and Alice who come from the Antipodes. Roadsides were decorated with narrow brooks of clear water, some with watercress and some banks coated with cheery, yellow celandines. Some of us were hungry by then and regretted having to pass 4-star inns, such as The George and Dragon, but Ian rallied us on to the border, through West Stoke, East and West Ashling and Funtington.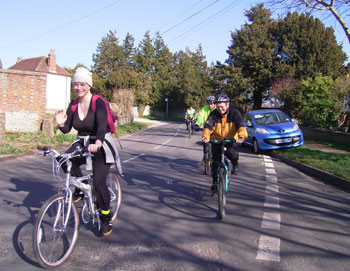 More shadows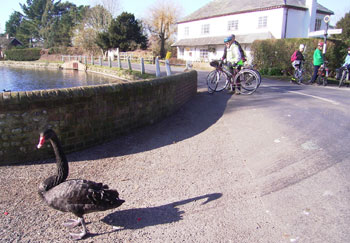 Black swan
At a 'surprisingly remote' spot a sinister high-fenced, control-towered, guard-dog protected premises appeared. It was Qinetiq, the former MOD research centre, privatised since 2002 and sold at bargain price to venture capitalists who made a fortune out of it. Beyond them was a pig farm. Further along our road was another pig farm, much closer and full of hundreds of little piglets who scampered off in a stampede up their hill as we approached in our jolly convoy. Don't think we were going in a circle at that point but I've never seen so many delightful little piglets squealing and galloping along their fields and towards their little tin homes. Perhaps they felt the same about us.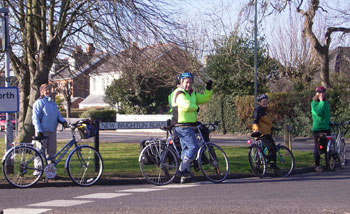 New Brighton Road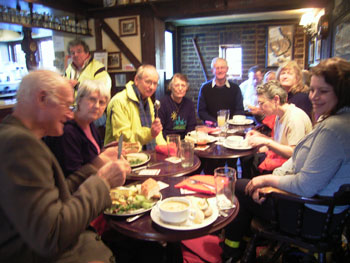 Inside the Stag's Head
We had to pass through Westbourne in order to cross the border and view the New Brighton Road sign. It wasn't until we returned to Westbourne and were welcomed to West Sussex by a low sign, that we appreciated that we had actually visited Hampshire, which still had not put up any welcome signs their side of the border, as Ian noted in 2005. Passing The White Horse, we saw they boasted Russian home-cooking on Monday to Fridays and Mick was tempted, but Ian turned out to be right in choosing The Stag's Head for us, even though we had to wait 20 minutes for the food. The four of us who chose soup were delighted by a Thai bean and giant prawn soup of most delicious, sustaining and unusual flavour. Eventually we were all served with our heart's desires and sat beneath the brass head of a young stag, below which fine horse brasses hung down. Hope there is a photo. [I think Leon took one - Fred]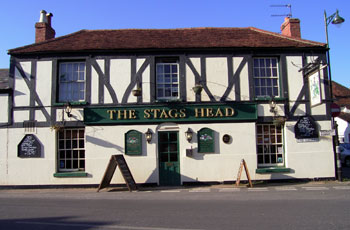 The Stags Head, Westbourne (no apostrophe!)
We didn't leave till 2.45pm and felt stiff on leaving the warm, cosy pub to venture out into the East wind, which we hadn't noticed propelling us westward. Bike computers telling us that we'd already done 13 miles, some calculate that the trip back should only be 7 miles, so Ian did do a bit of a short cut again. As we approached the backside of Qinetiq this time, on a quiet road parallel to the M27, Sussex Police cars scurried by us from both directions. Were they guarding defence secrets or protecting the border from Hampshire Police?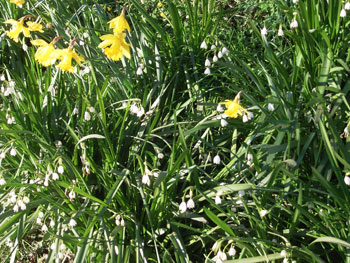 Daffodils and snowdrops
At the next crossroads Mick had noticed a dead fawn on the roadside grass. Many times I've seen road signs warning of deer, but you would never have noticed this poor animal in a speeding car. Only on a bike do you see the road kill toll. Only on a bike do you appreciate the curious road names: Lye Lane, Mouthey's Lane and Watery Lane all told an old story and Leon and Fred were eager to photograph them and immortalise our February adventure.
Thanks to Ian we all got safely back and had a glorious day, though Alice had a small fall right at the end while dismounting to cross the level-crossing at Chichester. Hope she isn't badly bruised. Also hope that Sheila is all right after her fall earlier in the day, on her way to Silver Sounds' performance at the Brighton half-marathon event.
Anne
Sunday 3 February 2008
Pevensey Levels
When Alice met Fred met Joyce met Sue met Suzanne they all got on a train and were joined by Jim at Lewes and Ian at Polegate. The passing press-ganged photographer had very impressive shoes. She might have done better to take a photo of them rather than the motley Clarions. The wind was merely boisterous rather than howling as we set off north from Polegate, over the A27 (in 100 years time, who will be campaigning to keep these bridges functioning?) and on toward the Pevensey Levels.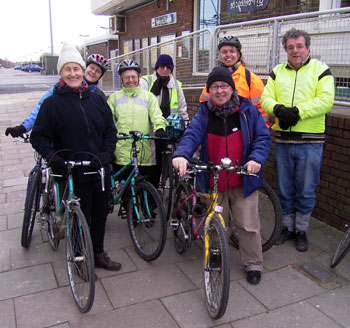 Sue, Alice, Suzanne, Joyce, Fred, Jim and Ian at Polegate station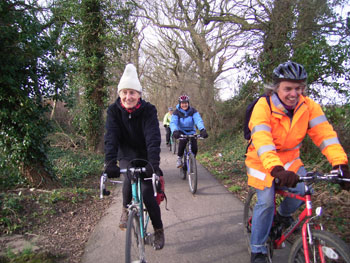 The Cuckoo Trail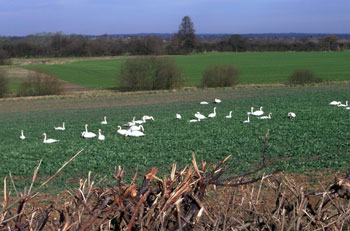 Swans in cabbage field
The first indication we had that we were approaching Waterworld was the flock (bevy, herd, lamentation or wedge) of about 50 swans we spotted in what can only be described as a large cabbage patch. Looking about for the nearest water we soon spotted a large stretch next to Priesthawes Farm. We were now on lovely flat terrain (let's forget about the wind for a moment) with water in the roadside ruts, water in the leek-ways, water in the Ditches (Martin's, for example) and water in the Guts - I kid you not, for there was one either side of us (Drockmill Hill Gut to the west and Hankham Gut to the east) as we turned left at The Horns and followed the Cycle Route 2 south-westward toward the Star Inn. There we partook of excellent soup, moussaka and BLTs which were accompanied by the usual variety of Clarion discussions: whether there is such a thing as human nature; whether non-cycling Clarion members should be asked to pay a supplement of £100 per year; who was going to eat Ian's chips.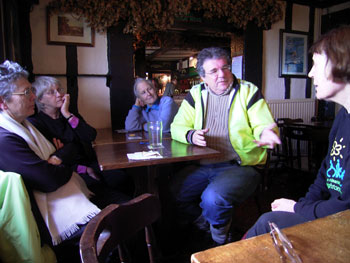 A heated discussion at the Star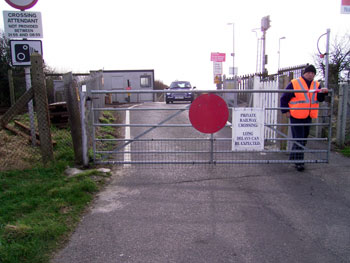 The human controlled crossing at Norman's Bay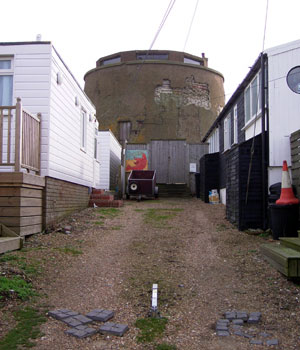 A Martello tower
It seemed to have got colder and blowier as we left the warm, welcoming pub, but our communal loins were girded and we set off into what seemed like a gale, down to Norman's Bay, past the historic Martello Tower (there are some days when you just have to give History a miss and stay on your bike to keep warm) and along the imaginatively named 'Coast Road' with its eclectic mix of what might loosely be called 'architecture'. The wind had us stringing out along the road with Ian as the tête de course, the peleton doing its best… and we won't say who the lanterne rouge was.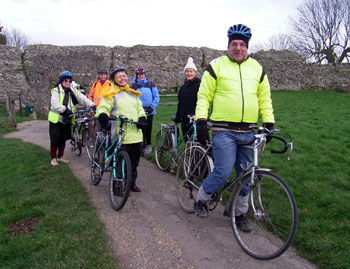 Pevensey Castle (the Roman bit)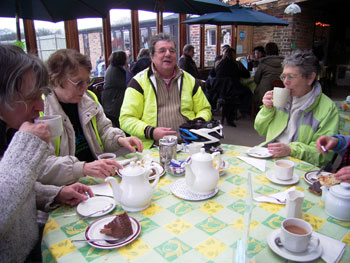 Tea and cakes at the Old Loom tearooms ('No Dogs allowed due to past indiscretion')
We then trod the ancient Roman ruins of Pevensey castle – feeling a little like Roman ruins ourselves, but then off for a few more sheltered few miles through pleasant suburbs and around the new housing development at Westham. Back under the A27 and past the Horns brought us to the second loop of our figure of eight which eventually returned us to the Cuckoo Trail and a well earned cup of tea at the Loom, where chocolate cake and toasted tea-cake formed the basis of a novel bartering system. Under Ian's expert guidance we make a well-timed arrival back at Polegate station with a comfortable 6 minutes to wait.
Many thanks to Ian for leading an excellent ride that certainly blew the cobwebs away.
Suzanne
[More and bigger photos on Flickr]
20 January 2008
Suburbs by the Sea
On what was promising to be a blustery day with ominous black clouds, 6 of us – Roger our leader, Suzanne, Fred, Richard, Jim and myself met at Brighton station, to be joined at Worthing by Mick and Ann. Noting and regretting the absence of Leon we assumed it was because there were no trains between Brighton & Haywards Heath (although one member expected him to cycle it!).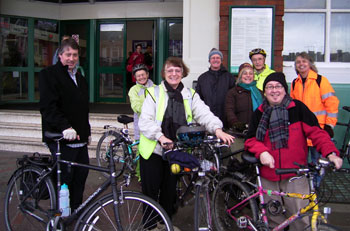 The start at Worthing station
On the train we noted with apprehension Suzanne's report that 22mph winds were forecast coming from the west – and we were heading west! At Worthing some talk about whether the route could be reversed, but, in the glow of the start of a ride, we decided to be hardy and carry on through Worthing (not the most cycle friendly place by the way: cycling forbidden on the seafront esplanade, no cycle lanes, except for one of those "now you see me now you don't" affairs).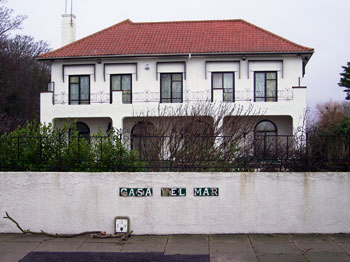 Worthing's Spanish quarter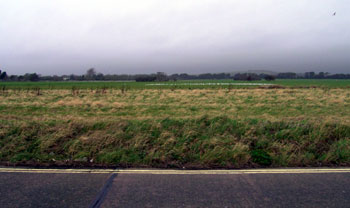 Goring is boring!
So along the seafront we went, battling against that fierce un-remitting west wind, envying the seagulls effortlessly riding it and with the accompaniment of the sails of the sea surfers and kites, themselves like great birds, Shelley said it:" Wild spirit, which art moving everywhere, Destroyer and preserver ..." (Ode to the West Wind).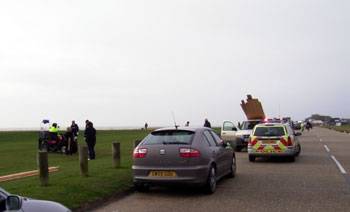 Police investigate wood theft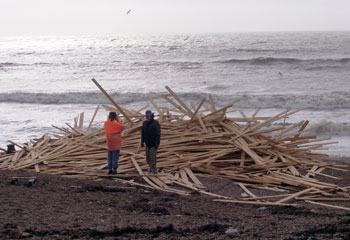 Jim and Mick check out the timber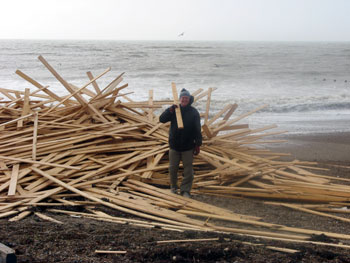 Mick with contraband timber - Jim's photo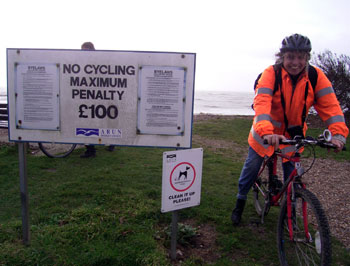 Jim being a rebel
All the way along the beach we saw timber from the wreck of the Ice Prince, less no doubt than Saturday, but still receiving the attention of the "beachcombers", from the van load to the couple carrying two boards on their heads, with apparently little attention from the authorities – one almost expected to see a cyclist with boards strapped on (it is true that Fred did pick up a "memento", but small enough to go in his bag). But what a relief to turn inland out of the full rage of that wind... into Bungalow Land, followed by Garden Centre Land, and then, outside Angmering into an extraordinary vast new estate, with apparently no shops, the nearest school a couple of miles away (where do the little ones go ?). This ride was turning out to be a course in social/geography and opening up for me an entirely new vista on Sussex.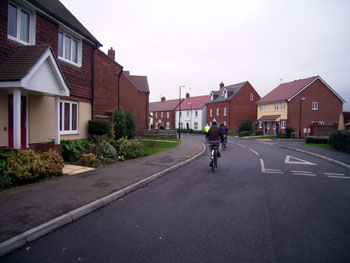 Riding through the 'Bramble Green' urbanisation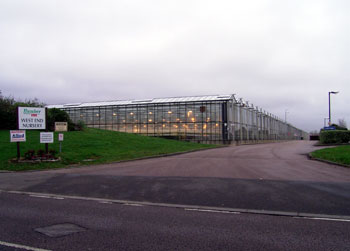 Giant greenhouse - what do they grow in there?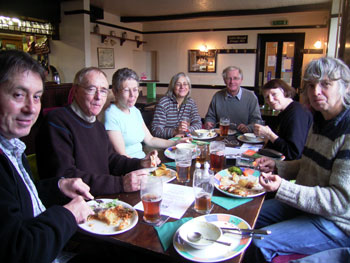 Lunch at the Lamb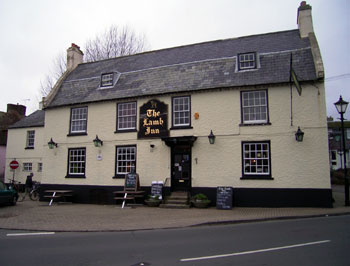 Exterior of The Lamb Inn at Angmering
Finally – Joy! into Angmering, a pleasant little village, and the Lamb pub where the welcome and the food were excellent. After a delicious lunch we continued our social research, this time through a series of private estates (with gates!). I remarked on the fact that, whilst there were plenty of Velux windows, nowhere in all these posh houses was there any sign of solar energy of any sort. I suppose they have no need to worry about the cost of heating these vast houses, and people who have three cars in their drives are perhaps not going to worry about climate change...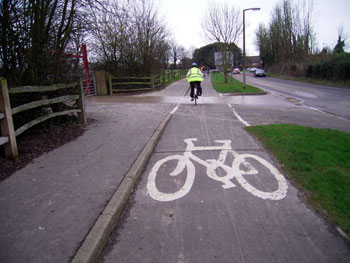 Nice segregated cycle lane out of Angmering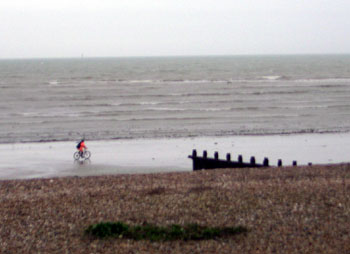 Jim takes a detour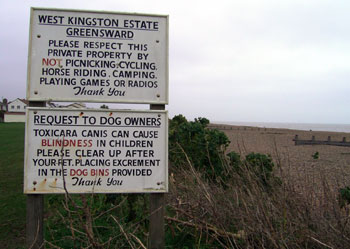 Private estate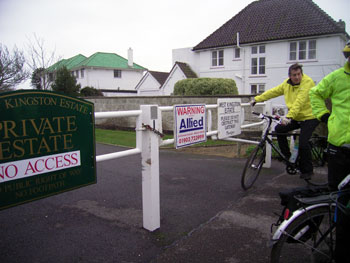 Gated community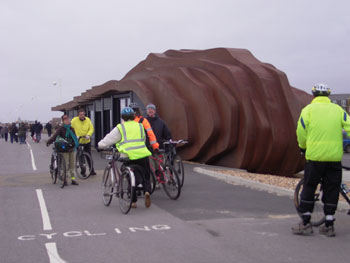 The East Beach Cafe
Kite surfers - Jim's photo
Back to the struggle against the wind along the coast to the East Beach Cafe, which rusty metal or not I liked. But it was full so we decided to continue to the Harbour Lights for tea and cakes before the train, where we flopped with that satisfied exhaustion of real work (only 17 miles but it felt like 30, who says the Clarionets are wimps ! !) . A fascinating ride, thank you Roger. And the last cheering word from Shelley on the West Wind: "The trumpet of prophecy! O Wind, If Winter comes, can Spring be far behind?"
Joyce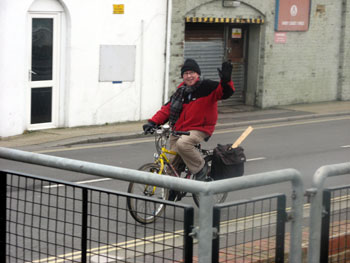 Fred carries off a souvenir - Jim's photo
[More and bigger photos on Flickr]
6 January 2008
Glynde, Berwick and Firle
Seven of us caught the 10:20 train at Brighton: Alice, Fred, Joyce, Leon, Roger, Sue and Suzanne. Jim jumped aboard at Lewes and Ian was waiting for us at Glynde.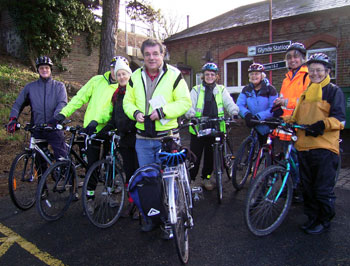 The start - Roger hiding behind Sue's hat
We set off south-eastward into brilliant winter sunshine. The leaders sped through Ripe while the peloton stopped to admire the goose girl and her geese. South of Berwick station we discovered a new cycle path running parallel to the road – a welcome development given the speed of traffic on this stretch.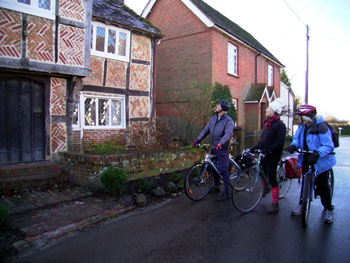 Admiring architecture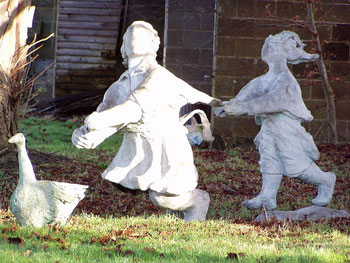 Goose girl - Leon's photo
The traffic on the A27 itself was even faster and unrelenting – where is everyone going? A helpful motorist flashed his lights to let us across and we arrived at the Cricketers' Arms just as they were opening.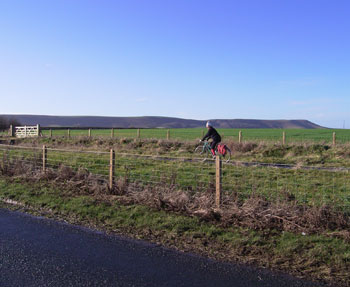 Sue takes the new safer route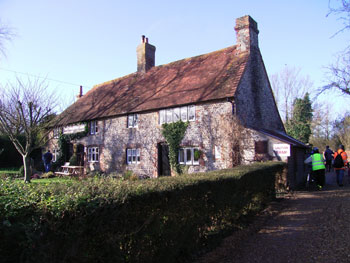 The Cricketer's Arms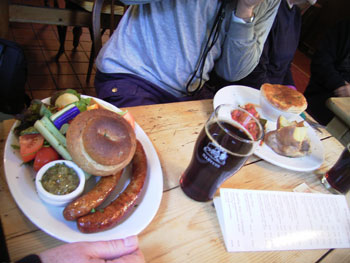 Gourmet food and Harvey's Old
Round a table groaning with food, beer and awful jokes, we discussed whether to send a delegate to the national Clarion Easter meet. Their job would be to contribute our views to the great debate on how many socialists it takes to mend a puncture. Jim seemed keen to go, mainly because he plans to campaign for a reduction in the average speed of Clarion rides, but he wants some company. Joyce proposed that our £1 local subs. could help pay our delegate's expenses. Ian pointed out that they would need to go up to about £25 a head to be much use. All good stuff, but unfortunately our Chair could not be with us so we failed to reach a conclusion. Roll on the AGM!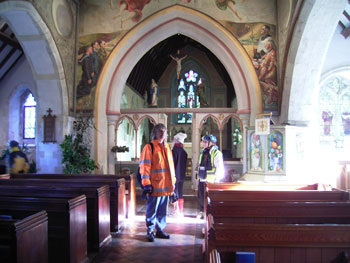 The Bloomsbury Group murals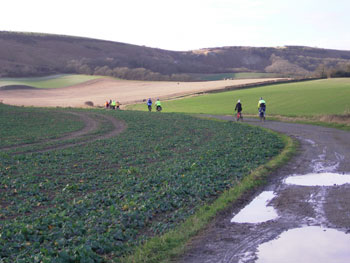 The Old Coach Road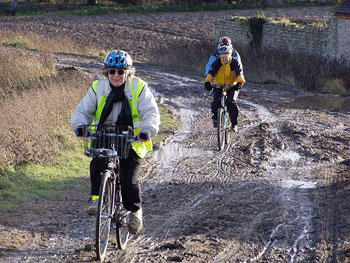 A little mud was no problem for Joyce - Leon's photo
After lunch we visited Berwick church to see the wall paintings. Then we hit the mud. The secret of success on country tracks after rain is to avoid them. But if you can't resist (as we couldn't), the secret is to get in a low gear and keep pedalling. That's fine, until the person in front of you forgets. Then you remember the other secret, which is to stay at least 30 yards behind the person in front.
Actually the mud wasn't too bad once we got onto the old coach road. We had a short stop at Bo Peep Farmhouse to scan the horizon for lost sheep. Further on we paused to plan rides for the rest of the year, which, we soon realised, is impossible without better information about railway engineering works. Ian has this all under control.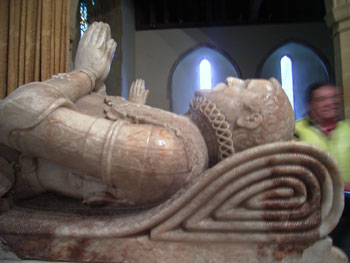 Sir John in Firle church
It then started raining, over which Ian apparently has no control. But who cares? It's only water falling from the sky! We took shelter in Firle church and admired the 15th century alabaster effigies of Sir John Gage and his wife, whose descendents still live nearby at Firle Place. The church also has a fine stained glass window by John Piper depicting Blake's tree of life, and a pipe organ with a notice advising users how not to set it on fire.
After another nerve-racking dash across the A27 we got back to Glynde in good time for the Brighton train.
Thanks to Ian for a good day out and to Sue and Joyce for the sweets.
Roger
[More and bigger photos on Flickr]
Very First ride of The Year - New Year's Day Brunch Ride
'In the deep mid-winter' – Anne's Report
After being cooped up most of the dark days of December it is a treat to have the Clarion New Year's Day Brunch, even if the Day dawns dull and damp, as usual.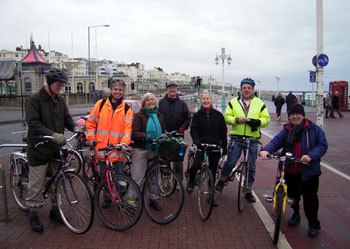 The start: Leon, Jim, Anne, Mick, Sue, Ian and Fred
We whizz down to the Palace Pier and just about make the 10.30 deadline, after having had to pop back home to pack a mack. We were greeted by Ian, Jim, Fred and Leon who had arrived earlier. Sue (Pringle) was spotted racing over the Madeira Drive crossing, a few minutes later, so Ian made the call to Sue (Bullock) to announce our departure and numbers. Sue's task was to pick up Chairman Ed who is suffering on crutches and thence to secure seats for us all together at Carats Café.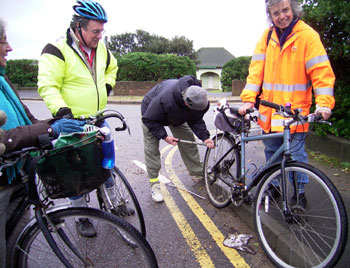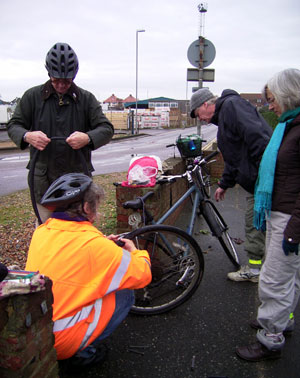 Mick's puncture outide 'Millionaires Row'
Pleasant progress along the seafront bike track chatting about the Xmas festivities and dodging infant cyclists on their new gifts from Santa, was halted at the harbour road when fate, or flint, struck Mick's back wheel; a puncture for which we two were completely unprepared, but Clarion clubmates rallied round to repair. Sue provided a new inner tube and Jim and Leon helped with pumps, spanners and expertise. Fred photoed the teamwork and Ian kept watch for the advance guard by the road to alert them. Zoe Ball was spotted and another paparazzi. I've seen her out on her bike before and exchanged greetings, as you do on bike tracks [sometimes]. Soon, Ian's car and Sue B zoomed by with Ted and Sheila too and were told of the setback.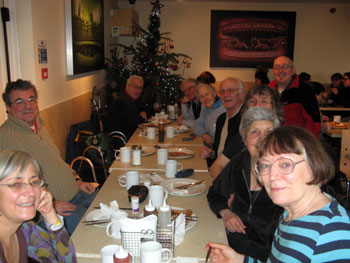 Inside Carats Cafe - Sue Bullock's photo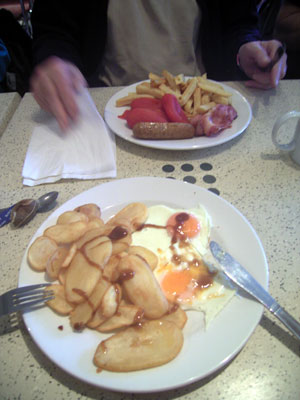 Saute potatoes and eggs, with brown sauce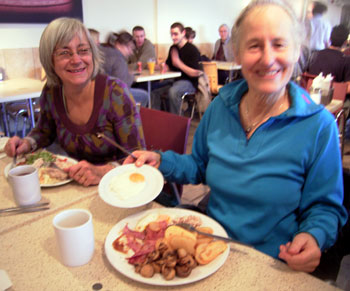 Sue P tucks into an extra egg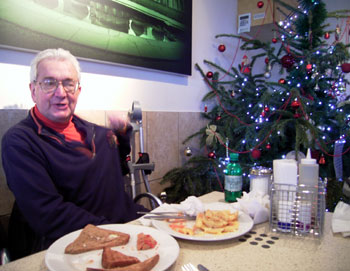 Chairman Ed with cheesy chips
Having started pretty promptly at the pier, we still arrived earlyish at the café. Some were seated outside but 'twas not the sunny scene of last year's brunch. Inside was warm. welcoming and steamy with a long table set up for us at the back by the twinkling Xmas tree. Well-cooked food arrived promptly and was enjoyed by all, from Ed's melted cheese on chips to my healthy tuna salad, with many a fried egg, hash brown or sautéed potato, mushrooms, bacon and all the trappings of an all-day breakfast. Best of all was to see Joyce arrive, as she had been ill all Xmas with what sounded like flu but her doctor had said wasn't as she'd had the flu jab. For the previous 2 years I've had the flu jab and flu shortly afterwards, so this year decided not to bother and have escaped it so far, while all around me have sadly succumbed. Sheila too, had been ill over Xmas and was so glad to be out for our Clarion brunch. Jim was wearing his 727 badge in solidarity with Omar Deghayes, who was finally out for Xmas too, after five years as a prisoner in America's Guantanamo Bay prison.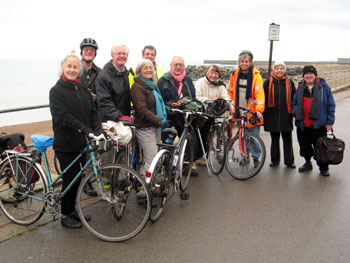 Group photo outside Carats Cafe - Sue B's photo
Ed was popping his pain-relief pills and looking forward to his op in 2008. Dark days too for the Labour Party and we shared our disappointment that even though Blair had gone, so far Brown had not changed much.
Mick and I headed West after lunch to visit his 94-year old father in Worthing and sample the new coastal path that we had missed on a previous Clarion ride. Without the club the path proved hard to find and the signage misleading. Though charming with graceful swans and water all around once found, we had to contend with westerly wind blowing rain at us. There was a red glow on the horizon and a thin stream of sunshine too so I hoped that the rest of the Clarion was soaring home over the rainbow to Brighton and weren't soaked to the skin as I was. We caught the train home and looked out for Leon at Brighton station, as he was returning to Hassocks, from whence he came.
Happy New Year to all and thanks for all the fun. We bought some fresh fish at Worthing beach and soon dried off in Mick's dad's flat, so not all bad and managed to arrive home in daylight. Hope the south westerly carried you all home safely.
Anne
The 'peleton', as Fred would say, had good luck in avoiding the rain returning to Brighton – Ian
[More and bigger photos on Flickr]
Last ride of The Year
Sunday 16 December
Berwick Circular - Alice's Report

A good turn out for the last ride of the year. Eight of us Joyce, Roger, Suzanne, Fred, Jim, Leon, Ian and Alice started our last ride from Berwick station. The weather was a perfect cold, crisp and sunny winter's day for which everyone was appropriately dressed in an assortment of hats, scarves and gaiters.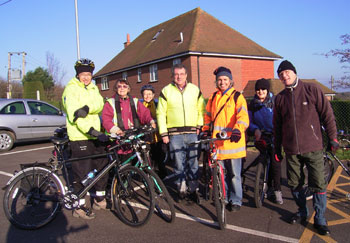 Fred's photo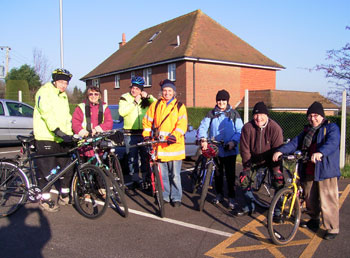 Suzanne's photo of the start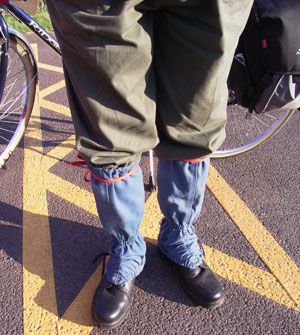 Leon's gaiters

From Berwick station we briefly cycled south before turning into Common Lane meandering through the Low Weald until arriving at Ripe.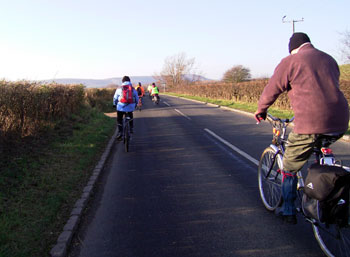 Towards the South Downs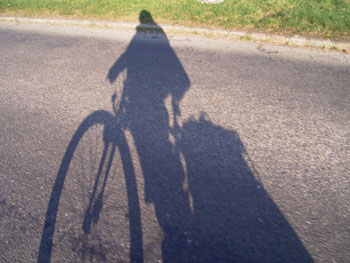 Long shadows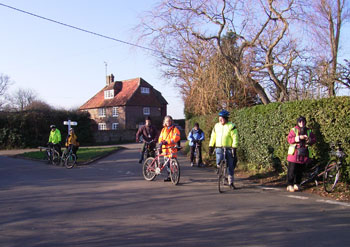 Hot chocolate stop

A brief stop was taken in Ripe where Joyce restored her energy levels with hot chocolate from her flask. A further stop in Ripe was required to admire an old timber-framed 16th century house that was covered in numerous carvings.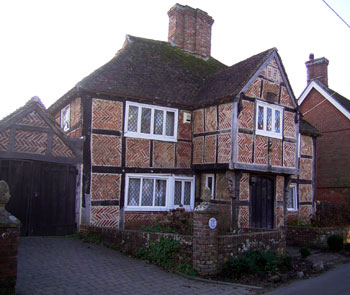 Old house in Ripe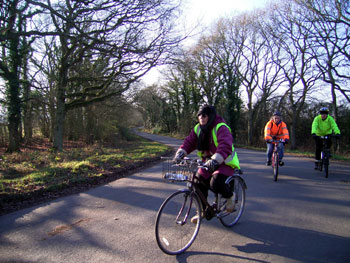 Wrapped up warm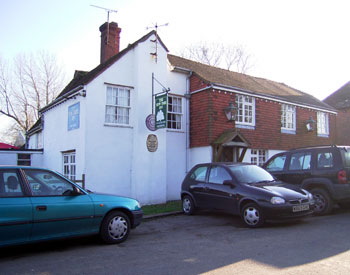 The Yew Tree Inn

From Ripe we cycled out past a tiny airfield until we reached Golden Cross. By this stage most were feeling the cold and looking forward to the pub and lunch. However it was not midday so on we went finally stopping at The Yew Tree Inn for a welcome break. A large table was found to accommodate us all and food ordered and enjoyed. So far the day had gone without mishap until Jim knocked over his pint.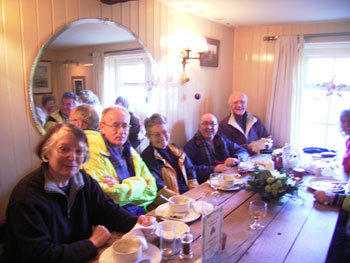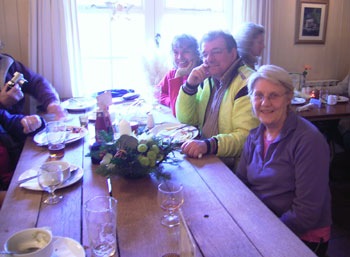 Lunch

Following lunch it was a very short cycle ride back to our starting point at Berwick station. The barriers were down and we watched the earlier train leave the station. There was only one thing to do to fill in the hour before the next train and that was to have further refreshments in The Berwick Inn.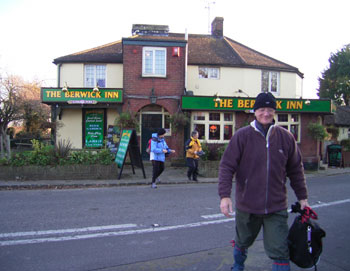 After tea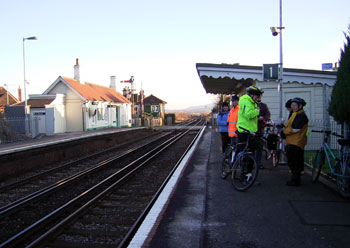 Waiting for the train home

All in this short but enjoyable cycle ride would like to thank Ian for organising the route. We had a good day.

Alice
[More and bigger photos on Flickr]
Sunday 2 December
Berwick, Firle and the Old Coach Road
It didn't seem too bad weatherwise when I set out from home this morning, but sitting in the car at Glynde station I began to realise just how strong the wind was gusting. Although the car park is down in a hollow the car was rocking and bits of nearby trees were falling on it. When the time came to get out I opened the door and the wind took it out of my hand. By then I'd decided that – if anyone else turned up – I would suggest we cancel the ride; rain is uncomfortable but you can cope with it, but strong gusting winds can be positively dangerous. When the train arrived only Jim emerged – and soon agreed with me.
18 November
Cuckoo Trail: Leaves on the line
The bright yellow and golds glistening in the waning autumn sun of two weeks ago have given way to a leaden sky and the gentle fawn-colour carpet of leaves … just get on with the story, woman!
Ok, then, let's skip the literature… It was overcast when seven of us met at Brighton station, all trying to bolster up our courage in the face of our credence of the BBC short-range weather forecast which promised rain starting in the morning. We scrambled onto the Ashford International train (not nearly as exotic as it sounds) for a comfy, warm ride to Polegate and into the waiting arms of Ian, our leader for the day. Unusually we did get a couple of rebuffs from passing potential photographers, but a young (ish) lady came to our rescue and once we had been thoroughly documented in pixels as being Alice, Fred, Ian, Jim, Joyce, Leon, Roger and Suzanne, we were off 'up North' – up the Cuckoo Trail.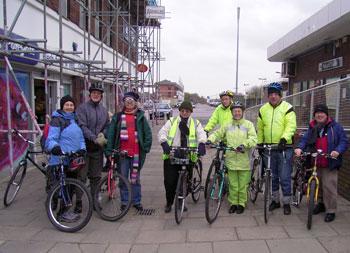 Eight Clarionettes – Alice, Leon, Jim, Joyce, Roger, Suzanne, Ian and Fred – ready for anything!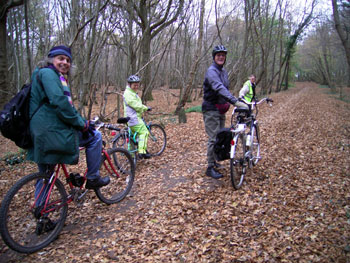 Leaves on the line
As all the leaves from the trees were under our wheels rather than on the trees, we were able to appreciate the huge engineering task that was line between Polegate to Crowborough (or nearby). There was the deep cutting going south into Polegate, the many level crossings (now replaced by prosaic Toucan crossings), the bridge across the Cuckmere River and the wonderful long embanked incline running out of Horam, not to mention the pathetic remains of the edges of the two station platforms at Horam itself. Thankfully Hellingly station has fared much better by becoming a private house.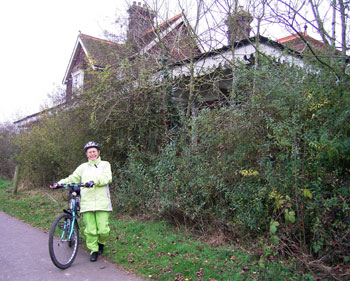 Suzanne outside Hellingly station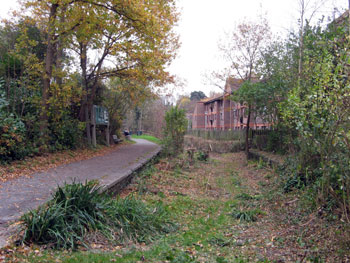 Horum station (Jim's photo)
With a south wind to help us on our way we arrived in Heathfield just before one o'clock, tired, cold and raring for food. 'Where's the pub?' we asked ourselves. As ourselves did not know the answer, we asked a very helpful local who (in what we could only consider a very disloyal tone viz-a-viz his home town) in effect said: 'Forget it'. There was, apparently, one pub a mile away in Cross-in-Hand, or the one and only pub of Heathfield itself, the Prince of Wales, about half a mile back along the way we had just come-ish. Now, the Prince of Wales did serve Harvey's. That was in its favour. But it also failed to serve any more than a full 'carvery' lunch – with virtually no veggie option, so a show of hands opted in favour of a late lunch-cum-high tea at The Loom just north of the Polegate bypass.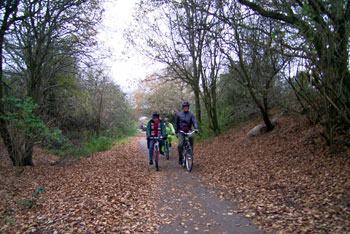 North along the Cuckoo Trail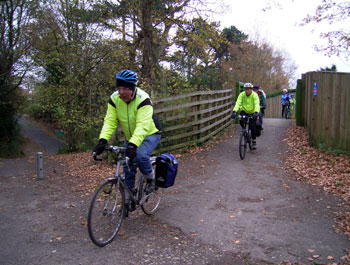 Over the bridge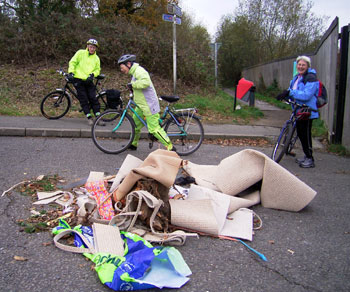 Fly tipping near the top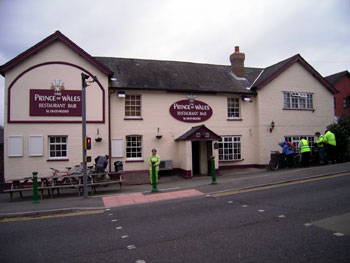 No (veggie) food at the inn
This was a Good Thing as the weather turned colder, the rain started and the leaves were determined to become the 'wrong sort' of leaves that would have us slipping and sliding off our machines in a shake of a lamb's tail. As we got to The Loom the rain pelted and we belted inside to fill up on excellent sandwiches, toasted teacakes, hot chocolate with enough cream on top to give anyone a blubber layer to survive any Clarion winter ride.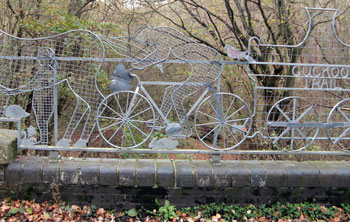 Bridge decoration (Jim's photo)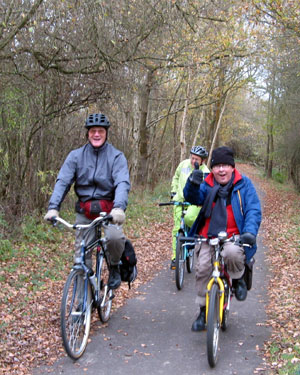 Leon, Roger and Fred (Jim's photo)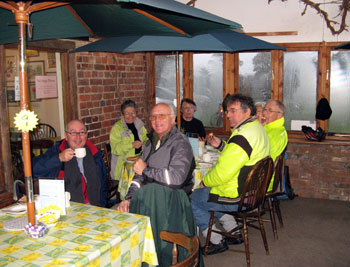 Tea out of the rain in the Old Loom (Jim's photo)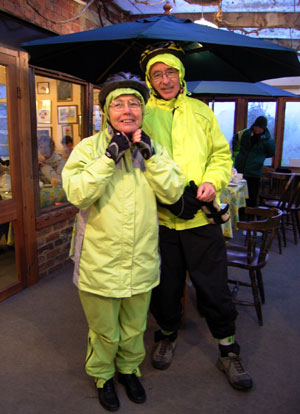 Suzanne and Roger get ready to face the rain
No Clarion report would be complete without the final score. 'Final score' I hear you cry in dismay. 'We go on Clarion rides in Sussex precisely because it is not competitive.' Well, there does seem to be a bit of a competition going on. It's called Which Ride Has The Most Falls – and the Cuckoo Trail turned out to be more of a Cuckoo Trial to some: first off we have Joyce who was virtually mown down by a teenager on a scooter … and no, it wasn't a Vespa or a Lambretta, it was the sort of scooter you and I scooted on at the age of 6; then it was Leon doing his toreador act, gallantly trying to pick up a grounded handkerchief for a fellow rider; and finally, not to be outdone, Alice gracefully slid to the ground coming round the final bend into Polegate on a very poor road surface with a treacherous ridge in it.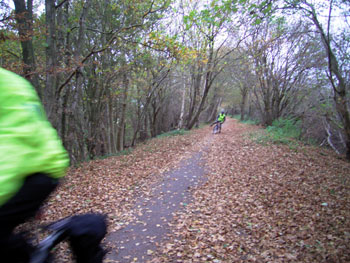 Leon loses his footing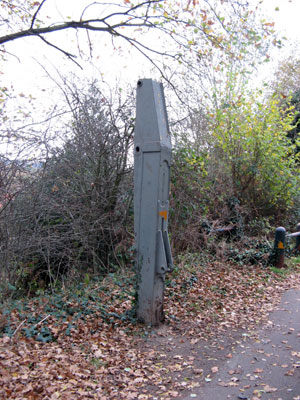 Mystery sculptural object: Jim thinks it's a token instrument – the thing the drivers would have put the 'token' into at the end of a single-track section (Jim's photo)
At last, back to Polegate Station with only a quarter of an hour to wait. We were past caring that it was tipping down with rain and that both waiting-rooms were securely locked against (Heaven forefend) any 'Customer' who might wish to take shelter. Many of the other poor souls on the platform were not as well waterproofed … or tough … as the Clarion Seven. Seven, as Ian had taken his rather worsening cold off to a hot toddy, but he departed with Suzanne's thanks for the loan of his lovely warm spare gloves and the thanks of us all for organising the ride.
Suzanne