Archive
Reports from Summer 2008
12 October 2008
Hayling Island
[More photos on Flickr]
This ride started at Emsworth, whose name, according to The Meaning of Liff by Douglas Adams and John Lloyd, means 'Measure of time and noiselessness defined as the moment between the doors of a lift closing and it beginning to move'. Some of us had travelled from Brighton, and others from Hove, whose name, according to the same source, describes 'the expression on the face of a person in the presence of another who clearly isn't going to stop talking for a very long time'. Other 'definitions' in the book kept us (particularly Joyce) amused on the long train journey.
After the usual group photo, Roger led Amanda, Angela, Jim, Joyce, Laura, Marilyn, Sue, Suzanne, Terry and Tessa out along the roads of Emsworth, with Ian as back-stop. It was Angela and Laura's first Clarion ride, and both were apprehensive about the distance.
After a stretch of the A259 (thankfully, in the cycle lane) we moved onto quieter roads, including Pook Lane. We came out onto a lovely waterfront looking out onto a stretch of water – the channel that links Langstone Harbour to Chichester Harbour and separates Hayling Island from the mainland. The path here is called Wayfarer's Walk, so we walked. We saw a group of adolescent cygnets (adult-shaped but still grey) whose parents seemed to have abandoned them; then a strange-looking edifice which was built out over the water and also had a lighthouse-like tower attached.
Hayling Island was living up to its name at that time, with the tide in and the only way across being the road bridge. Once over, we turned off the 'A' road and proceeded down the east side of the island through Northney, then back across it and down the west side towards the Ferry Boat Inn. The south-western tip of the island has the unusual name of Sinah, which, from a quick Google search, was apparently Seynor in 1440 and may have descended from a hypothetical Old English word Saeganora or 'bank at the marsh'.
The Ferry Boat was busy, and after queueing to order food and get drinks, we settled in for a long wait. It was a glorious day; the inn looks out over Langstone Channel towards Portsmouth, and, after the hardier among us had had a paddle, we sat outside, the 12 of us spilling onto 2 tables. Table 15 was definitely the place to be; it turned out that Joyce and Angela have both lived in Hackney, while Amanda lives nearby in Mile End, and I have been there once. We discussed the changing face of the place, from the days of the Kray Twins to its current somewhat up-market status.
Roger had saved the best bit of the ride for after lunch; we took the 'Hayling Billy' path, the route of the old railway line, up the west side of the island. In many places the path is right on the coast, and looks out over Langstone Harbour, which had now drained out considerably with the tide, exposing mud banks and attracting birds, including a Little Egret. The path has two separate lanes – one for bikes and one for horses, 'so no poo on your wheels' as Angela eloquently put it. As we approached the bridge, there was a discussion of various types of knickers, which Ian told me he would censor if I put it in, so I'd better leave it at that, although I would just point out that the topic arose in connection with warding off saddle-soreness. By this time both our new riders were suffering from this condition, but I am happy to say that they made it all the way and did not need to be carried!
The original Sustrans proposals for the Hayling Billy route included the building of a new bridge between the island and the mainland, but unfortunately the project was scaled down and this idea was dropped – so we went back on the busy road bridge and gazed sadly at the remaining pillars of the old railway bridge. We continued to follow the old railway line towards Havant Station, leaving it to re-join the A259 cycle lane back to Emsworth. We had done just over 18 miles, with no hills, no mud, and nobody falling off (although Angela's chain did a couple of times); and we had seen an unexpected side of the island – not just tatty seafront and caravan parks. Thanks to Roger for an enjoyable and well-researched ride, and for the wonderful weather!
Jim
Sunday 28 September 2008
Berwick Circular or Sun, Festivities and Culture (Folk and High)
[More photos on Flickr]
After doing the Higher Mathematics course in railway tickets (i.e. converting one 4 person Groupsave and one 3 person Groupsave into a 7 person Groupsave) Tessa, Suzanne, Roger, Richard, Joyce, Fred and Angelica boarded an unusually deserted Eastbourne train (it's an ill bus link that brings nobody any good). The conversation reached the heady heights of composting food with worms. The train tried to abduct Angelica by not letting her off at Berwick, but finally the Magnificent Seven met up with the Magnificent One (aka Ian) and we were ready for the off… well, at least after the photo was taken, Roger had a spin on Richard's bike to try his new handlebars and we had all donned sunglasses. Yes, it was that sunny.
A gentle glide on quiet roads brought us to Golden Cross, over the big, bad main road and off to Chiddingly and its Festival. We took a small detour to once again admire Roland Penrose's house, to be given some interesting facts by Ian about Lee Miller and to wonder why it is the American who is commemorated by the plaque on the house and not her British husband.
And so to Chiddingly. The marquees were up, the stalls were open and the Morris dancers were jingling. There was a flurry of frenzied apple buying by Clarion members and then down to the serious matter of choosing between the local, homemade pies, the wild boar sausages, the venison burgers or the veggie platter. All to be washed down with a local brew. Art was inspected in the Church Hall, ice cream was eaten, friends were chatted to and then the belly dancers appeared. Not just one or two. Oh no! At least 12 of these pirouetting lovelies. The crowd greeted them enthusiastically and Fred was busy snapping away for the good of the Clarion website.
Another aspect of the Festival was the range of Open Houses in and around the village. We stopped at 'The Quadrangle'. This secluded group of cottages clustering round a grassy courtyard was originally intended to house injured service men returning from the First World War. It never played that role, but for us it still held many surprises: a shady wood harboured a photographic exhibition; the community's 1920's pump-house was studio to an artist of the geometric persuasion and two of the diminutive cottages were embellished with varied arts and crafts.
When finally Ian was able to round everyone up, we continued through the woods and along the hedgerows of the Weald and then, as we gradually dropped down toward the foot of the Downs, we came into the sunlit open countryside with glorious views of the Downs themselves. At which point the magic words 'tea and cakes' were heard rippling through the group.
The run down to Selmeston tea-rooms was a pleasure; the kitchen staff waved a welcome as we passed their window, out popped the chef to exchange cycling pleasantries with Richard and the tea, crumpets, teacakes, scones and carrot cake in the garden were a triumph. The waitress was a real professional, ensuring that we were served without delay so that we could catch the 4:48 from Berwick, the catch being, of course, that we had to cycle uphill out of Selmeston to return to our route. But the last couple of miles were an exhillarating ride in a downwardly direction as the shadows lengthened. Back to Berwick at exactly the right time with a short wait and a comfy ride home.
First prize to Ian as 'Shepherd of the Week' and for an enjoyable ride that did seem to have more downhill than up (how do they do that?!?)
Suzanne
[It's a secret I am keeping to myself for the moment! But thanks for the kind words – I was pleased that I managed to get the timing right throughout the day. Ian]
Clarion Picnic
(Apologies to Joyce, and everyone else who went to the Picnic, and everyone who didn't but wanted to know how it turned out! Joyce sent me this in good time for the last Circular, but I forgot to put it in! Anyway, here it finally is … Jim.)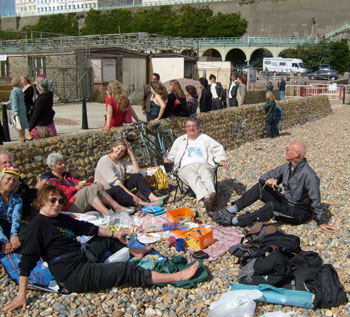 Sunday 24 August started in a very dispiriting way, waking to yet more rain and a sombre overcast sky. But – ever optimistic – a few phone calls proved that Clarion members (well some of them) are a hardy lot. First arrived were Joyce (me) because I was worried that someone would turn up and leave immediately on seeing no-one, and Leon who had kindly turned up to help carry some gear. Once on the front and by 12 the rain had more or less stopped, although the sky remained overcast and the wind still strong.
But people soon arrived, Anne, Ian, Sue, followed soon by Mick and Sheila. After much hesitation we decided that picnic on the beach it would be – no sloping off to the nearest cafe for us! We found a spot behind a handy wall and, by the time covers were out, seats put up – lo and behold the sky was clearing. Putting all the food together revealed a fantastic spread, with the great rock cakes from Leon's wife Joyce who wasn't even there .... And soon the sun was shining. Sue arrived as did people appearing from wherever they had been hiding (down to a very numerous wedding party to whom we serenaded "here comes the bride" in song, mouth organ (Sue) and some strange kind of whistle (Anne)).
We were then joined by two of Sue's friends – (forgotten their names maybe someone will fill in), one of whom had travelled to Brighton by bike from Sweden! The afternoon passed in a typical Clarion way:- eating the scrumptious food, chatting, avoiding political arguments (just), playing "gobs", "five stones" or "dabs" (we couldn't agree on the name since it seems to have a different name in every town!). Joyce won the Clarion Gobs' championship and was duly presented with a signed stone. No one swam because the red flags were out.
So it was a great Brighton afternoon in the sunshine. Let's have another Clarion Social event in the winter at our usual time. And let's have ideas from you all and then we can take a collective decision.
Joyce
Sunday 14 September
Three Bridges Circular
[More photos on Flickr]
Jeff, Jim, Roger, Suzanne, Richard, Ann, Mick and Tessa all caught the train to Three Bridges where we met Leon, his son Lawrence and grandson Luke.
We sped off along a busy road that had a narrow cycle track to join Cycle route 21. On this lovely day it took us first into the woods towards Worth where it would become the Worth Way. I was struck in the dappled sunlight to see no sign of autumn colours yet, everything very lush and green – I wonder why?!
An avenue of limes leads down towards Worth Church, where Sunday service was ending. Children clutching Chocolate Digestives rushed about the graveyard and friendly adults chatted to us about the Saxon Church and its Norman Font.
On leaving the church, Jeff told me that there was a myth that Lord Alfred Douglas (of Oscar Wilde fame) was buried in the churchyard. It's not true, he is buried in Crawley with his mother. Crossing the busy M23 by overhead bridge, Jeff realised he had left his rucksack full of precious books and maps in the church porch, he rushed back for it.
Whilst waiting for him on an open section of the track, Jim treated us to some modern day archaeology. He pointed out a lump of concrete in the field parallel to our track and to the vegetation on either side which differed from the rest of the field. It was the path of the railway line and cutting that had been filled in at the time the M25 was built.
We passed Rowfant station where the station buildings still stand but not the platforms. Our path emerged into suburban Crawley Down and then back into the woods at Crawley Down Pond. We didn't spot a kingfisher though there was a picture of one on the noticeboard.
At East Grinstead station Jim pointed out an old section of line by a wooden painted sculpture which he said would have made a good section of Sustrans route. (I am trying to include railway references!)
A long section of busy Lingfield Road followed, luckily it was mostly downhill and led us to The Star our lunch stop. Our lunches came quickly, dutifully photographed by Leon, and we had to eat them at top speed because although sunny, there was a cold nip in the air. We looked at Jeff's Victorian cycling book and Lawrence told us about his close encounter with a crocodile in Australia. After lunch, those of us sitting in shade moved to bask in the sun and to peruse Jeff's 1877 linen backed map of the area and his Navigator uncle's origami book of maps.
The skip in the Pub carpark provided us with 2 new Clarion members (or mascots) Teddy and Monkey aka George and Julian. They hitched a ride with Leon and Jeff.
We spent longer than we meant to at St Peter and Paul's church in Lingfield as we met an enthusiastic guide who told us its 14th century history. Originally a mausoleum for the Chobham family, alabaster figures lie in state, Saracen infidels below their heads and feet, wishful thinking on their part as none of them took part in the Crusades.
As we left the Church, Leon fell off his bike and got a nasty graze. He was grateful for his helmet as he would have hurt his head as well.
A quiet Sycamore lined avenue followed that had the sense of a private drive. Researching it later, Jim discovered the 'big house' Ardenrun had been razed to the ground by fire. It is known locally as the 'Bentley mile' as there was a family association with the Bentley car firm, Le Mans and racing. It now has speed bumps.
Our first section of 'Off road' – a bit muddier than Jim had anticipated – We saw and photographed a frog.
Our second section of 'Off road' – Jim fell over luckily onto soft wet grass. We had to carry mudcaked bikes over stiles (thank you Lawrence!) through quagmires and puddles, prickly bushes and nettles to the sound of noisy and possibly threatening bullocks.
When we got to the third stile Jim said 'Oh dear…' and trudged back to see where we had gone wrong. Climbing over the third stile I found a clear and perfect path leading in the right direction so bikes were passed over the barbed wire fence and we carried on to emerge onto road. At Brickhouse Lane we stopped to administer plasters and dislodge mud from wheels.
By that time most seemed keen to forgo the tea in a pub stop and head back along quiet roads frequented mostly by faster than us cyclists. We rejoined the Worth Way getting a close view of the concrete archeological artefact mentioned earlier.
We sped into Three Bridges with minutes to spare for the Brighton train.
A crowded train but it did have a tea trolley!
Thank you Jim for a wonderful 27 mile ride!
Tessa
[More photos on Flickr]
24 August 2008
Picnic at Banjo Groyne
Here's a photo from the Clarion picnic last Sunday, taken by Sue Pringle (we didn't manage to get a passer-by to take one of us all, in spite of the wedding party nearby! They studiously ignored us elderly eccentrics). Sue just aimed in our general direction with the camera - bright sunlight on the screen made it difficult to see.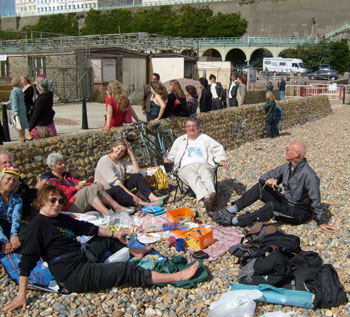 31 August 2008
Burgess Hill to Shoreham
[Lots more photos on Flickr]
Brighton and Hove awoke to thunder and heavy rain, but the Clarion was not discouraged. By the time Angelica, Jim, Leon, Roger, Suzanne and Tessa had gathered at Burgess Hill station the rain was easing off and spirits were high.
We sped out of town and onto our old friends Job's Lane and Bob's Lane. There was a short stop at Woodbine Cottage in Wineham to buy some local produce; Tessa's beetroot could not have been fresher as it was pulled just for her. Angelica washed the soil from her carrots and offered them round.
To the sound of carrots crunching we set off again and arrived at Henfield in good time to take in the local sights before lunch. Leon led us past Martyn Lodge, former home of Canon Nathaniel Woodard, founder of Lancing College and several other famous schools. Then on to a small thatched cottage nearby known as the Cat House because of the pictures on its walls of a cat holding a canary. It seems that Canon Woodard's cat killed a canary belonging to George Ward, the owner of the cottage. Since the Canon had to pass by each time he went to the nearby church of St Peter, Mr Ward decided to make sure that he never forgot the error of his cat's ways.
And so on to lunch, which, thanks to Leon's careful planning, was at a pub called the Cat and Canary. Some Clarion members may remember it by its former name, the Old Railway Tavern. The food was excellent, especially the added tomatoes which Leon had purchased at Woodbine cottage and now handed round the table.
The Old Railway Tavern was so named because it stands on the disused train line, which now forms the Downs Link cycle route. We used this route to complete our journey to Shoreham, stopping briefly to chat with three mud-spattered young cyclists who had covered the whole of it, all the way from Guildford.
The route crosses the river Adur by a footbridge at Botolphs. This bridge has now been seriously upgraded for cyclists, with well surfaced ramps replacing the previous wooden steps.
At Shoreham the sky was full of ancient planes and the new toll bridge was busy with the air show crowds. We took the back streets to "Teddy's", a fine tearoom near the station. Revived by Teddy's tea and cakes we abandoned earlier thoughts of a train ride home and opted for another few miles in the saddle. A misty rain descended and those with lights switched them on: a slightly damp end to an excellent day out.
Thanks Leon!
Roger
Sunday 17 August 2008
Chichester Harbour - Sue's Report
[More photos on Flickr]
Four of us met on Brighton station – Leon, Joyce, Alice and Sue. So we managed to buy our 4 tickets for the price of 2. Very helpful when the fare to Chichester is £11!! We all signed Joyce's petition to increase funding for research into beekeeping – recognising that our own food supply depended on these little creatures.
Ian was waiting for us on the platform at Chichester and, after having the mandatory group photo (Leon deputised for Fred Pipes as official photographer for the day) we set off for the canal.
A family of swans arrived as we rode beside the canal basin, half flying and half in the water – the parents appeared to be teaching the teenage signets how to perform this manoevre – lifting up from the water beating their wings, then subsiding down again.
Although there was a cool breeze, the day started out with intermittent sunshine and the countryside was a delight. Over the other side of the canal a herd of black and white cattle drifted, moving into the water here and there to take a drink. Such a peaceful rural scene.
We continued mostly on quiet lanes then track, far away from the sound of traffic. We expressed our appreciation of the work Sustrans had done in improving the surface and gaining permission for cycles to use this part of route 88. Ian was a bit apprehensive as we approached one gate as last time we came this way it had been padlocked and we had to lift the bikes over. Relief all round when we found this gate open after all. Thanks to anyone who was responsible for having this sorted out!
For lunch we bypassed the Crab and Lobster, in such a unique position by Pagham Harbour, as it has become a gastro-pub with no low-priced snacks suitable for our needs. Instead we made our way to the Bell Inn at Birdham where sandwiches were available.

Before we arrived there, cycling into a quiet lane, four of us followed the signs for 'runners, veg' into a small market garden. Here we delayed our journey to choose from a variety of beautifully fresh vegetables, which we could deliver to our homes via pedal and train power – no air miles involved.
A highlight of the route was a journey on the Itchenor ferry – a small open boat which accommodated our bicycles and took us a few hundred yards over the water to connect with the road to Bosham Harbour. (The experience reminded the company of Jeff's enjoyment of this novelty on a previous trip!)
There Ian led us on a wet and seaweedy road lapped by the sea to partake of tea and cake at the local tea shop. We managed to secure a table by the window, looking out over the water.
The day had become overcast and a bit chilly, and for much of the day we were riding into a headwind. However, although the sky was darkening as we cycled back to Chichester along the Centurion Way, we managed to avoid any rain. Back to the station just in time to catch a fast train home – a very satisfactory day out. Thank you Ian for leading us.
Sue P.
27 July 2008
The Tollbridge Ride - Joyce's Report
[More photos on Flickr]
This was our now traditional ride to support the renovation of the Tollbridge – and the good news is that 'we did it'" (well maybe not quite us alone .... ) :- the bridge is scheduled to re-open in October.
On a glorious summer morning Fred, Jim, Joyce and Jeff met at Brighton station – smug in the knowledge that we were going to have an easier ride than usual , after successfully persuading the organisers that 28 miles on top of getting to Coombes Farm was a bit much (didn't leave us enough time to delight in Wiston's without always being the last back ) - so this ride was going to be 16 miles. At Shoreham we were joined by Alice (who had heroically ridden from Brighton) and Leon; Amanda joining us at Coombes Farm. There the aficiados admired the drawbridge mechanism of the Shoreham footbridge.
Since the Tollbridge is still closed, our leader Jim took us on a very pleasant mystery tour across the footbridge, along the houseboats, through a meadow and wood until we miraculously emerged at Shoreham airport. From there it was the familiar ride up to Coombes Farm. Unfortunately too late to meet up with Allen Turner and his son who, way beyond our league, were doing the really long ride 38 miles!. Apparently we just missed their start but heard that they had successfully completed route 5 in good time (back before us!!!). Congratulations to both. (and see below for Allen's account.)
After much fussing with safety pins and numbers (an excuse for at least one to take his shirt off yet again!) , and admiring Jeff's new shoes (where does he find them?), we were soon off with appropriate safety advice from Les Robinson. Off up the familiar hill on Coombes Road – and this time we did not take the easier route to Steyning via the Downslink , so braved the hill. Out through Steyning and then on pleasant roads with a lots of wonderful names to delight us 'Wapping thorn Farm', Maudlin Paddock, Beggar's Bush, and into the long and delightful Spithandle Lane. This offered a complete range of landscapes – meadow, bush, lovely shaded woods and – best of all, led us direct to Wiston's, a veritable Oasis on this now very hot day. We even got there so early we were able to spend lots of time and not feel guilty.
Apart from food, there was convivial company, Jeff's London rail map from the eighteen hundreds to pore over, a friendly robin and an Indian Runner Duck, which try as he might Fred could not catch up. Finally Jeff produced his Betty Boop on a Harly Davidson motorbike vest, which immediately had Leon, shirt off, trying it on ... After stocking up with fresh peas, beans etc. We reluctantly said good bye to Wiston's – but not before admiring a magnificent Chevrolet wedding car.
On the way back we stopped to admire the work being done on the bridge and to Coombes Farm for tea bread, tea and our medals. Then a long laze on the grass where the good name of Clarion was tested when Leon got told off for scrumping the local cherryplums – but it was all resolved in the spirit of fellowship when it was seen to be down to a misunderstanding.
The ride back to Shoreham station was uneventful other than for some melodious (and some otherwise) singing. There the group divided between those returning by train and Alice, Leon and Joyce deciding to ride back to Brighton (probably feeling a bit guilty after all that lolling about). At Hove Alice was the first to reach home ground, Leon and Joyce continued for an ice-cream and then Joyce left – and then there was one – who I am reliably told went for a swim before getting the train from Preston Park.
A lovely day and so good to know the Tollbridge is to live again.
Joyce
And Allen adds:
Yes, we were there, but left early, about 9.40. Both of us had other engagements later in the day. It's curious that the check-in ladies didn't remember, because one of them commented on the Clarion cap I was wearing!
Oh well. What it is to be forgettable!! Anyway we completed route 5 in good time. The home made cake at the end was very welcome. (I thought there were fewer riders than last year?) It was odd not riding to the Tollbridge, but I passed it on my way back to Lancing after the ride. They seem to be making excellent progress, but hopefully they will still need more money and there will be a ride next year!
Allen
Sunday 3 August
Chichester and the five W's
[More photos on Flickr]
'Fellowship is Life'… and also a cheap train ticket. Fred, Joyce, Roger and Suzanne met at Brighton station and hey-presto: 4 travellers = 1 saving on the group fare.
A slow journey to Chichester flew by with Fred's account of his train + bus expedition to Hythe [actually Folkestone - Fred] the previous day and a discussion about Tesco taking over the London Road and other topical matters (Joyce being ably supported by the young solicitor sitting next to her who had evidently been 'ear-wigging' throughout most of the journey).
Prejudices ran riot as we decided that the teenage girls dressed in luminous pink outside Chichester station might not be the most reliable of photographers. Fortunately a young mum came to our rescue and the traditional family portrait was successfully captured. We were off, wending out way west over the railway line and then to the first optional tour of the trip to Ratham Mill. No rats involved. Ratham being the modern version of the Anglo-Saxon 'settlement of Rōta', a settlement described in documents as far back as 1279.
Then on to the first of our W's: into the parish of West Ashling, past the corrugated iron church in Woodmancote and on to a superb lunch at The Stag's Head in Westbourne. It was a little daunting to see that the pub had not only reserved a table for the four of us – but to see that the table was laid with a white cloth (paper, I'm glad to say), elegant wine glasses and real linen serviettes (napkins for the 'posh' amongst you).
Fred went for the mullet, Joyce for the curried cauliflower soup, Roger a filled baguette and Suzanne for the potato and chorizo salad – yes, it was a huge and varied menu, the quality of the food was excellent and we got a warm welcome. Indeed, waterproofs and windcheaters were deemed no longer necessary when we came out of the pub to feel that the air was quite mild and the rain no longer threatened.
Being an honest man, Roger had promised hills, and hills we got when we set off again, continuing westward, skirting the very northernmost tip of Emsworth and then north through Hollybank Wood, over the Emsworth Common Road and continuing along the ups and downs of Southleigh Forest. We left the forest at Stansted Sawmill. Half a mile further brought us to a grand lodge at the entrance-drive to Stansted House and a distant view of the full beauty of the front façade of the Edwardian house itself. Alas, the 1690's house was destroyed by fire in 1900 and rebuilt in faithful 17th Century style by the then owner.
More interestingly, perhaps, was the part of the Monarch's Way which lies opposite the lodge house. Here, so a carved inscription on the wall of the lodge told us, an avenue was planted on the last day of the reign of George III, Saturday, 29 January 1820. It is this Avenue which forms part of the Monarch's Way from Worcester to Shoreham – the zigzag route taken by Charles II as he fled from the Parliamentary forces.
With the history lesson over we turned east again, plunging down a steep wooded road into the valley that was to take us through Funtington – at which point, Fred got extremely excited when he saw the promised land: well, not so much the promised land as the promised afternoon tea advertised on a home-made sign
West Stoke Village Hall.
Cream teas. Sundays.
3 – 5pm
What the notice did not say, was that the good villagers of West Stoke believed in advertising far and wide and that there were at least three hills and three miles before we got to West Stoke.
After a rapid glance into West Stoke church it was decided that, rather than patronise the village hall, it was time to enjoy the glorious downhill ride all the way into Chichester. Easy-peesy into Chichester brought us to the canal café where tea was much appreciated, as was Joyce's packet of Jaffa Cakes which disappeared at 'tired and hungry cyclist' speed. The fast train back to Hove deposited Fred and Joyce just in time to join the packed train for Brighton and left Roger and Suzanne to brave the new, over-engineered cycle route down The Drive and Grand Avenue in the first real rain of the day.
A long hard day, but … 'Fellowship is Life' they all said as they dropped exhausted into bed that night.
Suzanne
Sunday 13 July 2008
Putney Bridge to Hampton Court and Weybridge - Nick's Report
6 cyclists: Norrette, Amanda, Jim, Nick, Patti and Andy.
 
Some very pleasant weather for Sunday's riverside route to Hampton Court and Weybridge. However, this potentially tranquil cycle ride was made slightly less tranquil when we found ourselves sharing the roads and Thames cycle path with hundreds of cyclists taking part in the annual London Bikeathon sponsored bike ride. 
Jim was on the same five minute train journey as me from Clapham Junction. We met Amanda at Putney station and set off at around 10.30am to meet Norrette at Putney Bridge.  As we passed St Mary's Putney Bridge church, I remembered I had attended a Stop the War meeting there earlier in the year (the church was also to feature on the BBC TV news later in the day when a sermon conducted by the world's first openly gay bishop was disrupted by a lone protester).
 
We met Norrette at a particularly busy stretch on the Thames for the London Bikeathon, where hundreds of cylists in pink t-shirts had assembled.  The plan was to then take the National Cycle Network 4 to Richmond Park to meet Patti and Andy and cycle as a group of six to Hampton Court and Weybridge. Jim and Norrette had detailed OS maps of the proposed route, but we found that the Cycle Network 4 was very well signposted. It seemed we didn't really need maps to cycle to Richmond Park and started to use the cycle network signage instead. What could possibly go wrong?
 
Somehow Amanda and myself took a wrong turning and were separated from Jim and Norrette. This was rather annoying because Jim and Norrette had the maps and we seemed to have lost the National Cycle Network 4 route. I had also failed to make a note of Jim's mobile phone number. It was at this point that I was phoned by Andy and Patti. They were rather concerned because they had been waiting for us in Richmond Park for nearly an hour. Just when it seemed that the cycle ride was stating to fall apart, Jim cycled back to find us. It seemed we had missed a National Cycle Network 4 sign, which was located high on a post amongst shrubbery.
 
When we finally met up with Andy and Patti in Richmond Park, the rest of the ride was fairly straightforward.  Although we encountered less London Bikeathon sponsored cyclists as we left Richmond Park, we did find that we were sharing the route with quite a few other cyclists and walkers.

 
The Thames tow path was particularly busy as we approached Hampton Court (a Daily Mail sponsored garden event seemed to be attracting large crowds for some reason). When we stopped to have a look at Hampton Court Palace from the tow path, a knowledgeable palace employee gave us lots of facts and figures about the number of chimneys (all different designs), number of rooms and the number of Hampton Court Palace live-in real tennis advisers for members of the idle royal family with too much spare time on their hands.
 
We arrived in Hampton Court town at around 2pm. There were a number of rather expensive looking riverside restaurants and cafes, but we decided to buy rolls and sandwiches and have an impromptu picnic on a bench overlooking the Thames.  Some of us had other commitments and decided to take the train home from Hampton Court after lunch. Andy and Patti were the intrepid two who decided to continue the cycle route to Weybridge.
 
Although I think I prefer cycling in the countryside, this was an enjoyable day out.  It would be good to try another London route at some point in the future.
 
Nick
Andrew adds:
We made it to Weybridge - and beyond, as the train station was quite some way out of town! Was further and took longer than we anticipated, but was a pleasant enough ride. Caught the train back from Weybridge to North Sheen and cycled home from there. Did about 28 miles in total, which wasn't bad for my first post-hernia op jaunt!
 
Enjoyed your report above, and especially your shoehorning of a couple of leftie references into the narrative - I would have been disappointed had you done otherwise! 'Members of the idle royal family'? What can you mean? Surely: 'our brave boys in khaki'. You appear not to have read your copy of the Daily Mail closely enough old boy!
 
Also, a pedant writes: there isn't such an entity as Hampton Court Town, as far as I am aware. The town next to HC, where we lunched, is called East Molesey.
 
All the best.
 
Andrew
20 July 2008
Chiddingly - Fred's Report
Where is everybody, I wondered as I lurked by the ticket office at Brighton station. As the clock ticked towards 10.20, I got myself a non-Groupsave ticket and proceeded to platform 8 for the Ashford train. Still no sign of anyone else as we set off, and only Ian was waiting at Berwick. They must be saving themselves for the Tollbridge ride next week, we thought. So after taking a 'group' photo using the timer on my camera from the back of Ian's car, the two of us set off against a north-westerly head wind along country lanes.
Ian was worried that the Vert Woods track might be muddy, so we took a road that met the east-west track halfway. It didn't look too bad, so we set off 'off-road'. I thought I saw a deer in the distance, and we certainly saw lots of brown butterflies. Soon however, we came across some ruts filled with water, some very deep indeed!
But it wasn't far to the tarmac and the Six Bells at Chiddingly. It was still early so we had a pint of Harvey's each from a barrel on the bar, ordered some food (stilton and walnut pie with salad for me; chilli con carne for Ian) and sat in the empty 'jazz bar'. As we lunched, the place filled up with motorbikers and a jazz combo (guitar, keyboards, bass and drums) arrived and began tuning up loudly. When they started properly however, they were quite tuneful, and we crept out the long way round the bar so as not to offend them! Outside the pub were parked two genuine steam rollers making gurgling noises and emitting sulphurous smells!
We carried on through Muddles Green and made a short diversion to admire Lee Miller's house (the famous photographer, friend of Man Ray and wife of Roland Penrose). As we had an hour to the next train we popped into Arlington reservoir to check the levels, as John Shuttleworth would say, and try to spot ospreys. We had a cuppa at the Berwick Inn, where there was more live music, then I caught the train back to Brighton. A nice easy 15 miles, and the weather wasn't too bad, either. Cheers Ian.
Fred
5 July 2008
Takepart
[Click on the photos to see them bigger on Flickr. This is a bit of an experiment to save much uploading and downloading - if anyone has any problems seeing the images, let me know - Fred]
Possibly because none of the details or contact details appeared in the TakePart programme we had no takers for the 'Leisure Ride' on Saturday. However, Alice, Anne, Jim and Leon all nobly turned up to help me with the expected crowds and we decided to go as far as Carats café and then decide what to do. It was a sunny day – but very very windy (and against us all the way there). So - unsurprisingly – we decided to stop for a snack and a drink at the café and then got involved in all manner of interesting conversations, including some very useful ones about future rides. We spent longer at Carats than it had taken us to get there (even with the wind!) and in the end decided that, with the regular ride coming up next day, we'd leave it at that. Still, I enjoyed it and I hope the other four did too. Thanks again to them.
6 July 2008.
Circular: Rye - Appledore - Fairfield - Brookland - Lydd - Camber - Rye
[Click on the photos to see them bigger on Flickr. This is a bit of an experiment to save much uploading and downloading - if anyone has any problems seeing the images, let me know - Fred]
There was almost a full group at Brighton station when I arrived on the 09.38 from Hassocks. Joyce had already purchased two group-save sets and was distributing them at cost £7.35. As it turned out luckily we numbered eight plus our leader who doesn't need to pay; Jim, Alice, Suzanne, Tessa, Joyce, Anne, Mick, Fred and Leon.
The two coach train didn't present as much of a problem with the cycles as I thought it would be. We loaded seven into the luggage storage racks, and two, Tessa's and mine into a doorway. Only one little problem, I needed to swap the bikes from one side to the other when we reached Eastbourne and again at Bexhill.
On arrival at Rye station we all struggled up the steps of the concrete bridge and down again to the south side, only later to find that we could have just walked the length of the platform to the road. Never mind, we will know next time.
Rye 11.50. We found an agreeable chap to take our group photo, who, while taking the shot asked us if we were all in? How could we know.
Moments later we were on our way in overcast and windy conditions.We headed northeast along the side of the river Rother with a strengthening southwesterly pushing us along. Traffic was light but quick but didn't give us much concern. Soon we reached the point where the Royal Military Canal joins the river. The road became a lane and the pace eased, going was good with slight breaks in the cloud to allow small shadows to dwell momentarily below our bikes.
After only what seemed to be several minutes we arrived at edge of Appledore. Just a short distance down the lane we paused to wonder at a little moated church, the Church of St. Thomas Becket at Fairfield. This church is situated in a flood plain with no other building nearby.
Heading now to Brookland with a stiffening wind in our faces we arrived at a beautiful country house with two pigs in an enclosure to one side. We couldn't just ride past, so we stopped a while to say hello. Tessa told me that her family kept pigs and that she was very fond of them. Having met these two lady pigs and touched them I have mixed feelings and will stick to my cats and dog.
Several miles later and many twists and turns through the small lanes we arrived in a light shower of rain at the Woolpack Inn near Brookland for lunch.
Most tables were taken so we settled into an alcove/passageway where some of the group stayed. Alice, Tessa and myself decided we would enjoy a nicer position within the restaurant area. The meals were excellent and cost was acceptable.
On return to the road we were met with a cooler and wetter outlook ahead.
A short diversion was made to visit the Church of St. Augustine's at Brookland. This church has some very interesting features. For example the tower clock mechanism is situated within a glass-fronted cabinet on the floor of a side isle. The side isle roof support pillars are not upright, but are angled to lean outward as they rise. There were no stained glass windows, and farming implements had been stored in the church since the eighteenth century. This is Kent after-all.
Heading now south-east through small lanes toward Lydd. Rushes lined the route and whenever there were bushes or small trees to our right hand side we benefited from a windbreak effect.

The wind strengthened progressively as the huge tower of Lydd church appeared to grow on the horizon. At Lydd we turned fully into a southwesterly gale when we cycled onto the national cycle route 2 toward Camber. Jim pointed out to us that a lake that looked quite well established was not shown on the ordinance survey map; strange?
Soon after joining the cycle route the rain got heavier and was being driven horizontally into our faces by the gale force wind.
The group became fragmented. Mick was out front making an effort to catch the earliest train possible. The next group fragment was Jim, Alice, Suzanne, Joyce and Anne. In the last fragment were Tessa, Fred and Leon. I didn't see Mick again.
Some sightings of wild birds were made on this section as we passed the lakes; Lapwings and Crows mainly. Green power wind turbines were also seen, though not rotating.
Jim was like the good shepherd rounding his flock, a very difficult task. Camber at last. Well when we reached the sea wall where the cycle-way runs along the top, the wind and rain were at their worst. Riding was extremely difficult and several riders preferred to walk than chance being blown away.
On reaching the western end of the beach and the shelter of buildings, riding commenced. Soon to be back off road and onto route 2 again, we cycled in greater comfort along a pleasant track with wild flowers on both sides.
Anne made a break for it to try and catch up to Mick and get the train, she failed by missing a turning in Rye. We, the rest of the group minus Mick spent a pleasant 45 minutes supping tea at a pub near to the station. Myself being told to shut up all of the time by Joyce, I can't imagine why.
The train journey back went in a flash it seemed. I must apologise for being brief and hope that I haven't left anything important out.
Thank you dear Clarion friends and don't forget the Lorna Road street party on Saturday 12 July 2pm-6pm (info via Tessa).
Leon
Mick's Misfortunes – an addendum
It was just as well Leon and everyone else did not see me again, by the time the rain finally did stop I was just three-quarters of a mile from Rye at the point where the path left the road. I had to hide behind a hedge and take off every stitch of clothing and wring them out, even the mobile was buzzing continuously. Fortunately I got to Rye in time for a cup of tea and a crepe at the internet café before catching the train and a rather uncomfortable trip home. A lesson learned the hard way, never trust the English summer!
 
Mick
Sunday 22 June
CLARION MIDSUMMER RIDE to Lewes, Newick and Barcombe; rocky tunnels, sylvan runnels, wild west wind and considerable undulations.
[Click on the photos to see them bigger on Flickr (not the first one!). This is a bit of an experiment to save much uploading and downloading - if anyone has any problems seeing the images, let me know - Fred]
Seven of us boarded the train at Brighton. I was last to arrive, due to damp grey sky and hence grabbing rain gear at last minute and facing strong head wind on my ride to station. Ian was at Lewes to meet us and the customary photograph was taken, remotely, by Leon's camera, there being no appropriate passing punters.
To me the route through Lewes was completely unfamiliar and baffling, but we passed some pretty parks by the river and then took a little path through woods with huge stinging nettles on one side and a chasm below with little stream. Saw some interesting ducks among the usual mallards with ducklings, but no time to stop and no camera to record. Although track was quite rutted no-one fell off and most of us kept riding most of the time. Eventually we emerged out of the woods at Offham, but on road with picturesque views, so Leon took another photo.
We whizzed along downhill merrily with wind behind us and purple pyramidal orchids beside us, if you dared to look down instead of ahead. Little roads [and Ian] led us to Hamsey church, which turned out to be less ruinous than Ian had thought. It seemed to stand alone on top of a hill, with bricked up windows and extensive views.
[I've now checked out Hamsey Church – which I should have done before the ride!

Pevsner says: 'St Peter Broad, low Perp tower [so considerably later than the Norman we thought it might be] Norman nave and chancel. Preserved on nave S window, the outline of the nave doorways and the small, plain chancel ones. The chancel re-done c 1300 with a nice three light E window.'

The rest of the entry is about the interior – which we didn't get to look at. Ian]

It was a dead end so we retraced and returned for some more considerable undulations, which were making me hungry. We rode between sandstone rocks, one with a tree growing out of the rock and under avenues of huge trees. We passed a sign to The Anchor along a dead-end track only mile and half away, but no, we weren't allowed the flat track and had to mount another hill, and another and maybe, another. There was a welcome pause in the climbing when Simon noticed his front tyre was flat and some pumping was needed. Ian promised the pub was now not far and indeed, it soon was a most welcome sight.
No room for us outside, although by now we were well warmed from the exertion and the sun was shining as it should on a midsummer day. [Not sure if it was the midsummer day, as is leap year and Roger said the druids had got it wrong because of that. Royal Oak 1 had such a marvellous menu that I was spoilt for choice and greedily chose 2 dishes, both with home-made bread. Everyone was delighted with their food and the service.
As the food was almost finished Leon told us about his unfortunate close encounter with hedgehog droppings, which he had confused with a slug and assured us was an easy mistake to make, though I'm not that keen on picking up slugs myself, either. Ian asked who was able to make the Clarion team for this year's sponsored ride for the Shoreham Tollbridge on July 20th. Jeff, Leon and Suzanne asked me how Liz had fared in The London to Brighton last Sunday and I was glad to say she had completed it successfully. Simon told us about his forthcoming sponsored ride Capital to Coast for various charities and Joyce told us about her favoured charity - a donkey sanctuary in Palestine or Israel. Later, when we emerged from the tea stop, across the road was a house with a donkey in the garden. Unfortunately it wasn't alive, but quite life like and accompanied by a sheepdog and a tiny piglet, also not alive, but charming nonetheless.
More leafy lanes and undulations, during which I saw a beautiful blue jay in flight and then perched in a tree and Suzanne correctly identified some billowing meadowsweet, whilst Leon videoed the wind blowing through the barley field. 'The Wind that Shakes the Barley' was a Ken Loach film that won main award at Cannes but sadly, we missed, possibly due to distribution of decent films being restricted, while dross proliferates in multiplexes. Simon's tyre seemed to be holding up, but the three women were holding back and needing more refreshment, so Royal Oak 2 was needed. Here a secluded and interesting garden provided rest and good value tea and more political chat; this time on the 42 day detention bill and our local MPs apparent lack of opposition to it, disappointing , but would we have wanted a General Election precipitated now – not when it would mean Cameron winning, according to the polls.
Another photo opportunity for Leon at the 2nd Royal Oak and it was back to the bikes. After a few more pleasant miles tootling along, with Joyce and me singing happy French cycling songs, Jules et Jim style, the stretch of main road Ian warned us of, now appeared. Lewes was close, but it was uphill, with a very strong headwind, teaming, tearing traffic and a wall on our left. Rather than be crushed against the wall, or forced into a racing car, the three women dismounted and crossed to the safety of the pavement on the opposite side. Leon joined us chivalrously. Eventually, Earwig Corner brought relief from A26 and reunited us with the leading four Clarionettes. The roads and lanes meandered like the river we had circled. A few more twists and turns and ups and [not many] downs, returned us to the railway station, where we said grateful goodbyes to Ian for providing , at least 22 miles of pleasure and training on a bright and breezy June day.
Anne
[Many more bigger photos on on Flickr.]
Sunday 8 June
Gatwick circular
[Click on the photos to see them bigger on Flickr (not the first one!). This is a bit of an experiment to save much uploading and downloading - if anyone has any problems seeing the images, let me know - Fred]
The weather forecast promised a glorious English summer's day and that is just what we got.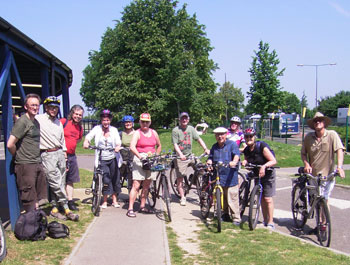 The start
There were ten of us on the 10:44 train from Brighton: Ann and Mick with their friend Liz (who was 'in training' for the London to Brighton ride), Fred, Joyce, Richard, Alice, Geoff, Roger and Jim, our leader for the day. Leon joined the train at Hassocks. Unfortunately Richard got a message from home and had to leave.
En route, tales were told by those who had bared as much as they dared on the Naked Bike Ride the previous day.
Our destination was Gatwick, where we met Nick and assembled on the airport concourse. With total faith in Jim's leadership we launched ourselves through the crowds of air travellers towards a small door marked 'local buses' and out into the sun. A helpful airport worker took the group photo and we were off.
Soon we were following Jim down a pleasant cycle path past a beautiful expanse of water, complete with lily pads and fishermen enjoying the sun, and all within minutes of the South Terminal! This was the Riverside Garden Park, which took us into Horley. From there we followed quiet roads, including Lonesome Lane, which was anything but, with eleven Clarion cyclists strung out along it.
Lunch was at The Plough in Leigh, an attractive pub with a varied menu and a very welcome shady garden. When Geoff's cheesy chips arrived the cameras came out, and as each additional meal appeared the photographers pounced. Once the meals had been thoroughly snapped, photographic attention turned to wildlife and there was a battle of the close up lenses to get a portrait of a ladybird that had dropped in to check the time on Fred's watch.
Fed and watered we set off again along even quieter lanes and tracks. There were a few hills, which slowed some of us down a bit. Liz stopped briefly, fearing a flat tyre, but some work with a pump soon solved the problem. Hammond's Copse, offered more photographic opportunities, this time of the vegetation. Then another flat tyre alert, a real one this time: Joyce had found herself a very large thorn - could it have come from the Copse? Leon set to work applying a patch and we were soon rolling again.
'Le Manger' in Horley High Street supplied drinks and cakes before the final short push back to the airport. We just made the 16:50 train, thanks to a helpful conductor who kept the doors open while the last three cyclists scrambled aboard. Sadly for Leon the train sped through Hassocks without stopping, so we said goodbye at Brighton as he started looking for the next train back.
A wonderful day out! Many thanks to Jim for organising it and for finding another new starting point for Clarion rides.
Roger
[Again, even more and bigger photos on Flickr. ]