Archive
Reports from Spring 2008
Sunday 8 June
Gatwick circular
[Click on the photos to see them bigger on Flickr (not the first one!). This is a bit of an experiment to save much uploading and downloading - if anyone has any problems seeing the images, let me know - Fred]
The weather forecast promised a glorious English summer's day and that is just what we got.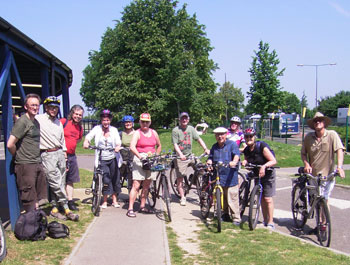 The start
There were ten of us on the 10:44 train from Brighton: Ann and Mick with their friend Liz (who was 'in training' for the London to Brighton ride), Fred, Joyce, Richard, Alice, Geoff, Roger and Jim, our leader for the day. Leon joined the train at Hassocks. Unfortunately Richard got a message from home and had to leave.
En route, tales were told by those who had bared as much as they dared on the Naked Bike Ride the previous day.
Our destination was Gatwick, where we met Nick and assembled on the airport concourse. With total faith in Jim's leadership we launched ourselves through the crowds of air travellers towards a small door marked 'local buses' and out into the sun. A helpful airport worker took the group photo and we were off.
Soon we were following Jim down a pleasant cycle path past a beautiful expanse of water, complete with lily pads and fishermen enjoying the sun, and all within minutes of the South Terminal! This was the Riverside Garden Park, which took us into Horley. From there we followed quiet roads, including Lonesome Lane, which was anything but, with eleven Clarion cyclists strung out along it.
Lunch was at The Plough in Leigh, an attractive pub with a varied menu and a very welcome shady garden. When Geoff's cheesy chips arrived the cameras came out, and as each additional meal appeared the photographers pounced. Once the meals had been thoroughly snapped, photographic attention turned to wildlife and there was a battle of the close up lenses to get a portrait of a ladybird that had dropped in to check the time on Fred's watch.
Fed and watered we set off again along even quieter lanes and tracks. There were a few hills, which slowed some of us down a bit. Liz stopped briefly, fearing a flat tyre, but some work with a pump soon solved the problem. Hammond's Copse, offered more photographic opportunities, this time of the vegetation. Then another flat tyre alert, a real one this time: Joyce had found herself a very large thorn - could it have come from the Copse? Leon set to work applying a patch and we were soon rolling again.
'Le Manger' in Horley High Street supplied drinks and cakes before the final short push back to the airport. We just made the 16:50 train, thanks to a helpful conductor who kept the doors open while the last three cyclists scrambled aboard. Sadly for Leon the train sped through Hassocks without stopping, so we said goodbye at Brighton as he started looking for the next train back.
A wonderful day out! Many thanks to Jim for organising it and for finding another new starting point for Clarion rides.
Roger
[Many more bigger photos on on Flickr.]
Sunday 25 May
Hassocks circular (Twineham, Blackstone, Hurst)
The weather forecasts over the past few days predicted bad weather for today, they were wrong.
Right from the start at Hassocks station the day felt good. There on the platform we grouped, our leader for the day Ian, Joyce, Anne, Roger, Mick, our guests for the day Laurence and Luke, and yours truly Leon.The now usual timed exposure photo was taken followed by another offered by a passing tourist from Sicily, but the first one turned out to be the best I think.
We all set off down Station Approach West eager to put distance between the built-up area and us around Hassocks station. Crossing the Keymer road can be a little tricky at times, but today the traffic was light and Joyce failed to notice a car heading in her direction. The car was driven by a young lady who was not speeding and did notice Joyce crossing in front of her, and slowed to give way to all our relief.
Up to the Stonepound crossroads where we were held on a red light for what seemed ages. Over Wickham Hill and into College Lane Hurstpierpoint. At the college left into Chalkers Lane and Danworth Lane without further incident.
There were many puddles and patches of loose gravel here and there where the lanes dipped. Sunshine was becoming more evident as we passed through dense shadows and open areas of countryside. Crossing the A23 at Ricebridge and back into more lovely lanes including Bob Lane where could be seen newly flowering wild roses.
Downhill for a short while to reach our lunch stop at the Royal Oak public house.
The food was to our satisfaction and not too costly. After about an hour of fun and chat we resumed our steady plod south to Blackstone and beyond.
Wending our way east through very pleasant lanes back to Hurstpierpoint where we had another stop, this time for tea at Washbrooks Farm where Laurence was told some of the history of the Clarion.
I made the suggestion to Ian that a more pleasant way back to Hassocks could be found by avoiding the main road up Wickham hill and the Stonepound crossing. It was agreed that Ian would go on alone taking the main roads and that all the rest of us would explore the tracks back to the Hassocks station. After a very short dead-end error on my part near to St. George's chapel, the path was located and found to be most useful all the way to the A273 London road.
Arriving at Hassocks station east side just in time for the Brighton train.
Our thanks go to Ian for arranging this most pleasant ride of 20 miles.
Leon
[Click on Leon's photos to see them bigger on Flickr.]
Sunday 11 May 2008
Littlehampton Ride
A good turnout on a beautiful summer's day of Roger, Suzanne, Leon, Joyce, Jeff, Jim, Anne and Alice set of from Brighton station to Littlehampton. For those who were on last trip you will be pleased to learn that Jeff has been reunited with his lost wallet.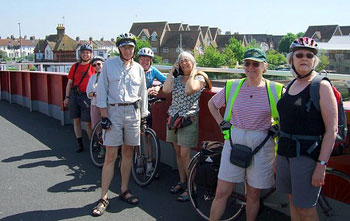 The start
All of us were suitably attired with slathering of factor 50 sun cream, some covered exposed upper limbs but fully exposed 16 sets of various shapely knees. Summer had arrived!
Conversation on the train journey was of the usual high standard with many comments to Jim on the best ways to mend his ageing waterproof jacket (alas the sewing kit was left at home), the pros and cons of cardboard coffins, funerals and finally solutions for a fairer system of calculating council taxes.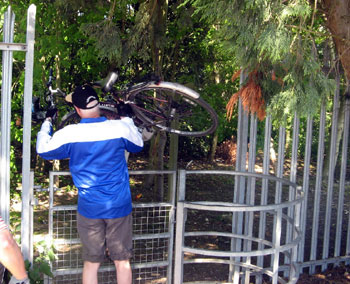 Leon tackles the gate - Jim's photo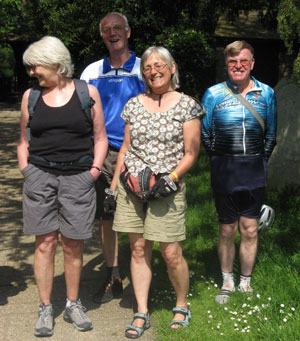 Anne's sporran - Jim's photo
At Littlehampton we cycled as far as the bridge over the river Arun where we stopped for a scenic photo opportunity. Back onto our bikes and cycled through containers and mobile homes until we came to a gate that would only allow bikes to pass through placed upright. Leon came to the rescue lifting the bikes over with Roger catching them on the other side. Our journey now was along a bumpy track next to the river and Alice being too busy looking at the large stinging nettles crashed into the back of Jim's bike. Joyce had suddenly stopped when faced with a large pothole that needed careful navigation. No damage occurred to Jim's bike. Most of us took the high scenic route along the bank of the river Arun passing the slow boats, while Roger carried along the track below. Many of us came to regret this decision after having negotiated many potholes and being stung by the nettles finally decided to make the steep decent down the bank and join Roger below.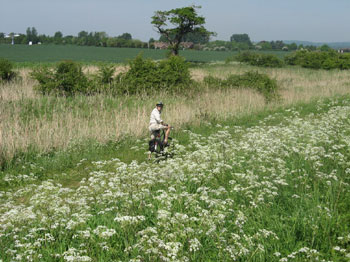 Roger takes the low road - Jim's photo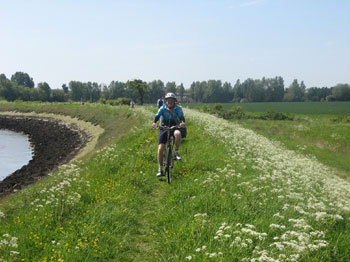 ...but we all ended up on the bank - Jim's photo
When we arrived at the site of the first gate on the now abandoned Arundel to Portsmouth navigation route we dismounted and walked along the narrow path, stopping to chat to people who lived in a house boats with many noisy dogs and then down through the marina and caravan park.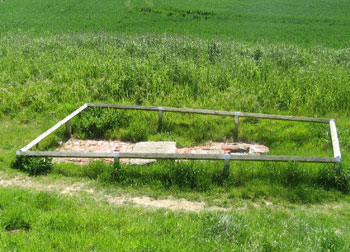 Remains of a lock - Jim's photo
From here our route was in welcome shade until we joined the road into Ford. Once through Ford we turned off onto Tortington Lane and travelled into a quiet tranquil world that reminded many of cycling through France. Passing a field of blue flowers (which according to Leon was linseed) we gradually climbed through shaded woods before a welcome downhill descent.
On Binsted Lane we dismounted to view St Margaret's Church, which had a tree behind it, shaped like a cross. According to Jeff's book (Sussex in the 'Buildings of England' series by Nairn & Pevsner) it consists of a small shingled bell tower with no aisles and is Norman in origin. If we had gone inside we could have viewed a badly faded painting of St Margaret and a weird three headed tree of life. Jim was more interested in the sign next to the church warning us to be aware of the golf course. Not long past the church Joyce had to slow down to allow a duck to cross the road while its mate sat on the hedge watching.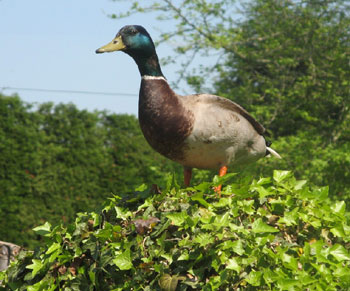 Duck topiary - Jim's photo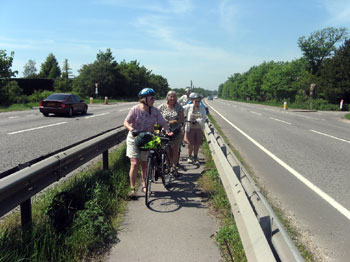 Crossing the A27 - Jim's photo
Next we had to negotiate crossing one by one the busy A27 with its busy fast traffic. Leon had a near miss but we all came to the conclusion that the car was going far to fast, not Leon being reckless. Our path took us into Slindon with its many churches and the birthplace of English cricket marked by a wooden monument of a bat and wicket. We took advantage off the steep inclines of the village to dismount and walk for a bit. We came across an old rail carriage with a thatched roof that was admired but presented the camera happy with a problem of how to photograph from an advantages angle. Some suggested it should be towed to the Bluebell line.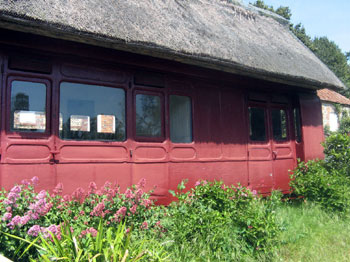 Thatched railway carriage - Jim's photo
We continued on our way out of Slindon past the college where we heard with envy the young residents enjoying themselves in what we assumed was the swimming pool.
Once more we headed off through the woods towards Walberton. We passed Quince cottage with its thatched roof and exited Slindon Bottom Road into Walberton and onwards to The Holly Tree pub for our much needed lunch stop. The table was booked and the food arrived promptly. Leon opted for the chilli and chips in a basket and was most relieved when it arrived in a plastic basket not wicker! Again the conversation was back to the subject of death and living wills. Anne added a lighter note offering festival tickets for the opera if anyone was interested.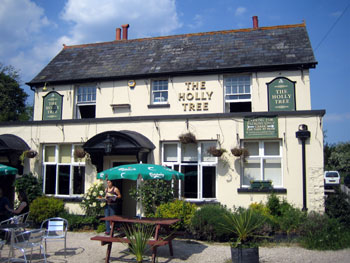 The Holly Tree - Anne's photo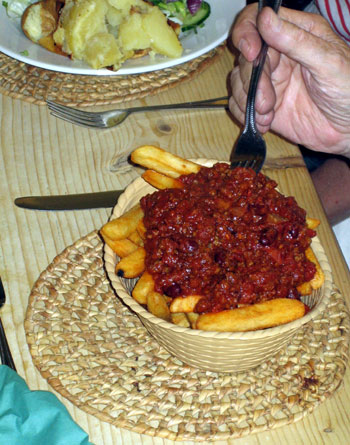 Leon's chilli chips - Anne's photo
Over lunch a decision was made to visit St. Mary's church in Walberton and view the stained glass windows by Carl Edwards in memory of Lord and Lady Woolton. The theme of the windows is unemployment in Liverpool prior to the 1930-44 war and the bombing of London during the war when Lord Woolton was a Cabinet Minister and Minister of Food. The arms of Manchester Grammar School, Manchester University, City of London, the City of Westminster and the Worshipful Company of Salters of London are included in the window, together with Lord Woolton's arms and badge of honour warded by the British Red Cross Society.
Within the churchyard was a large Yew tree with a trunk by Leon's calculations of pacing at least 9 meters in circumference. According to the church guide the tree is thought to be at least a thousand years old.
Our journey back to Littlehampton took us past the Olive Branch pub where we stopped and Jim suggested that Jeff should use his Allen key to adjust his very worrying erect bike seat before he sustained an injury to parts of his anatomy. The conversation became very smutty as you can imagine, while Suzanne wisely sheltered in the shade of the Olive Branch pub. A decision was made to make a detour for Climping beach and at the thought Jeff appeared to be completely overwhelmed with anticipation and cycled straight off the road onto the verge (or maybe in was the readjusted seat).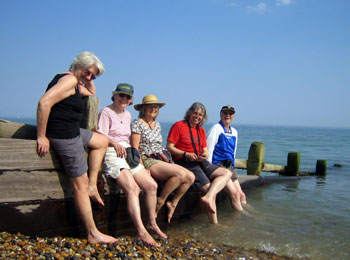 At Climping Beach - Anne's photo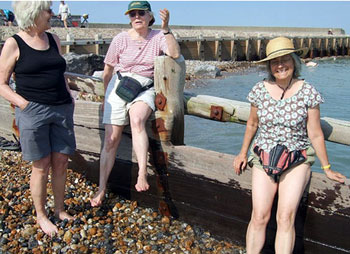 A relaxing end to the day - Leon's photo
Climping beach allowed for much hobbling over the stones for paddling in the refreshing but warm enough waters edge. Many 'oohs and aahs' were heard as the waves rolled in. This all too brief paddling in the sea had to be interrupted for a short cycle ride back to Littlehampton to catch the train. A very tired but happy group collapsed into the air-conditioned train to discuss the options for rides in France or the Isle of Wright.
A big thank you to Roger for organising a wonderful day out.
Alice
[Again, even more and bigger photos on Flickr.]
Sunday 27 April 2008
Centurion Way, Dell Quay, Slaterns Way, and Chichester Canal
Another bumper turnout – seven on the train (Alice, Fred, Roger, Tessa, Joyce, Leon and myself) and three more at Chichester (Anne, Mick and Ian) made 10 in all (that's what having a maths degree does for you). The first four managed to get half-price Groupsave tickets by getting there early, and Ian is going include that option in all circulars from now on.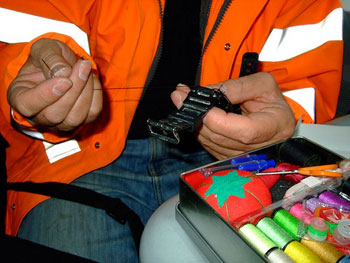 Jim catches up with some timely mending on the train - Leon's photo
We should have been 11, but Jeff, having arrived at Brighton station, realised he'd left his wallet in a public toilet and raced off to find it; he said he'd catch up with us if he could, but didn't make it. (Post-ride note: he didn't find it – it did not contain any bank cards etc but he lost £50 cash and the wallet itself, which had sentimental value).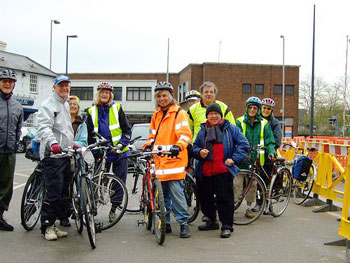 Leon's timer group shot at the start
Before setting off from Chichester Station (and the now-customary automatic delayed-action group photo) we hit a snag in that Joyce's back tyre was rather flat. It was re-inflated, but not far along the Centurion Way, at Brandy Hole Copse, she noticed that it had gone down again. We were by then in what Fred would have called the lanterne rouge, so Anne was despatched to alert the leaders (attempts at mobile phone contact having proved useless – Fred got the resulting voicemail message an hour or so later) and Roger, Joyce and I watched Leon perform a masterful inner-tube change in what seemed like record time with his bare hands. (OK, he did use tyre levers to start it off but replaced the tyre – the hardest bit – unaided by any tools).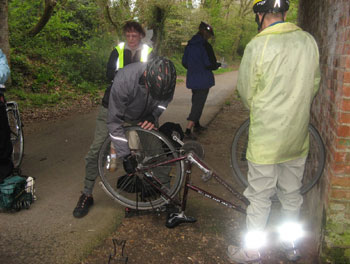 Leon mending Joyce's puncture - Jim's photo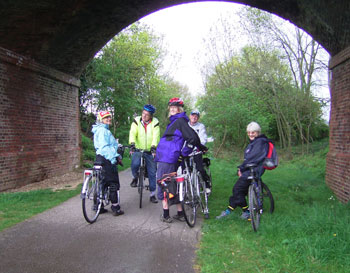 As the others shelter under a bridge
Catching up with the others, we continued along the Centurion Way, past the now-familiar gas-cylinder men, and noticed that the ridges of the earthwork had been picked out with cowslips, making its shape so much more recognisable and producing a lovely effect. I was amused to see notices put along the route about keeping Lavant gravel lorries out of Chichester, for what had this old railway line been used for but gravel from Lavant, until some moronic civil servant decided it would be a good idea to close it?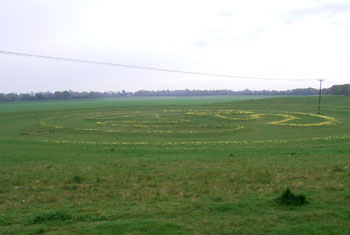 Devil's Ditch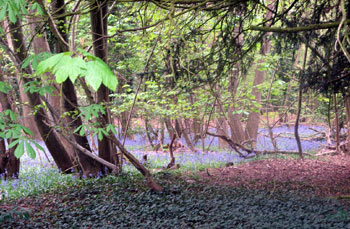 Bluebell wood - Jim's photo
Along country lanes to Fishbourne, past a wood thick with bluebells, and then the sewage farm (which we agreed not to mention because it had figured so prominently in the previous version of this ride, much to Ian's embarrassment) and eschewing the first part of the Saltern Way, we arrived at the Crown & Anchor at Dell Quay for lunch. The group now split again; a breakaway 'Brighton & Hove Clarion (Hassocks & Gerard Street) chapter', namely Leon and Fred, elected to stay indoors, and plot goodness-knows-what subterfuge away from our prying ears. The rest of us sat outside on recently-rained-on (but quickly-mopped-up-and-covered-over) benches and enjoyed the view across the harbour. Over some very nice food and even nicer beer, Joyce told us about a UNA conference she had attended, while Ian enlightened us on the sad subject of the Lancaster Clarion section's decision to leave the national group over a misunderstanding about the use of the logo. We discussed future rides, and I managed to get a majority preference on the Isle of Wight trip, which I will now take back to the Dorset Section and just hope that they don't all turn out to be Lycra-clad racers.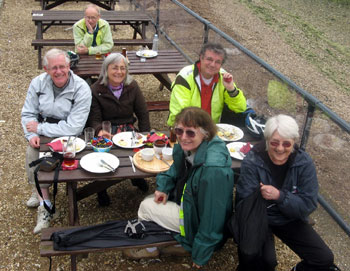 Lunch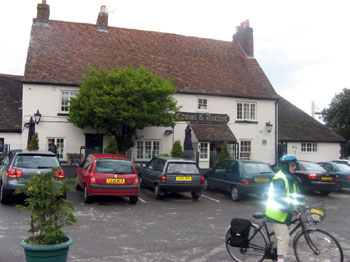 Day-Glo Joyce outside the Crown & Anchor
After lunch we continued southwards to the Salterns Marina, where we watched two huge millionaires' playthings pass through the lock, which then closed and turned itself into a footbridge. We picked up the Chichester Canal, which, as part of the Portsmouth and Arundel Canal, carried boats between London and Portsmouth in the heyday of the waterways. Some parts of it have become rather overgrown, and now the Egremont passenger cruiser from the Chichester Basin can only get part of the way to the marina before turning back; but more dredging work is in hand. The bridge that carried the Selsey Tramway over the canal is long gone, but the southern section of the tramway is now a footpath; since Roger was wondering about organising a Selsey ride, this may prove useful to us one day.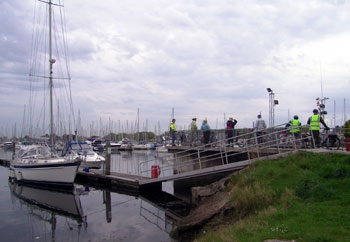 Across the lock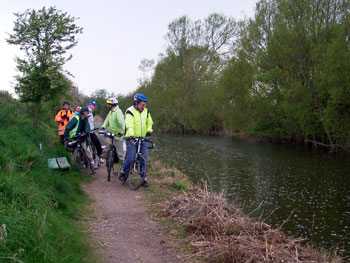 Pile-up by the canal (caused by Fred stopping to take photos)
Ian's circular had promised us a repeat of the swans' nests and baby coots that Anne spotted last year, and we were not disappointed; we also saw ducklings, which seemed to dash about in the water at lightning speed. We had to shelter under trees once or twice; the rain had generally kept away from us, but put in a few cameo appearances, along with some pathetic attempts at thunder and lightning, for our entertainment on the canal bank. We also had a second pit-stop, this time to extricate Fred's shoelace from his chain. This turned out to be more labour-intensive than the tube change, because we didn't have Leon with us; Alice and I held the bike, while Tessa performed the delicate operation and then re-tied the shoelace, with Fred having to stand there helplessly. (Well, what would you do?)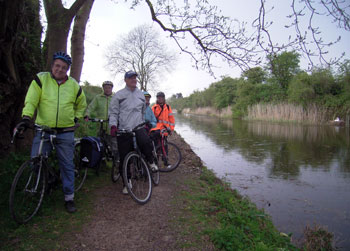 Sheltering from the thunder storm - note swan's nest on right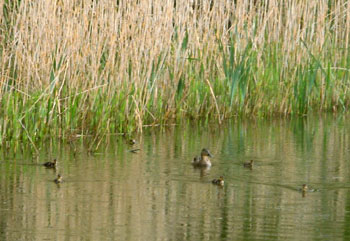 Jim's photo of ducklings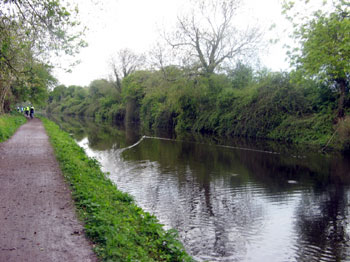 High-speed duck wake - Jim's photo
Near the end, we reached the Chichester Basin and had a tea stop with various combinations of tea, coffee, macaroons and cake. I enjoyed my treacle tart immensely, but wanted another coffee to wash it down; however I had to stoically put up with a dry, sticky mouth because the railway people have very thoughtfully closed the 'up' side buffet at Chichester Station.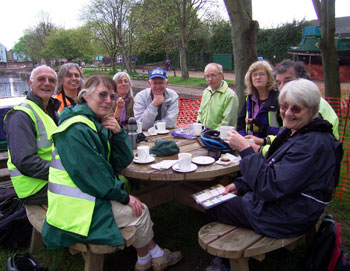 Tea and macaroons at the Basin cafe
Joyce was off to a choir meeting afterwards, so expect melodious offerings from her on future rides. Our thanks to Ian for leading us on a very enjoyable 14-mile ride, and not getting lost this time.
Jim
[Will I never live down the sewage farm! Ian]
[Again, even more and bigger photos on Flickr.]
13 April 2008
Pevensey Levels ride
Alice, Fred, Joyce and Tessa took advantage of the group ticket discount and bought day return tickets to Polegate half price, £3.50 each.
Together with Leon who had started his journey in Hassocks, we boarded the train. We did not have to compete for space with any other cyclists so were able to sit together for the journey. Leon spotted a member of the rock band Status Quo going into the toilet so we all stared at him when we came out and speculated as to why he preferred train to Stretch Limo. We decided he was Green.
Nick had been the first to arrive by train from London and had been joined by Ian, Amanda, Anne and Mick.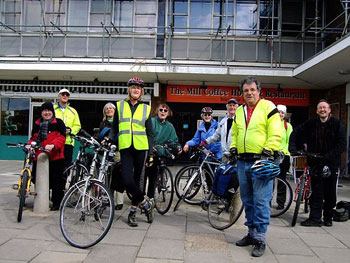 Auto photo at the start
The Group Shot at the Station deserves a closer look when it is put on the website. Rather than ask a passer-by to take our picture, Leon set up a time delay shot on the station wall, ambled over to join the group just as a passer-by threatened to amble past us at the crucial moment. Our expressions range from alarm to hilarity at what is about to happen (but didn't), the picture was taken just in time though his shoulder bag almost brushed the camera off the wall.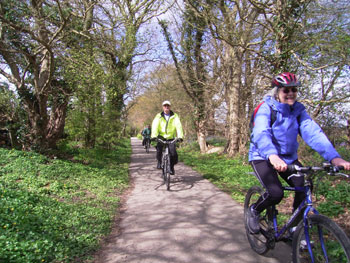 The Cuckoo Trail
We hit the Cuckoo Trail, crossed over the A27 and on leaving the Trail headed towards Rickney on the flat marshy Pevensey Levels lined with tall Sedge grass. Blackthorn was in flower, Leon waxed lyrical about Sloe gin (the fruit of the Blackthorn) and Tessa wondered if sloes could spice up an apple crumble.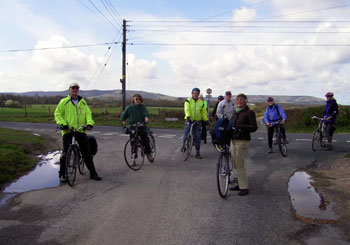 Crossing a road
Bluebells and primroses were seen and purple primulas known as the Scottish Primrose. A stretch of proper road followed leading us towards Wartling where we joined Horsewalk Lane a small downhill road with a sharp turn at the bottom. If you missed the turn you would land in the waterlogged ditch that ran on either side of the road. There was a 'No Diving ' sign on the roadside which seemed a bit excessive.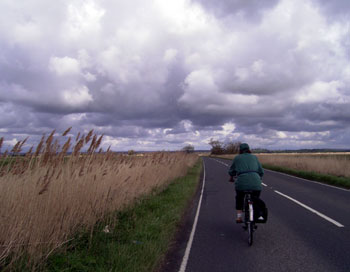 Ominous clouds above the Levels
We climbed a hill and sailed downhill to Hooe Common and the Red Lion.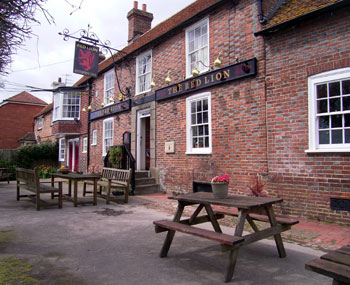 The Red Lion at Hooe
Two tables pushed together and covered with red gingham awaited us (Ian had phoned to book). A warm welcome and a huge menu. Our fare ranged from Cheesy Chips to whitebait eaten over convivial conversation which touched on Clarion politics where it was decided that our group was 'the lonely group of sanity.'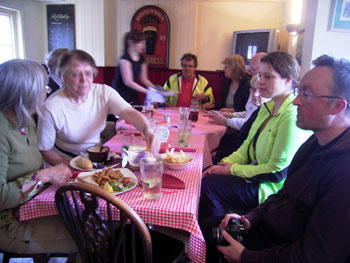 Lunch
Ian promised there would be no more hills in the afternoon. There were. A stiff breeze pushed into us as we headed back towards Rickney. There was no sign of the threatened rain as we passed fields of sheep and lambs, pigs, horses at a gymkhana and a donkey, all this added to the swans and [grey] heron spotted in the morning. Part of the way was spent on a farm track that ran beside the A27, the nearest we got to off-road.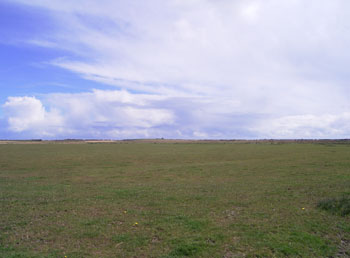 That's what I call Level!
We joined the Cuckoo Trail at a point very close to the Old Loom Teashop so of course we stopped. It was warm enough to sit outside where we admired a brown dog that had come from a Rescue Home in Shoreham. Nick left to catch the London train, the rest of us ambled to the station where we went our separate ways.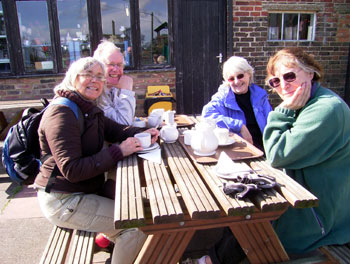 Tea at the Old Loom
Another delightful ride. Thank you Ian
Tessa
[Again, even more and bigger photos on Flickr.]
Sunday 30 March 2008
Clarion Summertime Special
B.S.T. and seafront cycling for softies, 30.3.08. No oil and no rain!
After some hectic weather on previous rides, Jim thought a shorter, nearer, flatter ride might bring out a few more Clarion members, so proposed a trip along the seafront to Saltdean, for the first day of British Summer Time of 2008. When the ride was first mooted the weather forecasts were extremely bad, with fierce winds and copious rain, but reality proved milder and sunnier.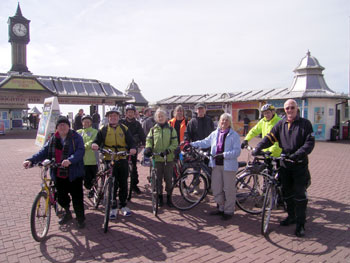 The start at the Palace Pier
9 of us met at the Palace Pier and waited for Nick who was coming down from London on the train. However, trains were not going to Brighton station, which was substituting buses, so Nick had to go to Hove and cycle back. Leon got on the train at Hassocks and cannily off it at Peston Park station, thus arriving earlier than Anne and Mick, who only live a short downhill trip from pier. Turned out that Nick and Leon were on the same train but didn't realise it, due to poor provision made on our trains for cycles. Leon had to pop on where cycles were not permitted, but escaped any censure by hopping off at Preston Park. All happy to chat and greet while we awaited Nick; catching up on Fred and Nick and Joyce at CND's Aldermaston's 50th anniversary the previous weekend, plus previous ride. Fred's flickr photos were subsequently viewed and enjoyed by me. Leon presented Jeff with a new saddle of unusual 'hammock'" shape, to compensate for the vandalism reported in the last ride. It elicited some ribald comments from some Clarionettes and Fred took photo [it was Jim].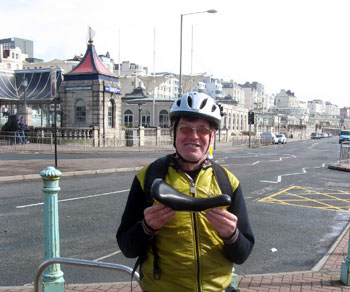 Jeff's new saddle - Jim's photo
A burly pier security guard took the group photo, though he rejected Fred's suggested position and had us all turn around so that he could get pier prominently in background, even if it meant that our faces would be dark from camera pointing towards sun - no point in arguing with a big press-ganged photographer (and photo turned out fine). Fortunately for us Madiera Drive along the sea-front was closed to traffic for an event, so we were able to cycle along the road without the danger of cars searching for or emerging from parking spaces.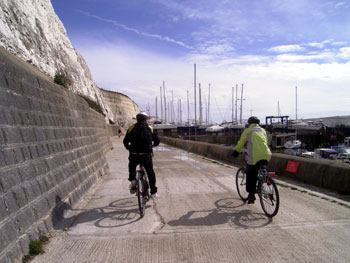 Past the Marina
Previous weekend (freezing Easter) had seen mad driver doing U-turn and almost bumping into tandem; shouts/screams of alarm from tandem riders, who wobbled but no apology from errant driver. Mick must have been hungry as he raced ahead to Rottingdean and didn't even pause at the Ovingdean café which is his favourite. Eventually all 10 of us arrived at Rottingdean and sadly, Sue had to say goodbye as she had relations to meet.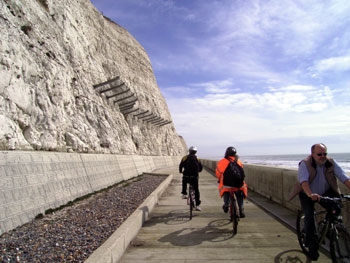 New wall and protection form falling rocks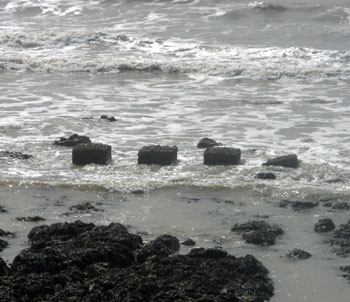 The remains of the Daddy Long Legs railway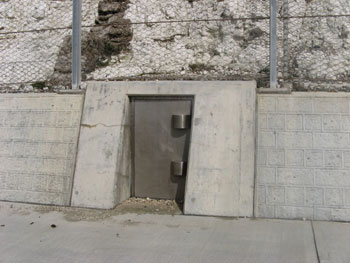 Mysterious door in the cliffs - Jim's photo
Not much sign of Jim's promised timber structures in his preview of the ride, as the diggers had been busy, clearing the piles of timber we first encountered on our January 20th ride from Worthing to Littlehampton, after a stormy shipwreck off Selsey Bill. There was a pile and a digger but nothing to play with or sit on.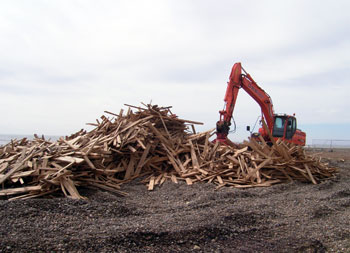 Wood!
The rocks were being enjoyed and clambered by children and adults alike, though there was a (miserable) sign forbidding any such fun. Further along the beach was an intriguing wire and steel structure. Was it sculpture? No, though intricate and beautiful it was functional too and the headphoned owner beneath it explained that it was short-wave radio and he was listening to mainly Russian speakers and some US too. Not sure if it counts as cold war summitry or spying but Jim, Leon and Jeff understood the technicalties.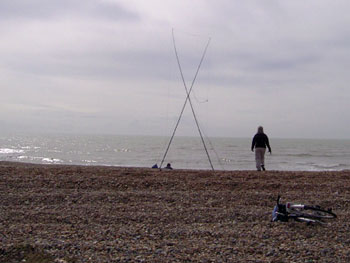 Anne goes to investigate ham radio
Also spotted a bather just back from the sea, though he wasn't too enthusiastic about the pleasures of sea bathing so soon in the year. I was quite warm by then and might have been persuaded had he been, though, fortunately, he wasn't. We passed the café and proceeded to the Eastern edge of the prom, where some, gingerly and individually, mounted the seawall, clinging onto a convenient post, to crane round the corner and view the most easterly pile of shipwrecked timber from The Ice Prince, picturesquely sited beneath the cliffs of Saltdean. They will prove a difficult challenge to remove.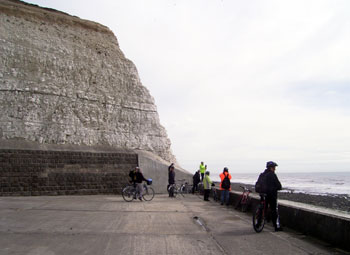 The end of the undercliff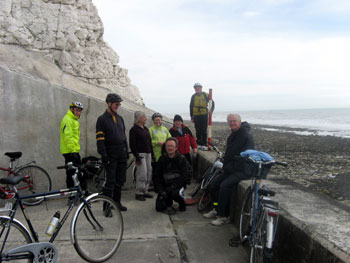 Jim's photo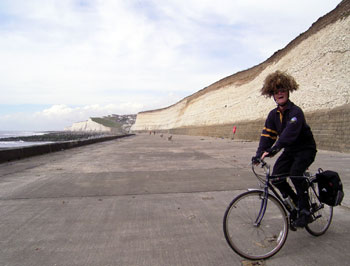 Leon as Neptune - view back towards Brighton
Jim's cyclometer read 4.9 miles at this point so Leon cycled round a bit to reach the 5 mile mark and returned looking like Triton or a siren, luring seamen to their peril. Fred has plenty of photos of us all wanting a turn at wearing a most unusual wig. I carried it around with me back to lunch for those whose hunger had led them straight to the café, but, on closer examination, it was a bit oily and I abandoned it.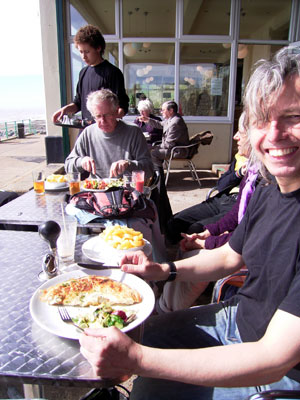 Lunch al fresco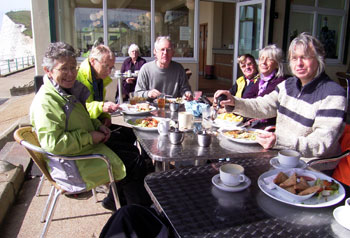 Lunch al fresco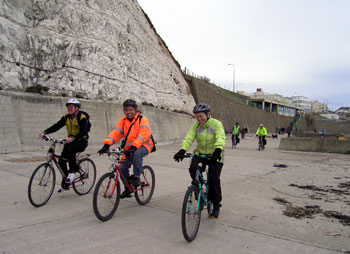 The return journey
Food at the café was good; my fresh orange, raspberry and mango smoothie was delicious and we were able to eat outside in sunshine. By the end of the meal, sun forsook us and we became a bit chilly. Mick and I beat a hasty retreat westward home, to visit aged parent, but the goodbyes elicited some eagerness for trip around tip of Marina, to complete the day.
We arrived home in 25 minutes as path was not too busy, having had a jolly excursion, thanks to Jim for organising and for Jeff, Suzanne, Roger, Nick, Fred, Sue and Leon for company and chat. We look forward to hearing news of National Clarion Conference and Bob Harber's report... [Report not received at time of sending – again, watch this space! – Jim]
Anne
The Return Leg – Jim's Postscript
We did indeed return, under Roger's leadership, via the Marina, which was not as tricky as I'd imagined, although I still don't like the place. From the east wall we were able to watch the surfers, one of whom turned out to be the son of a friend, and we also saw a paraglider approaching from the Rottingdean direction and executing a very neat 180° turn just short of the Marina (so clearly he didn't like the place either!)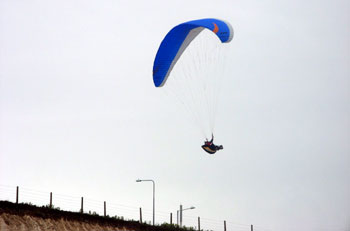 Paraglider over the cliffs - Jim's photo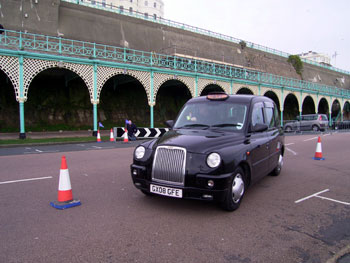 Taxi Driver of the Year competition
Returning to Madeira Drive, the Taxi Driver of the Year (Brighton Section) competition was in full swing, and we marvelled at the dexterity of the drivers weaving in and out of traffic cones, although I was surprised that the compulsory manoevres did not include that well-known party trick of taxi drivers, the U-turn. We also felt that in order for it to be a realistic trial, they should have been required to do the test whilst talking non-stop to a drunk throwing up in the back!
Jim
[Again, even more and bigger photos on Flickr. ]