Archive
Reports from Spring 2006
Sunday 21 May Anne's Report (photos by Joyce)
 
Wet and Wild –Six cycle sodden Sussex marshes on soggy Sunday
Pevensey Levels are probably the worst place to go for a bike ride when rain is forecast, as Peter Brandon puts it in The Sussex Landscape 'the lowest and most desolate part' but there was an hour when it didn't (or shouldn't) rain and even when it did, the visibility was always good and views extensive. Although there was a lot of mud, only 3 of us fell off our bikes into it and I, luckily, wasn't one of them, though I did make Joyce , who was following behind me, step into a huge puddle, rather than cycle into me, in spite of her desperate pleas to 'keep going'. She gallantly chose to step into the puddle right up to her middle(leg) rather than ride into my bike and knock us both off into the huge puddle! Thanks Joyce.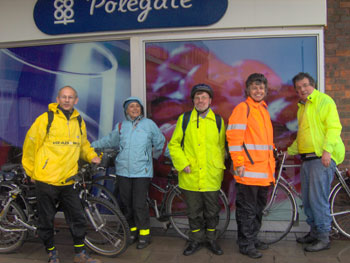 John, Anne, Jeff, Jim and Ian
 
Sustrans' beautiful Cuckoo Trail sheltered and welcomed us with gorgeous smells of may and cow parsley. It was new to John and a joy to all. Soon the real adventurous bit began as we headed out through muddy lanes to the Levels. Jim was the first to fall as he careered through the deeply rutted and puddled track, then splashed down. John soon followed. Both had soft landings, unlike Jeff, who fell on hard road later, thanks to a selfish car driver who virtually pushed him into the gutter on a narrow road lined with deeply deceptive, wet gutted gutters. Ian, Joyce and Anne did more pushing than riding, but that was fun and challenging too as some lanes were more puddle than track.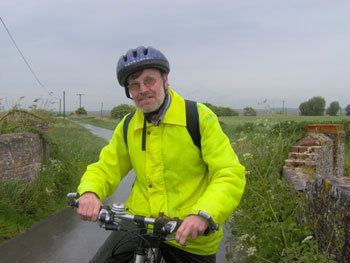 Jeff looking happy just after his fall
 
Out on the Levels at either Horse-eye, or Down Level or Chilley (from the Anglo-saxon; eg = island,) the landscape looks more Norfolk waterland, fen than the Sussex to which we are accustomed. We are indeed, entirely surrounded by water; deep ditches on either side of our winding track separate us from herds of bullocks. John and I see, what he suggests may be a marsh harrier (I think that's what he said). It swooped low over the reeds and marshes searching for prey. Joyce and I saw a motionless heron and tried to distinguish it from the more ubiquitous swans.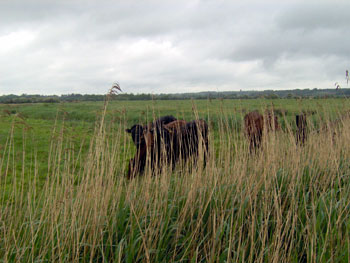 Young bullocks peering at us across the ditch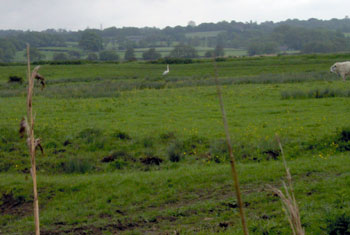 The Levels (we could not decide whether that was a swan or a heron)
Then I saw what at first looked like a white post, but up closer, when it moved, was definitely another heron. Yellow flag irises adorned the banks, as well as nettles, bluebells, reeds and bullrushes. We attracted the attention of curious, or bored, young bullocks, who cantered up to the other side of the deep ditches and stared at us. The final field held an unwelcome surprise for me as there were plenty of bullocks, but no longer ditches separating them from us. Indeed some huge, horned beasts were settled right on our track. Dr Ian had to show them who was the master Bullock of the herd and, fortunately, they seemed to defer to his greater knowledge, though I hurtled off, taking the lead for once , expecting the lesser bullocks to regroup and recharge, like lumbering 4x4s, when our backs were turned.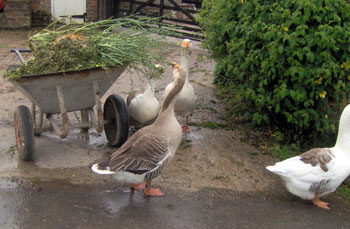 Happy geese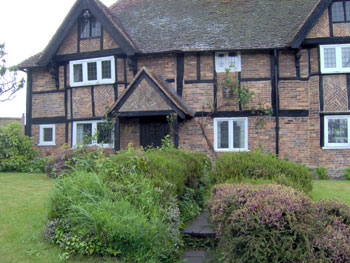 A very nice house near Huckney (?)
 
We saw a few geese guzzling grain, the Dog House (c.1600 – lucky dog) and the charming Hankham Hall and finally, the dry, warm sanctuary of the pub at Stone Cross, but, unfortunately, lost Jim. He had taken a detour to a dead end, but finally all reunited in the pub and I was able to wring out my socks and eat an enormous, warming meal.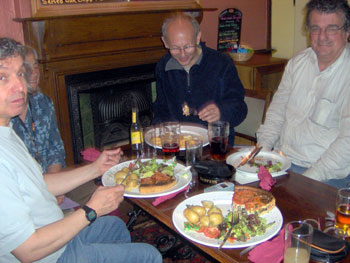 In the pub
Rain was still driving down horizontally as we left the pub so Ian gave us the option of a short cut to Polegate, but Joyce opted for the full, original route and we set off again 'singing in the rain'... Back at the Cuckoo Trail we were offered the tea-rooms, but still felt too full so had 12 minutes to dash for the direct train home. We dashed but the barrier was down and we were the wrong side of it and no way of crossing. However, the Lewes train seemed to follow quite swiftly, and, in spite of fiendishly unhelpful Lewes station staff and signage, managed to get ourselves and bikes over the bridge for the Brighton train.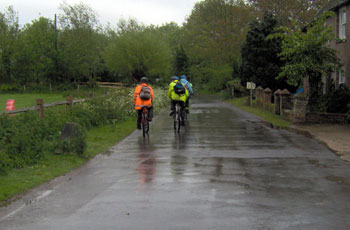 Cycling in the rain
Wonderful to be able to escape to such a remote and tranquil area, away from roads, smelly, noisy cars and fill our lungs with scented, springtime air, enjoy the sweet, refreshing rain, gladdening birds, gardeners and Southern Water alike... Pity that Fred wasn't there to photograph the rare marsh harrier, herons and horned beasts, as Joyce's digital snaps of them disappeared. [did they? – Fred] Thanks to Ian for a fine day out amid the fens.
 
Anne
Sunday 7 May
Hassocks – Fulking – Newtimber
'Oh What A Beautiful Morning, Oh What A Wonderful Day' as the song goes. We boarded the train with a good turnout consisting of Joyce, Fred, Jim, John, Anne, Mick and myself, and Ian meeting up with us at Hassocks. Apart from a jobsworth guard on the train, we were off to an enjoyable day out.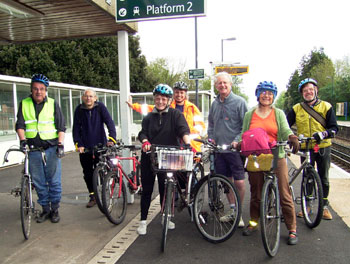 Ian, John, Joyce, Jim, Mick, Anne and Jeff
 
With Ian as our leader we progressed through the great Sussex countryside. We started at Hassocks station, going through the picturesque village of Hurstpierpoint, down through the High Street, past the Clock Shop and the Olde Shoppes. Onward we passed into Sayers Common, and down the lanes to High Cross.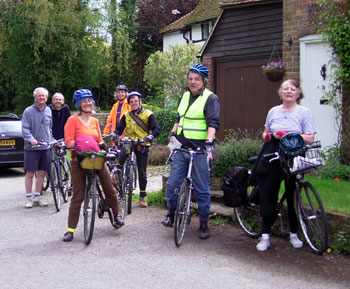 A brief stop at Blackstone
Before we knew it lunchtime had arrived, as we made our way to the Shepherd & Dog (Fulking) below Devil's Dyke. After an enjoyable lunch (with poor Anne and Mick having to wait a little longer than the rest of us for a fresh batch of baguettes) we mounted our bikes and were off again.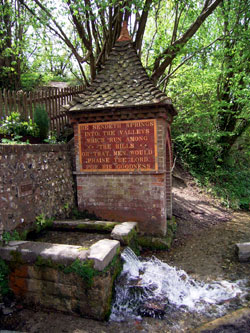 Memorial (one of two) to John Ruskin at Fulking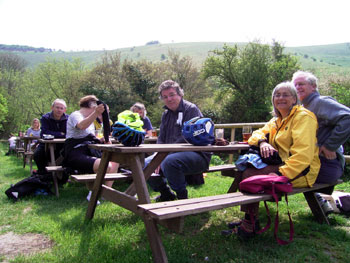 At lunch under the Downs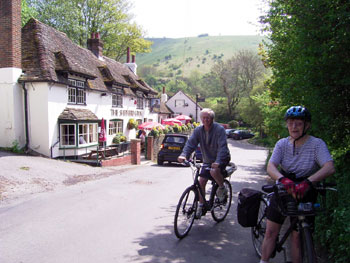 The Shepherd and Dog, Fulking
With the blossom in the trees and bluebells coming through on the grass verges and hedgerow with new green shoots and new leaves – maybe the weather will be kind to us for Spring/Summer bike rides. We soon reached Newtimber, and heard the first call of a skylark for the Spring of 2006 … alas, it was only one of our bikes needing a little TLC [but forever after to be known as 'The Skylark' – Jim]. Passing, and admiring, Newtimber Place we wished our Lottery numbers had come up the night before!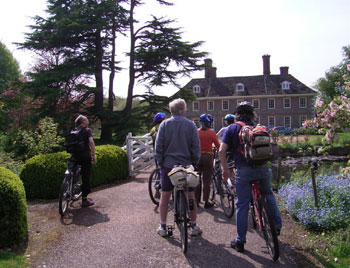 Newtimber Place
 
All too soon we were having a nice cup of tea at Washbrook's Farm, to give us the impetus to do the last stretch of our ride back to Hassocks. Back through Hurstpierpoint, we said our thanks to Ian for a most enjoyable ride; we left him at Hassocks railway station, the rest of us making our way back to Brighton – a little tired, maybe, but happy that the weather had held up for us and we had had good company for the day.
 
Jeff (photos by Fred and Anne)
Sunday 23 April
Upper Beeding
After the glorious Saturday, Sunday appeared dull and overcast, with a thin rain falling. But we were not deterred - at the Palace Pier were Anne, Ian, Fred, Jim and Jeff – to be joined at Marocco's café by Richard and Sharen.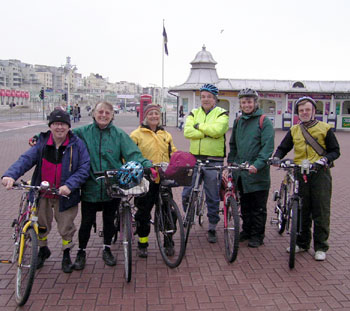 Fred, Joyce, Anne, Ian, Jim and Jeff at the Palace Pier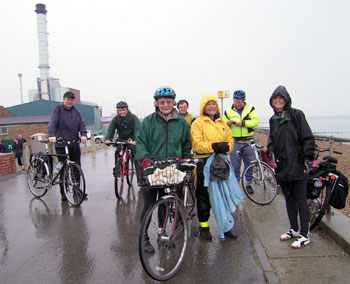 Outside Carats Cafe at Shoreham Harbour
So the seven of us set off undaunted, with the repeated mantra – 'it will clear up, it always does…' And indeed by the time we reached Carats (where the temptation to stop for coffee was resisted), the rain at least was ceasing. On we went to the beginning of the Coastal Link by the Tollbridge. There we said au revoir to Fred (back to visit the Engineerium) and Richard and Sharen.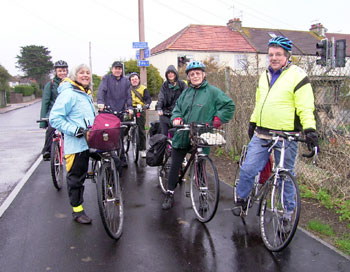 New cycle path through Shoreham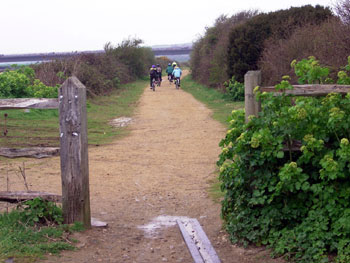 Off go the main group by the River Adur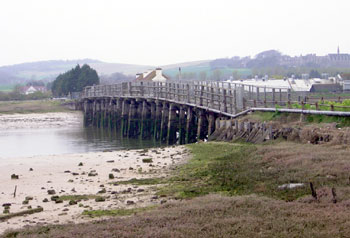 The Tollbridge that needs saving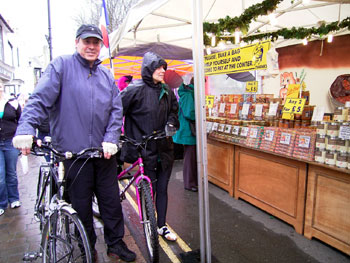 Richard and Sharen at the continental market in Shoreham
 
And then we were 5 …. Onwards for what is probably one of the easiest 26 miles we have done with the Clarion – (practically no hills at all) – along the Coastal Link, with its views of the river and the swans, and, as promised by Ian, a great view of Lancing College Chapel. By this time the weather had settled in to its rhythm for the day – overcast, on and off slight drizzle, but with the warmer breeze which heralded that spring is really here. In fact quite nice cycling weather…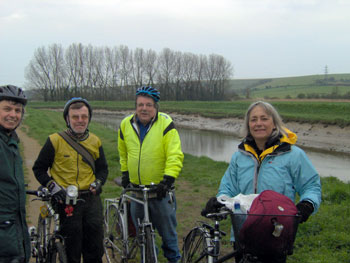 Along the Coastal Link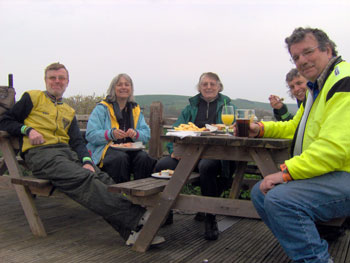 At the pub
So nice in fact that, at the delightful Bridge pub in Upper Beeding, we opted to eat outside on the river, where we were joined for a while by Bob and Colette (and extracted from Bob a promise to do a report on the Easter Meet in Shrewsbury which he attended as our delegate).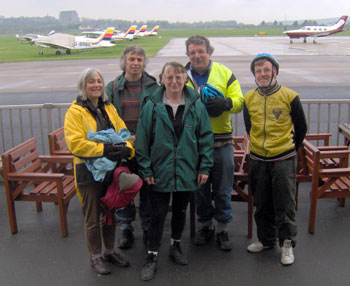 Tea at Shoreham airport
Restored by (for some of us at least) what seemed enormous plates of food, we faced the journey back. Going by the Coombes Road this was more a little bit more challenging, we had got used to no hills at all. Past the delightful St Botolphs and Coombes and so on to Shoreham airport, where we stopped again for tea, and where Ian and Joyce succumbed to the temptations of their great cakes.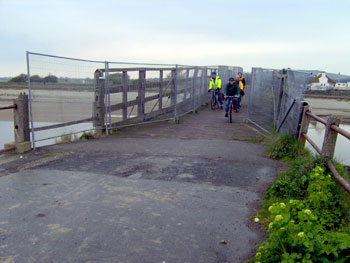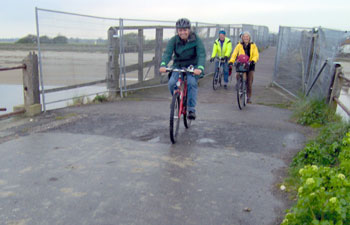 Across the Tollbridge
After a leisurely chat we continued over the Shoreham Tollbridge (see Ian's note about our ride for it in June), through the backways of Hove and on to the seaside cycle lane again.
 
Joyce (photos by Fred and Joyce)
Sunday 26 March
Haywards Heath, Horsted Keynes, Lindfield
There were only four of us for the ride on 26 March – Jeff, Joyce, Neil and myself. Sheila was in hospital (get well soon, Sheila!), Ian was away somewhere and presumably everyone else was either carrying out mothers-day duties or forgot to put their clocks on.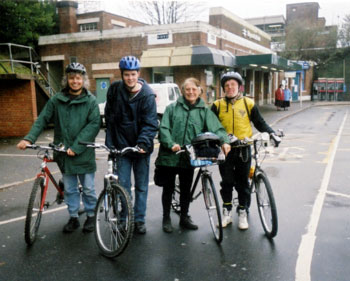 Jim, Neil, Joyce and Jeff

Heading northwards out of Haywards Heath, we left the busy Balcombe Road to take a brief look at Borde Hill Gardens and then headed for Ardingly, taking a bridleway through the College grounds and posing for a photo in front of the impressive buildings.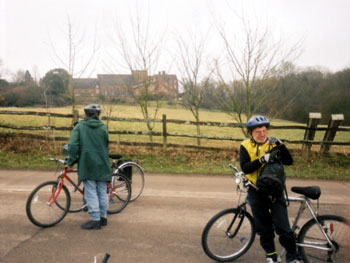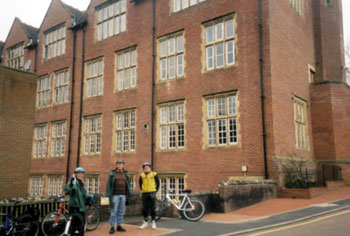 Ardingly College
On the way to Ardingly, I had noticed the tell-tale architecture of an old railway station, next to a bridge – a sure sign that this was the old Ardingly Station, originally part of a branch line from Haywards Heath to Horsted Keynes. The station is now the headquarters of a stone and aggregate company, and marks the end of the line; the company's trains, which leave the main line at Copyhold Junction (which we had passed over earlier in the ride) are now the only ones the village ever sees. It always seems a shame that so many branch lines were closed down by Beeching in the 1960s, especially since very little alternative use has been found for the land. However, a little later in the ride we came across a splendid example of a line that was rescued from Beeching's clutches – the Bluebell Line – and even saw a steam train go over the bridge in front of us as we neared Horsted Keynes Station. From this point on, the trains were never far away, and we often heard their whistles and saw (and smelt!) the steam.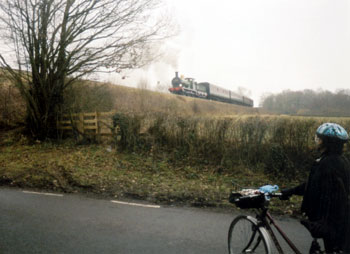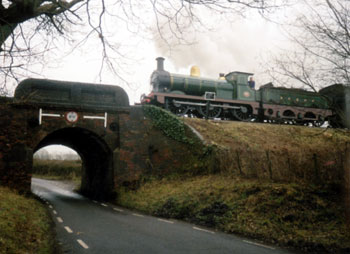 The Bluebell Line

A mile or so north-east of the station, we saw a wonderful sight – a field full of tiny lambs and their mothers! And as if this were not a sufficient sign of spring, Jeff spotted a clump of primroses by the side of the road, and we also saw catkins and daffodils. It won't be long now before the time of year when the Bluebell Line lives up to its name.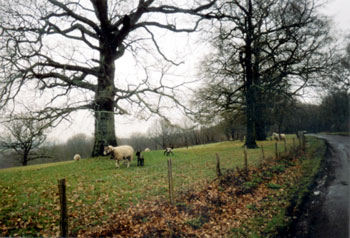 Lambs

Turning off the road towards Broadhurst Manor, we came across Carla Lane's animal sanctuary, 'Animaline' (www.carlalane.com/animaline/index.html) and saw an ostrich, several goats and ponies and lots of small feathered creatures. If there had been a collection box I expect we would have made a donation to this worthy cause, but instead the sanctuary had to be content with Neil's apple core, which went to the first goat to reach us – a handsome beast with a lovely light brown coat and impressive horns and beard.

The plan had been to have lunch at the Green Man in Horsted Keynes village, but we hadn't reckoned with the Special Mother's Day Menu – a set menu at £12.50, take it or leave it. We left it (to those local residents who can presumably afford such prices) and instead made do with a drink and a packet of Hula Hoops each, which Jeff had thoughtfully brought along and shared with us along with some chocolates.

Lindfield was the next place on our route of any size, so we decided to get lunch there. However, after a last-minute diversion to avoid a hill, we found that our way was barred by a locked gate with barbed wire along the top and a big sign saying 'No Right of Way'. Hmmm, we thought, someone is trying to tell us something here; but as the only alternative was a very muddy path, I'm afraid we climbed the gate, handed the bikes over and made for the road on the other side of the farmyard. And we got away with it, give or take a mild rebuke from a man with a wheelbarrow. It was only after we had crossed the yard that we noticed the place was called 'Hangman's Acre'!

Arriving in Lindfield, we managed to find a table in the third pub we tried, and squeezed in between the mothers and their families to enjoy a well-deserved lunch. While I read the paper, Joyce and Neil were poring over a map and plotting, so I think there are more treats in store for future rides!

It was not until the final leg of the journey – back to Haywards Heath – that the rain which had been threatening us all afternoon finally took hold, and it was four rather bedraggled but happy individuals who arrived under the protecting cover of the station forecourt. Jeff, Joyce and I took the train, but poor Neil had to ride back to Hassocks in it. We were grateful to him for planning such an interesting ride, and hope he didn't get too wet on the way home.

Jim Grozier
Sunday 9 April
Glynde, Barcombe, Piltown, Isfield
 
Conspirators: Jeff, Jim, Joyce, Mano, Neil, Richard, Roger and Suzanne.
Date: Sunday 9 April. Time: 10.32 am. Weather: sunny. Here one of the gang takes up the story: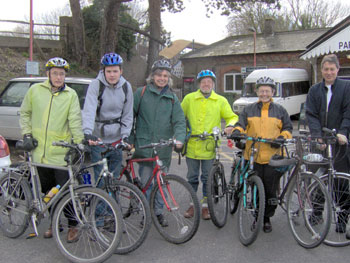 Roger, Neil, Jim, Jeff, Suzanne and Richard
 
We were at Glynde Station. In the car park. We set off. On bi-cycles. Up the hill, but Neil, he was looking after us and he showed us how to avoid the big hill by the big music house – Glynde-bourne, he said it was. And then gee, we saw these animals. But weird. Long necks, dinky little round faces, a mass of curly hair on their noddles and dainty hoofs. Those of us who could read saw a notice that said they were al-pack-a, or something. Didn't look as if you could pack much into them.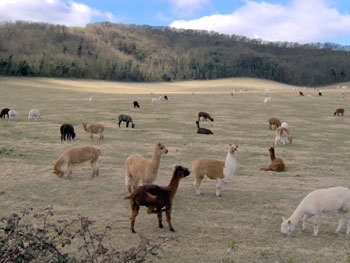 Alpacas
 
A climb, a dip, flat bit, and then we saw a sign for a watering hole called The Anchor. It was a bit off the highway, but as nice as a spot to rest as any. River. Green garden. Olde worlde public housee. Out came the maps. More plotting. More planning. We agreed to forge on.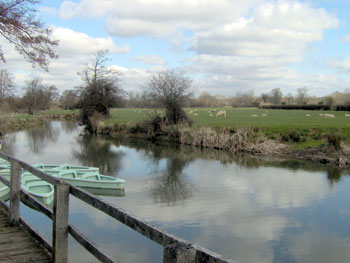 By the river
More dips, more flats and lots more climbs as we pushed (and pushed and pushed) our way up into them there hills. To Pilt-down. It didn't seem like 'down' to most of us. It seemed more 'up' but another watering hole, The Peacock was what we had in a our sights. And we made it. Good tucker. Bread and soup for the hobos amongst us. Mushroom stroganoff for the more classy – and yes it was Jim who came out with the After Eights!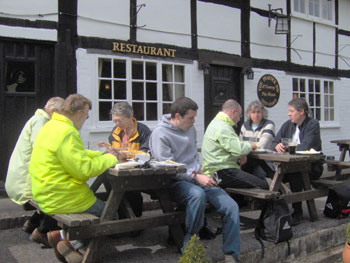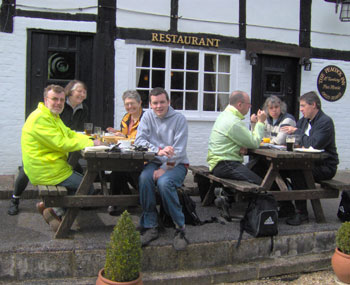 Outside The Peacock Inn
 
Back in the saddle. More down than up. Checking the sheep on the range. Recording the spring lambs leaping across the outback (Joyce called it photo-graph-ing). Richard, he's a hard rider. He made the 3.53 loco to Brighton. Mano, he was just hitching his steed to his auto-mobile when the rest of the gang reached the Station. Loco gone. Only one thing for it. More tucker. The folks at the Little Cottage café in the centre of the village, they're mighty hospitable and their cream teas from little old Sussex sure went down a treat. Neil was glad to get into his auto-mobile and head off into the hills of Hassocks. That just left five saddle-sore critters ready to hop aboard the next loco.
 
Station. 4.50. Announcement. 'We regret…' What have they done? Lynched a passenger? Do they do that here? 'We regret that the 4.53 to Brighton has been cancelled because of a broken down train that has now been repaired'. Gee, these English. They can't even explain what they mean in English. Whatdowedo? Wait another hour? Will it be another hour? Canter on to Lewes to pick up another loco? We decide. On to Lewes. Up, down. Up down. Whizzo Cycle Route 90 alongside the A27. Industrial estate. Down Cliff High Street the wrong way – by now we're a wild band of desperadoes. Lewes Station. Loco. Three bikes on already. Squeeze in. Jeff and Jim off at London Road. Roger and Suzanne home to tea. Joyce off to a welcome Sauna. 30+ miles. We are the tough ones!!
Suzanne (photos by Joyce)