Archive
Reports from Spring 2005
The Last Ride 8 May 2005 - Helen's Report
Photos by Joyce
Felicitations completed at Hassocks station, we – Ian, Joyce, Richard, Sharen and myself – headed westwards through Hurstpierpoint, across the A23 to Twineham and on to Bolney.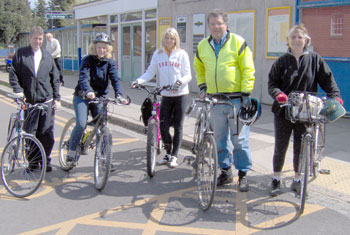 Richard, Helen, Sharen, Ian and Joyce
Ian cleverly failed to tell us about the challenging hill into Bolney compounded by the roar of the traffic from the close-by A23 which almost sent Sharen on her back to Brighton prematurely and the rest of us mutiny driven. We were relieved to see the Bolney Stage but our leader said 'No' it had to be Staplefield. Fortunately for him, it proved to be just across the A23 and a good downhill away. There seemed to be some indecision about whether it should be The Three Jolly Tanners or The Victory.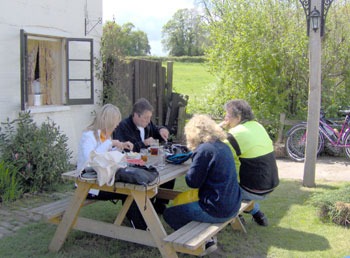 Lunch at The Victory Inn
Graham and Sharen voted with their wheels by going to the Victory while Joyce, Ian and I continued up to The Three Jolly Tanners only to return downhill to meet the others at The Victory.
Lunch at The Victory Inn
Joyce vowed to stay put should they change their minds. The decor and ambience of the pub were its most recommendable features. The staff behaved as though they could have taken part in the altercation, from which the pub's name derived, between the two pubs. Joyce complained that we were sitting in the car park to eat our lunch but none of us managed to steal ourselves to the pleasant garden until it was almost time to leave.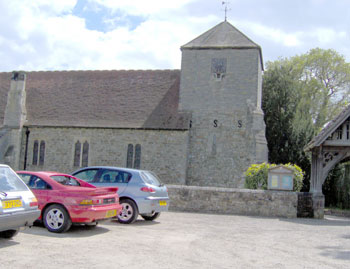 Slaugham church
On to Slaugham,we were surprised how quickly we left the traffic noise behind after we went under the A23. A pleasant 'pubbed' village to be explored on a future occasion.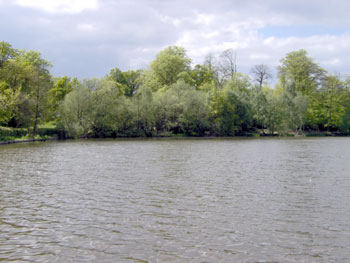 Slaugham Ponds
Joyce took obligatory photos of Slaugham Ponds and Ian commented how picturesque Warninglid had the Bourton On The Water feel.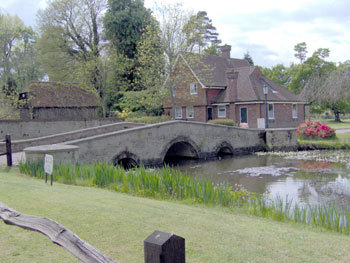 Warninglid
Several menacing undulations later we came to Wineham but Ian was setting a fast pace today with Joyce close behind on the home-straight. I trust she caught the 3.47! The bluebells were beautiful, the weather kind. Self-satisfied it was worthwhile, we said our goodbyes till next time... thank you Ian for a great ride again.
Helen
New Forest 23 and 24 April 2005
Saturday dawned (and I mean 'dawned' up at 6.30!) overcast but not raining. Miraculously we all (Sheila, Fred, Anya, Eliane, Joyce) made it to the station on time and had a pleasant uneventful journey to Brockenhurst – (despite a worry about whether the bikes would be allowed on) – where we were met by Ian at about 11.15.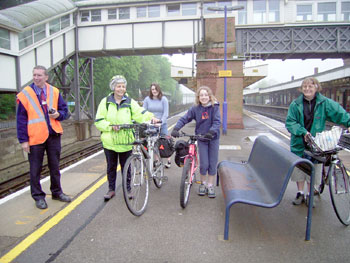 Sheila, Anya, Eliane and Joyce with helpful railwayman at Brockenhurst
First problem, the girls had forgotten their rain-wear, so halt at the very useful bike shop at the station. Then on the road the long way round to Burley via Rhinefield Road, across White Moor – wide expanse of moor in the mist and where we began to see ponies, including a delightful colt and its mother.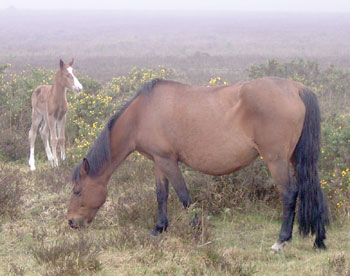 Foal and mare on Whitefield Moor
Weather brightening, and on through the forest – tall majestic trees. Second problem: Eliane (10) comes off her bike, but apart from a grazed knee and bruised ribs, no harm done. We told her that makes her a real cyclist...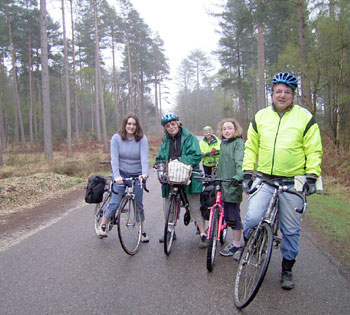 Anya, Joyce, Sheila, Eliane and Ian in the forest
Halt at the deer sanctuary to glimpse the deer, and then off road through the forest track.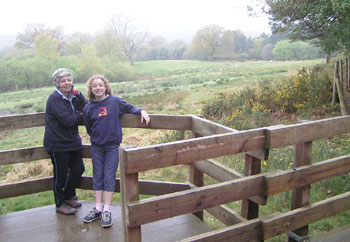 Sheila and Eliane on the deer viewing platform
(deer are dots in the distance, feeding time is not until 2pm!)
Third problem: Fred's at the rear with Ian and gets a puncture (a big thorn), the girls have rushed off for lunch, and his mobile phone can't get a signal.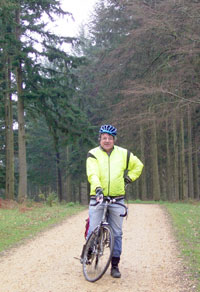 Ian poses for a pic just before Fred gets a puncture and realises he has all the repair kit, including spare inner tube, but no pump!
Ian dashes off to catch up with Joyce and between us we rustle up pump and appropriate fitment and leave Ian and Fred gallantly to get on with it, whilst Sheila, Joyce and the girls take the short road to Burley and welcome sustenance at the Queens Head. We had done about 14 miles, but it felt like 40!!!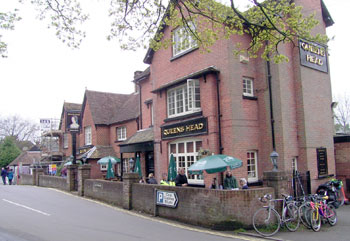 The Queens Head for lunch
After our – very late – lunch, Ian started back to Brockenhurst where he had left his car and we made our way to the Hostel, where the girls, by now wacked, opted to stay, whilst we went for a further little mosey around..
The hostel was great – and after a shower and a good meal we felt suitably
refreshed. The women had a four-bunk room of their own, whilst Fred went
off to the men's room...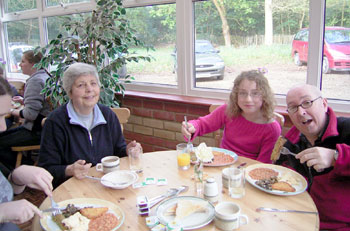 Full veggie English breakfast for Anya, Eliane and Fred – Sheila had the healthy option!
Sunday morning, Eliane up with the lark, the rest of us – especially Anya, somewhat later... After a great breakfast (Fred, Anya and Eliane had the full works, whilst Sheila and Joyce contented themselves with cereal and boiled egg) we set off to meet up with Nadia (Anya & Elie's mum) at Brockenhurst.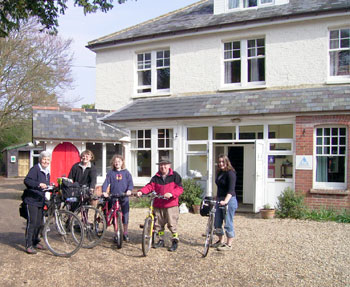 Sheila, Joyce, Eliane, Fred and Anya outside Burley YHA
This time we followed the old railway track happily (if a bit bumpily), until we reached a point where forestry work had been happening. Then it was an obstacle race, during which Anya got our second puncture of the trip...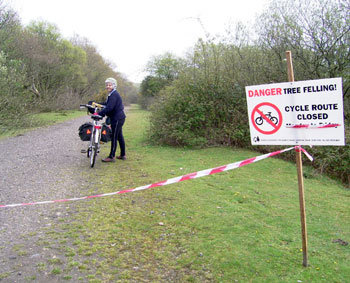 Sheila decides to risk it!
But we limped in to Brockenhurst where Nadia was waiting with a bike she had rented at the bike shop. It all worked out well because, by now, Sheila had decided she had done enough and wanted to look around Brockenhurst. So her bike went to Nadia, Anya got the rented bike, and the puncture went to the bike shop for repair. After a snack we set off for our last ride.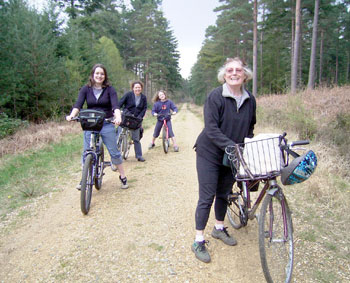 Anya, Nadia, Eliane and Joyce back in the forest
Again up the Ornamental Drive, but then off through a forest track, where we sailed through a rather full Ford! Just got back to Brockenhurst when the heavens opened – but since it was the only rain of the weekend we can't grumble.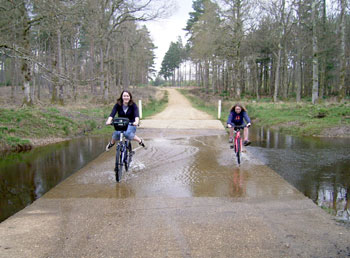 Anya and Eliane loved the ford so much, they went back and did it again for the camera
Perfection is not of this world, so I suppose we had to expect that the journey home would not be as smooth. Nadia and the girls went off by car and we happily got the train, secure in the knowledge that we had seat and bike reservations from Eastleigh. But ... when we got off at Eastleigh, we were told that there was no service to Brighton because of works, despite having been given our reservations. Another long wait, a train (the same service as the one we had left to change at Eastleigh) to Clapham Junction – horrendous carrying of bikes up stairs and finally the stopping train to Brighton. As Fred said – we had good reason to sleep well.
But it was a great weekend...
Joyce
Sunday 10 April Upper Beeding Report by Helen
An unpromising start weather-wise turned round to sunbathing between the cow pats on the sloping grassy banks in front of Coombes church from which it was difficult to stir even though we had not long before been refreshed by lunch.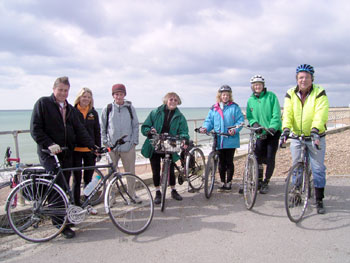 Richard C, Sharen, Richard P, Joyce, Helen, Tessa and Ian outside Carats
Earlier on we had resisted the delights of Carats Café in favour of watching the ship, The City of Chichester, through the lock gates at Southwick.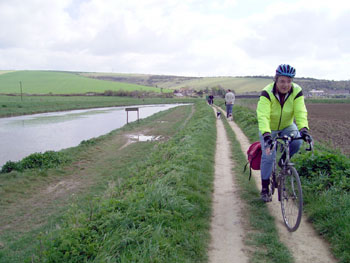 Ian leads the ride alongside the River Adur
The Coastal Link path was dry all the way to the lunch stop at The Bridge at Upper Beeding – a delightful location where we were told Duck Races were taking place.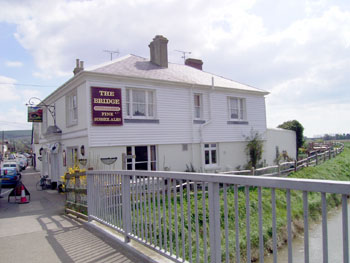 The Bridge at Upper Beeding
Disappointed not to have our curiosity satisfied in spite of a few bets as to the winner, whether Daffy or Donald, in aid of the local football club, we were lured away in favour of the frescos in St Botolphs and Coombes medieval churches.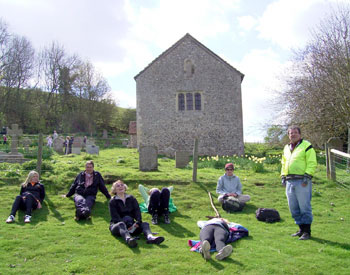 Sunbathing outside Coombes church
Ian insisted the ride was 100% flat, because he had not changed gear all day, but others begged to differ. Yet we weren't complaining – a wonderful varied day was had by all – and a great turnout: Fred, Ian, Joyce, Richard Carroll, Richard Penfound, Sharen, Tessa, and me, Helen, of course. Not least enjoyable were the excellent cakes at Shoreham Airport where we stopped for tea.
Tea at the airport
And there was more! Before returning to Brighton we crossed to Shoreham Beach to have a look at the motley collection of houseboats that have been in the local news lately. New to most of us.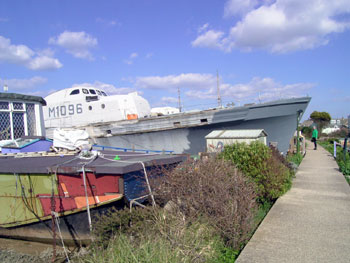 The minesweeper Fische at Shoreham Beach
Helen
Sunday 27 March [Easter Sunday]
Easiest bike ride... ever!
After a scorching Good Friday, Easter Sunday was dull with a little nip in the air. We'd turned the clocks forward, so that meant an even earlier start than usual! I was the only one at Brighton station, but I'd co-opted a couple of friends from Hastings – Erica and Melita – so I wouldn't have to do my debut ride as facilitator alone.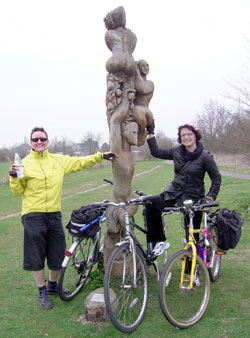 Melita and Erica at Jennifer Ulrich's sculpture 'Harvesters' (2002)
I waited for the Hastings train at Polegate and we set off up the Cuckoo Trail, which should have been renamed the Primrose Trail for the day, as they were out in force.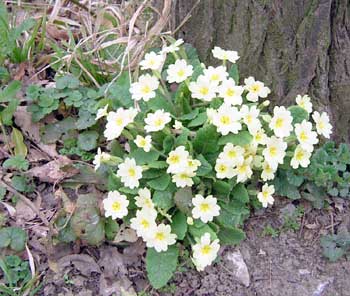 There were plenty of dog walkers and kids on bikes too, but they didn't really impede our progress.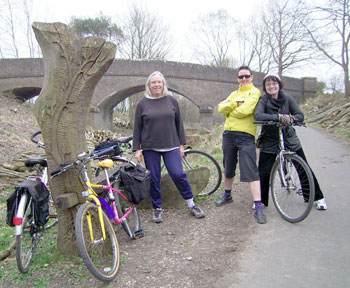 Sue, Melita and Erica
Just north of Hailsham we stopped at Woodhams Bridge picnic area for sandwiches, and were joined by Sue from GROWL (Green Radicals On Wheels in Lewes), who accompanied us through woodland carpeted by white wood anenomes (I had them identified later!), along the most unpleasantly surfaced part of the Trail, to Horam, where she went off for tea.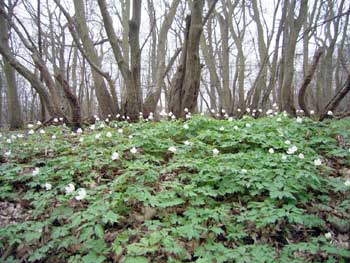 Wood anenomes
We carried on, wondering where we'd find a pub for lunch. An enterprising Runt in Tun however had posted up a sign advertising their whereabouts just south of Heathfield. We continued to the carpark at the top end of the Trail then turned round and headed back to the pub, parked our bikes and crossed a field of Thelwell-type horse riders and a busy main road to the Free House where we supped some Harvey's.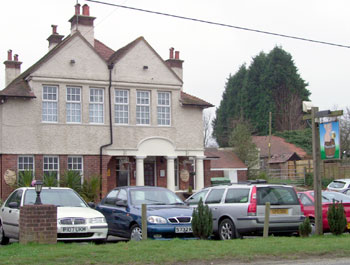 The Runt in Tun
The Cuckoo Trail has a very gentle incline up to Heathfield which means that you can coast virtually all the way back (apart from the various dips to cross roads). After a brief stop at Hailsham Pond to admire the ducks and Canada geese, we had our customary tea at the Old Loom Mill tea rooms and headed back to Polegate station.
Fred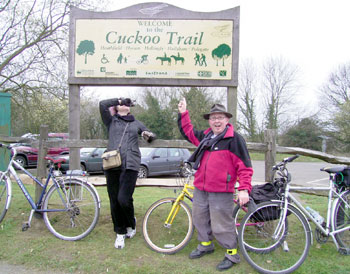 Erica and Fred at the top end of the Cuckoo Trail – made it!