Archive
Reports from Autumn 2007
4 November 2007
Hassocks to Shoreham: A Ride Rich in Interest and Incident
Thirteen Clarion cyclists boarded the train in Brighton; at Hassocks we were met by three more, making this possibly the best-attended ride ever. No doubt the beautiful weather was partly to blame.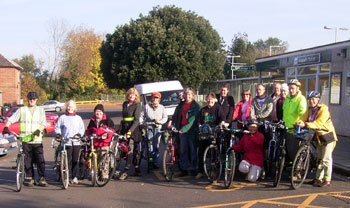 A record turn out
The excitement started early on when Jim led us out of Hassocks station and turned left … but Shoreham is the other way! He had found a way of avoiding the main road. We crossed the route of the veteran car run and saw two of the 531 'old crocks' that were driving to Brighton that day. It was at this point that Leon fell over; clearly falling over is now a requirement for new members on their first ride.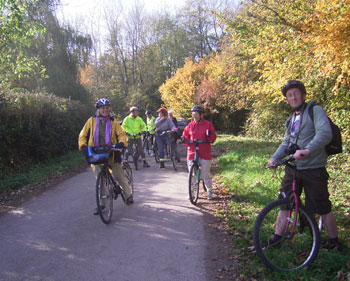 Autumnal leaves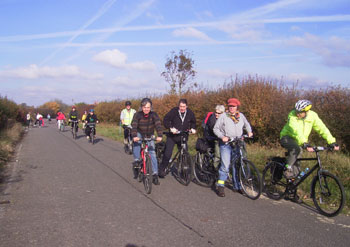 Herding cats
He quickly recovered. On through Hurstpierpoint - for those who wanted to know what the name means, it derives from 'Hurst', a Saxon word for wood, and the de Pierpoint family who arrived with William the Conqueror in 1066.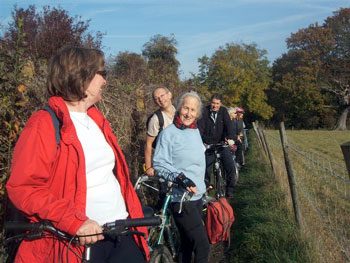 Watching sheep (Anne's photo)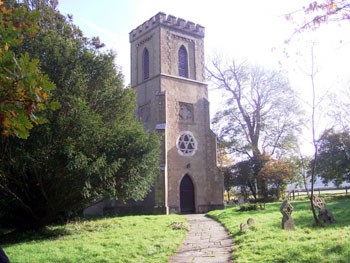 Newtimber Church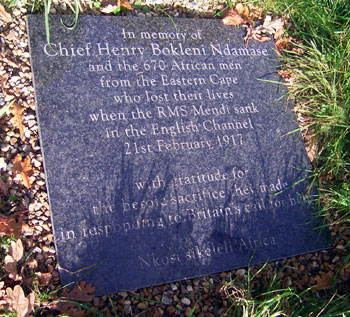 First world war memorial
We stopped briefly at Newtimber Church. A plaque in the churchyard attracted much interest. It commemorates several hundred African soldiers who were lost at sea while travelling to England in 1917 to help the war effort.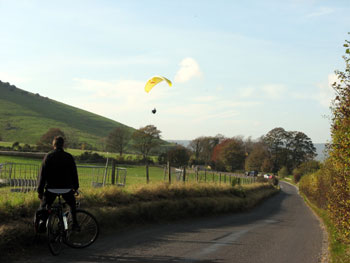 Hang glider off Devil's Dyke (Jim's photo)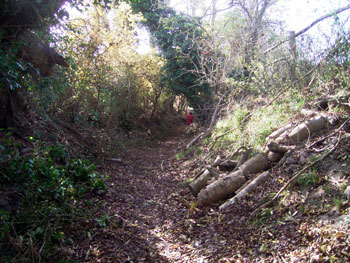 Off-road descent
On through Poynings and Fulking, with more excitement as we plunged wildly down an off-road descent through fallen leaves and foliage. Incidentally, Jim has now set a new standard in ride leadership; not only did he cycle the route twice beforehand, but on the second occasion he carried a pair of seccateurs to clear away the worst of the foliage from the off-road sections.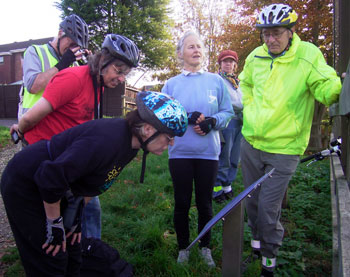 Learning about salt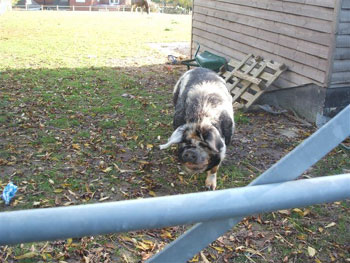 The hungry pig (Anne's photo)
In a big group it is hard for the report writer to keep track of everything that happens. However, as we paused to read a wayside sign about the ancient salt making industry, news filtered through that during the off-road section some members of the group had paused to share a banana with a large pig! Regardless of whether this is true, it certainly deserves a place in the Clarion collective memory.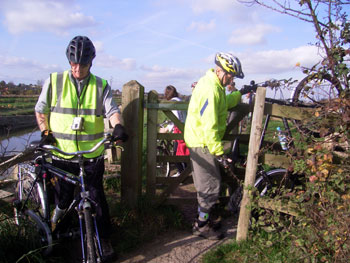 Negotiating a difficult stile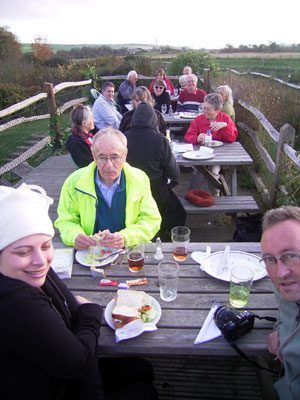 Lunch outside The Bridge
The staff at Upper Beeding's Bridge Inn coped splendidly with a horde of hungry cyclists – there were now seventeen in the group as Mick joined us for lunch. Fully refreshed and re-fuelled we continued on through Bramber and Botolphs. Shoreham Airport provided hot drinks and cakes and then - is this another Clarion first? - a change of ride leader as Sue took us on a shortcut across fields to view the amazing collection of houseboats at Shoreham Beach.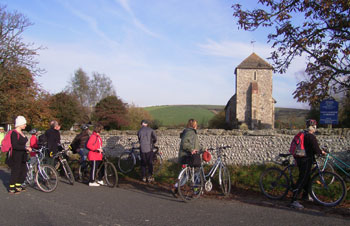 Yet another church stop - St Botolph's
For the final stage of the journey, some chose the train from Shoreham and others cycled via the harbour locks, where we had to wait for a fleet of small boats to pass through before we could cross. By the time we reached Hove it was almost dark.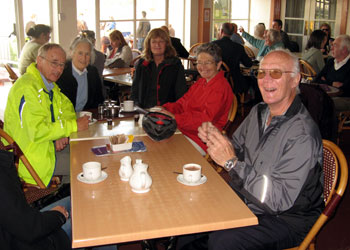 Tea at Shoreham airport
Those on the ride were: Alice, Amanda, Angelica, Ann, Annie, Fred, Jim, John, Joyce, Leon, Nick, Richard, Roger, Sue, Suzanne and Tessa
Many thanks to Jim for planning a very enjoyable day out and to Sue for suggesting the last-minute addition.
Roger
14 October 2007
Burgess Hill circular
It was good to get back in the saddle after missing two rides, especially on such a glorious day, and we had a bumper turnout for what turned out to be a fantastic ride, discovering some of the hidden wonders of Sussex. At the station was our leader Roger, Suzanne, Alice, Sue, Fred, Richard and Tessa and, at Burgess Hill, Nick and Amanda were waiting for us, having come from London.
Richard, Roger, Amanda, Suzanne, Fred, Sue, Joyce, Nick, Tessa and Alice
We soon left Burgess Hill for a route (for details refer to Roger's email) which was notable for its diversity and for the fact that it managed to be almost hill-less but nevertheless have lovely downward runs. With a clear blue sky, a gentle breeze and the sun, we sailed through quiet lanes with open vistas of fields, and across tracks. This was what Sue called a 'typical Clarion ride'. What she meant was that there was so much to see and so many of us that there were numerous stops with poor Roger trying to 'herd cats' and having to count us all in. And we now had two photographers, since Nick was also doing his bit as well as Fred...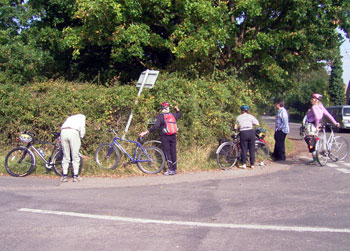 Blackberry stop at Bob Lane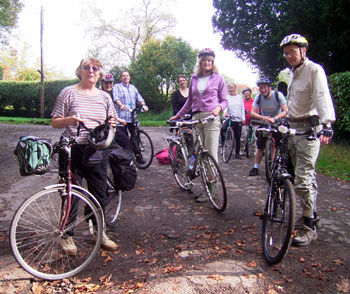 A pause before the off-road bit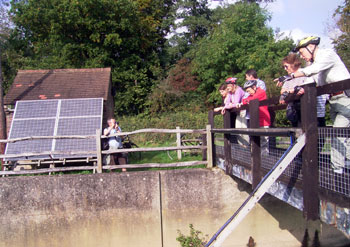 The mysterious water feature
What they were looking at
Our first stop was to investigate the 'alternative' energy centre, which consisted of a sort of weir with electrical wires and a camera – all fed by a large solar photovoltaic system. Still not sure what it was all about other than maybe some monitoring system for water flow.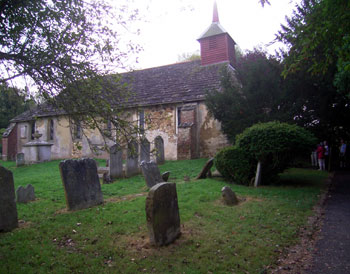 St Giles church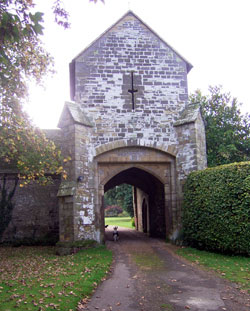 Gatehouse with fierce dogs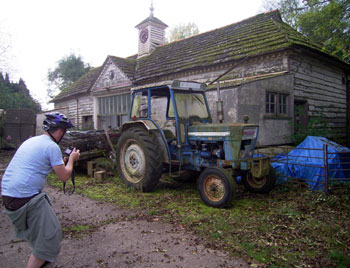 Nick photographs enigmatic building
A look at the dinky little church (St. Giles) , then through wonderful dappled woods to a large lake near Shermanbury, with another stop on route to investigate and photograph what was variously identified as an old stable or cricket club, with a tractor that must date from the 1930s.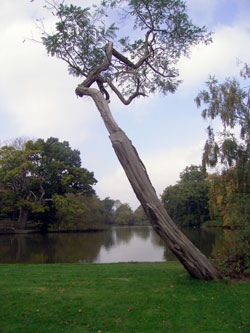 View of the lake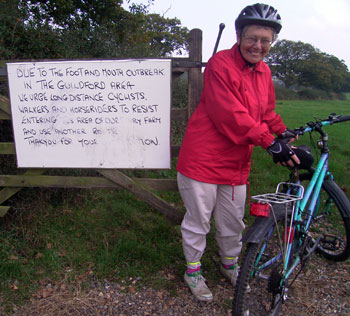 Foot and mouth warning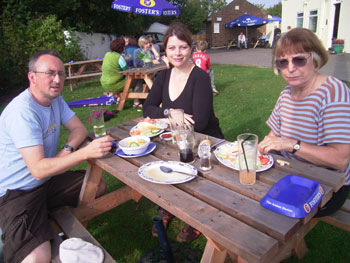 Nick, Amanda and Joyce at lunch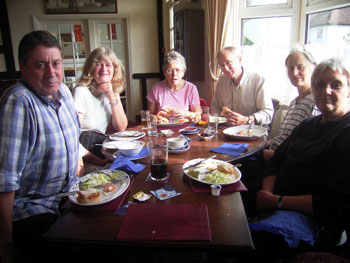 The rest were inside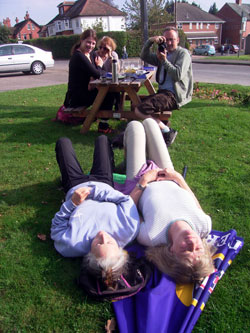 But Sue and Tessa came out for a little sunbathing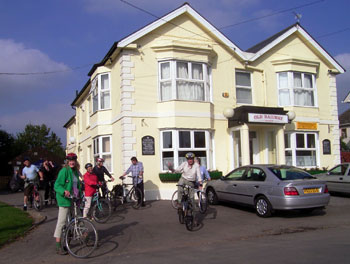 Leaving the Old Railway Tavern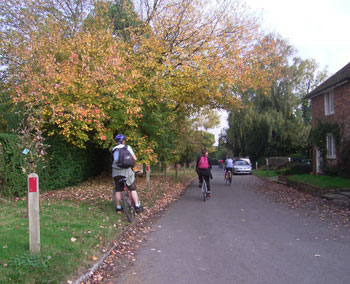 Autumn in Blackstone village
Then on to dear old familiar Downs Link for a short ride to Henfield and , at last, lunch at the Railway Tavern chosen over the more upmarket Plough because we were by that time starving and it was nearest. The Railway Tavern turned out to include a Thai restaurant so some people had Thai dishes – others settled for ploughman's lunches.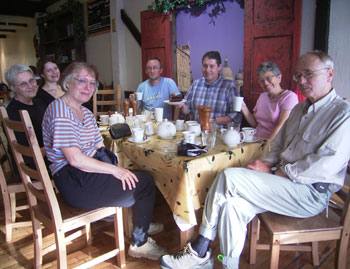 Tea and cakes with view of Venice
Pleasantly restored after a longish break we set off, again through quiet lanes to Burgess Hill where we further restored ourselves in the half an hour before the train(s) with tea and cake in a delightful cafe (can't remember the name) in the pedestrian section of Burgess Hill. According to my counter we had done 25 miles. A really lovely ride – thanks Roger.
Joyce