Archive
Reports from Autumn 2004
Sunday 7 November
Centurion Way, West Dean, Charlton and Goodwood
(only about 17 miles)
After an inauspicious start in which Andie, Joyce and I were refused entry to a South West train (apparently you have to make a reservation at £2 a go and then only two bikes are allowed) we arrived at Chichester via a more accommodating Southern train, where Ian was waiting. He'd already done a recce so knew that the entrance to the Centurion Way is down by the side of the station. It is another ex-railway track surfaced much like the Cuckoo Trail.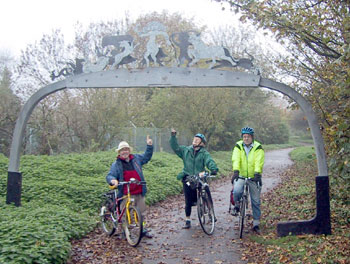 Heading north through the drizzle (or as Peter Kay would say: 'that fine rain that wets you through') we passed several interesting sculptures fashioned from sleepers, then off the trail and past the impressive Lavant railway station (London Brighton and South Coast Railway, AD 1880).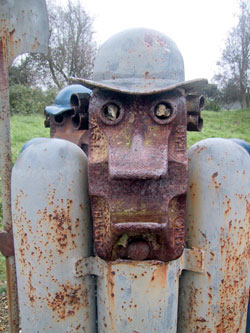 We then turned right onto about a mile and a half of main road to Singleton before turning off onto the little country lanes. We stopped for a pint at the rather topically named The Fox Goes Free described in the Good Beer Guide as 'a fine sixteenth century inn' at Charlton and met Bob Harber sitting by the fire.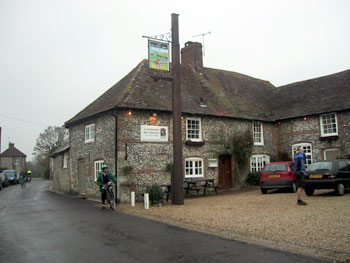 Bob joined us back to Chichester via the road past Goodwood racecourse – flat season had finished so there were no race goers' cars to contend with but it ran up a steepish (for me!) hill through the mist then a nice run downhill.
Bob and Ian at the top of the hill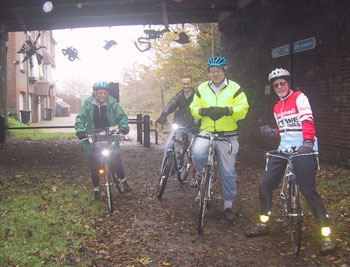 We then cut across to East Lavant and returned via the Centurion Way to Chichester where we took tea and toasted teacakes in a vintage clothing market. Curiously, most tea shops seemed to be closed. On the (Southern) train back to Brighton we bumped into a few CTC riders.
Fred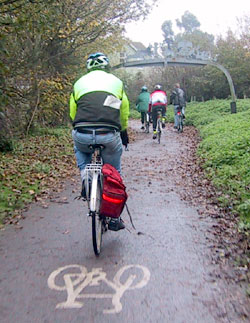 View from the 'Lanterne Rouge'
The hill was 'steepish'  and long – my fault for abandoning the original plan of returning via East Dean!  Will know next time.
Boots!
Ian
Sunday 24 October  
Downs Link
Sunday morning was one of those times when you think 'do I give up'. I got up late to a dreary overcast day. Rushed to get myself to the station, to find most trains were cancelled and the 10am which I hoped to catch was to be diverted to Lewes. And – there was no-one else at the station, although I was confident that Fred would be coming. Time ticked on whilst I decided that I would not go home but was still considering whether to try to get to Three Bridges or do something else. All that proved a bit academic though because Fred arrived more or less at the point the train was ready to leave. I had obviously not been clear enough about 10am train not 10am meeting...
We both agreed that it was unlikely that anyone had actually gone to Three Bridges, given that no-one had contacted me. However if anyone did, you have my most abject apologies. There are lessons to be learned:
1. Those aiming to come should let the leader know beforehand
2. We should exchange mobile numbers – Mine is 0776 162 8836
3. As winter marches on we will need to check the evening before re train diversions
4. Make sure timings are clear and unambiguous
Anyway, we decided to do the Downs Link which Fred did not know and, as in life, things brightened up ... Over to you Fred
Joyce ES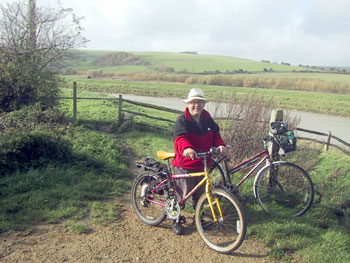 Well, after an unpromising weather forecast (would we get soaked?), I set off to the station for 10am. I'd obviously not read my email properly and arrived to see Joyce waving off the train. It had been diverted anyway and there was some possibility there may be a bus involved in the journey, so Joyce made an executive decision to change the ride. We set off down Queens Road to the seafront and eventually got onto the bumpy cycle lane heading west. Into Hove the going got smoother, and as we carried on towards Shoreham harbour, the sun came out! Oh ye of little faith! At the spot near Hove lagoon where we used to protest about live exports, Joyce took a sudden tumble, skidding on wet leaves, but soon recovered. Just past Carots cafe, we turned right and negotiated the locks and into a pretty village I now know as Southwick. This turned into a council estate, but soon we were by the Toll Bridge and the beginning of the Downs (or Coast) Link, another ex-train line by the River Adur heading north.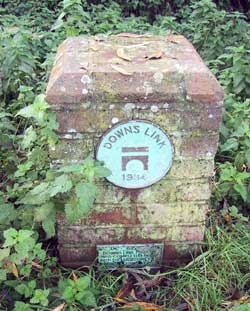 This was a narrow dirt track, punctuated by muddy puddles, some deeper than others (must clean my bike today)! After the customary 11-mile stop for bananas and the taking of photos, we followed it past the old cement works, and over a metal bridge. Here we took a brief diversion to visit the tiny Saxon church of St Botolph, with its wall paintings and interesting organ.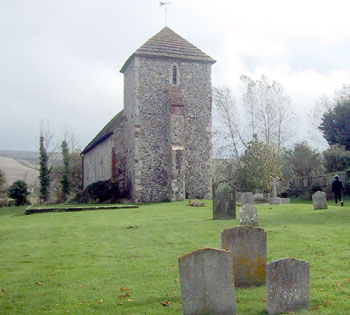 St Botolph
Back to the Downs Link, up to Bramber, where we visited the ruins of the castle (the church was closed) and took lunch at Ye Olde Bramber Castle pub: roast vegetables with cous cous followed by fruit crumble and custard, with two sets of cutlery and plates! I also had a pint of Harveys.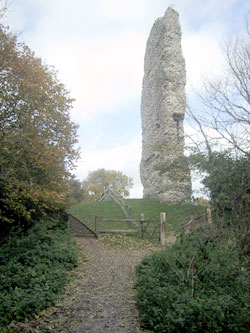 Bramber Castle
Back along the same route to St Botolphs, then along the Coombe road and the first hill of the day, which afforded good views of the cement works and a nice fast descent. Past Lancing College and Shoreham Airport, over the Toll Bridge, and back to the harbour, where we stopped for tea and toast at Carots. Thence along the coastal cycle route to Hove and Brighton, parting company by the Thistle Hotel. It was only my second (long) ride ever and I was surprised that we'd clocked up 26.6 miles – a marathon!
Fred Pipes
10 October
Cuckoo Trail and Pevensey Levels
We were blessed with a wonderful autumn day – sunny clear and just enough cool wind to keep one comfortable. The berries , the wind rustling in the trees , the changing leaves , and the wide horizon of the Levels were a joy. It is true the cold wind came down when we were waiting at the station – but home and a hot shower were on the horizon by then.
Poor Ian must have thought he had been landed with two old crocks: There was me – still not sure I was fully remitted from sciatica, and Fred insisting that he had not done more than a couple of miles in a very long number of years. As it turned out Fred kept up totally and said the only ill effect was a sore rear end. With a lot of puffing I managed (it is frightening how quickly one gets out of shape) and the good news is that, apart from the odd twinge my back held up and is fine today. We did, of course, go at a very leisurely pace ...
It turned out to be a day of 'hail fellow well met' with the cycling world. Fred and I met the very amiable Bricycles group on the train, heading for Berwick. We met up with them again on the Cuckoo trail. We also met up with the Brighton CTC group in the Brewer's Arms... They had done about 30 miles to our 10... I did feel a bit like the nursery slopes – but Hey – we had a great time...
So – after meeting up with Ian at Polegate we headed for the Cuckoo trail – always reassuringly welcoming and easy. Then off at Horam to Vines Cross – and a good hour or so in the Brewers's arms, where we made plans for a Clarion Web site ... (we did not try it this time but they have a very good roast dinner +nutroast option – for next time maybe). At this point we had still only done 10 miles ... After a good rest we headed off to the Pevensey Levels, with Fred being especially struck with our wonderful Sussex names – we now have a photo of a slightly altered 'Ballsocks Lane' sign.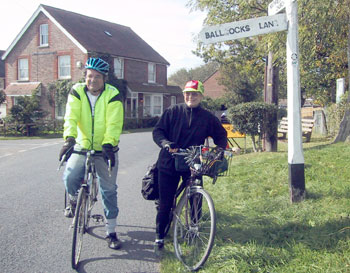 Ian and Joyce next to interesting signpost
Then through the Pevensey Levels – here we did feel the wind sweeping across that open space. but it was exhilarating. Back into the Cuckoo Trail so that we could end up at the tea place for tea and scones before heading for home.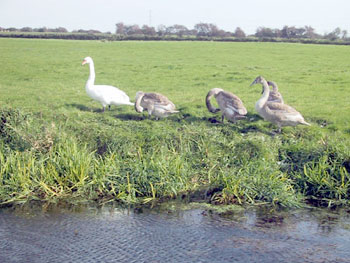 Swans on the Pevensey Levels