Dear fellow members and friends
9 June 2008
Here's a story to make you feel better about your fellow citizens (or at least one of them) … and to appreciate the somewhat unexpected benefits of Clarion membership. Reference was made in recent reports to Jeff losing his wallet on Brighton station and then later the good news of its return.
I recently received this message from Donald Lever, our National Membership Secretary:
At the end of April I received an email from a lady who had picked up a
wallet in Brighton at the Station Market. The only means of identifying
it was by the Clarion membership card.  So this lady must have looked me up through the Clarion website and found my email address.  Anyway it belonged to Jeffrey Bradley of Brighton section so I rang him. 
Jeff , of course, made contact with many thanks and recovered his wallet. Nice to know there are some honest and caring people around who will go to the trouble that she did. And, as Donald says, 'So carrying the Clarion membership card does
have its advantages.'
Planning rides
As explained in the last circular I'm not going to be able to do – and at present have no offers for - 3 August, 31 August and 14 September. They seem quite a long way off – but aren't that far in the future really.
Here are all the remaining dates for 2008 6 (Jim) , 20 July, 3, 17, 31 Aug; 14, 28 Sept, 12 Oct, 2, 16, 30 Nov, 14 Dec.
Summer Social Event? One of the things that was discussed as a possibility at the AGM was holding some sort of social event – perhaps a picnic in Stanmer Park – in the summer. Very sadly, we have lost our Social Secretary (Ed) – who I'm sure would have organised something – as he did for the last two Christmas events. Is there anyone who would like to to take this on?
Summer Special Weekend – 5 and 6 July
Saturday 5 July TakePart event –This has now appeared in the official programme – but without any details of what's planned other than a 'leisure ride' starting from Palace Pier at 11am. Could do with another volunteer or two to help just in case people respond to the invitation to 'just turn up'.
Sunday 6 July – Jim's Rye ride (details again at the very end of this circular)
Reminders
Donations in memory of Ed Furey. Sarah has already received several donations from Clarionettes. If anyone else wishes to contribut
The charities are:-
60+ Action Group in Brighton and Hove www.bhci.org
Amnesty International
Medecins sans Frontières
Send a cheque made out either to one of these (or to her for division between them) to – Sarah Furey at 70 Larkfield Way, BN1 8EF.
Sunday 27 July 2008
Shoreham Toll Bridge Ride

If you've not already done so, download a form at www.cycling-support.co.uk. And let Jim know so he can organise a proper Clarion presence on the rides and reports afterwards ( j.r.grozier@btinternet.com or 01273-505550)
Cycling Forum Meeting – Roger's Report

Here are a few points from the meeting on 3 June:
The council has plans to extend the two-way seafront cycle path east from the Pier to the Marina, to plug a gap in National Cycle Network Route 2. The first section would be on the footpath; then it would be on the road. Madeira Drive is used for events, so the on-road section would only be segregated from other traffic by road markings rather than a raised kerb. This would mean potential conflict between eastbound cyclists and westbound motorists, especially in the section beyond Dukes Mound where the road is narrow. The consensus was that things should stay largely as they are. There were suggestions for a 20mph limit along Madeira Drive, and changing the end-on parking to echelon.
There was discussion about how the Council's new leader and cabinet system would affect the status of the Cycling Forum. Cllr. Tony Janio, is the 'member champion' for cycling and vice chair of the Environment and Community Safety Scrutiny Committee; he will ask the committee to seek advice from the forum where appropriate. (I hope this is a fair report of the outcome of a long discussion!).
There was also talk (generously laced with three letter acronyms) of trying to establish a sustainable transport partnership. I must confess that I start to lose it when confronted with the word 'partnership', unless it relates to solicitors or cohabiters, so I didn't really understand this bit.
Mark Strong did not seek re-election as chair of the Forum. Adam Pride (Bricycles) has taken on the job. Nick Marks (Bikes for Life) was elected vice chair.
There was an accident recently on the new cycle freeway in Grand Avenue. A cyclist suffered an arm injury as a result of swerving to avoid a taxi turning across the cycle path.
Funding is available for a cycle freeway on the Old Shoreham Road; there are no plans yet.
Bike week is 16-20 June. Cyclists can get a free breakfast at Baobab Café on the 16th and Meeting Place Café on the 19th (both from 7:30am – 10am).
There will be a car free day on 21 September.
Hanover Community Association has around £7,000 to spend on secure, on-street cycle storage.
The Southern Railway franchise is currently up for consultation.

The Origins of the Clarion Cycling Club in 1894 - Latest episode near the end of the Circular as usual - plus another snippet from Michael Walker (Have a look also at recent additions to the history page such as the Clarion Captain's badge)
Boots!
Ian
The Next Ride
Sunday 22 June 2008
Newick via Ouse Valley roads and Barcombe – 17/18 miles only – no big hills but it is a bit undulating
We did this once before, last year, but it will be different this time since we will reverse the Barcombe-Newick-Barcombe routes – which will make it seem different enough, I hope.
We'll leave Lewes station by our usual 'escape route' which joins the Hamsey road via the track from Landport farm. We can make it a bit more interesting and novel by taking the lane down to the river near what's left of Hamsey church Then on via Barcombe Cross to Newick for lunch at the Royal Oak. We'll then return to Barcombe via the Town Littleworth road and if that's the feeling on the day we can stop for tea at the other Royal Oak in Barcombe as we've done on a couple of occasions in the past.
We'll return to Lewes via Barcombe Mills and Wellingham Lane, followed by an unavoidable stretch of main road until we can turn off just past Earwig Corner and make our way back to the station.
Catch the 10.39 from Brighton station or meet at Lewes station at 10.54.
We can take advantage of the half-price 'Groupsave' ticket option if there are at least four of us. To do this, you need to be at the station half an hour before the train leaves, so that there is enough time to organise it. (Please try to be at Brighton Station by 10.15 if you want to get a Groupsave ticket).
Ian's mobile no.: 07770 743287 (I promise to switch it on once I get to Lewes station!)
The Last Ride – Roger's Report
Sunday 8 June
Gatwick circular
[Click on the photos to see them bigger on Flickr (not the first one!). This is a bit of an experiment to save much uploading and downloading - if anyone has any problems seeing the images, let me know - Fred]
The weather forecast promised a glorious English summer's day and that is just what we got.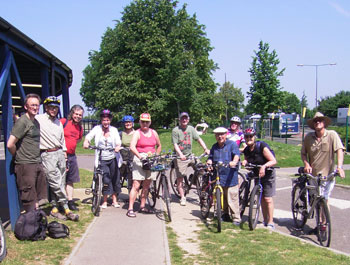 The start
There were ten of us on the 10:44 train from Brighton: Ann and Mick with their friend Liz (who was 'in training' for the London to Brighton ride), Fred, Joyce, Richard, Alice, Geoff, Roger and Jim, our leader for the day. Leon joined the train at Hassocks. Unfortunately Richard got a message from home and had to leave.
En route, tales were told by those who had bared as much as they dared on the Naked Bike Ride the previous day.
Our destination was Gatwick, where we met Nick and assembled on the airport concourse. With total faith in Jim's leadership we launched ourselves through the crowds of air travellers towards a small door marked 'local buses' and out into the sun. A helpful airport worker took the group photo and we were off.
Soon we were following Jim down a pleasant cycle path past a beautiful expanse of water, complete with lily pads and fishermen enjoying the sun, and all within minutes of the South Terminal! This was the Riverside Garden Park, which took us into Horley. From there we followed quiet roads, including Lonesome Lane, which was anything but, with eleven Clarion cyclists strung out along it.
Lunch was at The Plough in Leigh, an attractive pub with a varied menu and a very welcome shady garden. When Geoff's cheesy chips arrived the cameras came out, and as each additional meal appeared the photographers pounced. Once the meals had been thoroughly snapped, photographic attention turned to wildlife and there was a battle of the close up lenses to get a portrait of a ladybird that had dropped in to check the time on Fred's watch.
Fed and watered we set off again along even quieter lanes and tracks. There were a few hills, which slowed some of us down a bit. Liz stopped briefly, fearing a flat tyre, but some work with a pump soon solved the problem. Hammond's Copse, offered more photographic opportunities, this time of the vegetation. Then another flat tyre alert, a real one this time: Joyce had found herself a very large thorn - could it have come from the Copse? Leon set to work applying a patch and we were soon rolling again.
'Le Manger' in Horley High Street supplied drinks and cakes before the final short push back to the airport. We just made the 16:50 train, thanks to a helpful conductor who kept the doors open while the last three cyclists scrambled aboard. Sadly for Leon the train sped through Hassocks without stopping, so we said goodbye at Brighton as he started looking for the next train back.
A wonderful day out! Many thanks to Jim for organising it and for finding another new starting point for Clarion rides.
Roger
[Many more bigger photos on on Flickr.]
The Origins of the Clarion Cycling Club and cycling in the 1890s
10. The Clarion cycle: and the rules of the Potteries CCC
By September 1894 the Clarion was well on the way to establishing a very close connection with the cycling boom of the decade. One sign of this was the appearance – on 15 September – of an advert in which the word Clarion appeared exactly as in the trumpet badge. It read:-
STEVE MUIR MANUFACTURER OF THE CELEBRATED CLARION CYCLE. AT LOW PRICES, HURST STREET, BIRMINGHAM
SPECIAL ATTENTION GIVEN TO REPAIRS, CYCLES BOUGHT, SOLD AND EXCHANGED. Good SECOND HAND machines always ON HAND at LOW PRICES

Prices No 1 £16, No 2 £13, No 3 £10
New bikes were not cheap then. Even the cheapest 'Clarion' would cost the equivalent of at least a month's wages.
Meanwhile, the week before 'Swiftsure' had passed on the following to the Clarion readership.
My readers will find below a copy of the rules of the Potteries Branch Clarion C. C. They seem good, and might form a basis on which other Clarion Cycling Clubs can be fixed

WHISTLE CALLS

One blow………. Single file
Two blow……… Steady
Three blows……. Dismount

RULES

That the club be called 'The Clarion Cycling Club (Potteries Branch)'
That the subscription be 2s 5d per season. Honary members 1s payable in advance

That the club be managed by a committee, composed of the president, vice-president, captain, sub-captain and secretary.

Any vacancy on the committee shall be filled at the next meeting of the club.

Anyone wishing to join the club must be introduced by a member as his personal friend, but before being proposed as a member must accompany the club on at least two runs.

The captain, or in his absence, the sub-captain, shall have entire control of club runs, including choice of roads and catering for club requirements.
General meetings shall be held at call of secretary; also on receiving a requisition from six members the secretary shall call as special meeting of the club

The annual general meeting shall be held early in February.

Officers to be bona-fide "Clarionettes'
I like the idea of the whistle – but what on earth did 'Steady' mean – and is there anyone in the Brighton Clarion capable of it?
Next time. 'Swiftsure's advice on 'training' and buying a bike - plus the Clarion CC continues to spread.
From a later period, Michael Walker has unearthed this from records at Warwick University
Thomas Leonard Woodhall (1919-2005) was a serious cyclist, whose club cycling activities began in October 1935; he belonged, amongst others, to the Southern Paragon Cycling Club, Farnham Road Club, 1934-1936, various sections of the National Clarion Cycling Club from 1934-1954, and Addiscombe Cycling Club. He also served as secretary of the Southern Counties Clarion Cycling and Athletic Club for six years from c. 1945-1952. His poor eyesight meant that he was unable to drive a car or take part in sports such as cricket, but it did not stop him riding a bicycle. In May 1944 he was living at 289 Gosport Road, Fareham, Hampshire. His last home address was Gosport, Hampshire. His nickname was Snowy.
From Jim
Sunday 6 July 2008
Rye - Appledore - Lydd - Camber - Rye:
About 27 miles, mostly on tarmacked roads; some cycle paths
Hill rating: None. Really. It's dead flat.
Oil rating: Fine once we get past Appledore.
Wildlife rating: Excellent
Sewers: Lots (that's what they call ditches in these parts)
The route is basically a triangle: Rye-Appledore-Lydd-Rye.
We leave Rye on the long straight Military Road that runs alongside the River Rother and Royal Military Canal. There will be light traffic, some of it going much too fast. But after Appledore, we are on delightfully quiet little lanes.
We will have lunch at the Woolpack, a 15th century inn in the middle of nowhere.
Lydd is an ancient town with a huge church. Unfortunately it is also home to an ugly army base. From Lydd back to Rye we will mostly be on a Sustrans cycle path that runs alongside the road. Camber is a grotty holiday resort, but we may go in for a dip here if we want.
Creatures we may spot: herons, oystercatchers, yellowhammers, swans (and possibly cygnets), sheep, rabbits, and two very fat pigs.
If time allows we can have tea in Rye before catching the train back.
10.20 train from Brighton, arriving Rye 11.44
(Be at Brighton Station by 9.50 for Groupsave)
Return train:
We should be able to get the 16.45 from Rye, arriving Brighton at 18.12. However, if we stop for a dip, it may have to be the 17.45, arriving Brighton 19.12. If we split up at Camber, directions back to Rye will be available.
Please contact Jim if you are planning to go on this ride. As we may pick up some new people from the 'Take Part' event the day before, and the train has only 2 coaches, we will need some forewarning about the number of bikes, and some of us may have to travel on an earlier train.
Contact details: j.r.grozier@btinternet.com, 01273-505550 or 07742-963239