Dear fellow members and friends
9 July 2007

My thanks to Roger and to Jim for organising the last two rides. The next one is of course our participation in the Save the Shoreham Old Tollbridge charity ride on 22 July. I haven't yet received full details, so apart from saying let's all meet at the start – and perhaps finish up at Shoreham Airport for a cuppa (or a pint) afterwards, there is little to add. I hope to get out a further circular at the beginning of next week that will be a tad more specific.
I haven't (yet) had any further notification of people planning to participate – other than the five of us reported in the last circular. But it's not too late to sign up - www.cycling-support.co.uk. Then click 'Rides 'on the menu, then right-click (PC) or ctrl-click (Mac) the link below Tollbridge  ride to download the flyer to your computer. Please let me know if you're taking part if you haven't already done so.
And if you're not coming– how about sponsoring one of us – me for instance? As with payment of subs at the beginning of the year your credit is good until next time you see me – just email me with how much you want to contribute and I'll add you to my list.
Keeping the Toll Bridge is not only desirable in principle; there's a good selfish reason for doing so. Without it an important 'escape route' for cyclists (and others) out from the conurbation into the countryside would be lost. To get to or from the Coombes Road – which we use at least a couple of times a year on Clarion rides – we would have to go down from Shoreham High Street, over the Norfolk Bridge, along the busy coast road to the Shoreham Beach island and then round that, and down past the airport (or vice versa in the other direction). So what about it – even if it's only 50p!
Boots!
Ian
The Next Ride
Shoreham Old Tollbridge charity ride – 22 July (see above)
The Last Ride – Roger's Report
Sunday 8 July 2007
The Downs Link: Christ's Hospital to Shoreham
This was one of Jim's rides, which he advertised as mainly off road and a bit stony. So, I worried that there might be rather a lot of mud given the recent rain. I also worried that we might get some heavy showers en route, given what I had seen on the BBC weather web site. I even worried about how my backside would cope with 20 miles of bumpy track.
On the train from Brighton Joyce, fresh from her Buddhist retreat in Wales, described how the regime of meditation, study and housework enabled her to stop worrying.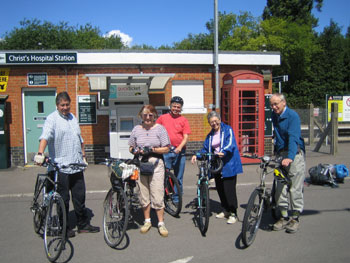 Richard, Joyce, Jim, Suzanne and Roger
After a change of trains at Three Bridges we arrived at Christ's Hospital's sleepy station. One of the few other people there was persuaded to photograph all five of us, Jim, Joyce, Richard, Roger and Suzanne.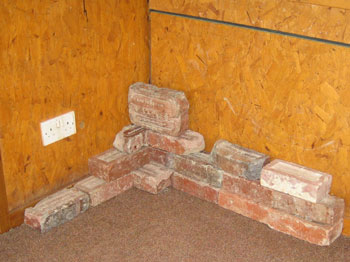 Jim's bricks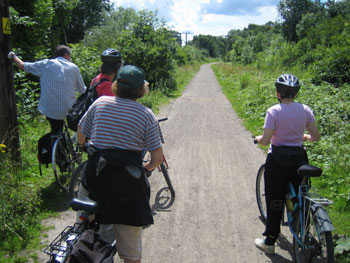 Along the old railway
Soon we were rolling southwards on the Downs Link path, which in a previous life was a railway line. First stop at Southwater for a brief visit to the country park where the old brick quarry has been turned into a boating lake. Jim's eye for detail found an unpretentious pile of Southwater bricks in the corner of the visitor's centre.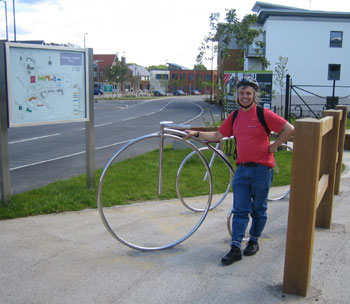 Jim's new bike
In Southwater village Jim toyed with the idea of swapping his trusty ATB for something a little more elegant, but then realised it was glued to the ground. Dodging horses and overhanging branches, we sped on to our next stop at West (yes West) Grinstead, where we found an old railway carriage packed with memorabilia from the age of steam.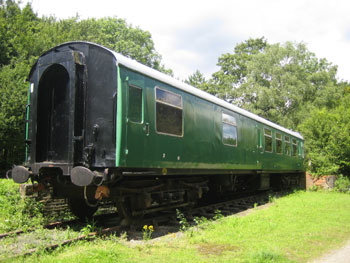 An old railway carriage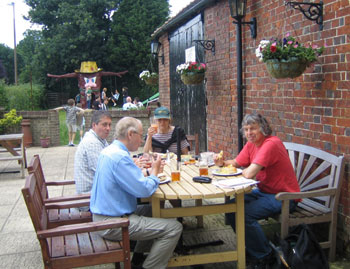 Lunch
Lunch was at the Partridge pub in Partridge Green. Then on to Henfield where we had to deviate briefly from the route of the old railway because of a new housing estate built across it after the line was closed in 1966. I wonder which wag it was who decided to call the estate 'Beechings'?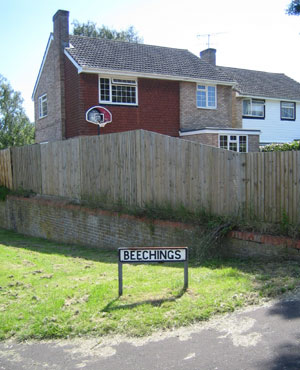 Beechings
South of Henfield we glimpsed the mediaeval Stretham Manor through the trees before speeding on to Bramber to photograph the now mandatory sewage works.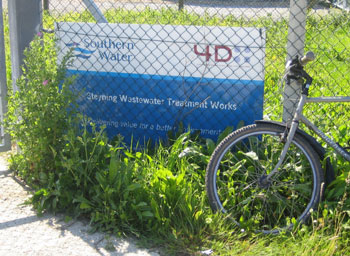 The now mandatory sewage works
The last stage of the ride took us past the old cement works to the end of the path at Shoreham. Jim's eye for detail came up trumps again when he spotted a carved wooden bench at the side of the path; it was in the form of a train, complete with steam billowing from its funnel.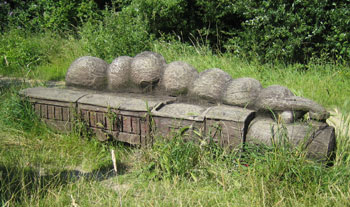 Train bench
After a brief stop for coffee, Jim and Joyce opted for the train from Shoreham while the others took advantage of the brisk westerly wind to sail home along the harbour road and sea front cycle path.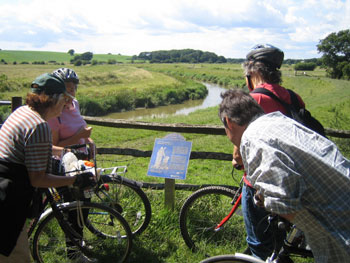 An informative fence
And all those worries? Well there was surprisingly little mud, no rain and as for my backside, no comment!
Many thanks to Jim for a very enjoyable day out.
Roger