Dear fellow members and friends
7 January 2008
Future rides
I've already given dates for rides up to 16 March. Roger is organising the next one (see below) and Jim the one after that on 3 February. I can manage 17 Feb and 2 and 16 March – but don't let that stop anyone from volunteering a ride for any of those dates!
Since then Jim has raised the question of Clarion ride dates beyond 16 March; he needs to know in order to fix dates for meetings he's involved with. I've already tried this out on the people currently organising rides and now I'm giving everyone a chance to comment
I'm proposing 3, 17 Feb; 2, 16, 30 March; 13, 27 April; 11, 25 May; 8, 22 June; 6, 20 July, 3,17,31 Aug; 14, 28 Sept, 12 Oct - I'll return to what happens after this last date later.
 
I've highlighted two dates for quite different reasons. It's unlikely that I'll be available on 30 March so it would be good if someone else can volunteer to organise the ride that day. The other complication is that Summer Time begins that day – but it's probably not a good idea to switch dates at this point because the previous week is Easter Sunday which it's probably a good idea to avoid. 25 May is the Sunday before the Spring Bank Holiday – but I don't think that would be a problem. There will be other dates I'll have to miss but I can't say what they are likely to be at the moment
 
Can't see anything on the web about a Shoreham Toll Bridge ride in 2008 but if it doesn't coincide with one of our Sundays we can always do it as an 'extra' .
 
End of year
Keeping to the schedule after 12 October involves a ride on 26 October – the day that the clocks go back – and a possible final December ride on 21st. So I'm proposing that we do similarly to what we've just done last year - after 12 Oct skip to 2 November and have rides also on 16, 30 Nov and 14 December.
 
Let me know what you think. I'll make any necessary adjustments and confirm the dates later (though in the nature of things please still regard them as 'provisional' – but not to be changed without compelling reason.) Once confirmed, I will ask Fred to put the schedule on the website and to add the names of people booking specific dates as they come in. Leon has already spoken for 25 May. Anyone for 30 March?
Communications
I use a separate list for members (so I can send e g stuff about the national organisation or our own AGM that would be of little or no interest to non-members). There is a much much longer list that I use for these circulars. Quite a while back now I started to get whole batches 'returned' so I tried dividing the list into 4 sections – which seems to have worked. The point is that whereas you can reach everyone concerned by using 'Reply All' on the members list you only get a selection of the total recipients if you try to do this with the circulars. So, if you want to tell everyone on the whole mailing list something, please send it to me and I'll include it in the next circular (very willingly) or send it on to all sections of the general mailing list – whichever seems most appropriate. I did explain this when I divided the list – but it's a while ago now, we've new people on the lists and in any case we all tend to forget these things after a while.
Boots!
Ian
The Next Ride
Sunday 20 January 2008
'Suburbs by the Sea' : Worthing to Littlehampton (about 16 miles)
We set off westward from Worthing central station, along a time line of English domestic architecture. At the start there are fine Victorian villas and terraces, then solid, well-established early twentieth century homes. Eventually we reach the brick boxes built after World War Two
The exotically named Casa del Mar marks the end of the Worthing sprawl and we pass through about half a mile of open country before coming to the suburban village of Ferring, which we leave again as quickly as possible.
We cross the A259 to find a twenty-first century development just south of Angmering. Its style is probably best described as English village pastiche: you keep expecting the old church and the pub to be round the next corner, but they're not. Eventually you realise that it's not a village at all; it's a suburb. The only problem then is finding your way out – don't lose sight of the ride leader in this section!
Hopefully the real village of Angmering will come as a relief, particularly since we will stop here for lunch at The Lamb.
Then we head back to the coast to sneak a look at some of the residential estates that hug the beach, west from Kingston Gorse – posh and private! Be ready to doff your cap if we come across any locals.
The final stage of our ride takes us along the coast road into Littlehampton, past the splendid Rustington Convalescent Home (nothing suburban about that!). Look out also for the trendy, new East Beach Café, cunningly disguised as a large piece of rusty metal. We could stop here for tea, but perhaps we should stick to our theme and go on to the Harbour Lights, which is in the heart of Littlehampton's newest suburb, on the riverfront and conveniently close to the station.
Practicalities
Meet at Worthing station (central – not east or west) at 10:38.
By train: buy a return ticket to Littlehampton. Catch the 10:13 Portsmouth Harbour service from Brighton (10:17 from Hove) and get off at Worthing. There are trains back from Littlehampton to Brighton (via Hove) at 22 and 55 minutes past the hour.
Suggestion for those coming by car: park in Worthing central station car park (free on Sunday). To return from Littlehampton, catch one of the Brighton trains (see above) and get off at Worthing.
My mobile number is 0789 985 1172.
Roger
The Last Ride - Roger's Report
6 January 2008
Glynde, Berwick and Firle
Seven of us caught the 10:20 train at Brighton: Alice, Fred, Joyce, Leon, Roger, Sue and Suzanne. Jim jumped aboard at Lewes and Ian was waiting for us at Glynde.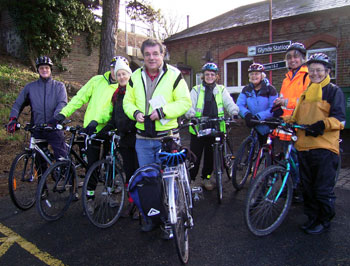 The start - Roger hiding behind Sue's hat
We set off south-eastward into brilliant winter sunshine. The leaders sped through Ripe while the peloton stopped to admire the goose girl and her geese. South of Berwick station we discovered a new cycle path running parallel to the road – a welcome development given the speed of traffic on this stretch.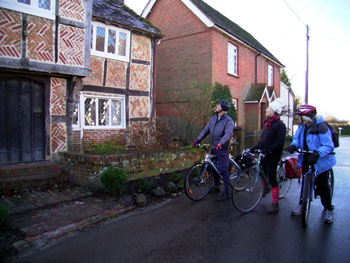 Admiring architecture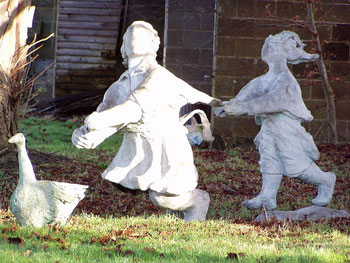 Goose girl - Leon's photo
The traffic on the A27 itself was even faster and unrelenting – where is everyone going? A helpful motorist flashed his lights to let us across and we arrived at the Cricketers' Arms just as they were opening.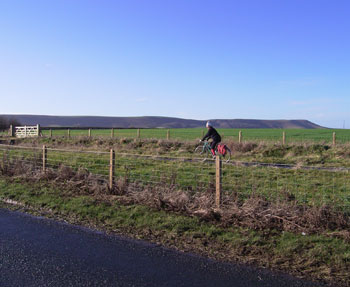 Sue takes the new safer route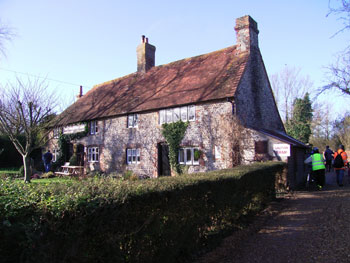 The Cricketer's Arms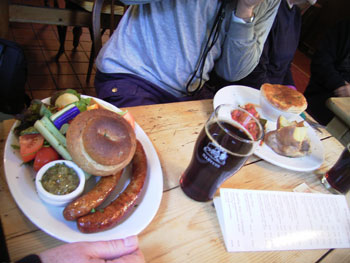 Gourmet food and Harvey's Old
Round a table groaning with food, beer and awful jokes, we discussed whether to send a delegate to the national Clarion Easter meet. Their job would be to contribute our views to the great debate on how many socialists it takes to mend a puncture. Jim seemed keen to go, mainly because he plans to campaign for a reduction in the average speed of Clarion rides, but he wants some company. Joyce proposed that our £1 local subs. could help pay our delegate's expenses. Ian pointed out that they would need to go up to about £25 a head to be much use. All good stuff, but unfortunately our Chair could not be with us so we failed to reach a conclusion. Roll on the AGM!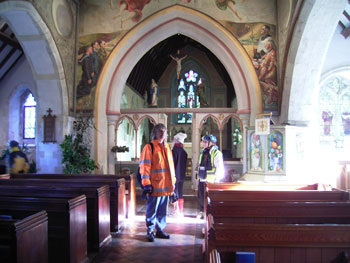 The Bloomsbury Group murals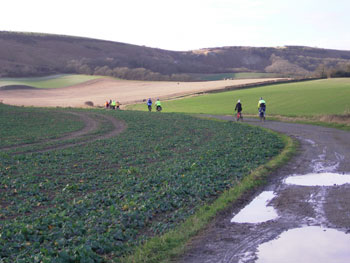 The Old Coach Road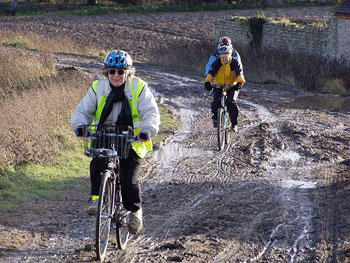 A little mud was no problem for Joyce - Leon's photo
After lunch we visited Berwick church to see the wall paintings. Then we hit the mud. The secret of success on country tracks after rain is to avoid them. But if you can't resist (as we couldn't), the secret is to get in a low gear and keep pedalling. That's fine, until the person in front of you forgets. Then you remember the other secret, which is to stay at least 30 yards behind the person in front.
Actually the mud wasn't too bad once we got onto the old coach road. We had a short stop at Bo Peep Farmhouse to scan the horizon for lost sheep. Further on we paused to plan rides for the rest of the year, which, we soon realised, is impossible without better information about railway engineering works. Ian has this all under control.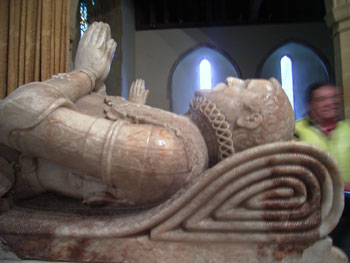 Sir John in Firle church
It then started raining, over which Ian apparently has no control. But who cares? It's only water falling from the sky! We took shelter in Firle church and admired the 15th century alabaster effigies of Sir John Gage and his wife, whose descendents still live nearby at Firle Place. The church also has a fine stained glass window by John Piper depicting Blake's tree of life, and a pipe organ with a notice advising users how not to set it on fire.
After another nerve-racking dash across the A27 we got back to Glynde in good time for the Brighton train.
Thanks to Ian for a good day out and to Sue and Joyce for the sweets.
Roger
[More and bigger photos on Flickr]