Dear fellow members and friends
7 August 2007

Old – sorry, long-serving – Brighton Clarion hands will be delighted to hear the latest news from Neil (Peckham) In a recent email he wrote:-
'I've just bought Erin (my little daughter) a bike hat and seat so might try bringing her along on a ride, perhaps meeting halfway at pub, sometime soon – I'll keep my eye on the website and will let you know. Rosa (my other little girl) was born 16 March – I've been pretty much off the bike since then but still following the circulars.'
So – belatedly – congratulations and best wishes to Cara and Neil. We look forward to meeting Erin before too long – just hope we can keep up with her when she starts pedalling.
Future Rides update
Details of the next ride are below as usual and I've got something new-ish planned for 2 September. After that, as reported in the last issue, Jim has a couple more in mind for 16th and 30th September involving the Bluebell Railway and a start at Three Bridges in the first instance and Rye and Romney Marsh in the second. Volunteers for other dates very welcome.
Still no report of the Toll Bridge ride from Bernie; I don't know what's gone wrong there – so apart from Fred's contribution I guess we'll have to make do with my few remarks about the longer ride. Lots of photos, though. Don't forget that you can get an illustrated version of ride reports (see Linda's report below) – and much else – on our website expertly maintained by Fred.
Boots!
Ian
The Next Ride
Sunday 19 August
Chichester Harbour c 22 miles
As you may recall I've been hoping to fit in our by now traditional ride around Chichester Harbour (featuring a short trip on Jeff's favourite ferry at Itchenor ) since the Spring and have been thwarted by railway maintenance. I have a new, and I think interesting, start to the ride which I thought would mean cutting out our regular start along the initial stretch of the Chichester Canal. But I now realise we can do both – at the cost of adding about a mile and a half to the distance but with the advantage of avoiding having to negotiate a roundabout on the busy by-pass. And it's a shortish ride that's as flat as a pancake so that shouldn't be a problem.
I've checked that the Crab and Lobster at Sidlesham Quay has reopened, but – predictably – it's gone even further than before the renovations in the 'gastro-pub' direction and may be a bit pricey (eg £8 for an open sandwich) for some tastes. If so, why not do what I did one year because I'm not too keen on their emphasis on fish and bring some sandwiches? There is at least one bench overlooking the Pagham Harbour nature reserve that makes a good place to eat them. There will be time towards the end of the ride for the usual cuppa (and cakes for the addicts) at Bosham.
Catch 10.17 from Brighton station or meet at Chichester station at 11.19. There are a variety of trains for returning – eg 16.14 (Southern – change at Hove), 16.19 South West Trains, 16.23 First Great Western and 16.53 Southern again. If you're coming by train please check these and other possibilities out for yourself. Try Googling National Rail Enquiries. [Or use this link www.nationalrail.co.uk]
The Last Ride
Sunday 5 August 2007
Amberley ride by Linda (my 2nd ride!)
I was pleased to meet up with Jim and Joyce at Barnham station, having started off on a different train. It was just us – 3 intrepid adventurers on this sweltering day! Smothered in suncream (it already felt tropical!) we quickly found ourselves away from the road and riding through beautiful countryside – wheat-coloured fields with haystacks against the bluest sky, woods, hills, the gentle Arun River. Then onto lanes with high hedgerows winding through some pretty Sussex villages – thatched cottages, fabulous well-kept gardens and a few sports cars!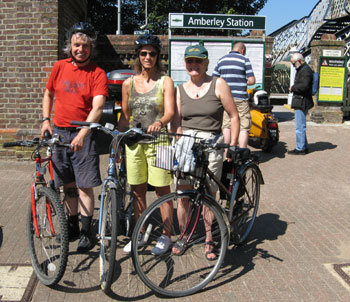 Under starter's orders – Jim, Linda and Joyce
At Bignor Villa we decided to have a look. After seeing fragments of pottery, tiny brass objects and even the boney remains of infant burials there were the amazing mosaics, so well preserved: Ganymede and the Eagle, Venus with cupid - gladiators, Medusa - wonderful intricate designs in ochre, terra cotta, white and grey-blue. Check Jim's pics on the website. It's really worth a visit.
Bignor - Ganymede and the Eagle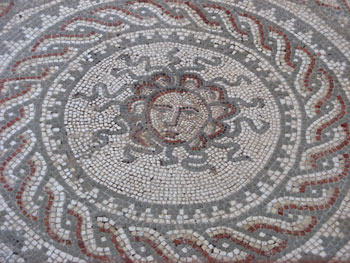 Bignor - Medusa
After the hot riding and dose of culture we were ready for lunch! We came upon the White Horse in Sutton and changed our plan to stop there for refreshment in a shaded garden. Food OK – the veggies had to ask for various things to be removed, but they obliged!!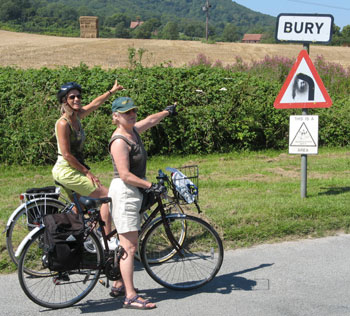 Fred's home town!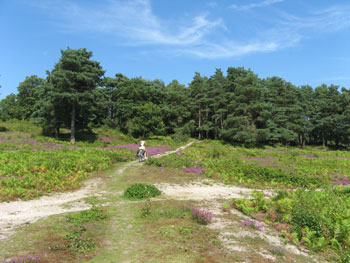 Linda at Lord's Piece
In the afternoon there was some off-road cycling through lovely quiet woods – mmm the smell of the ferns – a few sandy and then muddy bits to negotiate – Joyce's wheels got clogged up but soon recovered. The Lord's Piece was a sudden change of terrain – a triangle of bright heather and heathland, populated by the rare and elusive field cricket. We didn't actually see one but were fascinated to read all about them in a detailed account of their comings and goings pinned up at the entrance, while we revived ourselves with the first blackberries of the year.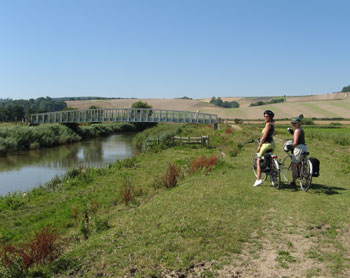 River Arun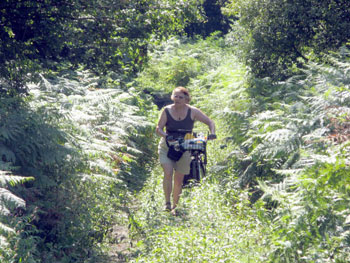 Joyce emerging from the undergrowth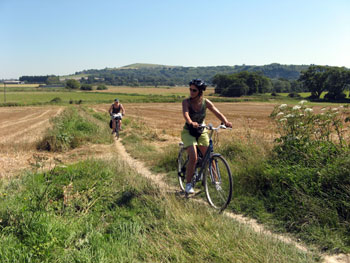 A rural idyll
The afternoon was sometimes a bit strenuous with some hilly, sunny stretches – but relieved by long shady lanes through silent, deep and tall woods. Joyce and I were tempted to explore them on foot – another time... Back in Amberley and some time to spare, we just had to have a cuppa at the Riverside café by the bridge. Wonderful cakes – Jim took photos of them and they deserve a mention!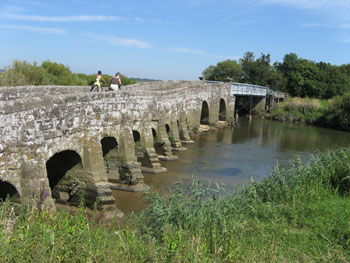 Greatham Bridge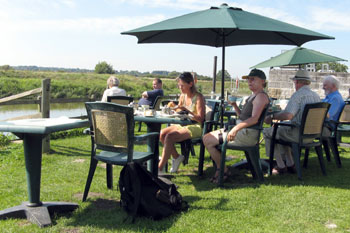 Tea by the river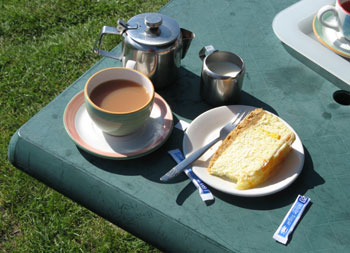 Mango cheesecake and tea
Mango cheesecake, apple crumble cake, lemon and almond were all delicious and very right on and organic too. So a fabulous, diverse treat of a day out. Thanks Jim for a great ride and to you both for good company. Finally back in Hove, achy, dusty and sweaty I plunged into the sea – a perfect end to the day!
Linda