Dear fellow members and friends
5 November 2007

Great turnout yesterday – sorry I couldn't be there to add one more to the record total.
Well done Fred!
Our webmaster writes:
'Brighton and Hove Clarion website has been shortlisted for the  Brighton and Hove Web Awards.  Go to http://brightonwebawards.co.uk/votenow. It's in the 'charity' section (there was no 'community' category), and you may have to vote for websites in other categories. If you're stuck, you could also vote for www.carfreewalks.org and www.drawanyway.com - both worthy causes. Deadline is 14 November!

fred'
Please everyone do as he suggests.
Christmas Get-Together
Sadly for him our Social Secretary, Ed, has had to cancel his hoped-for 5 weeks in Nepal. If you've seen him recently – on crutches – you will understand why.
Happily for the rest of us that means he is, after all, able to organise the Christmas 'do'. Thanks to everyone who has already responded to my appeal for preferences. These have all now been passed on to Ed. Please send any more suggestions about dates or venues -ASAP – to Ed at edward.furey7@ntlworld.com. No pattern has yet emerged from the preferences so far stated, so your view could really make a difference.
Chris Aukett, a Product Design student at Sussex, contacted me recently. He writes:
'My main design project is to be based around cyclists and gaining exercise in the home. With this in mind I was hoping you could help me get in contact with my target market. As Brighton & Hove Clarion is a well established and popular cycle club I would love to be able to have an informal chat with some of your members to gain their insight. This may mean me coming along to one of your upcoming rides and speaking to the members.'
I've told him that he's very welcome; he couldn't make yesterday but look out for him on one (or more) of the next few rides.
Boots and Spurs
Jim has pointed out that the Clarion mag. is always appealing for reports from sections but it's a long time since we had our one and only entry. He suggested that though we haven't much – apart from Bob's exploits – to report racingwise, we could from time to time put something together based on our excellent ride reports that would give the flavour of our activities. He thought the Toll Bridge rides might be a good start. I've put together something – it's only a first draft and I'm going to try to edit it down a bit. Too long to include in this – already rather lengthy circular – but I'll attach it as a separate item for anyone would like to have a look at it [download the Word doc here]. Comments welcome, naturally.
Boots!
Ian
The Next Ride
18 November
Cuckoo Trail c 22 miles
As a result no doubt to global warming, autumn with its attractive 'tints' is taking a long time to arrive these days. I think one of the best places to enjoy treescapes is the Cuckoo Trail. We've used bits of it quite often but only done the whole Polegate to Heathfield and back ride on three occasions. Joyce, Sheila and I rode it in appalling weather on the very first 'Clarion ride' in April 2004. I was away on the other two occasions – Easter Sunday 2005 and in October last year – but on both occasions a lunch stop was made – satisfactorily – at the Runt in Tun near the top of the Trail. Another possibility – which I got from a website recommendation – is the Prince of Tales just up the road from the end the Trail in Heathfield itself. We'll see what we feel like on the day. The ex-railway line nature of the trail means that while you hardly notice the gradient riding up to Heathfield – apart from a few 'bumps' at road crossings – it is noticeably downhill all the way coming back. If time – taking into account the onset of darkness – permits we can also make the usual tea-stop at the Old Loom.
Catch the 10.20 train from Brighton to Polegate, or meet at Polegate station at 10.49 am. Return trains – depending on when we leave the pub/ and whether we stop for tea – include the 15.02 (arrives Brighton 15.34) might be a bit of a push, but the 15.42 (16.02) should be easily achievable and get everyone home before lighting up time. My mobile no.: 07747-307892.
Ian
The Last Ride – Roger's Report
4 November 2007
Hassocks to Shoreham: A Ride Rich in Interest and Incident
Thirteen Clarion cyclists boarded the train in Brighton; at Hassocks we were met by three more, making this possibly the best-attended ride ever. No doubt the beautiful weather was partly to blame.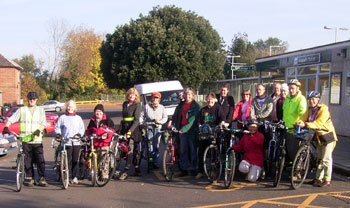 A record turn out
The excitement started early on when Jim led us out of Hassocks station and turned left … but Shoreham is the other way! He had found a way of avoiding the main road. We crossed the route of the veteran car run and saw two of the 531 'old crocks' that were driving to Brighton that day. It was at this point that Leon fell over; clearly falling over is now a requirement for new members on their first ride.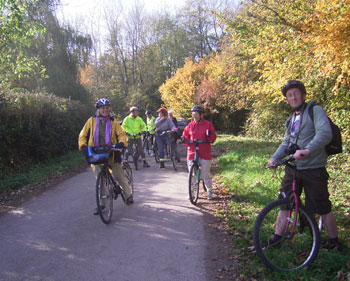 Autumnal leaves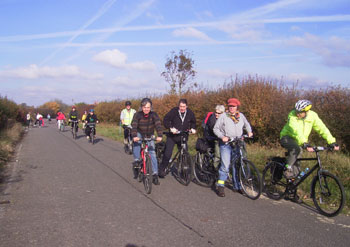 Herding cats
He quickly recovered. On through Hurstpierpoint - for those who wanted to know what the name means, it derives from 'Hurst', a Saxon word for wood, and the de Pierpoint family who arrived with William the Conqueror in 1066.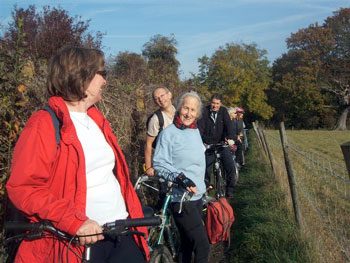 Watching sheep (Anne's photo)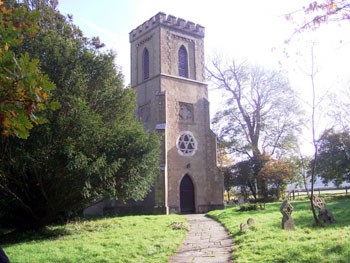 Newtimber Church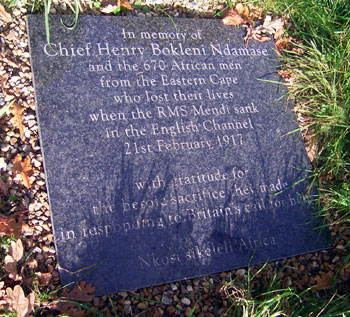 First world war memorial
We stopped briefly at Newtimber Church. A plaque in the churchyard attracted much interest. It commemorates several hundred African soldiers who were lost at sea while travelling to England in 1917 to help the war effort.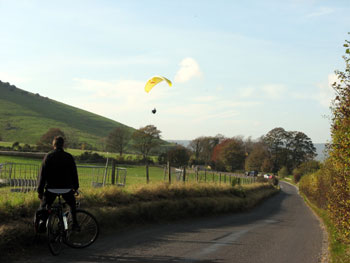 Hang glider off Devil's Dyke (Jim's photo)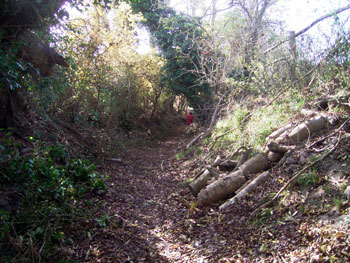 Off-road descent
On through Poynings and Fulking, with more excitement as we plunged wildly down an off-road descent through fallen leaves and foliage. Incidentally, Jim has now set a new standard in ride leadership; not only did he cycle the route twice beforehand, but on the second occasion he carried a pair of seccateurs to clear away the worst of the foliage from the off-road sections.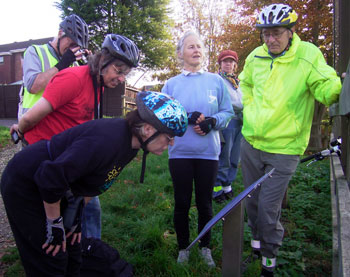 Learning about salt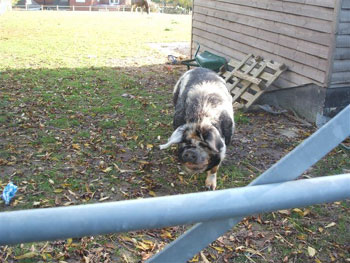 The hungry pig (Anne's photo)
In a big group it is hard for the report writer to keep track of everything that happens. However, as we paused to read a wayside sign about the ancient salt making industry, news filtered through that during the off-road section some members of the group had paused to share a banana with a large pig! Regardless of whether this is true, it certainly deserves a place in the Clarion collective memory.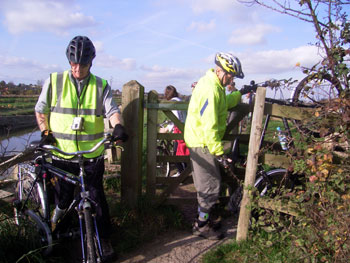 Negotiating a difficult stile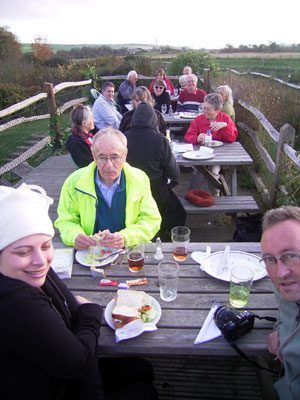 Lunch outside The Bridge
The staff at Upper Beeding's Bridge Inn coped splendidly with a horde of hungry cyclists – there were now seventeen in the group as Mick joined us for lunch. Fully refreshed and re-fuelled we continued on through Bramber and Botolphs. Shoreham Airport provided hot drinks and cakes and then - is this another Clarion first? - a change of ride leader as Sue took us on a shortcut across fields to view the amazing collection of houseboats at Shoreham Beach.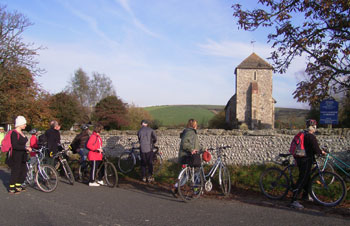 Yet another church stop - St Botolph's
For the final stage of the journey, some chose the train from Shoreham and others cycled via the harbour locks, where we had to wait for a fleet of small boats to pass through before we could cross. By the time we reached Hove it was almost dark.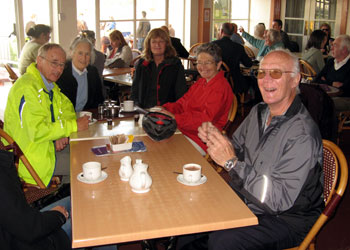 Tea at Shoreham airport
Those on the ride were: Alice, Amanda, Angelica, Ann, Annie, Fred, Jim, John, Joyce, Leon, Nick, Richard, Roger, Sue, Suzanne and Tessa
Many thanks to Jim for planning a very enjoyable day out and to Sue for suggesting the last-minute addition.
Roger