Dear fellow members and friends

3 September 2007
('the day war broke out' – not an omen I hope!)
The next ride (16 September – for details see below) organised by Jim, will be followed by Fred's 'Pier to Pier' (not Palace Pier to West Pier!) exploration on 30 September, while Roger is planning something for later.
Any more bids for rides between now and Christmas? There's only one date I can make on the current schedule and since on this basis the last ride of the year would be on 23 December at some point we will need to adjust the dates slightly.
I've just received the following message from Becky Reynolds of Bricycles.
From Becky
Bricycles (CTC affiliated) has made recommendations for improving cycling meetings with the council. We recommend building on the Cycling Strategy and having clear objectives. Crucially we need clear processes that are adhered to by Brighton and Hove City Council. Traffic schemes must be brought to the meetings before decisions are finalised. Accurate minutes must be produced.

There have been many inadequacies in the cycling meetings but a proposal for a restructured 'Cycle Forum' would restrict spaces to four representatives for 'Local/national voluntary & community cycling / environmental groups'. This would leave several reps with no space at the table.

Please see Bricycles website www.bricycles.org.uk and follow the link at the bottom left hand side called 'Brighton Cycle Forum'.

We want to ensure that there is a very clear channel to the council for cyclists' views on traffic/transport and planning that affects cyclists. I am asking Bricycles members for their views. I would also value yours. Contact me on or off list becky.reynolds2@btinternet.com.

Bricycles welcomes the overdue organisation of a public outreach event to communicate cycling issues which is also included in the proposal.

Becky Reynolds
Bricycles Campaigns and Newsletter

I think the point about cycle organisation representation is one we might want to have a say on. What do you think? I'll be away, so please send your comments to Joyce at jedmondsmith@yahoo.co.uk who will co-ordinate our response.
Boots!
Ian
The Next Ride
Sunday 16 September
Worth Way and Bluebell Railway
We will follow the Worth Way most of the way from Three Bridges to East Grinstead, then strike out southwards to Kingscote, where the Bluebell line starts.
We will travel on the Bluebell to Horsted Keynes (single fare £4.60 plus 30p bike fare –they have a proper guard's van!) and have lunch at Horsted Keynes station. (A possible variation on this, to be discussed on the day, is to take the Bluebell all the way to Sheffield Park and then come back to Horsted Keynes; this will cost £9.80 (plus 30p for bikes) and add an hour to the schedule, with a 25 minute wait at Sheffield Park between trains.)
From Horsted Keynes we then return to the 21st century rail network (!) at Haywards Heath, probably along the same route we took in March 2006 in the opposite direction, via Ardingly. Total ride length is about 20 miles (it says here) or maybe less.
Take the 10.16 train from Brighton to Three Bridges (arriving at 10.40). A return ticket to Three Bridges will cover the return journey from Haywards Heath. Return trains at 3, 28 and 33 minutes past each hour, journey time 20 minutes.
Jim
The Last Ride – Suzanne's Report
Sunday 2 September
NO MISTS BUT LOTS OF MELLOW FRUITFULNESS
Fred met Joyce met Richard met Roger met Suzanne met Ian at Berwick station (photo to prove it) and gently rolled off in a northerly direction past a paddockful of 'My Little Pony' look-alikes.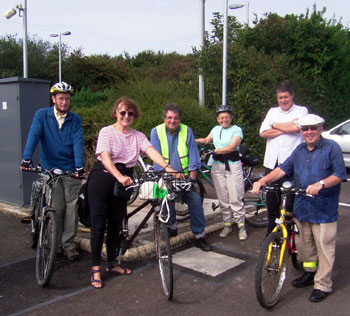 Roger, Joyce, Ian, Suzanne, Richard and Fred at Berwick station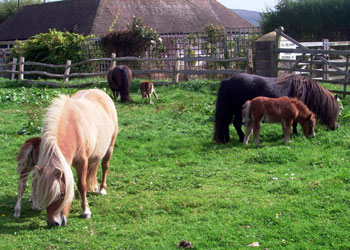 Shetland ponies
Fred and Joyce could not resist the siren call of the tables at garden gates laden with blackberries, damsons, aubergines, tomatoes and herbs, so they did a bit of marketing. At Ripe we all had to resist the temptation to have lunch at 11am at The Lamb – a Clarion favourite – and so pushed on to Vert Wood which we skirted, to Whitesmith which we traversed and Gray Wood which we skimmed past before turning right to Foxhunt Green and finally on to Waldron and the Star Inn where excellent sandwiches / soup etc filled us up.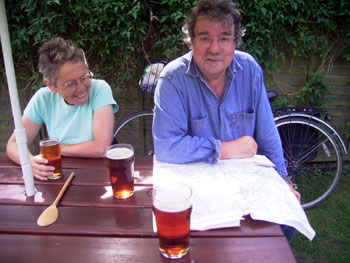 Harvey's on tap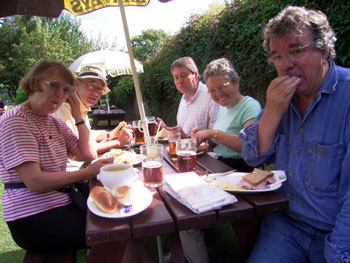 Lunch
Unfortunately Joyce's inner tube decided that it no longer wanted to be filled up, in fact, it looked positively deflated by the end of lunch. The customers of the pub were then treated to the sight of four grown men and one lady changing an inner tube. The publican was not in the least put out. How could she be? The people at the next table were changing their baby at the same time.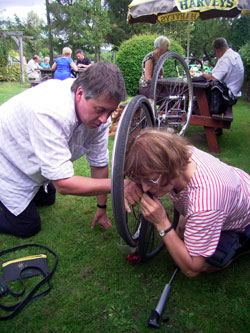 How many Clarionettes does it take to change an inner tube?
The Star Inn at Waldron
With virtually no time lost after the excellent Olympic display of team-tyre-changing and with Ian's promise that 'it was all downhill after lunch' we set off, as indeed Ian had said, down through the curious cutting out of Waldron. The miniature chalk cutting is not spectacular in itself, but the lofty trees rising each side overhang the road and cling to the sides, winding their enormous, exposed roots like fingers round the cut faces of the chalk.
But what's this. Oh, it's a steep hill out of the river valley up to Lions Green. But it's a beautiful wood and here we go down again… on into the same, winding river valley and as we all know (where river valleys are concerned) what goes down must go up. This time to Summerbrook Wood. At which point Joyce realised she had left her purse in The Star. Once Richard had leaped to his mobile and made sure that the purse had been found and was secure, there was the dilemma – go on and reclaim the purse later in the day, or return to the pub. We decided to press on with Joyce and Ian forging ahead so that Ian could give Joyce a lift back to The Star. Fred, Richard, Roger and Suzanne brought up the rear.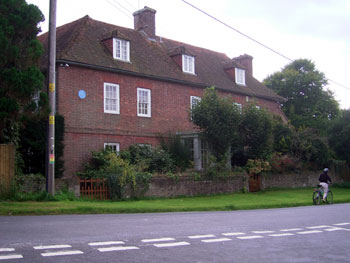 Suzanne scoots past Lee Miller's house
Joyce had had an unfortunate series of mishaps. Ian had not only planned a lovely day out, but come to the rescue with his car. And the rest of us? Honestly Ian, if you say it was all downhill to Berwick, then you must have been right. The aching legs and sore b…s were all a figment of our collective imagination.
Suzanne
ANOTHER SPARKLING CLARION EVENT
THE WORTLEY HALL WEEKEND
Friday 5 October to Sunday 7 October
1.Members book direct for Friday and Saturday or just Saturday by ringing Wortley Hall 0114 288 2100 – to ensure a reservation this should be done by Thursday 6 September as our block booking for 20 Bedrooms will lapse and the rooms will then be available to all comers. It is vital that you tell them that you are with the Clarion Cycling Club otherwise they may tell you that there are no vacancies
2. The cost per person per night for an en-suit double room is £38 or £43 for a premier recently refurbished double room.
3. Bar meals and sandwiches will be available from 12.00 to 2pm and 6pm and 8.45pm on Friday and Saturday.
4. It has been the custom for the majority of attendees to book the Saturday evening meal. The cost of this is £18.50 and YOUR CHEQUES FOR THIS AMOUNT MUST BE WITH PETER ROSCOE BY TUESDAY 12 SEPTEMBER WITH YOUR SELECTION FROM THE FOLLOWING MENU. Cheques made payable to National Clarion and sent to Peter Roscoe, 6, Horncastle Close, Bury.
Starter
Goat Cheese & Beef Tomato Salad with a
Basil Dressing
Cream of Vegetable Soup
Main Course
Saddle of Lamb With a Walnut Stuffing
Wild Mushrooms & Goats Cheese Cracker (v)
Chicken Breast stuffed with Sun dried Tomato & Dolcelatte Cheese
Selection of Desserts
& Tea or Coffee
Friday evening 5 October
Bar meals in Wortley Hall from 6pm. Then chat, imbibe and maybe challenge fellow members to a duel of brains and skill – the dashing duo from Biggleswade, Jayne & Ian will entertain.
Prizes at prize presentation on Sunday morning.
Saturday 6 October
Book sale etc and Clarion Goods in Henry Collins room will run throughout the day. Please donate books/videos of any kind. The proceeds help to defray the costs of the hire of rooms for entertainment.
10.00am Annual Ramble led by Steve Heath (Central Section) Start from in front of Hall. Will be planned to allow riders to get to the ten miles time trial.
2.01pm First man off in 10 miles time trial on course V915. Start Shepley just south of where A639 crosses A635, which is the out and home course down to Hoyland Swaine Island. Volunteers needed for marshalling at this good vantage point. The Harold Lamb award of £50.00 to the fastest rider breaking the course record of 21min 54secs. This is an open event and entries are required per handbook.
7.00pm Annual Dinner and Fair Trade Raffle. Glorious Clarion Cross toasting. Think up something to entertain. The Mayor of Hereford was so impressed with our toasts at the Easter Meet that he resolved to introduce it at his functions.
8.30pm Cycling talk in the Henry Collins Room by Chris Smith, U.K. to Beijing. Chris's acclaimed book 'Why don't you fly' will be on sale. If you have already bought it bring it along and get it autographed.
Sunday 1 October
9.30am Group Photograph on steps of Wortley Hall – be there be part of a legend.
10.00am Signing on for Clarion Hill Climb Championship at start of course on nearby Finkle Lane (left through village from hall then first right). Ride or cheer – Fun Prizes – first, second, third, first lady, slowest, record breakers (records include mountain bike, age categories, fully equipped touring bike – mudguards and saddle bag).
10.31am Precisely First man despatched on this 'fun' course hill climb of 1000 metres – i.e. you don't have to be super fit to get up. If you are competitive and super fit it is likely that you will be a worthy winner of this event, which is also the Clarion Hill Climb Championship.
11.15am Presentation of Hill Climb awards back at the Hall. Aslef room. Then at
11.30am Peter Shepherdley's annual eagerly anticipated quiz. The usual fun prizes will be awarded to the winning team.
12.30pm Farewells to those on their way home and pledges to meet at Wortley in 12 months time or stay until 1.00pm for the excellent modestly priced carvery lunch.
1.00pm Carvery lunch £7.25 tickets purchased in bar.
THE WORTLEY 2006 CLUB RUN
(2007 Impromptu and Café ride after 10 miles time trial)
Diamond Geezer, who led a dozen of more eager participants out of the grounds at 14.30, planned the route. Good progress was made past Wortley Old Station, where some recalcitrant, who had lunched late at a nearby hostelry, were picked up. Splints soon opened on the drag up to Green Moor from where, having passed the Rock Inn without losses, the front runners set off along the ridge at a good pace and after an hair raising descent at the far end reached Langsett a short while before the arrival of the rear guard, who been abandoned at the first climb. Everyone managed to squeeze into the café to the obvious discomfort of some of the established customers. After refreshment the 'slow party' decided to return the way they had come (the shortest route) while the rest headed for the hills. Arriving at map reference SK239977 a further division occurred, the hardy brigade went forward along the Strines road (with steep bits) to examine the spot where Tom Boonen had lost the road a few weeks earlier, while a few lesser mortals (names and addresses on application) headed for Bolsterone and then back to the Bridge Inn for a recuperative break before the climb back up Finkle Street (practice for the following morning's hill–climb) eventually reaching the Hall in time for supper.
Disclaimer: any inaccuracies in this account are more likely to be due to aging then to alcoholic excess.