Dear fellow members and friends
2 October 2005

Ed Furey, our Chair and one of the founding members of the section, is going into hospital this week for a major operation. I'm sure we all wish him the speediest possible recovery…and hope to see him on his bike again before too long.

If you're coming on Sunday 9th please check out the bit about train/meeting times; I made a bit of a mess of in the last circular and have changed it accordingly.

Predictions for 'autumn tints' are particular good this year, so no need for leaf-peepers to head for Vermont perhaps. After the 3 rides detailed below I'm going to be unavailable for 20 November and 4 December. Volunteers to organise rides on these dates please let me know ASAP. First bid gets the job!

Boots!

Ian

Sunday 9 October
The Centurion Way Revisited
We did this one last November (see archive for report and photos), but I'm suggesting a few changes in the latter parts of the route. First we'll find the roadside cycle path that avoids all or most of that mile and a half of main road to Singleton before turning off onto the little country lanes. We might stop for lunch The Fox Goes Free at Charlton, like we did last year or go on a mile further on at the Star and Garter at East Dean. In any event this time we'll go on to East Dean. The hill as we turn for home – this is the middle of the South Downs – is a less challenging than the one I misguidedly made a last-minute decision to use last year from Charlton. We can then run steadily down back to Chichester. Finding the Way at East Lavant was a bit of a problem last year, so we can just stay on the little country roads back into the city. Only about 17 miles.
There seem to be 2 trains – both Southern – at 10.17 from Brighton station, one direct that gets to Chichester at 11.19 and a second involving a change at Hove gets there earlier at 11.02. Very strange! This seems to be the best bet – catch it at Hove at 10.24 if that's nearer than Brighton for you. So let's say meet at Chichester station at 11. 02. I will make sure to be there by 10.50 so from that time if you've ended up on the train that arrives at 11.19 or are otherwise on the way you can phone me on 07787528433. I'll make sure to switch the mobile on!
Best bets for return are the 14.53 (15.57 at Brighton) or the 15.15 or 16.15 which involve changing (or getting out at!) Hove.
Sunday 23 October
Sheffield Park – Bluebell Railway – a Fred Special
Fred is especially keen that we take in a special Bluebell Railway event – with, I quote, 'the Giants of Steam weekend with 7 locos going up and down!'

We can reach Sheffield Park station from Lewes via the usual route out to Offham we've followed before and country roads for all but the last mile or so when we'll have to take to the main road.

Possibly we can have lunch/ a beer at the Station buffet. Otherwise it looks like back to Newick where there are several pubs. Maybe a day for sandwiches – you can always eat them later if they're not needed.

We can return on a variation of these lanes using some but not all of the ones we've explored on previous rides in the Ouse Valley and stopping for tea at the pub in Barcombe Cross. About 26 miles

Catch the 10.14 from Brighton station or meet at Lewes station at 10.29. Possible return times are 15.19, 15.49 and 16.19.

Sunday 6 November
Berwick/Firle Circular – a short and seasonable variation
British Summer Time will have ended – so with this in mind and the desirability of getting back to Brighton (or Hassocks or wherever) before dark and the increasing possibility of cold and/or wet weather I've planned a very short one (only about 15/16 miles) which can even be shortened a bit further if it's raining, very cold or very very windy. It also involves quite a stretch of 'track' which always slows things down a lot as well as making the distance seem further.

Leaving Berwick station we go down to the A27 near Selmeston – cross it carefully – and follow the little road opposite down to Bo-Peep where we will pick up the Old Coach Road – one of the bits we didn't do last time we came this way – as far as Firle. Then well follow both bits of the old main road recrossing the present A27 back to Ripe for lunch at the Lamb. A loop round Golden Cross and Chalvington will bring us back to Berwick where, train times permitting, we can have tea at the Berwick Inn like we did last time we came this way.

Catch the 10.14 from Brighton station or meet at Berwick station at 10.41. Best return train is 15.34 which gets into Brighton at 16.05. Both are direct trains.

The Last Ride – Ian's Report

I was hoping to get someone else to write this report – so that they could say what a good route I'd constructed. Well, I was pleased with it, anyway. Four of us, Fred, Joyce, Neil and myself met up at Hassocks station. It had rained earlier, which may have deterred some people, though as often happens, the Accu.weather report's hourly summary proved correct and we had very pleasant weather for the rest of the day.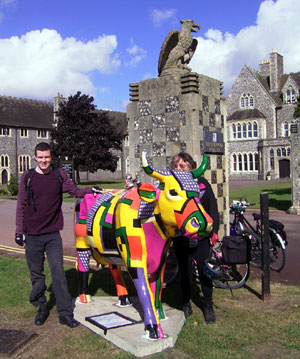 Neil and Joyce admire the Hust cow

Heading west to Hurstpierpoint we turned north along College Lane past Hurstpierpoint College, where there was considerable excitement generated by a multi-coloured plastic cow - apparently associated with a local festival; and predictably little by my none-too-well-remembered attempt to explain the place of the Willard Schools in the evolution of Victorian middle class education.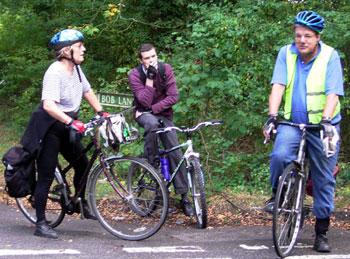 Where's Bob?

From there we zigzagged through the largely deserted lanes and crossed the A23 at Hickstead carrying on west to Twineham, then north to Twineham Green, then west again along Bob Lane (but what's become of him, we asked each other?) past Twineham Grange to Wineham where we stopped for lunch at the Royal Oak.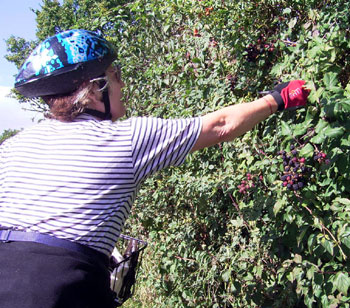 Joyce samples the last of the blackberries

I'd been a bit concerned about the pub which I thought I remembered from some years ago as being a sort of poncy horsieculture-green- wellington-for-driving-down-the-pub-in type of place which I feared might have gone by now in the gastro-pub direction (like the ex-pub now restaurant The Gallops we went past nearby on the way back). The sort of place that has me misquoting K Marx on 'rural idiocy' quite out of context of course. But for once (!) I was totally and utterly wrong – be nice to hear one or two politicians starting with TB say that sometime, wouldn't it? In fact the pub is unpretentious, pleasant and cheaper for a sandwich than Carats Cafe! We must go there again soonish.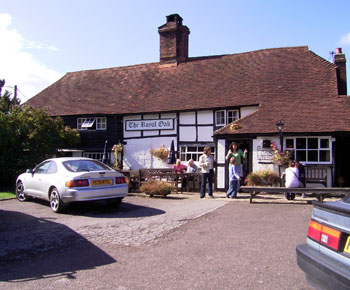 The Royal Oak – a pub with no beer pumps at the bar!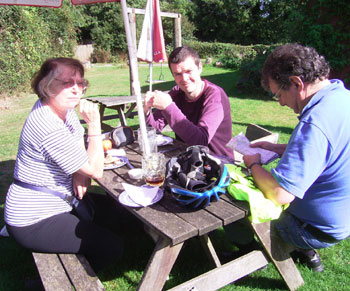 Joyce, Neil and Ian at lunch

Heading off southwards after lunch Joyce made an impressive bid for the Ed Furey Prize for Shooting Off the Wrong Way 2005 by ignoring (or rather failing to hear) my cries of 'First right, Joyce!' and suchlike. Fortunately Neil was in training for next year's Protour and hared after her in superb style while Fred and I lingered at the junction with me, irreverently, muttering 'Cloth ears!' under my breath.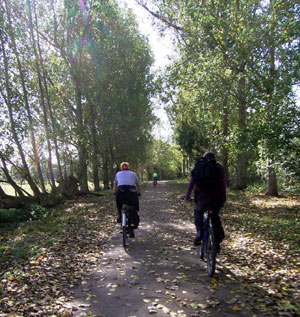 Autumn leaves

Then we took the lane and the bridle path through Shermonbury Place and, after struggling with the gate, we had a short main road spell on the A281 before heading back along the B2116 towards High Cross.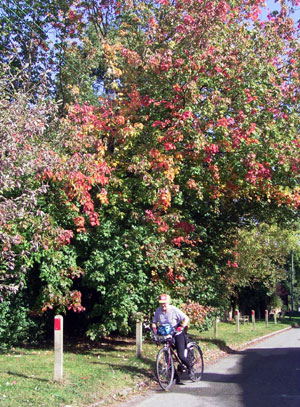 Autumnal colours at Blackstone
We then went down Blackstone Lane, through the pretty hamlet of Blackstone - where our photographers were busy with the half-timbered houses - and reached the A281 again. We avoided most of the main road by taking the quiet Bramlands Lane and returned to Hurstpierpoint and then Hassocks via the B2117.

Ian