Dear fellow members and friends
2 May 2007

It was dreadful to hear from Jed about the death of his friend Neil (not to be confused with Neil Peckham) in a hit-and-run incident while cycling. Because of the way I've had to divide our huge mailing list in order to stop messages bouncing back some people will not have received Jed's email – so I've copied into this circular following my 'Cycle Forum' meeting report.
Another – much happier – message came as a result of our report on the Shoreham Beach ride. Here it is:-
hi guys

glad to see you enjoyed a visit to shoreham fort
i have created a website www.shorehamfort.co.uk and thought i would send you a link so you could learn more about it and see my pictures of the searchlight tower as you missed it

Thanks for your time

Gary Baines
At the very end you'll find Gary's pictures of the searchlight tower – which I think we did see – but didn't recognise for what it is.
Anyone else like to join Ed for the fund raising bike ride for The Martlets Hospice & St Catherine's Hospice Crawley on 3rd June? If so, contact him ASAP at edward.furey7@ntlworld.com. Details in last circular and on line at www.themartlets.org.
Sorry this is a bit scrappy. I'm really pushed for time this week.
Boots!
Ian
The Next Ride
I was planning a ride based on Glynde – but they're digging up the track again! So, I've recycled (sorry!) this one from just over a year ago.
Sunday 13 May
Hassocks – Fulking – Newtimber (only 17/18 miles)
From Hassocks, we head through Hurstpierpoint and, almost in sight of the old 1930s former Kings Head pub take Langton Lane northwards and cross the A23 near Sayers Common. Reeds Lane, which I don't think we've used before, will take us down to High Cross. The next bit, down Blackstone Lane and the lanes south of the A281 past Bramlands. But then we will head south again down the appropriately named Clappers Lane (with lunch in sight there will be a natural tendency to speed up). Arriving in Fulking we will decide on the day whether to turn right for lunch at the Shepherd and Dog – the popular pub at the bottom of Devils Dyke which we visited last year – or left to the Royal Oak at Poynings.
Leaving whichever pub we decide on, we head towards Brighton for a while and then down the lane to Newtimber where we can use the 'Equestrian Route' for a couple of hundred yards until it joins the cycle route besides the A23 and links up (near the 'Llama Trekking'!) according to my map, with the road back to Hurstpierpoint where a tea-stop at the usual place may be taken if that's the consensus on the day.
Points of interest
Although there is nothing there that made it into the Sussex volume of The Buildings of England, Blackstone is a very pretty village. The Royal Oak at Poynings is actual mentioned there 'The jollity of the 1880s or so with its plenitude of garlands….'
Near the pub in Fulking is a stream. According to Brigid Chapman's West Sussex Inns (1988) 'John Ruskin… who took a great interest in promoting the well-being of the people of his times (1819-1900) had the idea of harnessing the waters of the Fulking stream to power an hydraulic ram which would pump the supply around the parish. The little Gothic pump house is still there and on it is a plaque bearing an inscription from Psalms 104, 10 and 107, 8.'
Newtimber Place is a moated 16th/17th century building. Pity about the constant noise from the A23!
Catch 11am from Brighton station or meet at 11.10 at Hassocks station. Trains for return at 38 minutes past the hour.
The Last Ride – Suzanne's report (photos by Joyce)
Sunday 29 April - Upper Beeding
Ian met up with Joyce, Roger, Sheila and Suzanne on a bright sunny morning that had brought the crowds and the traffic out in force. Unfortunately Sheila was able to come only as far as Marocco's café with us. but then you lose some and you win some... Richard was there waiting to join the happy band. A gentle pedal along the Kingsway cycle path and South Basin Road brought as to the locks where a flurry of little craft were just scampering off to the open sea as a cargo boat was lumbered in. A fine photo opportunity for Joyce who could not resist the colours and the movement of the scene.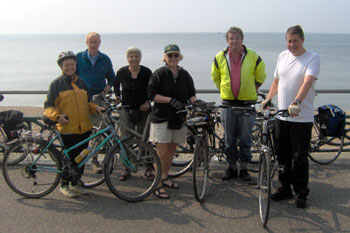 Suzanne, Roger, Sheila, Joyce, Ian and Richard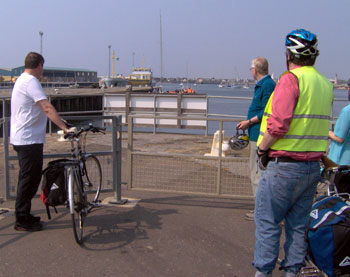 Watching a big Russian ship coming in at the lock
The Shoreham allotments were in fine flower as we pushed on toward the Downslink path. All the lumps and bumps we know and love are still there, especially on the track just north of the old cement works. After taking our lives in our hands crossing the high-speed Steyning by-pass just outside Bramber, we were back on tarmac-firma to wind our way through the village of Bramber into Upper Beeding, over the rickety bridge and into The Bridge. We were delighted to see that several other customers had evidently arrived by bike, and even more delighted to meet Caroline, Simon and their little daughter – the Beeding-wing of Clarion, so an excellent lunch was spiced with excellent conversation.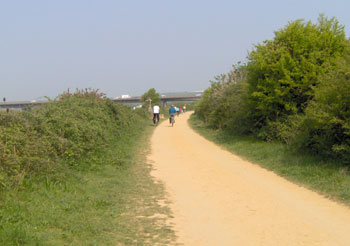 The winding road ...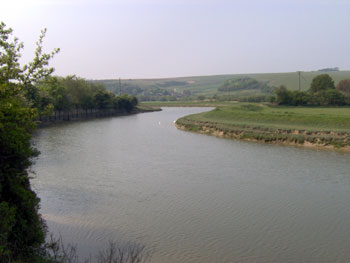 Another winding way ...
We eventually dragged ourselves away from the sunny uplands of Beeding to retrace our 'steps' as far as the Botolphs Road (Ian had a cunning plan to avoid the hill just outside Beeding, for which all were grateful). A lovely road to bowl along despite a couple of upwardly-inclined inclines and then it was over the A27 and a quick dash round the perimeter of Shoreham Airport. We were cyclists with a mission – afternoon tea. Being an adventurous lot we made the bold decision to try Terminal Two. Coffee and loos OK. Service somewhat lack-a-daisical. Décor banal inside... but what a view outside. Joyce leapt to use her camera again.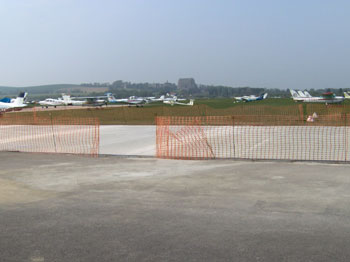 Shoreham airport
We could see from the wind-sock that the return leg of our journey was going to be a bit of a harder grind, but re-invigorated with our afternoon tea, and protected from the wind by going through the back streets of Shoreham, we made good progress back to Southwick, Portslade (so exciting that Terry Garoghan felt moved to write a song about it) and so back to the coast at Wish Road. In time honoured fashion we peeled off as near to our various homes as possible. And then, at the Palace Pier, there was one... the man we thank for having organised such an excellent day. Thanks, Ian.
Suzanne
Cycle Forum meeting, 1 May – Ian's report
A useful meeting, I thought. Here's a brief summary of the main points.
Diversion of Seafront cycle path. Southern Water are carrying out a major flood-protection exercise in Hove which involves putting in new sewage pipes and – what concerns us – putting up a large compound on the Lawns opposite Brunswick Terrace to accommodate materials and machinery. It will be there for about a year. A temporary cycle path diversion – with, we were assured, gentler than 90 degree turns at the corners will soon be in place.
Cycle Forum – Mark's proposals for a more permanent and more structured arrangement. Feedback is sought for the next meeting. I will either attach Mark's proposals to this circular or send it on later - depending on whether I manage to get this circular finished before midnight (when I turn into a pumpkin) or not. [reproduced below]
Cycle Demonstration Town project. Dean's report was (justifiably) upbeat.
There is now an additional £35,000 p a until 2009 to work with local businesses. Rob is working with the largest 35 employers in the city on travel plans and cycle promotion.
28 new advance stop lines are now in place. Please let Dean know if you spot any errors in the way they've been done (Dean.Spears@Brighton-Hove.gov.uk)
Regional Route 82 – consultations will take place in June. There will be segregated cycle paths along Grand Avenue and The Drive. Old Shoreham Road will be started in 2009. I have a copy of the Route 82 plans if anyone would like to take a look at them.
Early returns from the Personalised Travel Plans part of the project are encouraging and there has been a great increase in cycle use at local schools.
Current Issues
North Street - work should be finished by November. Mark drew attention to the temporary traffic arrangements in West Streeet – which are not exactly cyclist-friendly.
North Street Quadrant – report for next meeting on 19th June.
Please let me have any comments on these or on issues you'd like raised in good time for this meeting.
Jed's Messsage
Dear All,
My name is Jed Dalton and I had the pleasure of joining the Clarion Club for the Glyndebourne ride last summer together with my friend Neil.  The weather was fabulous and Neil and I enjoyed the ride (and the company) a great deal.
I wanted to let you know that Neil was tragically killed earlier this year - a victim of a hit and run as he cycled home from work.  Neil was a militant cyclist having eschewed four-wheeled transport many years previously.  The weekend we passed in Brighton was the last time I saw Neil and I'd like to thank you all and also to remind you to be extra careful on your rides.
Boots!
Jed

Search Light
This picture shows the searchlight in operation in the 2nd world war with the home guard in the bunker at the front. It would have pointed its light out to sea to search for incoming boats in the hope of preventing a sea landing from the enemy along Shoreham beach.
This is how it looks today with the search light port bricked up.
A picture showing the land side of the search light tower with the entrance at the bottom.
Brighton & Hove Cycle Forum – the future
Discussion paper, Mark Strong (Acting Chair), 26 April 2007 Revised 30 April 2007
Why
Current system is:
Vague – no-one quite knows what the actual role/remit is
Unrepresentative – relatively few new faces, predominantly male/middle-aged
Arbitrary – no clear criteria for membership
Lacks status – lead councillors responsible for transport not attended for some time and very few others attend regularly
What
New Brighton & Hove Cycle Forum – an independent group working in partnership with B&HCC and other delivery bodies with the aims of improving cycling through constructive engagement and scrutiny.
Two tier structure:
Full forum (i.e. AGM) – open to all (see below) page)
Executive – elected/appointed through defined sections ("constituencies")
Plus Working Groups (e.g. Health, Engineering, Policy) etc., drawn from Executive and coordinated by Executive members, but with ability to have outside membership.

Remit:
Work with BHCC to review transport (& other) policies relating to cycling
Provide feedback & views to BHCC on detailed infrastructure proposals relating to cycling (highways, transport, development)
Support for projects to encourage and promote cycling
How
Revise forum on broad lines of provisionally agreed draft terms of reference drawn up in 2006, but simplified. Current structure to continue until first meeting of full forum but with work starting now to add detail to proposals.
When
Work to set up forum to begin with initial aim of AGM in September 2007 during European Mobility Week (16-22 Sept), possibly on "Car-Free Day" (22 Sept). AGMs thereafter during Bike Week (June 2008 onwards).
BHCF Executive to meet every 2 months. Meeting dates, times and venues will be drawn up a year in advance.
Chair/vice-chairs to maintain contact with cycling officers between meetings to discuss procedural issues (minutes, agenda etc.)
Who
Executive:
Elected/appointed through defined sections ("constituency"). Representatives drawn from groups/organizations/businesses, not directly individual members of the public
Maximum size around 20 (currently proposal is 18) – any larger would make group unwieldy
Members of the Forum will elect/appoint their own reps to the Executive Group by constituency. There would be the ability to co-opt if places not filled
Local/national voluntary & community cycling / environmental groups (max 4)
Elected at AGM of forum (max 2)
B&H City Council – councillors (max 3)
Other public sector bodies (e.g. police, PCT) (max 3)
Schools, colleges and universities (max 3)
Transport/cycling related businesses (incl. cycle retailers) (max 3)
Other private sector (max 2)
Other BHCC councillors also welcomed and invited to attend
Chair & 2 vice-chairs elected from executive – councillors not be eligible to be Chair
Officers of the Council will not be members of the Executive. Cycling/Walking officers to attend on regular basis and other to attend as required.
AGM – full forum
Who for?
1. General public - families, parents, children, commuters, leisure cyclists, club members
2. Organisations: cycling groups, employers, schools, colleges, universities, traders, transport companies, planners and consultants, volunteer/community organisations related to cycling/health/youth/sport
3. BHCC – councillors plus officers not directly working on cycling
Details
The central purpose of the event is a two-way information exchange with wider group of local cyclists or those interested in cycling, than those who come to meetings on a regular basis. There are many who are not able/prepared to attend meetings but do want to know what's going on.
 
Therefore a fairly short event is needed with something to draw people in e.g. raffle of bike.
Strong publicity is needed well in advance!  
BHCC would help coordinate event as part of its own events but major input needed from others as well.
Other groups
Forum Executive
Forum AGM
Etc.
Routes
Health
Cycling groups
'Cycling community'
BHCC