Dear fellow members and friends
28 May 2007

Jim has sent me the details for his Downs Link ride on 8 July. I thought I wasn't going to be able to make the Save the Shoreham Old Toll Bridge Ride on 22 July this year, but I'm pleased to say it looks as though I'll be able to. It's not all that easy to find the details – I've been trying to download the flyer without success. I shall have to enlist the aid of Fred and report further next time.
Boots!
Ian
The Next Ride
Sunday 10 June
Pevensey Levels – Eastern Side c 21 miles
 
Heading east after the first 100 yards of the Cuckoo Trail, we head via Shepham Lane and Glynleigh Road to Rickney. Last time we did this ride we took the mile-long track across to Russells in the Marsh and Church Acre Bridge but it was nearly impenetrable. So, unless everyone is feeling adventurous, this time we'll have to put up with a stretch of (often) busier road up to Wartling where we can lose any traffic by taking the Horse Bridge lane that brings us out near Hooe.
 
We liked the Red Lion at Hooe Common on both our previous visits so we'll try it again for lunch. We'll return by taking the B2095, crossing the A27 very carefully and staying with it (as far as possible on a bit of footpath as far as Middle Bridge (about half a mile) and then the traffic-free track beside it (but mercifully hidden by trees and shrubs) for about a mile and a half down to Pevensey roundabout. From there we can make our way back via Rickney and the familiar lanes back to the Cuckoo Trail at Summer Hill where a tea-stop at the Old Loom Mill is definitely an option.
 
Catch the 10.20 at Brighton Station or meet at Polegate Station at 10.49 (direct train). Trains back are at 2 minutes past the hour (with change at Lewes) or 42 minutes (direct).
The Last Ride – Joyce's Report
Sunday 27 May
East Hoathly (via Potato Lane)
As forecast, the day gloomed – overcast and threatening and, not surprisingly, only Richard and I were at the station, Fred, we knew, was involved with Festival work, and, of course, Ian was there steadfastly waiting for us at Glynde. Setting off we joked that the last times a ride had started at Glynde there had been problems (once when Ian's bike had problems and he had to turn back and the last time when it absolutely poured and Jeff also had bike problems, so the ride was cut short. 'Was it jinxed?' we asked ourselves – with me adding light-heartedly 'well there is never two without three' … Little did we know…
Richard and Ian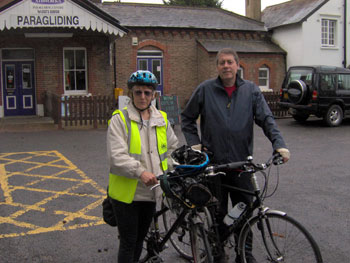 Joyce and Richard
In fact the rain held off and we started off jauntily after the traditional photo at the station (or two just to bulk the numbers…). Off we went up that daunting hill (that Ian calls 'the little hill') with the two men making the trail and me gasping on behind. After the hill Richard and I found ourselves out front, Ian having had some problems with his gears. But eventually we realised that we had been bowling along for some long time and still no Ian on the horizon. We wait around and then retrace our route to the top of the hill and wait there some more, this time beginning to get concerned at not seeing him.
Finally Richard decides to go back to look for him. No sign – we then wait some more, with me telephoning his mobile only to get a 'turned off' signal. We ask another cyclist who had just come from Glynde whether he had seen a rider in a bright yellow jacket – No sign! This was beginning to look like a Doctor Who episode … Quiet country lanes and the sudden disappearance of a cyclist!
After riding up and down for about 4 miles-worth, we finally spot him coming along. The story was nothing like the many we had been positing … On getting to the top of the hill, he had realised that he did not have his car keys and had left his car open. By that time we were way ahead and did not hear his calls so, after pursuing us for a while, he turned back to look for them. When we finally met up again, despite going all the way back to Glynde, he had still not found his car keys. Was this another doomed ride? None of us could imagine what he had done with the keys – but in retracing every action we recalled the photo session at the station – Ian had taken the first photo … To do so he had put his helmet in my basket – but - no car keys in the basket ! Then – brainwave! – Ian takes off his helmet – and there are the car keys ... he had put them in his helmet and been riding around with them on his head all the time. Hilarity all round … But the car was still unlocked so Richard and Ian went back to Glynde to lock the car – whilst I waited at the top of the hill and communed with the sheep. So that made three times up and down that hill for Ian and twice for Richard. I didn't feel too guilty though about not going back with them, Richard is in training for the London to Brighton and I probably would not have made the rest of the ride if I had.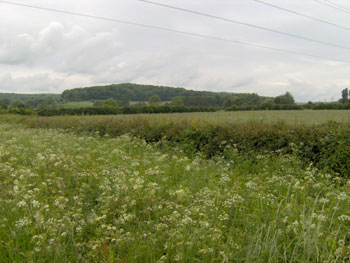 Beautiful even under a grey sky
Despite the setback we decided to continue the ride – and still the rain held off. In fact this is a very beautiful ride – one to be repeated, unjinxed next time. Quiet smooth lanes, mostly flat with only the occasional slope upwards and some lovely long downhill bits. At times the Downs to the left and woodlands to the right – through woods, and high hedgerows. The exact route is clearly spelt out in Ian's description and we dutifully saluted the alpacas and noted H's palace – presumably now left to rot? And, after our to-ing and fro-ing the Kings Head was a very welcome sight indeed and the good food a needed restoration.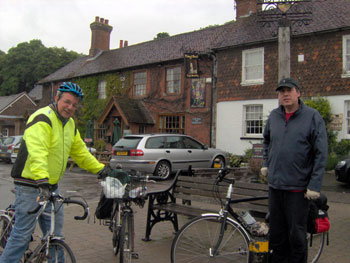 Outside the pub - refreshed and ready to go
During a longish lunch the rain decided to make an appearance and the ride back was mostly in the wet but downhill and – as we kept saying - 'once you are wet you can't get any wetter', and again a very beautiful route … By the time we reached the station though we felt that home as quickly as possible into a hot shower was wiser than stopping for tea.
My computer stopped working in the rain but by my calculation Ian had done about 35, Richard probably 32 miles and me not far off 30.
Joyce