Dear fellow members and friends
28 April 2008
I'm very pushed for time this week – so forgive me if I've left anything important out. You will have seen Jim's message about the Isle of Wight. He now writes:
I've just checked the trains for 20 July and there are no engineering works between Brighton and Portsmouth at all that weekend, so can you say in the circular that I am going for that weekend (19th/20th, or 18th/19th/20th if we go for 2 nights) for the IOW ride, and am writing to Dorset to convey that to them and also to arrange a date for the recce. Opinions seem to be somwehat divided between the 1 and 2 night options, with perhaps slightly more people preferring 1 night but many not bothered either way. I would suggest the length of the trip be decided along with the route, i.e. after the recce.
 
And I will make it clear to the Dorset people that we are NOT racers!
Jim is also going to act as our co-ordinator for the Old Toll Bridge charity ride scheduled for 27 July. Basically, this is just a matter of making sure everyone knows who else of our gang is taking part in the various versions, doing a bit of 'cat herding' to get everyone together for a photo at the start (and possibly the finish) and getting people on the different versions to volunteer to do a report on their bit which Jim or I can then combine into a report for the subsequent Circular (and later the webpage of course), If you let Jim know as soon as you've signed up and copy it to me so I can keep everyone informed in the circulars about who's doing what things should work out OK - I hope.
For either event contact Jim at j.r.grozier@btinternet.com.
Planning rides
Roger is organizing the next ride. If anyone is thinking about offering a ride for 25 May, please let me know asap before I put too much time into planning something for that day. And of course there are still lots of other dates this year!
Here are the remaining dates 25 May ; 8, 22 June; 6, 20 July, 3, 17, 31 Aug; 14, 28 Sept, 12 Oct, 2, 16, 30 Nov, 14 Dec.
If you want to lead a ride on one of these dates:-
Work out your route and – very important- check the trains on the possible dates making sure to research train availability – one needs to check the 'details' on the Journey Planner website to make sure it's a 'train' and not a 'replacement bus'.)
Contact me suggesting the proposed date for your ride (I'll then put your name beside the date so everyone can see what's still up for grabs)
If you've booked a date some way ahead please confirm to me that the ride is still on at least 3 weeks before
Just before the previous ride to the one you're planning – or earlier if possible - send me the details laid out in the familiar format so I can put it straight into the next circular.
Brighton Festival fast approaches. Try to look in at 51 Wilbury Road, Sat and Sun 11-6pm, to see Tessa's ceramics. And at 48 Ditchling Rise for Fred's new print[s].
The Origins of the Clarion Cycling Club in 1894 - Latest episode at the end of the Circular as usual.
Boots!
Ian
The Next Ride
Sunday 11 May 2008
Littlehampton Circular (about 23 miles)
We leave Littlehampton by the bridge over the Arun and follow a track alongside the river as far as Ford, passing behind the open prison on the way. We then transfer to the road to climb gently from Tortington and meander through the woods to Binstead. Crossing the A27 we meet our only serious climb; it takes us past the Church and College at Slindon, a good opportunity for a walk.
We pass Slindon College and Fontwell Race Course, on the way to Walberton for a lunch break at the Holly Tree. If there is time we should pay a visit to Walberton church to see the stained glass window in honour of the first Earl of Woolton, campaigner on behalf of Liverpool dockers, and minister of food during WW2.
After lunch, a shorter and gentler ride back to Littlehampton, with an optional 2 mile detour to Atherington beach if there's time. At Littlehampton we can have a cup of tea in the Harbour Lights café before catching the train.
Practicalities:
10:17 train from Brighton to Littlehampton (10:26 from Hove), or meet at Littlehampton station at 11:13 (free parking in the station car park). There is a faster train from Hove at 10:24, which gets to Littlehampton a bit earlier.
Trains back to Hove and Brighton at 10 and 41 minutes past the hour.
My mobile is 0789 985 1172.
We can take advantage of the half-price 'Groupsave' ticket option if there are at least four of us. To do this, you need to be at the station half an hour before the train leaves, so that there is enough time to organise it.
 
The Last Ride - Jim's Report
Sunday 27 April 2008
Centurion Way, Dell Quay, Slaterns Way, and Chichester Canal
Another bumper turnout – seven on the train (Alice, Fred, Roger, Tessa, Joyce, Leon and myself) and three more at Chichester (Anne, Mick and Ian) made 10 in all (that's what having a maths degree does for you). The first four managed to get half-price Groupsave tickets by getting there early, and Ian is going include that option in all circulars from now on.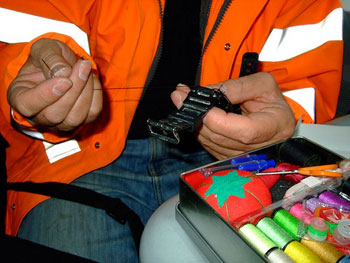 Jim catches up with some timely mending on the train - Leon's photo
We should have been 11, but Jeff, having arrived at Brighton station, realised he'd left his wallet in a public toilet and raced off to find it; he said he'd catch up with us if he could, but didn't make it. (Post-ride note: he didn't find it – it did not contain any bank cards etc but he lost £50 cash and the wallet itself, which had sentimental value).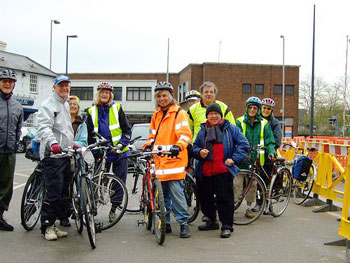 Leon's timer group shot at the start
Before setting off from Chichester Station (and the now-customary automatic delayed-action group photo) we hit a snag in that Joyce's back tyre was rather flat. It was re-inflated, but not far along the Centurion Way, at Brandy Hole Copse, she noticed that it had gone down again. We were by then in what Fred would have called the lanterne rouge, so Anne was despatched to alert the leaders (attempts at mobile phone contact having proved useless – Fred got the resulting voicemail message an hour or so later) and Roger, Joyce and I watched Leon perform a masterful inner-tube change in what seemed like record time with his bare hands. (OK, he did use tyre levers to start it off but replaced the tyre – the hardest bit – unaided by any tools).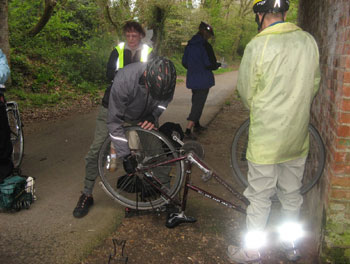 Leon mending Joyce's puncture - Jim's photo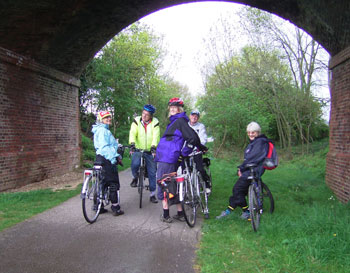 As the others shelter under a bridge
Catching up with the others, we continued along the Centurion Way, past the now-familiar gas-cylinder men, and noticed that the ridges of the earthwork had been picked out with cowslips, making its shape so much more recognisable and producing a lovely effect. I was amused to see notices put along the route about keeping Lavant gravel lorries out of Chichester, for what had this old railway line been used for but gravel from Lavant, until some moronic civil servant decided it would be a good idea to close it?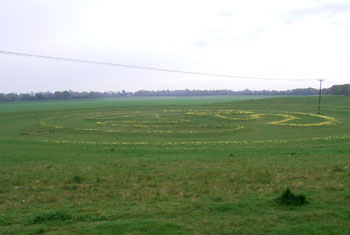 Devil's Ditch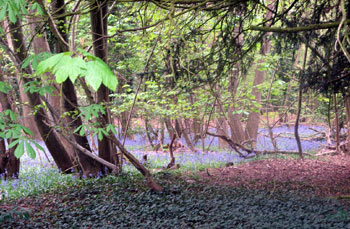 Bluebell wood - Jim's photo
Along country lanes to Fishbourne, past a wood thick with bluebells, and then the sewage farm (which we agreed not to mention because it had figured so prominently in the previous version of this ride, much to Ian's embarrassment) and eschewing the first part of the Saltern Way, we arrived at the Crown & Anchor at Dell Quay for lunch. The group now split again; a breakaway 'Brighton & Hove Clarion (Hassocks & Gerard Street) chapter', namely Leon and Fred, elected to stay indoors, and plot goodness-knows-what subterfuge away from our prying ears. The rest of us sat outside on recently-rained-on (but quickly-mopped-up-and-covered-over) benches and enjoyed the view across the harbour. Over some very nice food and even nicer beer, Joyce told us about a UNA conference she had attended, while Ian enlightened us on the sad subject of the Lancaster Clarion section's decision to leave the national group over a misunderstanding about the use of the logo. We discussed future rides, and I managed to get a majority preference on the Isle of Wight trip, which I will now take back to the Dorset Section and just hope that they don't all turn out to be Lycra-clad racers.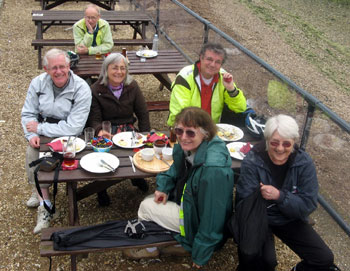 Lunch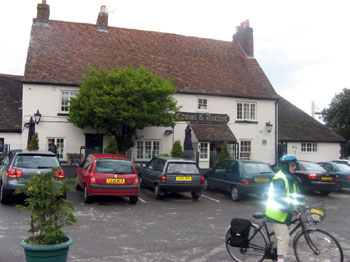 Day-Glo Joyce outside the Crown & Anchor
After lunch we continued southwards to the Salterns Marina, where we watched two huge millionaires' playthings pass through the lock, which then closed and turned itself into a footbridge. We picked up the Chichester Canal, which, as part of the Portsmouth and Arundel Canal, carried boats between London and Portsmouth in the heyday of the waterways. Some parts of it have become rather overgrown, and now the Egremont passenger cruiser from the Chichester Basin can only get part of the way to the marina before turning back; but more dredging work is in hand. The bridge that carried the Selsey Tramway over the canal is long gone, but the southern section of the tramway is now a footpath; since Roger was wondering about organising a Selsey ride, this may prove useful to us one day.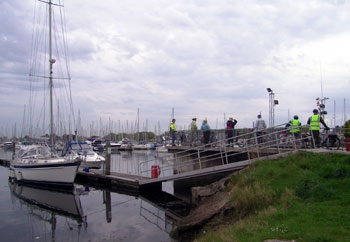 Across the lock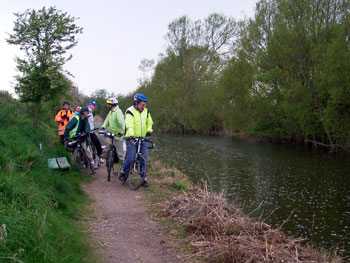 Pile-up by the canal (caused by Fred stopping to take photos)
Ian's circular had promised us a repeat of the swans' nests and baby coots that Anne spotted last year, and we were not disappointed; we also saw ducklings, which seemed to dash about in the water at lightning speed. We had to shelter under trees once or twice; the rain had generally kept away from us, but put in a few cameo appearances, along with some pathetic attempts at thunder and lightning, for our entertainment on the canal bank. We also had a second pit-stop, this time to extricate Fred's shoelace from his chain. This turned out to be more labour-intensive than the tube change, because we didn't have Leon with us; Alice and I held the bike, while Tessa performed the delicate operation and then re-tied the shoelace, with Fred having to stand there helplessly. (Well, what would you do?)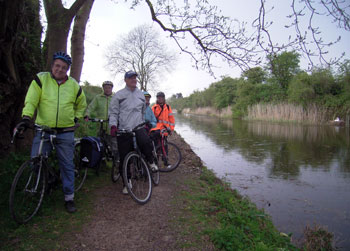 Sheltering from the thunder storm - note swan's nest on right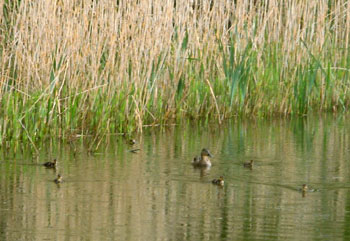 Jim's photo of ducklings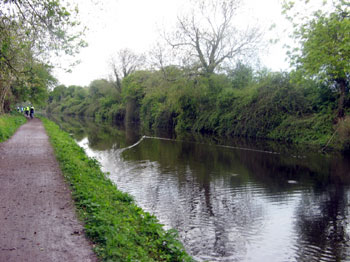 High-speed duck wake - Jim's photo
Near the end, we reached the Chichester Basin and had a tea stop with various combinations of tea, coffee, macaroons and cake. I enjoyed my treacle tart immensely, but wanted another coffee to wash it down; however I had to stoically put up with a dry, sticky mouth because the railway people have very thoughtfully closed the 'up' side buffet at Chichester Station.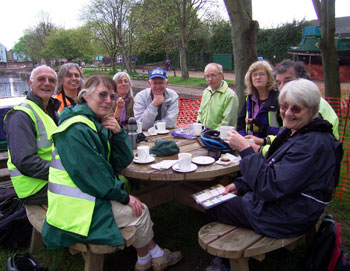 Tea and macaroons at the Basin cafe
Joyce was off to a choir meeting afterwards, so expect melodious offerings from her on future rides. Our thanks to Ian for leading us on a very enjoyable 14-mile ride, and not getting lost this time.
Jim
[Will I never live down the sewage farm! Ian]
[Again, even more and bigger photos on Flickr.]
The Origins of the Clarion Cycling Club and cycling in the 1890s
The Trumpet Badge and Dangle's Parisian cycling activities
In an earlier instalment (No 2) I quoted the first mention of the Clarion badge. At the end of April 1894, Leonard Hall wrote of the Birmingham Clarion CC members 'who wear in their caps a natty gilt badge consisting of a miniature bugle with the legend "Clarion" in silver letters'. At the end of June there was a small ad offering them for sale at 1s 8d. (No 3) but this was not repeated each week so on 1st September 'Swiftsure' reported:
A correspondent writes to me from Puddick, Yorkhires asking where Clarion cycling badges are to be had. He thinks it would be a good idea for Clarionettes who cycle to wear a common badge. I think I remember an advertisement in the Clarion some time ago. There seems to be the chance of such a maker finding customers now, if he will only come forward and make his whereabouts known.
The following week (8 September) Swiftsure was responding to another letter.
A Liverpool correspondent writes that he thinks it would be a good idea to give in these notes the proposed weekly runs of the various Clarion cycling clubs. I shall be most pleased to do this if the various secretaries will send me them. It is hardly worth while for this season, but for next it might be made a feature, particularly as I hope the number of clubs will have increased. Every decent-sized town should have its Clarion C C. My correspondent also goes on to say that it would be useful to Clarionettes touring if they knew the addresses of refreshment-house keepers and others in condention with our movement where they could fraternize and know they were amongst friends. This seems to me to come under the head of advertisements, for which our columns are always open.
That first report (No 1) from Tom Groom on the Birmingham Clarion CC had, you may recall, concluded with a plea for the Bounder (aka Edward Fay, the popular Clarion humourist, to become the Club's President. Now Swiftsure re-opened the question – again in the 1 September issue
Concerning the Birmingham Clarion Cycling Club and its presidency.
Is the Bounder's election irrevocably fixed? 'Cos why? I reprint the following from a Paris paper:-

Last evening's cycling handicap between Asnières and St Leu arranged by the S.A.C proved a very interesting event. There were a dozen competitors. And E. M. Clarke was first. C J Jones second. And N. Tunmer third.

All these men started from scratch.

The winner is Dangle's nephew – Dangle's teacher and trainer, who, with his own sturdy hand (and those of six of the largest sized Parisiens) held Dangle on his machine during his trial trips to Paris last June. I read in Le Vélo that at the Paris championship races at Longchamps the winner of the bicycle race for boys from four to 15 was a younger nephew of the great critic, and the youngest and by far the smallest competitor in the race. Cycling, like wooden legs, runs in families: ergo let not the Bounder imagine a vain thing. The Birmingham event is as good as a walk-over; unless, indeed the too fat men be carried over.
[I mentioned Dangle (aka A M Thompson) in the first instalment of extracts from the Clarion back in February (No 1 on the website history page). Blatchford's Clarion partner Alex Thompson had long-term links with Paris. As a child he had lived there during the Paris Commune in 1871 and Jean Allemane commanded the barricade at the corner of the street where he lived. By the 1890s Allemane and the Parti Ouvrier Socialiste Révolutionnaire (popularly know as the Allemanists much to the disapproval of Allemane himself and other members of the party who – like the Clarion – were very 'anti-leaders') was a not insignificant factor in French politics. Thompson knew Allemane and recorded how on one visit the latter had expounded his views on direct democracy. Thompson took this up with great energy producing there pamphlets, Hail Referendum! The Surest Way to Democracy (1895) which quoted Allemane, The Referendum and Initiative in Practice (1899) and The Only Way to Democracy (1900). Support for 'direct legislation' became the hallmark of the Clarion's socialism. For more on this see Ian Bullock and Siân Reynolds 'Direct Legislation and Socialism: How British and French Socialists Viewed the Referendum in the 1890s.' in History Workshop Journal, Issue 24, Autumn 1987.]
Next time: Tours of Jersey and of Wales by Clarion CCs