Dear fellow members and friends
25 July 2007
Thanks again to those who emailed a sponsorship for the Tollbridge ride. I'll collect the money off you when I see you next (or if you prefer just pop it in the post to me. I've sent the money in already, so if you send a cheque make it out to me. I'm at 104 Bonchurch Road, Brighton, BN2 3PH) The best news about the Tollbridge is that restoration work is going to start in October.
A couple of extra reports in this edition... A little while back Charles Jepson sent me an email suggesting that we might like to join him and others at Tolpuddle. Unfortunately, because I was away at the crucial time I received it too late to be worthwhile passing it on. So I suggest he send us a report. You'll find it below. I confirmed my suspicion at the start of the Tollbridge ride on Sunday that the Brighton member that Charles encountered was Allen Turner.
The other gives some interesting details from the 1937 national handbook that Michael Walker has dug out for us. Wally Newman, later a prominent local Labour councillor, has cropped up many times in connection with the old Brighton Section. G. Cree must surely be Gordon Cree, who I remember as Treasurer of Brighton Trades Council in the late 1960s.
Future Rides – Call for volunteers
The next ride is another one of Jim's. It's great – especially from my point of view - that more people – well Jim and Roger at the moment – are organising rides. Let's have more volunteers. And you don't have to wait for a week when I can't make it. That said, I'm planning the 'Chichester Harbour with Ferry' which rail maintenance has frustrated since I first tried in late spring for 19 August, and I should be OK for 2nd September. But will almost certainly be away for and just possibly for 30th too. Fortunately, Jim has ideas for both dates – and would very much welcome your comments - j.r.grozier@btinternet.com. Of 16 September he writes:-
 
'One idea that Roger and I discussed was one that involved the Bluebell Railway in some way – I'm not sure whether you can actually take bikes on it, but if not we could still visit it, maybe even have lunch there. The idea was to take the Worth Way from Three Bridges and strike out in a south-easterly direction at some point to reach Kingscote; then traverse the Bluebell by some means and end up in Lewes. (Maybe attempting to stick to the old railway route as much as poss between Sheffield Park and Lewes, although I know you can't actually ride along it). An alternative would be that, if we can take bikes, we do a return trip from/to Kingscote and make the ride a circular, ending up back at Three Bridges. Both Three Bridges and Lewes trains are good for that day. And believe it or not, I've never been on the Bluebell myself!'
 
And for the 30th September Jim's suggesting a Romney Marshes ride based on Rye. Sounds great. More offers please! [Since writing this I've received another suggestion from Roger.] To help my planning for the Chichester ride, can someone remind me which train company is the one that is difficult for cyclists – First Great Western or South West Trains – or is it both?
Boots!
Ian

The Next Ride
5 August 2007
Amberley Circular
Amberley – Bury – West Burton – Bignor – Sutton – Fittleworth – Coldwaltham – Greatham – Rackham – Amberley.
About 20 miles, mostly on narrow lanes.
Catch the 10.10 train from Brighton (this is normally a Reading train but seems to be being diverted to Southampton due to engineering works; it may even be headed 'Basingstoke' as it is on the railway website) and change at Barnham (arr. 10.45), leaving Barnham at 11.05, arriving Amberley 11:19; or meet at Amberley Station at 11.20.
Return trains leave Amberley at 30 mins past each hour, arriving Brighton an hour and a half later with a 20 minute change at Barnham.
Route Description/Points of Interest:
After attempting to avoid getting killed on the dreadful B2139, we will reach the lovely Houghton Lane (possibly by means of a footpath and the South Downs Way) and pass through the villages of Bury and West Burton.
We reach BIGNOR ROMAN VILLA after about 45 minutes. I was pleased to hear a Clarionette utter the word 'elevenses' during a recent ride; if we want this we can stop here since you don't have to buy a ticket to get a cuppa, although judging from how long it took them to boil the urn when I did the practice ride, you could probably see all of the rather impressive mosaics while they are getting the tea – it will cost you £4.50 though.
After the villages of Bignor and Sutton we come to the next point of interest, a piece of access land called LORD'S PIECE which we can ride across if it is not too muddy. This land, part of the Barlavington Estate, was until recently the only known UK habitat of the Field Cricket. The crickets have now been reintroduced elsewhere, but it is still an important site for ecologists, so we had better make sure we don't tread on any. (Errr … does anyone know what a field cricket actually looks like?)
On the way to FITTLEWORTH we pass a site of interest to any closet (or other) railway enthusiasts among us – the old Pulborough to Midhurst railway line (closed in 1955), where a private house known as 'The Old Station' is presumably the former Fittleworth Station, and there is also the 'Station Master's House' nearby. The bridge by which the B2138 crosses the old line is still in good shape, but the track bed itself is not navigable - certainly by bike, and possibly not even by foot, with the exception of the very short section that's on the Wey-South Path. A job for Mr Strong, methinks?
Lunch at the 14th Century Swan at Fittleworth, then we retrace our steps and strike out through Coldwaltham to GREATHAM BRIDGE, which has a history going back to 1294, although it has seen many changes since, having been completely reconstructed in the 1790s, with further modifications in the mid-19th and 20th centuries, the latter to strengthen it to take (gulp!) military vehicles. It is also apparently an important site for mussels, which live underneath the structure.
Continuing through Greatham and Rackham we come eventually to the charming village of AMBERLEY itself, and in the process have covered three sides of AMBERLEY WILD BROOKS, a Site of Special Scientific Interest, and home to many species of plant and bird. We will get many good views across the Brooks during the ride, but to ride across it is difficult since the Wey-South Path is definitely more of a footpath than a cycle route!
Finally before catching our train home we have to suffer more of the appalling B2139, but most of this is from the safety of the footpath. We can then have a cup of tea by the river at the … err … Riverside café. They do (rather expensive) cream teas, and give you UHT milk with the tea at that, but it's a very nice setting.
Jim
The last ride
Sunday 22 July 2007
Save the Shoreham Old Tollbridge charity ride
I've waited as long as possible in the hope of receiving the promised report of what Fred (below) calls the 'peleton' from Bernie – which will have to wait now for the next issue. Briefly, apart from Anne, Phil and Fred who did the 10 mile ride, there was Allen, Bernie, Helen, Jim, Joyce and me (Ian) on the 29 mile event. We were all very lucky with the weather – given the downpours of the preceding days. Those of us who didn't need to be back early took things ultra easily, made our usual lunch stop at Wiston and arrived back just a little after the (silly in our view) recommended 'lastest time' of 2.30. I'll leave it at that so as not to pre-empt Bernie's report – which I still hope to receive albeit not in time for this edition.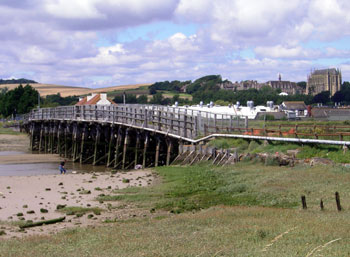 The Tollbridge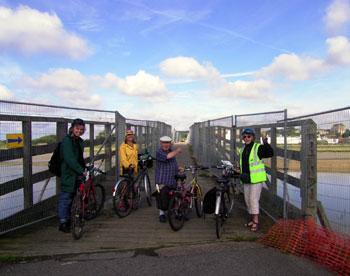 Jim, Anne, Fred and Joyce attempt the crossing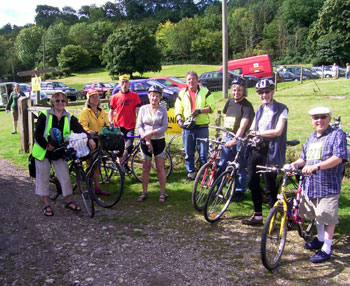 At the start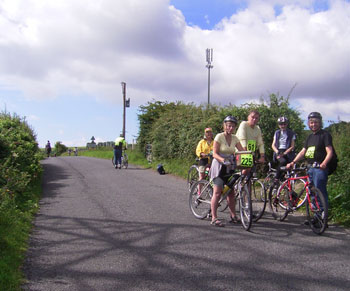 ian has a little bike trouble at the top of the first hill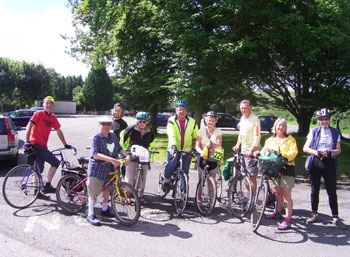 At Steyning, where the party split
Meanwhile, Fred writes:
After bidding goodbye to the peleton at Steyning, the 10-milers - Anne, Fred and Honorary Clarionette Phil - headed back to the start at a pace leisurely enough to examine the flora and fauna of the chalkland. First, however, there was a category 2 hill to negotiate, which Anne, despite her recent Alpine training, had to abandon and join Fred in a slow foot slog to the summit. After that it was pretty easy. Fred stopped off to buy a bag of greengages at a roadside farm and then we pondered for a while what the beasts in the field by St Botolph's might be. They looked a cross between sheep and cows, distinctly spotty (they were the ancient breed of Jacob's sheep, we found out back at the farm - according to Genesis 30:31-70, Jacob took every speckled and spotted sheep as his own from Laban's flock).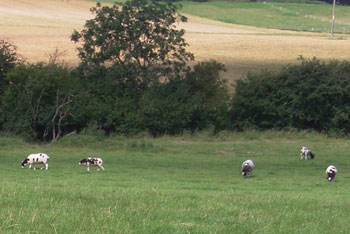 Jacob's sheep in the distance
Another less steep hill then it was orchid spotting by the roadside - only one lone example this year (maybe a consequence of global warming?) - a pyramidal orchid (Anacamptis pyramidalis), a native of these parts. According to Wikipedia: 'its scent is described as"foxy" and the dried and ground tuber gives a fine white powder, called salep, a nutritious sweet starchlike substance used in drinks, cereals, making bread, and Turkish Delight.' We, however, left it alone and travelled on down the hill to the Finish, where we received our medals, cups of tea and slices of delicious home-made tea bread.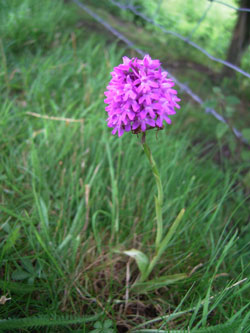 Pyramidal orchid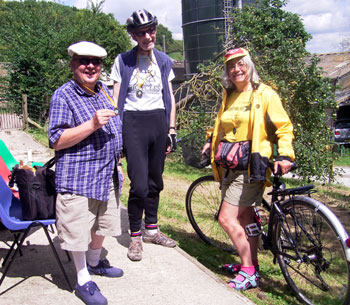 Fred, Phil and Anne show off their medals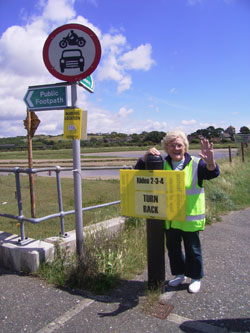 Happy marshall at the Tollbridge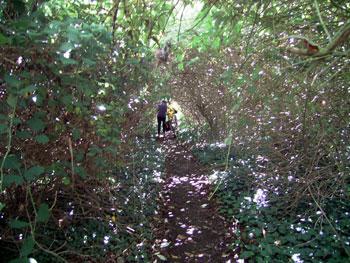 Light at the end of the tunnel
Then to complete the ride we headed back to the Tollbridge, hoping it wouldn't collapse while we were crossing it! Anne spotted Egrets wading and flying either side of the Tollbridge. Fred wanted to explore the tow-path route, as a way of getting to the Ropetackle development, so we set off along a path that got narrower and more overgrown, ending in a tunnel of wisteria and a dead end. After retracing our steps and sampling the first blackberries of the summer, Fred decided to take another narrow path closer to the river (which turned out to be the lost passage to Ropetackle), while Anne and Phil chose the road option. All in all, a great day out, which for me [Fred] could have been a little longer (I did 16.5 miles door to door) though probably not as much as 36 miles!
Fred
Ian's photos from the peleton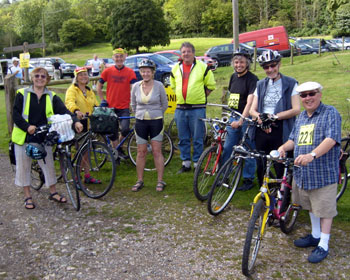 The start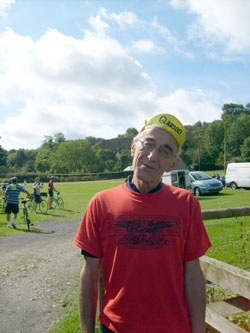 Allen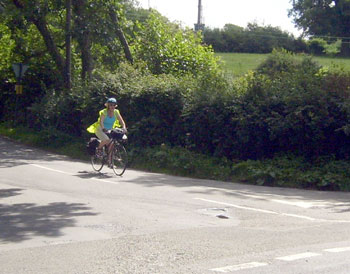 Joyce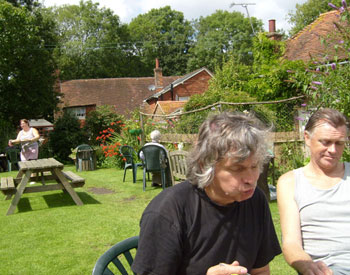 Jim and Bernie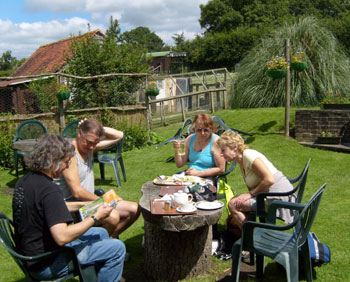 Lunch
Tollpuddle, 2007 Charles Jepson reports
'The importance of history' was the underlying theme of an inspirational speech by veteran Socialist Tony Benn at this year's Tolpuddle Martyrs Rally. Addressing a crowd of several thousand who had attended this annual gathering of Trade Unionists and Labour Movement activists. His message of 'learn your history, learn from your history and never, ever forget your history' seem particularly pertinent the Clarion given recent events within the Club.
 
Members of National Clarion 1895 and their supporters had travelled down from the north west, a long and hellish journey, averaging a motorway speed somewhat slower than a Sunday cafe ride. A stall was quickly set up on the Saturday morning above which the flags of the Clarion and the International Brigade proudly flew side by side. The stall was to became a focal point and base for Clarion members from other Sections. Sales in International Brigade material, Nelson ILP items, Bolton Socialist Club literature and Clarion tee shirts proclaiming 'Socialism Hope of the World' was continuous throughout the weekend. Far more importantly than the funds we raised was the number of enquiries we had from Trade Unionists about a cycling club with Socialist ideals. Clearly the idea that 'friendship and sharing offer the world a better future than selfishness and conflict' is not something to be consigned to the dustbin of history as some would have us believe. Tolpuddle really is a place to meet strangers and make new friends.
 
Sunday's grand parade saw several hundred banners proudly paraded through the village. The Clarion's Memorial banner and the banner of Nelson ILP Clarion House was preceded by comrades carrying red Clarion flags, the flag of the International Brigade and a Starry Plough! Our contingency of 22 members from five different Clarion Sections (including a comrade and his wife from Brighton and Hove Clarion, whose name I have forgotten – sorry he's the chap who joined after seeing the banner at last year's rally) really made people aware our historic Club is still in existence. We still cycle, still sing Socialist songs and are still proud to march along side those fraternal organisations who share the Clarion ideals of the early pioneers. A great weekend, and one which we hope to repeat.
 
Charles
National Clarion Cycling Club Handbook Season 1937
Affiliated to the National Worker's Sports association and the Lucerne International Sports Federation
Southern Counties Union, Clarion Cycling Club
Chairman: W. NEWMAN (Brighton).
Secretary: G. F. PEARCE (Southampton), 404, Winchester Road, Bassett, Southampton, Hampshire.
Southern Counties Union Committee:
S. C. BROWN (Brighton)
J. SMART (Redhill)
F. HILL (Portsmouth)
J. JOHNSON (Southampton)
W. KNIGHT (Portsmouth)
C. KNOTT (Eastleigh)
L. PULHAM (Redhill)
Committee Meetings are held on the first Sunday in each month; the meeting places have yet to be arranged.
Inter-Meets will be announced as soon as arranged.
The Model Rules for Unions, as printed in the Handbook, have been adopted by this Union.
A DATE TO REMEMBER.
Whitsun—An Inter-Meet and Camp for all Unions in the south at Gloucester (or near). Come and make this the jolliest camp you have been to.
As the Clarion has only been a short time in the south, the Clarion Club caterers
are few and far between, therefore all members are urged to co-operate with the
Union Secretary and Committee to improve upon this.
And, finally, don't forget the Club motto:
"Socialism the Hope of the World."
BRIGHTON CLARION CYCLING CLUB
Captain: G. CREE
Secretary: William R. NEWMAN.
REDHILL AND DISTRICT CLARION CYCLING CLUB
Founded 1936
President: R. WEST.
Secretary: L. PULHAM, " Moreton," 164, Nutfield Road, South Merstham, Surrey.
Captain: J. SMART, 20, Ifold Road, Redhill, Surrey.
Vice-Captain: R. WARBURTON, 28, Hart Road, Dorking, Surrey.
Committee: Miss W. WRIGHT, Miss G. WORSFOLD, P. INGRAMS, and F. PAINE.
PORTSMOUTH CLARION CYCLING CLUB
Chairman: F. HILL.
Secretary: W. KNIGHT, 30, Rothesay Road, Elson, Gosport, Hants.
Treasurer: R. SHARP.
Captain: A. N. WRIGHT.
Vice-Captain: H. THOMPSON.
Committee: Miss J. GOUDER, J. SMITH, and E. HARRIS.
Union Delegates: F. HILL and W. KNIGHT.
Auditors: M. HALL and L. COOPER.
Y.H.A. Delegate: C. W. WRIGHT.
EASTLEIGH CLARION CYCLING CLUB
President: The Mayor (Councillor T. COLES).
Vice-Presidents: Alderman H. ROBERTS and Councillor H. FRENCH.
Chairman: F. CLARK.
Hon. Secretary and Treasurer: C. W. KNOTT, 26, Chestnut Avenue, Eastleigh
Runs Captain: N. SMALLWOOD.
Propaganda Secretary: A. BOURING.
Social Secretary: Mrs. E. A. KNOTT.
SOUTHAMPTON CLARION CYCLING CLUB
President: R. MORLEY, J.P.
Vice-Presidents: Councillor P. BARNES and Councillor P. BLANCHARD.
Chairman: LES OSGOOD.
Secretary; J. JOHNSON, 72, Broadlands Road, Southampton.
Treasurer: E. SHARE.
Social Secretary: Mrs. C. DENE.
Propaganda Secretary: J. R. V. FREEMAN
Racing Secretary: G. TRODD.
Runs Captain: W. P. COOPER.
Vice-Captains: J. JOHNSON and J. R. V. FREEMAN.
Camping Secretary: C. KNOTT.
CLARION APPROVED CATERERS 1937 IN SUSSEX
AMBERLEY Mrs. Shepherd, The Cricketers' Inn B&B 4/6 Dinner 2/- Tea 1/3
BRIGHTON O. K. Ogle, 213, Queens Park Road. B&B 3/6 Dinner 1/6 Tea l0d.
CHICHESTER Mrs. Brockwell, Orchard Cottage, Tea Gardens, Nutboume, Chichester B&B 3/6 Dinner 1/6 Tea l/- (camping available)
PEVENSEY BAY M. A. Bright, Ivyholme. B&B 2/6 Dinner 1 /6 Tea 1 /- (camping available)
RYE. Mrs. Jones, Tea Rooms, 57, Cinque Port Street .. B&B 3/- Dinner 1/6 Tea l/-