Dear fellow members and friends

20 October 2007
Thanks everyone – and especially Fred, Jim and Roger – for keeping everything going while I've been off lotus-eating. Several things to explain/seek your views about.
Ride dates
There were several reasons for modifying our dates sequence. On the original schedule our next ride would have been on the Sunday the clocks go back – best to avoid; there's always someone who forgets and turns up an hour early (worse still in the spring when you arrive an hour late). Also it would have meant that our December rides would have been (at least notionally) on 9th and 23rd. Since there'd almost certainly be no takers for the second one we'd have no ride between 9th December and our now traditional Carat's café brunch ride on New Year's Day.
All this can be changed if it doesn't meet general approval but my proposed ride dates for the rest of the year are therefore 4 November (Jim's details below), 18 November, 2 December, 16 December. Then I suggest we make our first regular rides of 2008 (after the New Year's Day one) on the following dates:- 6 and 20 January; 3 and 17 February, 2 and 16 March. Unless anything unforeseen happens – cross fingers – I should be available for all these dates, but please 'bag' any one that you'd fancy organising a ride for; it's much better in every way if we share this round.
Christmas Get-Together (or 'Festive Knees-Up' according to Ed!)
Our Social Secretary, Ed, is hoping to be departing for c 5 weeks in Nepal on 22 November – but is very willing to book us in (as last year) at the Open House on a weekday. Alternatively, we could revert to a Saturday as in 2004 and 2005 which I favour since it then possible for those who still have to drag themselves into work. We used the Swan at Falmer on these occasions in part because it was a 'no-smoking' pub – but now our choice is wider in this respect for obvious reasons. I think 15 December might be best – but 22nd might also be possible. Let's set ourselves a deadline of 1 November (easy to remember) to agree at least the date. Suggestions for venues (either of the above or any other) also welcome. Offers to organise very welcome. But let's get the date sorted at least. You don't have to definitely commit yourself – but if you'd like to come and would be able to on a particular date (or more) let me know your preference.
Boots!
Ian
The Next Ride
4 November
Hassocks to Shoreham via Newtimber, Poynings, Fulking, Edburton and Upper Beeding
About 17 miles (19 with tea stop)
My original plan for this ride was to link together three routes we have used in the past 18 months, by means of the Hassocks–Clayton footpath (which has not featured on any rides I have been on so far), a delightful wood at the foot of Wolstonbury Hill, and the lane that runs westwards along the foot of the downs from Poynings. (Does it have a name?)
Unfortunately the middle section has had to be revised due to pockets of ankle-deep mud (made permanent by horses) and a dead end at the A23. (NB I see the Ordnance Survey has a new symbol for 'Suicide Opportunity': a green dashed line running at a 45 degree angle across a major trunk road!)
Anyway, we will get to Newtimber somehow (probably via Hurstpierpoint), then to Poynings, and then along that lane along the foot of the downs and round the back way into Upper Beeding, where we will have lunch at a familiar watering-hole, The Bridge. We then take a very familiar route to Shoreham (the Downs Link) but must leave it at Coombes Road due to repair work on the St Botolph's footbridge over the Adur. This will no doubt put ideas of a tea stop at Shoreham Airport into our minds; whether we take it or not, we then go over the Toll Bridge and on to the station. Hardened cyclists and masochists then have the option of cycling all the way back to Brighton (another 6 miles); the rest of us will get the train.
Points of interest: Church-fanciers among us will be spoilt for choice. Newtimber Church is 13th century, and has an interesting memorial in the churchyard. Poynings Church is slightly more recent, but more impressive to my untutored eye. There is also St Peter's at Upper Beeding, but we will probably be all churched out by then! We will also see Saltings Field at Upper Beeding, where salt was extracted from the river water in the middle ages.
Catch the 10.00 train from Brighton to Hassocks, or meet at Hassocks station at 10.10 am. Return trains from Shoreham are at 9 and 39 minutes past the hour. My mobile no.: 07742-963239.
Jim
The Last Ride – Joyce's Report
14 October
Burgess Hill circular
It was good to get back in the saddle after missing two rides, especially on such a glorious day, and we had a bumper turnout for what turned out to be a fantastic ride, discovering some of the hidden wonders of Sussex. At the station was our leader Roger, Suzanne, Alice, Sue, Fred, Richard and Tessa and, at Burgess Hill, Nick and Amanda were waiting for us, having come from London.
Richard, Roger, Amanda, Suzanne, Fred, Sue, Joyce, Nick, Tessa and Alice
We soon left Burgess Hill for a route (for details refer to Roger's email) which was notable for its diversity and for the fact that it managed to be almost hill-less but nevertheless have lovely downward runs. With a clear blue sky, a gentle breeze and the sun, we sailed through quiet lanes with open vistas of fields, and across tracks. This was what Sue called a 'typical Clarion ride'. What she meant was that there was so much to see and so many of us that there were numerous stops with poor Roger trying to 'herd cats' and having to count us all in. And we now had two photographers, since Nick was also doing his bit as well as Fred...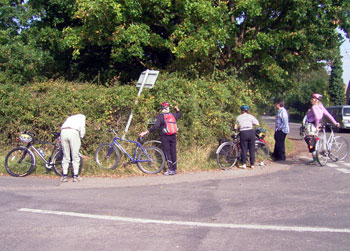 Blackberry stop at Bob Lane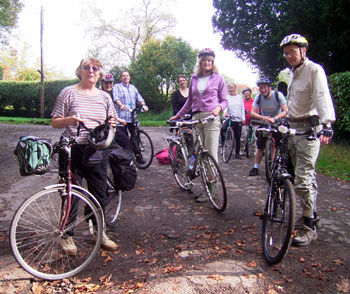 A pause before the off-road bit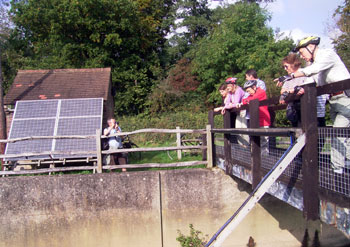 The mysterious water feature
What they were looking at
Our first stop was to investigate the 'alternative' energy centre, which consisted of a sort of weir with electrical wires and a camera – all fed by a large solar photovoltaic system. Still not sure what it was all about other than maybe some monitoring system for water flow.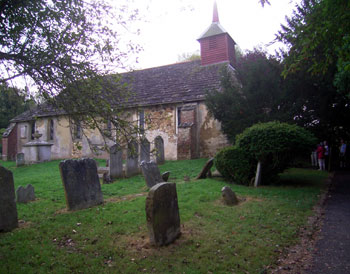 St Giles church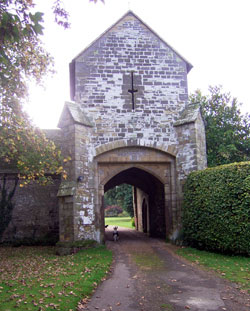 Gatehouse with fierce dogs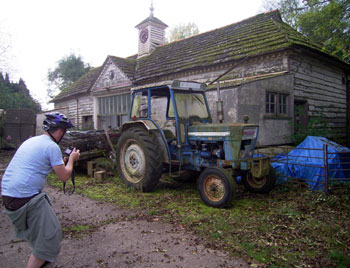 Nick photographs enigmatic building
A look at the dinky little church (St. Giles) , then through wonderful dappled woods to a large lake near Shermanbury, with another stop on route to investigate and photograph what was variously identified as an old stable or cricket club, with a tractor that must date from the 1930s.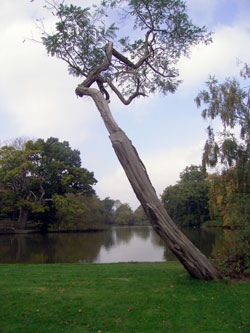 View of the lake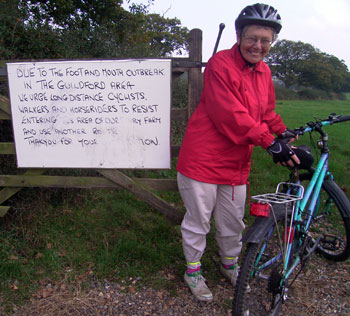 Foot and mouth warning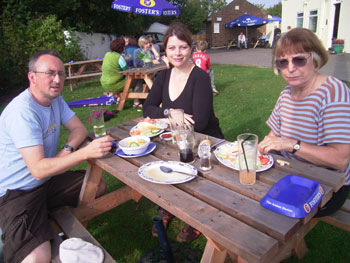 Nick, Amanda and Joyce at lunch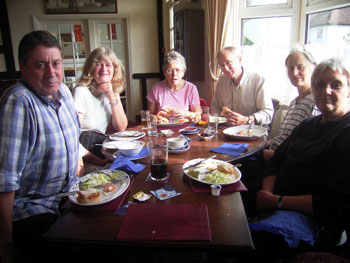 The rest were inside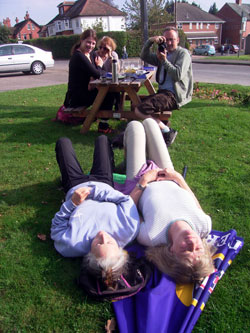 But Sue and Tessa came out for a little sunbathing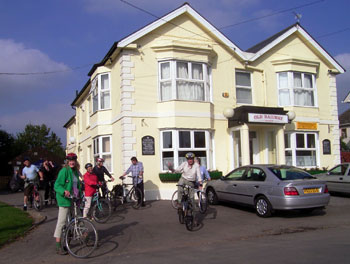 Leaving the Old Railway Tavern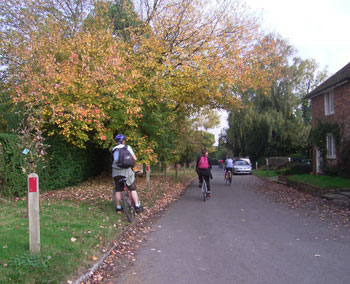 Autumn in Blackstone village
Then on to dear old familiar Downs Link for a short ride to Henfield and , at last, lunch at the Railway Tavern chosen over the more upmarket Plough because we were by that time starving and it was nearest. The Railway Tavern turned out to include a Thai restaurant so some people had Thai dishes – others settled for ploughman's lunches.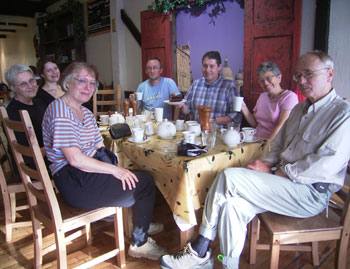 Tea and cakes with view of Venice
Pleasantly restored after a longish break we set off, again through quiet lanes to Burgess Hill where we further restored ourselves in the half an hour before the train(s) with tea and cake in a delightful cafe (can't remember the name) in the pedestrian section of Burgess Hill. According to my counter we had done 25 miles. A really lovely ride – thanks Roger.
Joyce