Dear fellow members and friends
20 August 2007

After the next ride on 2 September I'm going to be away for the next 3 rides (retirement is hell!). Jim's Three Bridges/Bluebell Railway one will be on 16th September but he now finds he can't take on the one he'd planned for 30th September. Any volunteer?
Jim is happy to send you the details of the Rye/Romney Marsh ride he's planned, but it might be better to save that one for another time and do a ride of your own. I can help with planning if needed. Roger has already volunteered for the ride on 14 October. Watch this space for details of these coming attractions.
Boots!
Ian
The Next Ride
Sunday 2 September
Waldron - c 25 miles. A bit longer than last time.
A new destination even if the first and last parts of the ride will be very familiar.
Leaving Berwick station we take the familiar route to Mark Cross (near Ripe) and from there to Stone Cross where we cross the busy B 2134 (carefully!). Then, if we have a dry spell in the next fortnight, which at the moment seems a bit unlikely, half way through Vert Woods we'll taken the second half of the path that was so waterlogged when we used the whole of it on our way to Chiddingly. We can take a different route here if necessary.
Then it's through that rather empty stretch of countryside to Foxhunt Green and on to Waldron where we stop for lunch at The Star. According to the pub menu this dates from 1620 (the pub, that is, not the food on the menu) and retains 'many original features and some ancient locals'. In spite of being a bit 'restauranty' like so many country pubs these days, they do do decent sandwiches with lots of trimmings for about £4.50. Bit different from the Crab and Lobster!
The return is predominantly downhill to begin with via Lion's Green and Hale Green to Golden Cross, where we cross the A 22 (even more carefully!) and return via Chalvington to Berwick station where there may be time for a coffee (or another pint) at the Berwick Inn.
Catch the 10.20 from Brighton Station or meet at Berwick station at 10.43. Trains back at 48 minutes past the hour.
The Last Ride – Tessa's report [photos by Anne]
Sunday 19 August
Chichester Harbour Ride
Ian, Sue, Mick, Anne, Terry and Tessa
Sue was the only one to leave Brighton by the 10.17 train so was delighted to meet up with Tessa who boarded at Hove. A pleasant journey spent catching up with news, and eating a second breakfast.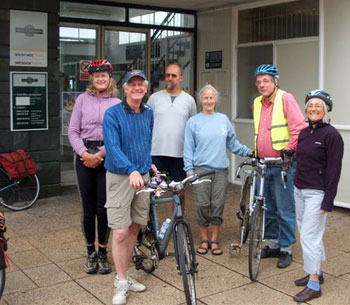 Tessa, Mick, Terry,Sue, Ian and Anne
Ian met us and we were joined by Terry who had travelled from Hampshire and Mick and Anne who had come by car from Brighton. We had our photo taken by an extrovert walker, full of jokes and repartee and then set off to join the canal footpath.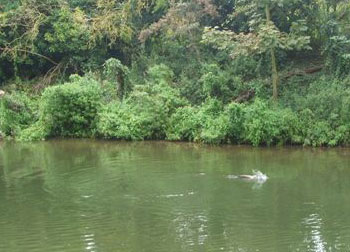 Never sure whether duck would eat eel or eel would eat duck. The thrashing fight to the death took around 10 minutes, then the victorious bird took off in an attempt to digest its kill
The tranquillity of this lovely path was disturbed by a truly amazing sight:
A cormorant/shag or similar long necked bird struggling with, and then swallowing whole a 2 foot long eel! Those who saw the whole event were transfixed and we kept referring to it throughout the day.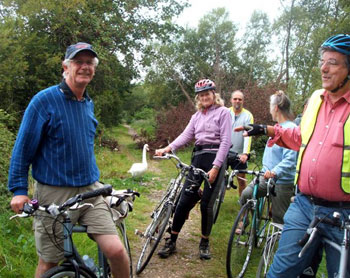 Swan on the trail
We moved on to a track that wove between tree-lined lakes, really beautiful. Sue thought they were old quarries which were now fishing lakes.
Little roads through North Mundham led onto a bridleway with brand new gates, all part of the Sustrans route. One gate had been padlocked, an act of sabotage which we decided needed reporting to Sustrans. We came across a field of cows. Just as we were wondering if there might be a bull among them we witnessed a modern day version of 'Rawhide' - the farmer raced in on a three-wheeled motorbike and rounded the herd up (for milking we presumed).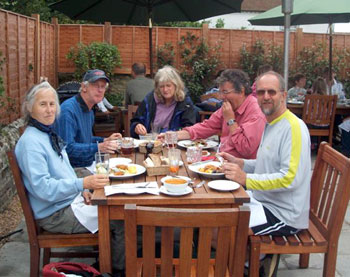 Anne says: Mine's red lentil soup; best ever! Over £5 but well worth it; pity it took an hour to arrive though
A stretch of road led us to Sidlesham quay on the edge of Pagham harbour where we had lunch in the garden of the Crab and Lobster. The menu's emphasis was on seafood , which was most people's choice. It took a while to arrive but while we waited, they had supplied us with baskets of delicious bread and a little pot of fish pate. The food was beautifully presented, delicious and expensive.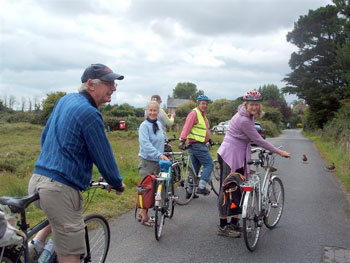 Ducks on the trail
We got a good view the wildlife sanctuary that is Pagham harbour as we set off in a headwind after lunch, stopping to photograph a formation of ducks that we passed.
Anne and I spotted a dead rat on the road, I realised we had passed quite a lot of roadkill in the morning, fox, rabbit and bird, and of course there was the bird/eel struggle on the canal. Perhaps the eel bit its way out of the bird's neck?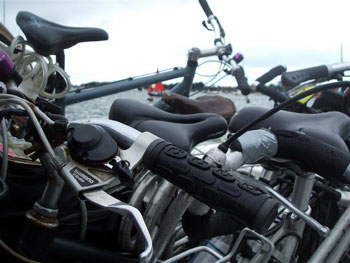 Bikes on board
We arrived at Itchinor ferry and got straight on the boat, no wait this time. As it was high tide it delivered us onto the pebbles so there was no pushing the bikes on mudflats to the shore.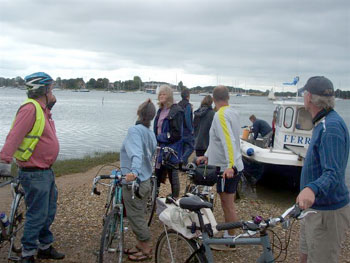 Unloading the bikes from the ferry
Soon we were in Bosham, riding through a very light drizzle, our only encounter with rain. The road was flooded because of the high tide so we wheeled our bikes along past the lovely gardens that line the coast to the teashop. A table awaited us and we all had cake except for Ian who sloped off to eat a very inferior looking ice-cream from the van outside. [I enjoyed it! IB]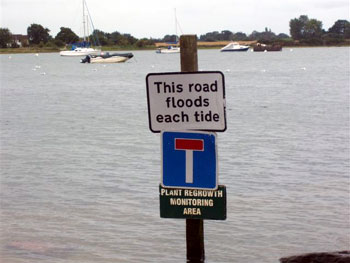 High tide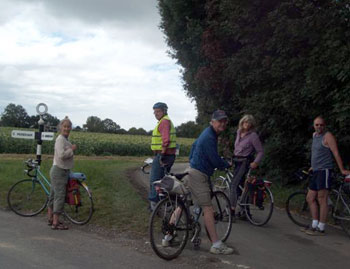 Storm clouds loom
Our only encounter with mud on our 23-mile ride was the bike path/bridleway that led us back to Chichester where we all dispersed for our various ways home.
A very delightful varied ride. Thank you Ian.
Tessa