Dear fellow members and friends
2 January 2008
You've already had details of Sunday's Ride – but here it is again as a reminder. Plus Anne's excellent account of yesterday's excursion to Carats Café.
But while I'm at it --- Subscriptions!
For members, it's time to renew our subscriptions for 2008. The national subscriptions are now £6 for over 18s and £4 for those under that age. As far as the section is concerned, we have enough in the kitty to see us through the year comfortably I'm assuming we are going to suspend our £1 sub again at the AGM.
I want to try and make things as easy as possible for Donald Lever, our national membership secretary. I'm hoping with your co-operation to be able to send all the subs off in one batch at the end of January. If by then you have emailed me – or otherwise let me know – that you intend to renew your subs I'll add enough to cover yours to the cheque I'm sending. In fact the very easiest way would be for everyone to give me their £6 or send a cheque made out to me. But if you don't want to do that make it out to National Clarion Cycling Club. Either way send it to
Ian Bullock, 104 Bonchurch Road, Brighton BN2 3PH
But the main thing is to let me know definitely by the end of the month so I can include you.
If you're not yet a member, download and print off the membership form on the home page (note that the subscriptions given at the bottom may be out of date) fill it in and send it to me – with your cheque, of course, made out as above.
Boots!
Ian
The Next Ride
Sunday 6 January
If at first you don't succeed…. This is the one planned for 2 December which we had to abandon due to atrocious weather. Fingers crossed!
Berwick, Firle and the Old Coach Road
This is another very short one – 14/15 miles at most - but as Sue Pringle has wisely said 'you have to count off-road bits as double' and nearly half of it is on the chalky (and therefore not likely to be very muddy – I hope!) coach road. And with it getting dark early and the weather unpredictable it seems like enough for this time of year. I considered making it longer by starting and finishing in Lewes – but I thought the notion of tackling hilly Ranscombe Lane in both directions would be less popular than a shorter mileage. We've done all the different bits (except in the immediate vicinity of the pub) before, but we haven't been down the Old Coach Road for a long time
Leaving Glynde we go down to the main road and take the pavement cycle track for a while until we can escape onto the quiet roads towards Ripe, through the familiar Berwick station area we make our way to the old village of Berwick with lunch at The Cricketers. This is a very nice pub, but like so many it has taken advantage of its popularity and nearness to the main road, to increase its prices in the last few years. But worth a visit, I think. According to their website most items listed as 'Main Dishes' cost £9.50 (or more). A bit cheaper would be one of their 'Ploughmans' at £7.50 or their soup of the day at £4.50. Also worth a visit (again) is Berwick Church (see below) After that we'll take the Old Coach Road running at the back of Alciston, and Charleston through Bo-Peep to Firle and – after a look around there (if time permits) – we can cross the A27 (carefully!) and return to Glynde
Catch the 10.20 from Brighton station or meet at Glynde station at 10.37 Trains back at 2 53 and 3 53 (they're hourly). They reach Brighton at 12 minutes past the hour.
Points of Interest
Ripe is a pretty village and note the old metal CTC sign on the pub. Berwick is interesting in that what is now the main part of the village has grown up north of the A27 around the railway station while the original village with the much restored (in 1856) mediaeval church. The particular interest here is the wall-paintings – not dating from the Middle Ages like the ones at Clayton, but from 1942-3 when the then Bishop of Chichester, aided and abetted it seems by among others Kenneth Clark (of Civilisation fame), got the 'Bloomsbury' painters – Duncan Grant, Vanessa Bell and Quinten Bell to decorate the church. Pevsner thought it 'a noble effort…art in wartime and modern art in a church' but then went on to say 'how sad it does seem now, so conventional, so sentimental' and it is difficult to disagree. But there's a certain poignancy in the fact that one of the local models for the servicemen in the one of the pictures was to die in Normandy in 1944.
We also pass near Firle Church. The main point of interest here is the alabaster monuments of 1595 by Gerard Janssen in the Late Perp. Gage Chapel which commemorate 3 members of the Gage (of nearby Firle Place and greengage fame) family.
Ian
Very First ride of The Year - New Year's Day Brunch Ride
'In the deep mid-winter' – Anne's Report
After being cooped up most of the dark days of December it is a treat to have the Clarion New Year's Day Brunch, even if the Day dawns dull and damp, as usual.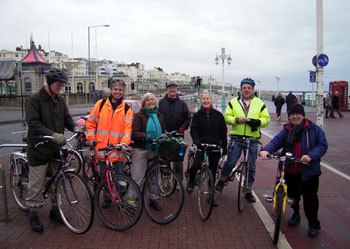 The start: Leon, Jim, Anne, Mick, Sue, Ian and Fred
We whizz down to the Palace Pier and just about make the 10.30 deadline, after having had to pop back home to pack a mack. We were greeted by Ian, Jim, Fred and Leon who had arrived earlier. Sue (Pringle) was spotted racing over the Madeira Drive crossing, a few minutes later, so Ian made the call to Sue (Bullock) to announce our departure and numbers. Sue's task was to pick up Chairman Ed who is suffering on crutches and thence to secure seats for us all together at Carats Café.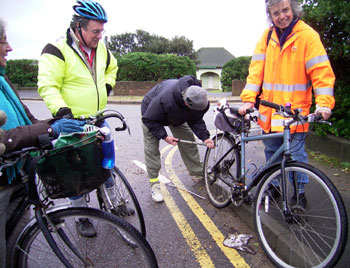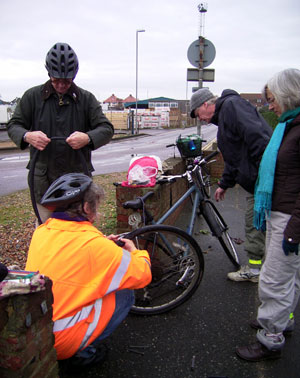 Mick's puncture outide 'Millionaires Row'
Pleasant progress along the seafront bike track chatting about the Xmas festivities and dodging infant cyclists on their new gifts from Santa, was halted at the harbour road when fate, or flint, struck Mick's back wheel; a puncture for which we two were completely unprepared, but Clarion clubmates rallied round to repair. Sue provided a new inner tube and Jim and Leon helped with pumps, spanners and expertise. Fred photoed the teamwork and Ian kept watch for the advance guard by the road to alert them. Zoe Ball was spotted and another paparazzi. I've seen her out on her bike before and exchanged greetings, as you do on bike tracks [sometimes]. Soon, Ian's car and Sue B zoomed by with Ted and Sheila too and were told of the setback.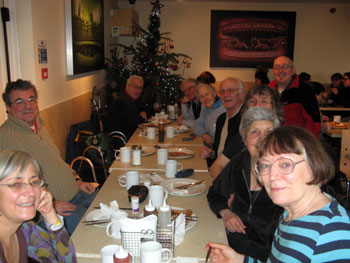 Inside Carats Cafe - Sue Bullock's photo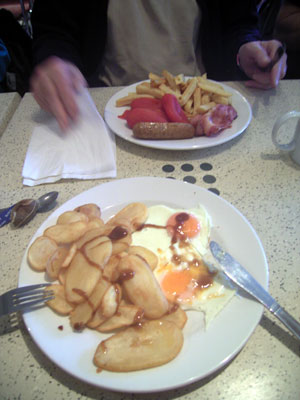 Saute potatoes and eggs, with brown sauce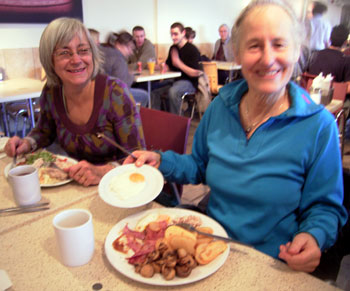 Sue P tucks into an extra egg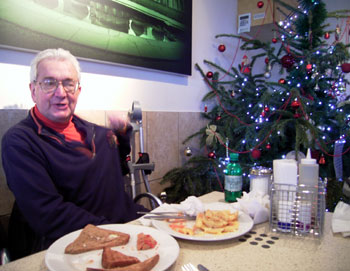 Chairman Ed with cheesy chips
Having started pretty promptly at the pier, we still arrived earlyish at the café. Some were seated outside but 'twas not the sunny scene of last year's brunch. Inside was warm. welcoming and steamy with a long table set up for us at the back by the twinkling Xmas tree. Well-cooked food arrived promptly and was enjoyed by all, from Ed's melted cheese on chips to my healthy tuna salad, with many a fried egg, hash brown or sautéed potato, mushrooms, bacon and all the trappings of an all-day breakfast. Best of all was to see Joyce arrive, as she had been ill all Xmas with what sounded like flu but her doctor had said wasn't as she'd had the flu jab. For the previous 2 years I've had the flu jab and flu shortly afterwards, so this year decided not to bother and have escaped it so far, while all around me have sadly succumbed. Sheila too, had been ill over Xmas and was so glad to be out for our Clarion brunch. Jim was wearing his 727 badge in solidarity with Omar Deghayes, who was finally out for Xmas too, after five years as a prisoner in America's Guantanamo Bay prison.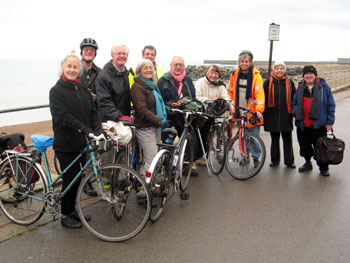 Group photo outside Carats Cafe - Sue B's photo
Ed was popping his pain-relief pills and looking forward to his op in 2008. Dark days too for the Labour Party and we shared our disappointment that even though Blair had gone, so far Brown had not changed much.
Mick and I headed West after lunch to visit his 94-year old father in Worthing and sample the new coastal path that we had missed on a previous Clarion ride. Without the club the path proved hard to find and the signage misleading. Though charming with graceful swans and water all around once found, we had to contend with westerly wind blowing rain at us. There was a red glow on the horizon and a thin stream of sunshine too so I hoped that the rest of the Clarion was soaring home over the rainbow to Brighton and weren't soaked to the skin as I was. We caught the train home and looked out for Leon at Brighton station, as he was returning to Hassocks, from whence he came.
Happy New Year to all and thanks for all the fun. We bought some fresh fish at Worthing beach and soon dried off in Mick's dad's flat, so not all bad and managed to arrive home in daylight. Hope the south westerly carried you all home safely.
Anne
The 'peleton', as Fred would say, had good luck in avoiding the rain returning to Brighton – Ian
[More and bigger photos on Flickr]