Dear fellow members and friends
19 November 2007
Sadly, our website didn't win the award – but we still think Fred's the greatest!
Christmas Get-Together
Our Social Secretary, Ed, has taken into account all the messages received about preferences (many of which inevitably cancelled each other out) and this is what he's arranged:
The Date Tuesday 18 December
The Time 12 noon onwards
The Place Function Room at the Master Mariner, inner basin at Brighton Marina
If you're coming by public transport there are frequent buses (7 and 14C). Please put it in your diary now.
Glasgow to Barcelona Ride (don't worry not our next Sunday outing). Charles Jepson has sent me details of the ride he is organising next July and August to commemorate the International Brigades. Unfortunately he's sent me only a hard copy so I can't simply forward it to you. Let me know if you're interested or better still 'phone Charles on 01245 51302 or email clarioncc@yahoo.co.uk.
More for our history page
Michael Walker, who has sent us so much material already, has come across the following from the 1936 Handbook. It includes a full list of all the rides (apart from the 'mystery' and 'impromptu' ones) for that year which I haven't included here – but I'm sending it on to Fred to add to the website.
BRIGHTON CLARION CYCLING & ATHLETIC CLUB 1936
Brighton Clarion: Captain: G. CREE.
Brighton Clarion:  Hon. Secretary: W. R. NEWMAN, 22,Whichels Place, Brighton, 7, Sussex.
The first week in every month is a Mystery Run, arranged and led by a member of the Brighton Clarion Cycling Club.
The third week is impromptu. On these dates we shall endeavour to arrange joint activity with other Sections.
Clarion Cycling Club official caterers Sussex
Amberley:
Mrs Shepherd, The Cricketers Inn, near Arundel ( B&B 4/6) (Dinner 2/-) (Tea 1/3)
Pevensey Bay
M.A. Bright, Ivyholme, near Eastbourne (B&B 2/6) (Dinner 1/6) (Tea 1/-)
camping available
Rye:
Mrs Jones, Tea Rooms, 57 Cinque Port Street (B&B 3/-) (Dinner 1/6) (Tea 1/-)
The average charge for tea only is 4d per head (70p today M W), and any higher charges should be reported to the national Clarion Handbook Secretary
The charges set out are for Bed (single) and Breakfast, latter consist of Bacon and Eggs, Coffee or tea, Marmalade, Bread and Butter; Dinner; joint, two vegetables, bread, sweets, and cheese; Tea:(plain) Bread, Butter, Tea, Jam
Those were the days - when we had 'official caterers'!
Boots!
Ian
The Next Ride
Sunday 2 December
Berwick, Firle and the Old Coach Road
This is a very short one – 14/15 miles at most – but as Sue Pringle has wisely said 'you have to count off-road bits as double' and nearly half of it is on the chalky (and therefore not likely to be very muddy – I hope!) coach road. And with it getting dark early and the weather unpredictable it seemed like enough for this time of year. I considered making it longer by starting and finishing in Lewes – but I thought the notion of tackling hilly Ranscombe Lane in both directions would be less popular than a shorter mileage. We've done all the different bits (except in the immediate vicinity of the pub) before, but we haven't been down the Old Coach Road for a long time
Leaving Glynde we go down to the main road and take the pavement cycle track for a while until we can escape onto the quiet roads towards Ripe, through the familiar Berwick station area we make our way to the old village of Berwick with lunch at The Cricketers. This is a very nice pub, but like so many it has taken advantage of its popularity and nearness to the main road, to increase its prices in the last few years. But worth a visit, I think. According to their website most items listed as 'Main Dishes' cost £9.50 (or more). A bit cheaper would be one of their 'Ploughmans' at £7.50 or their soup of the day at £4.50. Also worth a visit (again) is Berwick Church (see below). After that we'll take the Old Coach Road running at the back of Alciston, and Charleston through Bo-Peep to Firle and – after a look around there (if time permits) – we can cross the A27 (carefully!) and return to Glynde
Catch the 10.20 from Brighton station or meet at Glynde station at 10.37. Trains back at 2.53 and 3.53 (they're hourly). They reach Brighton at 12 minutes past the hour.
Points of Interest
Ripe is a pretty village and note the old metal CTC sign on the pub. Berwick is interesting in that what is now the main part of the village has grown up north of the A27 around the railway station while the original village with the much restored (in 1856) mediaeval church. The particular interest here is the wall-paintings – not dating from the Middle Ages like the ones at Clayton, but from 1942-3 when the then Bishop of Chichester, aided and abetted it seems by among others Kenneth Clark (of Civilisation fame), got the 'Bloomsbury' painters – Duncan Grant, Vanessa Bell and Quintin Bell to decorate the church. Pevsner thought it 'a noble effort … art in wartime and modern art in a church' but then went on to say 'how sad it does seem now, so conventional, so sentimental' and it is difficult to disagree. But there's a certain poignancy in the fact that one of the local models for the servicemen in the one of the pictures was to die in Normandy in 1944.
We also pass near Firle Church. The main point of interest here is the alabaster monuments of 1595 by Gerard Janssen in the Late Perp. Gage Chapel which commemorate 3 members of the Gage (of nearby Firle Place and greengage fame) family.
Ian
The Last Ride – Suzanne's Report
18 November
Cuckoo Trail: Leaves on the line
The bright yellow and golds glistening in the waning autumn sun of two weeks ago have given way to a leaden sky and the gentle fawn-colour carpet of leaves … just get on with the story, woman!
Ok, then, let's skip the literature… It was overcast when seven of us met at Brighton station, all trying to bolster up our courage in the face of our credence of the BBC short-range weather forecast which promised rain starting in the morning. We scrambled onto the Ashford International train (not nearly as exotic as it sounds) for a comfy, warm ride to Polegate and into the waiting arms of Ian, our leader for the day. Unusually we did get a couple of rebuffs from passing potential photographers, but a young (ish) lady came to our rescue and once we had been thoroughly documented in pixels as being Alice, Fred, Ian, Jim, Joyce, Leon, Roger and Suzanne, we were off 'up North' – up the Cuckoo Trail.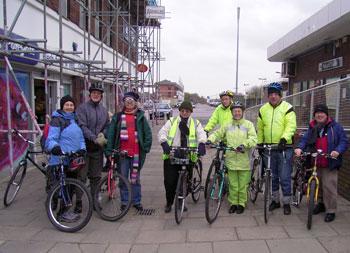 Eight Clarionettes – Alice, Leon, Jim, Joyce, Roger, Suzanne, Ian and Fred – ready for anything!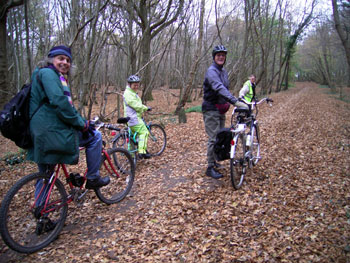 Leaves on the line
As all the leaves from the trees were under our wheels rather than on the trees, we were able to appreciate the huge engineering task that was line between Polegate to Crowborough (or nearby). There was the deep cutting going south into Polegate, the many level crossings (now replaced by prosaic Toucan crossings), the bridge across the Cuckmere River and the wonderful long embanked incline running out of Horam, not to mention the pathetic remains of the edges of the two station platforms at Horam itself. Thankfully Hellingly station has fared much better by becoming a private house.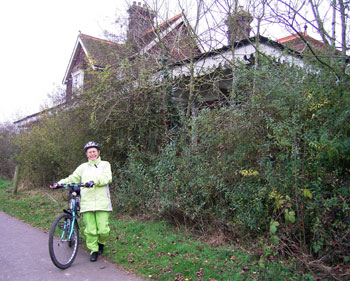 Suzanne outside Hellingly station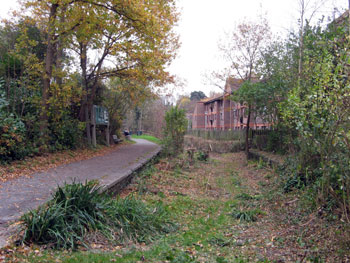 Horum station (Jim's photo)
With a south wind to help us on our way we arrived in Heathfield just before one o'clock, tired, cold and raring for food. 'Where's the pub?' we asked ourselves. As ourselves did not know the answer, we asked a very helpful local who (in what we could only consider a very disloyal tone viz-a-viz his home town) in effect said: 'Forget it'. There was, apparently, one pub a mile away in Cross-in-Hand, or the one and only pub of Heathfield itself, the Prince of Wales, about half a mile back along the way we had just come-ish. Now, the Prince of Wales did serve Harvey's. That was in its favour. But it also failed to serve any more than a full 'carvery' lunch – with virtually no veggie option, so a show of hands opted in favour of a late lunch-cum-high tea at The Loom just north of the Polegate bypass.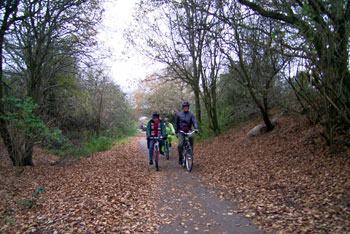 North along the Cuckoo Trail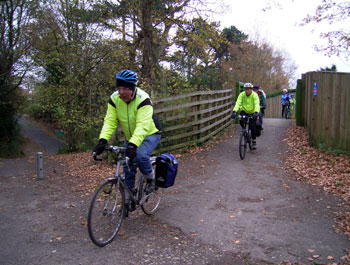 Over the bridge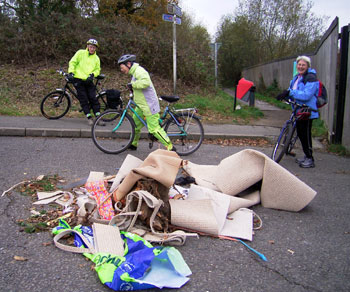 Fly tipping near the top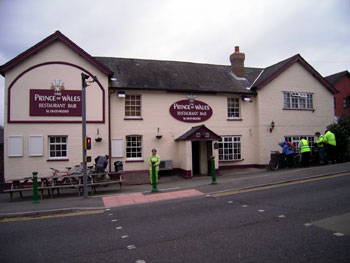 No (veggie) food at the inn
This was a Good Thing as the weather turned colder, the rain started and the leaves were determined to become the 'wrong sort' of leaves that would have us slipping and sliding off our machines in a shake of a lamb's tail. As we got to The Loom the rain pelted and we belted inside to fill up on excellent sandwiches, toasted teacakes, hot chocolate with enough cream on top to give anyone a blubber layer to survive any Clarion winter ride.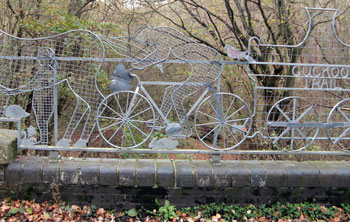 Bridge decoration (Jim's photo)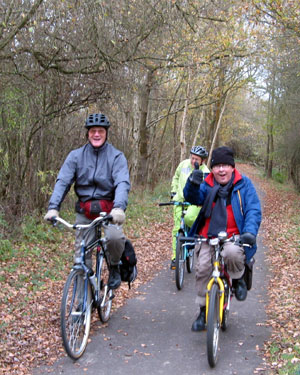 Leon, Roger and Fred (Jim's photo)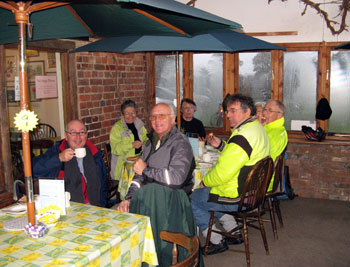 Tea out of the rain in the Old Loom (Jim's photo)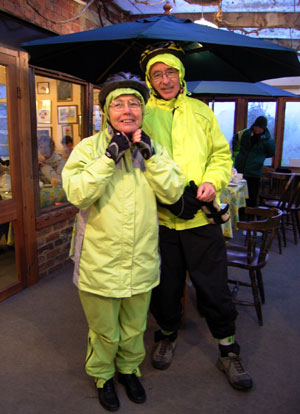 Suzanne and Roger get ready to face the rain
No Clarion report would be complete without the final score. 'Final score' I hear you cry in dismay. 'We go on Clarion rides in Sussex precisely because it is not competitive.' Well, there does seem to be a bit of a competition going on. It's called Which Ride Has The Most Falls – and the Cuckoo Trail turned out to be more of a Cuckoo Trial to some: first off we have Joyce who was virtually mown down by a teenager on a scooter … and no, it wasn't a Vespa or a Lambretta, it was the sort of scooter you and I scooted on at the age of 6; then it was Leon doing his toreador act, gallantly trying to pick up a grounded handkerchief for a fellow rider; and finally, not to be outdone, Alice gracefully slid to the ground coming round the final bend into Polegate on a very poor road surface with a treacherous ridge in it.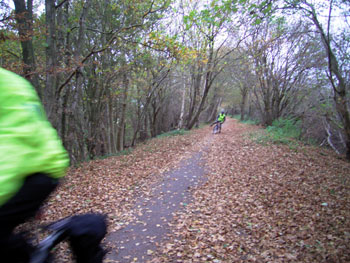 Leon loses his footing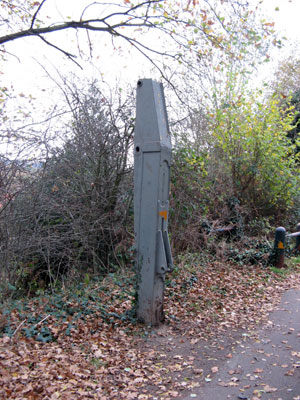 Mystery sculptural object: Jim thinks it's a token instrument – the thing the drivers would have put the 'token' into at the end of a single-track section (Jim's photo)
At last, back to Polegate Station with only a quarter of an hour to wait. We were past caring that it was tipping down with rain and that both waiting-rooms were securely locked against (Heaven forefend) any 'Customer' who might wish to take shelter. Many of the other poor souls on the platform were not as well waterproofed … or tough … as the Clarion Seven. Seven, as Ian had taken his rather worsening cold off to a hot toddy, but he departed with Suzanne's thanks for the loan of his lovely warm spare gloves and the thanks of us all for organising the ride.
Suzanne
Fred writes: because so many people are taking photos and we can't fit them all on the website, I've set up a Flickr group to upload to and share them around
www.flickr.com/groups/532678@N24/
and for those in the 21st century, a Facebook group
www.facebook.com/group.php?gid=5530224215
you will of course have to fill in forms to register with these two organisations, but it won't cost anything!
Jim writes: I have a couple of ideas for future rides based on comments on rides we have done in the past, but would like people's comments before proceeding to plan them, as they involve some longer-than-usual, and correspondingly more expensive, train rides.
1. Downs Link North: Guildford to Christ's Hospital
Firstly, after the Downs Link ride in July, several people expressed an interest in doing the other half of it, namely from Chilworth or Guildford to Christ's Hospital. This section is about the same length as the southern half (about 20 miles) but the train journeys from Brighton would be more complicated. I would suggest going from Brighton to Guildford (this being easier than Chilworth, although Chilworth is nearer to the Downs Link) and coming back from Christ's Hospital. There is actually a direct train to Guildford at 9.40 (journey time 1 hr 17 min) but as it's a Virgin, I'd have to investigate the cycle carriage policy. Alternatively we could get the 10.16 and change at Gatwick (journey time 1 hr 31 min to Chilworth). The return journey from Christ's Hospital would be 1 hr 12 min with a change at Three Bridges.
The National Rail website tells me that the fare from Brighton to Guildford would be £16.60 and from Christ's Hospital to Brighton is £8.40.
2. Forest Way: Eridge to Three Bridges
The other idea, prompted by a ride that took place last year (which I missed) and hopefully reinforced by a more recent venture, concerns the Forest Way, which extends the Worth Way from East Grinstead to Groombridge. Unfortunately, until 'they' get their act together and re-open the Lewes-Uckfield rail link, the only way we can do this is to get the train to Eridge via East Croydon, then cycle from Eridge to Groombridge and all the way along the Forest and Worth Ways (these are both former railway lines, so mostly off-road) to Three Bridges; the outward train journey is 2 hours long, with changes at East Croydon and Oxted. The cheap day return fare to Eridge is £19.20, and this would also cover the 30 minute journey back from Three Bridges to Brighton.
Of course, all of the above depends on there being no engineering works on any of the relevant lines, so maybe it would not be possible anyway … but if it is, … any takers? (I suppose that for a ride to be viable we only need 2 of us – that's me and one other person – but it would be nice to have more!)
Jim