Dear fellow members and friends
19 December 2007
There were twelve of us – plus Bob dropping by right at the end – at the Master Mariner yesterday. Ed had arranged for an excellent buffet which I think suited everyone and a good time was had. Thanks again, Ed.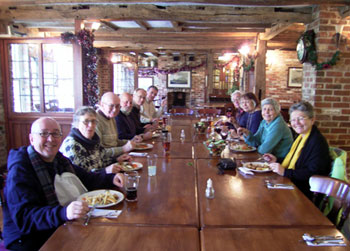 Ten of us - just before Leon and Joyce 2 arrived (that photo was a little blurred!)

Any Volunteers?

Details of the first rides of 2008 are below. Roger is planning something for 20 January. The next dates after that are 3 and 17 February, 2 and 16 March. That's as far as I've got so far; I should be available to organise something on all of those dates – not sure yet after that. But that's a 'default' position. If anyone would like to follow Roger's example and take on any of the February or March rides please let me know. All offers gratefully received!

Talking of future rides reminds me.
A message from Jim

Proposed Downs Link and Forest Way Rides

Sorry to harp on about this, but Sue has come up with a brilliant idea which will help make the associated train fares a lot cheaper. She has suggested that we make use of the 'Groupsave' facility where four people travelling together pay half the fare. This would mean that for the trip to Guildford (via Havant), we would pay £8.35 instead of £16.70. She also said she thought that when returning from a station on a different line, a return ticket might still be valid, and I've checked this out with Nick at London Road Station who said that it would be in this case (where we would be returning from Christ's Hospital).

If there is not an exact multiple of four people, the 'extras' would pay the full fare; but hopefully, since 'fellowship is life', we would all agree to pool our fares (and more to the point, since 'lack of fellowship is death', anyone disagreeing could just be thrown onto the live rail!) This would mean the Guildford fare would be somewhere between £8.35 and £11.93, depending on numbers. Similarly, for the Forest Way, the return to Eridge would come to between £9.60 and £13.71. So, if there is anyone else who would be interested in these rides at the new, low rates, please get in touch with me at j.r.grozier@btinternet.com. (I have already had four people expressing an interest, although one of these people is from London – Amanda, why don't you see if you can get three other Londoners interested?).

Incidentally, there is no reason why we shouldn't use Groupsave for all our rides, as long as there are at least four of us.

Jim

Now there's a thought – but would it work, I wonder? (and not sure whether throwing refuseniks onto the live rail is really in accord with the spirit of the season)

Have the merriest of Christmases and the happiest of New Years.

Boots!

Ian

The Next Rides

Tuesday 1 January 2008
NEW YEAR'S DAY - OUR TRADITIONAL BRUNCH RIDE TO CARAT'S CAFÉ AT SHOREHAM HARBOUR
Carat's is a popular venue on New Year's Day. But last year we managed to sit outside in the sun! Can't guarantee that this time, of course. But this year there'll be a (car-bound) advance guard whose mission will be to try to secure enough space for us before our arrival.

As on previous occasions I'm hoping that this easiest of starts to the year may tempt out some of those we seldom see – or even have yet to see.

Meet by the Palace Pier at 10.30am - or along the route at e g Maroccos. Only about 9 miles – plus from home and back to the Pier.


Sunday 6 January
If at first you don't succeed… This is the one planned for 2 December which we had to abandon due to atrocious weather. Fingers crossed!

Berwick, Firle and the Old Coach Road

This is another very short one – 14/15 miles at most - but as Sue Pringle has wisely said 'you have to count off-road bits as double' and nearly half of it is on the chalky (and therefore not likely to be very muddy – I hope!) coach road. And with it getting dark early and the weather unpredictable it seems like enough for this time of year. I considered making it longer by starting and finishing in Lewes – but I thought the notion of tackling hilly Ranscombe Lane in both directions would be less popular than a shorter mileage. We've done all the different bits (except in the immediate vicinity of the pub) before, but we haven't been down the Old Coach Road for a long time

Leaving Glynde we go down to the main road and take the pavement cycle track for a while until we can escape onto the quiet roads towards Ripe, through the familiar Berwick station area we make our way to the old village of Berwick with lunch at The Cricketers. This is a very nice pub, but like so many it has taken advantage of its popularity and nearness to the main road, to increase its prices in the last few years. But worth a visit, I think. According to their website most items listed as 'Main Dishes' cost £9.50 (or more). A bit cheaper would be one of their 'Ploughmans' at £7.50 or their soup of the day at £4.50. Also worth a visit (again) is Berwick Church (see below). After that we'll take the Old Coach Road running at the back of Alciston, and Charleston through Bo-Peep to Firle and – after a look around there (if time permits) – we can cross the A27 (carefully!) and return to Glynde

Catch the 10.20 from Brighton station or meet at Glynde station at 10.37. Trains back at 2.53 and 3.53 (they're hourly). They reach Brighton at 12 minutes past the hour.

Points of Interest
Ripe is a pretty village and note the old metal CTC sign on the pub. Berwick is interesting in that what is now the main part of the village has grown up north of the A27 around the railway station while the original village with the much restored (in 1856) mediaeval church. The particular interest here is the wall-paintings – not dating from the Middle Ages like the ones at Clayton, but from 1942-3 when the then Bishop of Chichester, aided and abetted it seems by among others Kenneth Clark (of Civilisation fame), got the 'Bloomsbury' painters – Duncan Grant, Vanessa Bell and Quentin Bell to decorate the church. Pevsner thought it 'a noble effort … art in wartime and modern art in a church' but then went on to say 'how sad it does seem now, so conventional, so sentimental' and it is difficult to disagree. But there's a certain poignancy in the fact that one of the local models for the servicemen in the one of the pictures was to die in Normandy in 1944.

We also pass near Firle Church. The main point of interest here is the alabaster monuments of 1595 by Gerard Janssen in the Late Perp. Gage Chapel which commemorate 3 members of the Gage (of nearby Firle Place and greengage fame) family.

Ian


Last ride of The Year
Sunday 16 December
Berwick Circular - Alice's Report

A good turn out for the last ride of the year. Eight of us Joyce, Roger, Suzanne, Fred, Jim, Leon, Ian and Alice started our last ride from Berwick station. The weather was a perfect cold, crisp and sunny winter's day for which everyone was appropriately dressed in an assortment of hats, scarves and gaiters.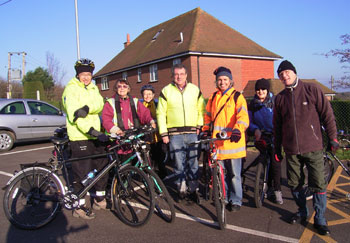 Fred's photo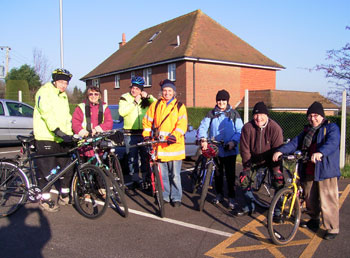 Suzanne's photo of the start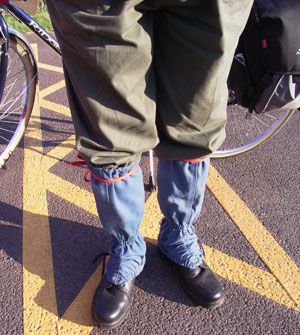 Leon's gaiters

From Berwick station we briefly cycled south before turning into Common Lane meandering through the Low Weald until arriving at Ripe.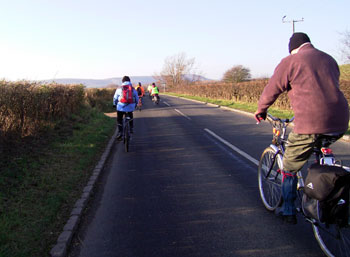 Towards the South Downs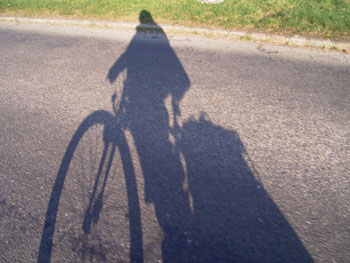 Long shadows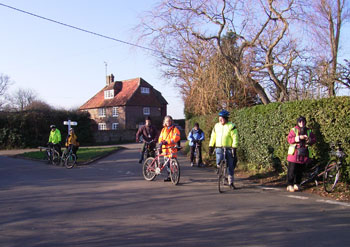 Hot chocolate stop

A brief stop was taken in Ripe where Joyce restored her energy levels with hot chocolate from her flask. A further stop in Ripe was required to admire an old timber-framed 16th century house that was covered in numerous carvings.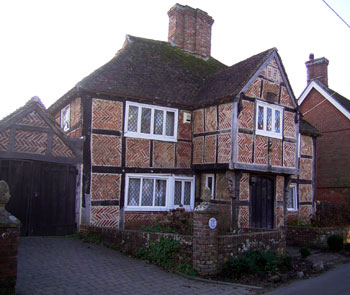 Old house in Ripe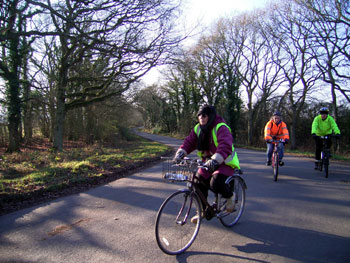 Wrapped up warm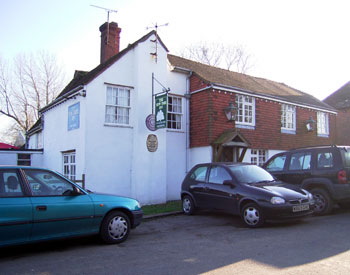 The Yew Tree Inn

From Ripe we cycled out past a tiny airfield until we reached Golden Cross. By this stage most were feeling the cold and looking forward to the pub and lunch. However it was not midday so on we went finally stopping at The Yew Tree Inn for a welcome break. A large table was found to accommodate us all and food ordered and enjoyed. So far the day had gone without mishap until Jim knocked over his pint.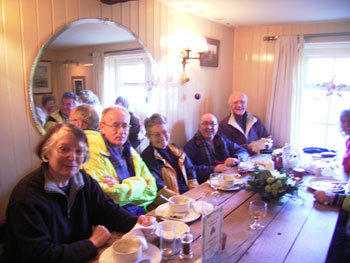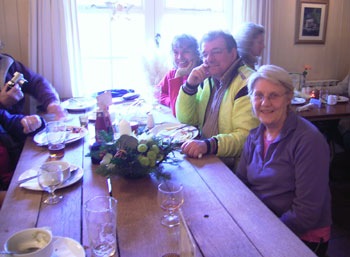 Lunch

Following lunch it was a very short cycle ride back to our starting point at Berwick station. The barriers were down and we watched the earlier train leave the station. There was only one thing to do to fill in the hour before the next train and that was to have further refreshments in The Berwick Inn.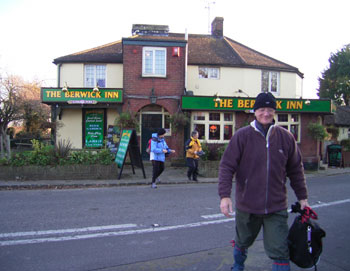 After tea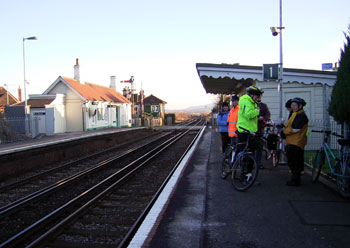 Waiting for the train home

All in this short but enjoyable cycle ride would like to thank Ian for organising the route. We had a good day.

Alice
[More and bigger photos on Flickr]