Dear fellow members and friends

17 September 2007
As Ian is away on holiday, it's fallen to me to send out this fortnight's newsletter. As well as details of the next rides and a report of the one yesterday, there is also an item entitled Jim's Thoughts, where he has proposed some future rides involving slightly longer journeys. Send your thoughts back to Jim, or to Ian. Also the good news (gleaned from the Bricycles website) is that Shoreham Tollbridge has been saved! I'd like to think it was all due to our fundraising efforts, but I expect they had some help from other quarters. Don't forget too that it's Car-Free Day on the 23 September. Our council has laid on all kinds of entertainment for us in the Lanes. Give it your support!
And a Happy Birthday Sheila!
Boots!
Fred
The Next Rides
Sunday 30 September 2007
Pier to pier: 24 miles round trip, but with easier options
No it's not the Palace Pier to the West Pier! That would be too easy! It's Brighton Pier to Worthing Pier. An ideal starter's ride or for someone trying to get back into the saddle. It's 100% flat and mostly on cycle lanes. The only bit on roads is at Shoreham where we cut across using quiet suburban streets. We'll head down the seafront to Carat's Cafe at Shoreham Harbour, then over the lock gates, and into Southwick, across the Shoreham footbridge (not the tollbridge) then on to Widewater Lagoon, then it's cycle lanes all the way. Lunch at the Denton Cafe on the pier itself (which served Harvey's when I did a recce) with bracing views of Brighton across the bay. We return the same way. If 12 miles is enough you can jump ship here, or carry on to Lancing or Shoreham where the stations are not far from our route.
Start at 11am at the Palace Pier (which someone has renamed Brighton Pier). We can pick up Hoveites at Marocco's cafe.
14 October: Haywards Heath to Hassocks via Henfield (Roger's ride)
4 November (note 3 weeks later): Hassocks to Shoreham via Fulking (Jim's ride)
18 November: To be advised
The last ride - report by Sue
Sunday 16 September
Worth Way and Bluebell Railway
Jim, Fred, Tessa, Jeffrey, Sue and a new recruit, Debbie, set out from Three Bridges station.   Jim guided us along the route of the old 3 Bridges to East Grinstead railway line, now a cycle/walkway called Worth Way.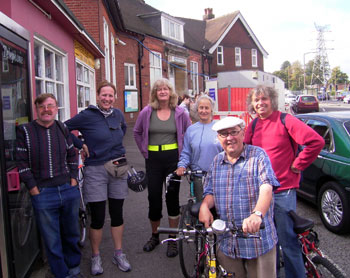 Jeff, Debbie, Tessa, Sue Fred and Jim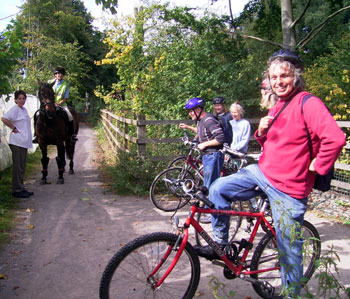 Encounter with horse
 
We cycled off-road through woodlands - on a good surface, meeting shortly round a sharp bend with a fine old horse. The rider turned and backed her horse out of the way to allow us to pass, and we paused to admire the horse and chat  with  his rider. The pathway looped through countryside and meandered through housing estates where land had been developed over the old track. Tessa, always first to go off road, particularly enjoyed the section that provided a concrete path through open fields!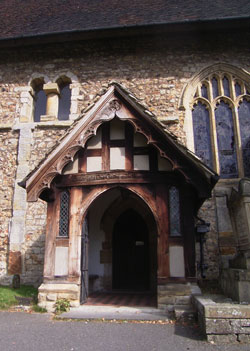 Worth church
 
Soon we  came  to our first stop - Worth Church. Jeff offered a wealth of information on its history. It is one of the few Saxon churches left in Sussex, being built in the 12th Century.  Original stone arches are still visible inside the well kept  church though some artwork previously on the walls is not. The stone font was brought back from the crusades and a carved wooden pulpit dates from the 15th Century. The  overall design of the church is also based on the shape of the crucifix, another feature of churches of that era.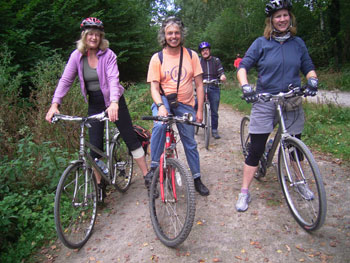 Admiring the view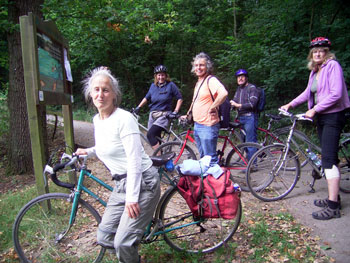 The pond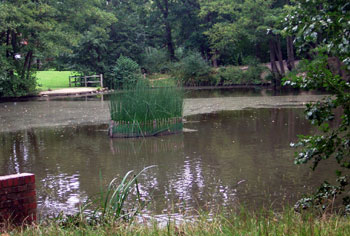 The pond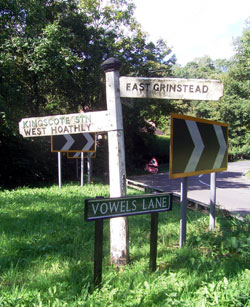 Vowels Lane!
 
Jim has a wealth of knowledge about the old railway and stopped to show us several old station buildings still standing by  the site of the old line. These included two buildings at Rowfant which took its name from the Rowfant estate. Apparently it has been known for a  landowner  to negotiate an agreement  that a station be built on his land in return for allowing the railway to be built through it. Later in the day he showed us where a branch line leads out of Haywards Heath station to one of the old station buildings we had stopped to look at earlier.  This line is still used 3 times a week to carry material from a quarry. Some talk of possibilities for reinstating track on the old routes.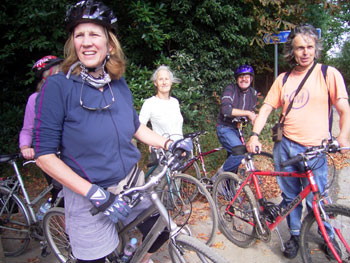 A breather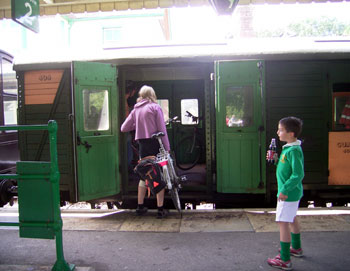 Into the Guard's van
 
Lunch was taken at Horsted Keynes station  buffet after a delightful ride on the Bluebell railway from Kingscott. We were delighted to place our bikes in the spacious guards van and travel in a third class carriage. (Though some had hoped to go first class!)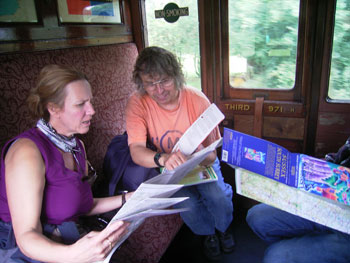 Third-class travel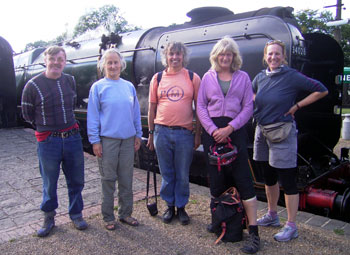 Posing in front of 'Eddystone' (not our loco)
 
We spent a long time over a basic but satisfying lunch and watched several steam engines come through. We also took a peak into the shed where old stock is renovated. We  had a brief view of the first-class Pullman dining car with its passengers having lunch and raising their glasses to us. (A mere £59 a head!) Glimpsing an upper crust life-style?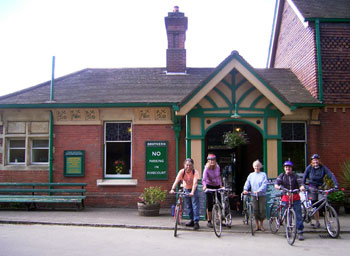 Outside Horstead Keynes
 
After a flat ride in the morning we complained to Jim about the introduction of a few minor gradients in the afternoon. He duly apologized for such inconvenience – the terrain around Hayward Heath being noticeably hilly!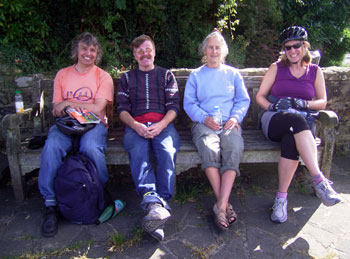 The bench at Ardingly
Sue also put in a plea for a tea stop (any excuse to get off the bike) and he valiantly explored the possibilities - Tessa did a recce in Ardingly while the rest of us sat on a bench recovering from the hill climb - but no teashop appeared. Even the Lemon Tree at Hayward Heath station was closed. Just as well Tessa took the precaution of having a Mars bar after lunch. However, we had had a long and interesting stop at the Bluebell and returned home tired and satisfied - although minus Jeff. He nobly chose to miss our train to hand in some lost property left on the station, just as our train drew in.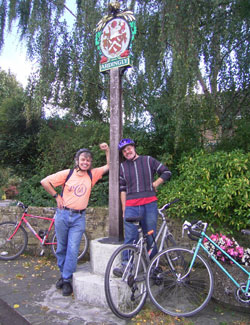 Jim and Jeff pose by the Ardingly sign
 
Debbie enjoyed her first outing with Clarion and expressed her intention of coming again so I am looking forward to meeting her again. Fred vied with Jim to take the most photos.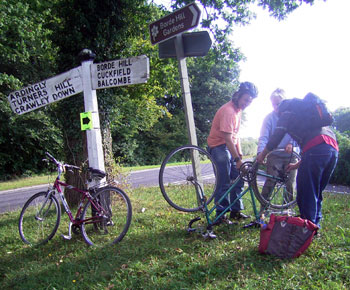 Fixing Sue's chain
 
Altogether a lovely, enjoyable day. The weather was fine with some sunshine, with a slight autumn coolness in the air. A wealth of historical information and places to see – Jim even had an illustrated book with him about the railway. Thank you Jim.
Sue P (written under protest, as a forfeit for listening to the Archers on the way out)
Additional photos by Jim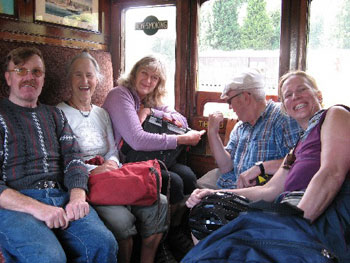 On the train (3rd class)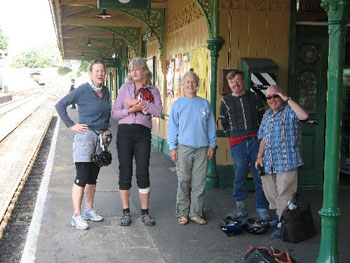 After lunch, at Horsted Keynes station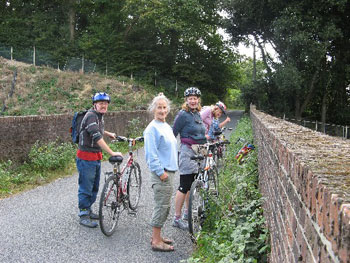 On the bridge in Copyhold Lane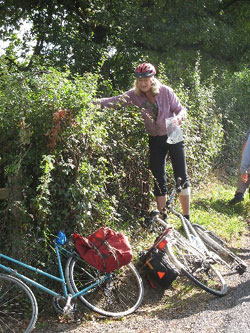 Tessa foraging for blackberries
I have a couple of ideas for future rides based on comments on rides we have done in the past, but would like people's comments before proceeding to plan them, as they involve some longer-than-usual, and correspondingly more expensive, train rides..
Firstly, after the Downs Link ride in July, several people expressed an interest in doing the other half of it, namely from Chilworth or Guildford to Christ's Hospital. This section is about the same length as the southern half (about 20 miles) but the train journeys from Brighton would be more complicated. I would suggest going from Brighton to Guildford (this being easier than Chilworth, although Chilworth is nearer to the Downs Link) and coming back from Christ's Hospital. There is actually a direct train to Guildford at 9.40 (journey time 1 hr 17 min) but as it's a Virgin, I'd have to investigate the cycle carriage policy. Alternatively we could get the 10.16 and change at Gatwick (journey time 1 hr 31 min to Chilworth). The return journey from Christ's Hospital would be 1 hr 12 min with a change at Three Bridges.
The National Rail website tells me that the fare from Brighton to Guildford would be £16.60 and from Christ's Hospital to Brighton is £8.40.
The other idea, prompted by a ride that took place last year (which I missed) and hopefully reinforced by our most recent venture, concerns the Forest Way, which extends the Worth Way from East Grinstead to Groombridge. Unfortunately, until they get their act together and re-open the Lewes-Uckfield rail link, the only way we can do this is to get the train to Eridge via East Croydon, then cycle from Eridge to Groombridge and all the way along the Forest and Worth Ways (these are both former railway lines, so mostly off-road) to Three Bridges; the outward train journey is 2 hours long, with changes at East Croydon and Oxted. The cheap day return fare to Eridge is £19.20, and this would also cover the 30 minute journey back from Three Bridges to Brighton.
Of course, all of the above depends on there being no engineering works on any of the relevant lines, so maybe it would not be possible anyway - but if it is, any takers? (I suppose that for a ride to be viable we only need 2 of us - that's me and one other person - but it would be nice to have more!)
Jim (j.r.grozier@btinternet.com)
Shoreham Tollbridge saved
[From the Bricycles website www.bricycles.org.uk]
Great news! Important local cycling route saved. Major work to repair Shoreham Tollbridge and ensure its future will begin this October. The bridge, owned by West Sussex County Council, is a listed timber structure and a designated public bridleway
Work includes replacing the main crossbeams carrying the decking and replacing the handrails. The cost of the work will be £533,000. Part of the funding has been secured from the Heritage Lottery Fund (£172,000) and West Sussex County Council (£56,000). The Old Shoreham Tollbridge Community Trust's application to Viridor Credits has been successful in obtaining a grant of £50,000 and has also raised to date £40,000. The County Council has underwritten the remaining £175,000 to enable the work to start and which the Trust has to repay within four years.
Work is expected to last for 40 weeks. It has been agreed the bridge will be kept open for as much as possible during this time, but it may be necessary to close it for short periods. West Sussex Cabinet Member for Environment and Economy Louise Goldsmith said: 'A lot of people have put in a lot of hard work for this scheme to go ahead. Shoreham Tollbridge is a vital link for the town and has a lot of history surrounding it. I am delighted work can now commence to ensure its future.'
Chairman of the Old Shoreham Tollbridge Community Trust Liza McKinney said: 'The Trust is delighted that the start of the work has finally been agreed. Built in 1781 and until 1968 actually the A27, its importance today in respect of providing an alternative for getting to work on Shoreham Airport and the industrial complex at its west end has never been greater, not forgetting its constant use by walkers, cyclists and horse riders. The Community Trust will be continuing to fundraise for as long as is necessary to restore the bridge and continue the educational work associated with it.'
Anyone who would like to make a donation towards the Tollbridge restoration fund should contact the Community Trust; Liza McKinney on email elizabeth.mckinney@ntlworld.com or Vera Tickler on vbviscontours@ntlworld.com.
Car Free Day 2007 - Sunday 23 September 12-5pm - 'Streets for People' 
[From the Journey On website: www.journeyon.co.uk/event_carfreeday.asp]
The Lanes and New Road in Brighton will transform into a traffic free, pedestrian-friendly space for everyone to enjoy! Walk, cycle or take the bus to Streets for People and let the world be your pavement. 
 
What's on?
The 'Village Green'
Bartholomews in the Lanes will be transformed into a unique village green in the centre of Brighton using astro turf and trees from Stanmer nurseries.  The turf was used at three schools during Walk to School week in May 2007 and was a huge success with children, parents and teachers. Come and relax on the village green and listen to music on the bandstand...
Little East Street Bandstand
The bandstand will host an afternoon of live music including City of Brighton's Gay Men's chorus, Bombay Baja one of Europe's first Indian brass bands, Silver sounds (older people's samba band), Jazz from Brighton's own Magic Numbers, the Ukes of Hazard, and headlining will be the fabulous Fat 45s – an awesome 11-piece jump jive band playing swing, jive and boogie-woogie.
Playstreet
Pedal powered games and smoothie bikes, music workshops using recycled materials, hopscotch, a games tent with games for all ages including chess, snakes and ladders plus giant jenga and connect4. Plus a giant paint by numbers…
Giant 'paint by numbers' –Throughout the day, people will be invited to colour in a section of artwork and watch a giant city street unfold. The image will be from a resident of the city – the winner of our photo competition.
Solutions Inc – The Solutions inc stage in Brighton Place will be showcasing 10 bands from the Beat The Mix Chart from 12pm till 4pm. 
Bartholomew Square will host stunt bike displays, weird and unsual cycles for you to try out plus a mobile travel clinic, free travel giveaways and information on healthwalks and countryside events.
Local children and performers will parade ten huge letters spelling out CAR FREE DAY through the streets to arrive at the bandstand on Little East Street at 1pm.
On the same day London will be hosting the London Hovis Freewheel [www.londonfreewheel.com]. 30,000 cyclists are expected to participate in one of the most spectacular cycling events that London has ever seen, a 10km London route will be made traffic-free allowing cyclists to enjoy some of London's most iconic sights including the London Eye, Westminster, St Paul's Cathedral and the Mall.
The Hovis Freewheel Festival will be at St James's Park. Highlights include a Hovis picnic, BMX, mountain and trial bike stunts, cycling acrobatics and a cycling circus creating a total cycling experience with a festival atmosphere.