Dear fellow members and friends
17 November 2008
Thanks to Suzanne and the rest of the company for taking over yesterday after my back wheel started to fall apart.
People who were on the Shoreham Beach ride might be interested in a piece on 'Bungalow Town' (aka Shoreham Beach in earlier C20) in the Guardian on 10 November which, among other things, told us a little about the early film production that went on in and around the Old Fort we were looking at on the ride. If you missed it I think one can check it out on the Guardian website.
Christmas Festivities here's the details again from Joyce
Sunday 7 December - meet for a game of boules on the terrain at Al Frescos  at 11 and lunch at Al Frescos. For those who don't want to play you can come and watch - wait for us at the bar of Al Frescos, or join us later.
 
But PLEASE let me know if you are coming and if you have a set of boules (we will anyway try to borrow some). I'm at jedmondsmith@yahoo.co.uk and 01273 680705.

Joyce
And later that day everyone is invited to a show at Tessa's house, 38 Lorna Road, Hove, for mulled wine and mince pies to see the work of 7 artists - ceramics, painting, etchings, glass, jewellery, textiles, cards and buttons.
Also on the next day or the following weekend the Open House Christmas Show continues: 6/7th and 13/14th December 11-6pm
To find out more contact Tessa at  38 Lorna Road, Hove BN3 3EN, 01273 777574.
Planning rides
Dates 14 Dec – New year Brunch Ride - 9 11, 25 January, 8, 22 February, 8, 22 March.
I've got something planned for 14 December – Jim has confirmed he can do his ride on 8 February (which I know I can't make.) But let none of that deter you!
If you want to lead a ride on one of these dates:
Work out your route and – very important- check the trains on the possible dates making sure to research train availability – one needs to check the 'details' on the Journey Planner website to make sure it's a 'train' and not a 'replacement bus'.)
Contact me suggesting the proposed date for your ride (I'll then put your name beside the date so everyone can see what's still up for grabs)
If you've booked a date some way ahead please confirm to me that the ride is still on at least 3 weeks before
Just before the previous ride to the one you're planning – or earlier if possible - send me the details laid out in the familiar format so I can put it straight into the next circular.
Brighton and Hove Cycling Forum 11 November – Jim's Report
I sat in on this as Clarion rep as Roger couldn't make it. There were people from Bricycles, CTC, Sussex University, Friends of the Earth, the Local Access Forum, and Brighton & Hove Council – the latter including two councillors and a council officer. There was also an invited rep from Sussex Police.
Inevitably there were a lot of references to ongoing issues which were totally new to me, and also a fair bit of jargon flying around. As a Clarion member who does not cycle much in town, apart from the bit between Springfield Road and Dockerills (perhaps it would make more sense for us to be represented on the Polegate or Shoreham cycling forums instead!) I was probably not the best person to participate in these discussions, so, on the whole, I didn't, although I did raise a couple of points that Roger had asked me to, including the dangerously high-kerbed cycle lane in Grand Avenue where a cyclist recently had a serious accident, and our own Leon also had a spot of bother there. I'm not sure what, if anything, is going to be done as a result, but at least it got a mention. The Council is setting up a database of 'cycling issues', so hopefully this issue will be included in that.
Probably the best bit of news is that the cycling contraflow in Ship Street, which several Forum members have campaigned for, but was thought to have been turned down in favour of a one-way only option, is likely to go ahead after all. The 'rumble strips' (strips of very bike-unfriendly cobblestones) in Providence Place, Ann Street and other nearby streets have been the subject of much discussion at previous Forum meetings without any action being taken, but I understand a council officer has now been given the job of expediting their removal. However there is no date set for this.
The police representative spoke about the problem of cyclists jumping red lights, cycling on pavements etc, and there was a discussion about why this happens and what can be done about it. These activities give cyclists a bad name, and it was suggested that it would be helpful if cycling groups could make public statements condemning illegal cycling.
The meeting used up its time allocation and we had to skip one agenda item, 'Cycling Priorities'. This, like many of the issues discussed, was an ongoing one which had also appeared in the minutes (why don't they just use the minutes as the agenda, I couldn't help thinking, so that such duplications are eliminated?) Anyway, we were invited to think about the Cycling Priorities for next time; these were listed on the agenda as:
An end to 1-way streets without 2-way cycling;
Speed reduction – urban (20 mph), and rural roads (40 mph);
Cycle parking and development control.
It was good to go along and meet some of the local cycling 'movers and shakers'. The next Forum meeting is on Tuesday 13 January; Roger can't make that date either, so there's a chance for someone else to go, but if no-one wants to I would be happy to sit in again.
Jim.
The Origins of the Clarion Cycling Club in 1894 - Latest episode at the end of the Circular as usual.
Boots!
Ian
The Next Ride
This is a ride we did in May last year. It rained a lot. but Fred, who did the report, thought it was 'exhilarating'. That sounds like a recommendation to me and I thought it would make an interesting pre-Christmas run. It was never a very long one – but given the time of year with it getting dark earlier and earlier I've shortened it a bit more.
Sunday 30 November
Hassocks – Fulking – Newtimber (only 15/16 miles)
From Hassocks, we head through Hurstpierpoint and, across the A23 to Albourne with the old 1930s former Kings Head pub – which doesn't feature in Pevsner's guide - in front of us. We make our way to down to High Cross, down Blackstone Lane and the lanes south of the A281 past Bramlands . But then we will head south again down the appropriately named Clappers Lane (with lunch in sight there will be a natural tendency to speed up). Arriving in Fulking we will try the Shepherd and Dog – the popular pub at the bottom of Devils Dyke – for lunch. If it's too full as it is occasionally we can repair to the Royal Oak at Poynings.
Then we head towards Brighton for a while and then down the lane to Newtimber where we can use the 'Equestrian Route' for a couple of hundred yards until it joins the cycle route besides the A23 and links up (near the 'Llama Trekking' !) according to my map with the road back to Hurstpierpoint where a tea-stop at the usual place may be taken if that's the consensus on the day and train times permit.
Points of interest
Although there is nothing there that made it into the Sussex volume of The Buildings of England, Blackstone is a very pretty village. The Royal Oak at Poynings is actually mentioned there for 'The jollity of the 1880s or so with its plenitude of garlands…'
Near the pub in Fulking is a stream. According to Brigid Chapman's West Sussex Inns (1988) 'John Ruskin…who took a great interest in promoting the well-being of the people of his times (1819-1900) had the idea of harnessing the waters of the Fulking stream to power an hydraulic ram which would pump the supply around the parish. The little Gothic pump house is still there and on it is a plaque bearing an inscription from Psalms 104, 10 and 107,8.'
Newtimber Place is a moated 16th/17th century building. Pity about the constant noise from the A23!
Catch 10.44 am from Brighton station or meet at 10.52 at Hassocks station. Trains for return at 15.38, 15.48, 15.52, and 16.10.
Distance: about 15/16 miles.
Hills: Not quite as flat as some recent ones. A few undulations in Clappers Lane and beyond but no big hills
Off road: Just one little bit alongside the A23 at Newtimber
Traffic: Shouldn't be a problem – roads at beginning and end, and Fulking/Poyning road can be moderately busy but otherwise we'll be on quiet roads and a tiny bit of 'equestrian' track.
Catering: Shepherd and Dog for lunch. Possible tea stop (depending on train times and our own progress) at the Washbrook Farm.
(Be at Brighton station by 10.15 for Groupsave)
Ian's mobile number is 07770743287
The Last Ride - Suzanne's Report
Sunday 16 November
Cuckoo Trail and Pevensey Levels
There we were on Brighton Station needing to buy TWO group save tickets for eight of us: Tessa, Suzanne, Roger, Mick, Leon, Joyce and Anne plus Roger's guest riders Bob and Andrea. Sue and welcome new rider Peter made eleven. The platform-based guard looked at the huge group… we looked at her - the Mohican haircut was a bit challenging and the Germanic accent asking 'Are you all going to try and get on the train?' initially sounded rather daunting – but in the event she was jokey and cheerful and helpful. Of course we all managed to tuck ourselves into the various nooks and crannies of the train and during the journey had an enjoyable crash course on our star signs from Joyce's book.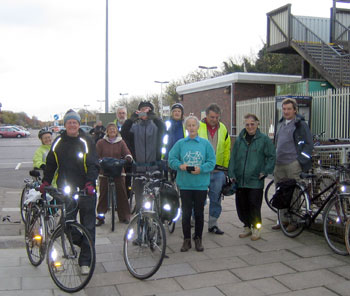 Polegate was soon reached and Ian was there to welcome us. The photo was taken, the loo was visited and then off up the Cuckoo Trail, where the bike was knackered – yes, our leader had a major mechanical failure and had to abandon sheep, leaving his shepherding duties (and, fortunately, the map) to the tender mercies of Leon, Suzanne et al. But you lose one and you gain two. Alan (of the Hinton variety) and partner Debs joined us soon after. The cycle track to Horam was its usual delightful, leaf strewn autumn self. Sue had to leave us to go back to Brighton – thus causing horrendous problems to anyone trying to lead, as by then none of us could remember how many of us there should have been.
Off down Vine Cross Lane. Or at least some of us went down Vine Cross Lane, but an incompetent Suzanne failed to do her duties correctly and abandoned some of the group who did not see the going of the first bunch (don't tell Ian) but eventually we arrived at the Brewers Arms. Oh look, there's a lot of cyclists here already. Not just any cyclists, but no less than the Brighton wing of the CTC. Fraternal greetings were exchanged and then all the Clarionettes squeezed into to a lovely little room (not much bigger than an inglenook) to be plied with huge quantities of home made rolls and 'lashings of' butter before all the excellent meals turned up accompanied for some with even more rolls and butter. (Sorry Fred, Roger only got round to taking the photos of the food AFTER it had almost all been eaten.)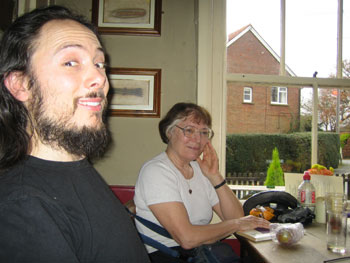 We finally prised ourselves away from the warmth and snuggery to set off in orderly formation from the pub car park, only for one patron to remind us that we had left a map and for another of the group to have left his/her (no names, no pack drill) rucksack. Down several exhilaratingly long hills, turning right into Hammer Lane, through Cowbeech, up Cowbeech Hill and right at Stunt's Green – all except Hinton junior who got overexcited and tried to go whizzing off to Hurstmonceux until retrieved by Leon, Peter and Bob. Through Ginger's Green and an elegant waft down Cricketing Lane brought us to the wet and reedy Pevensey Levels. Unfortunately at this point the water on the marshes was joined by the water coming from the sky, but nothing daunted, we turned right at Rickney Farm and made our gentle way back to the Cuckoo Trail.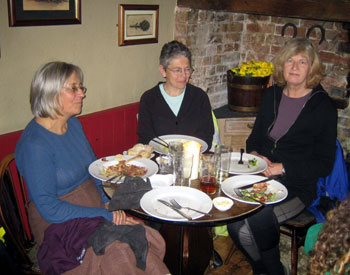 Despite some concern about the fading light it was decided that The Loom Tea Rooms beckoned. Much tea and cake was consumed on said premises. Necessary fortification for the shortest of short rides back to Polegate Station in the fading light, and the very brief wait for the Brighton train.
Many thanks to Ian for a very well planned ride and to everyone who helped with shepherding.
Suzanne
The Origins of the Clarion Cycling Club and cycling in the 1890s
Reports from Bradford and Liverpool plus a recommendation from Swiftsure
On 20 October 1894 Swiftsure reported:
Bradford Clarion C.C. are finding the uncertain weather a slight damper on their intended Sunday runs.

The following report, however, shows they are all alive and pedalling.

During the next fortnight our nights will be filled up parading the different wards of the town to draw attention to our candidates for the municipal election, We have started a club as you suggested for purchase of machines or hire system, 1s. per share per week. I.L.P. men may have particulars fro the cyclists' secretary, East Ward Labour Club. Yours &c PEDLAR

In Liverpool they were also busy

Liverpool Clarion C.C are hard at work assisting Sam Reeves' candidature for the City Council.

Next Sunday's run to Preston. Meet at Newsham Park 10 a m

The following week – 27 October – Swiftsure recommended

...the new Humber ladies' 'safety'

…the machine will be in great demand next season, particularly amongst those who, like myself, have a wife who is desirous of taking an afternoon's spin on their husband's machine, but objects to wearing the necessary bifurcated garments.
Next time – 'The Bounder in Brum' including the B'ham CCC's dinner.