Archive
16 October 2004
Dear fellow members and friends
I'm not going to be able to manage the ride on 21 November. Volunteer organiser please!
There have been various interesting suggestions for 'special' events/activities of one sort or another – mainly from Ed and Joyce. You don't have to commit yourself at this stage but it would be really useful to know how many people were interested in principle in taking part. Please let me know that you are interested in any (or all!) of the following:
A Christmas get together.
A hostel weekend at Blackboys in the Spring
A Normandy weekend based on Dieppe and using the route verte.
Next Rides
Sunday 24 October
Joyce is organising this one and will give details next week.
Sunday 7 November
Centurion Way, East Dean and Goodwood
(only about 14-15 miles)*
From Chichester station we'll take the Centurion Way – which Im reliably informed is an ex-railway track surfaced much like the Cuckoo Trail to West Dean. After that we have – unavoidably – about a mile and a half of main road to Singleton before turning off onto the little country lanes. We might stop for a pint at the rather topically named The Fox Goes Free described in the Good Beer Guide as 'a fine sixteenth century inn' at Charlton, or a mile further on at the Star and Garter at East Dean. We can return to Chichester via the road past Goodwood racecourse – flat season has finished so no race goers cars to contend with – which runs steadily downhill (I've checked it) for at least a couple of miles. Then we cut across to East Lavant and return via the Centurion Way again.
Catch 10.10 from Brighton station or meet at Chichester station at 10.53. Best bets for return are the 14.53 (15 at Brighton) or the 15.21 (16.06 at Brighton). No changes on any of them.
On the 10 October run we averaged only 7 mph (lots of stops for photos etc) Assuming the same speed – on this predominantly flat or downhill run – we can be comfortably back in time for the earlier train and still have an hour plus for refreshment stop or stops!
* some people on our mailing list have said that they find even our usual 20 to 25 mile rides a bit long – to start with. And now it gets dark early it is important that we can get back to Brighton station in the light. So during the winter at least some of the rides – like this one – are going to be shorter than most have been until now.
Last Ride
10 October
Cuckoo Trail and Pevensey Levels
Most of us will have already received Joyce's excellent account – but we've had one or two additions to the mailing list since then. So here it is once more!

We were blessed with a wonderful autumn day – sunny clear and just enough cool wind to keep one comfortable. The berries , the wind rustling in the trees , the changing leaves , and the wide horizon of the Levels were a joy. It is true the cold wind came down when we were waiting at the station – but home and a hot shower were on the horizon by then.
Poor Ian must have thought he had been landed with two old crocks.; There was me – still not sure I was fully remitted from sciatica, and Fred insisting that he had not done more than a couple of miles in a very long number of years. As it turned out Fred kept up totally and said the only ill effect was a sore rear end. With a lot of puffing I managed (it is frightening how quickly one gets out of shape) and the good news is that, apart from the odd twinge my back held up and is fine today. We did, of course, go at a very leisurely pace ...
It turned out to be a day of 'hail fellow well met' with the cycling world. Fred and I met the very amiable Bricycles group on the train, heading for Berwick. We met up with them again on the Cuckoo trail. We also met up with the Brighton CTC group in the Brewer's Arms ... They had done about 30 miles to our 10 ... I did feel a bit like the nursery slopes – but Hey – we had a great time ...
So – after meeting up with Ian at Polegate we headed for the Cuckoo trail – always reassuringly welcoming and easy. Then off at Horam to Vines Cross – and a good hour or so in the Brewers's arms, where we made plans for a Clarion Web site ... (we did not try it this time but they have a very good roast dinner +nutroast option – for next time maybe). At this point we had still only done 10 miles ... After a good rest we headed off to the Pevensey Levels, with Fred being especially struck with our wonderful Sussex names – we now have a photo of a slightly altered 'Ballsocks Lane' sign.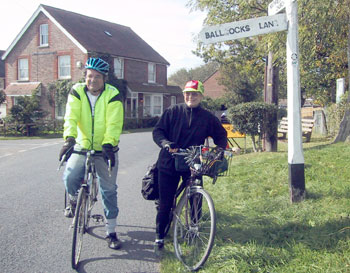 Then through the Pevensey Levels - here we did feel the wind sweeping across that open space. but it was exhilarating. Back into the Cuckoo Trail so that we could end up at the tea place for tea and scones before heading for home.
Boots!
Ian