Dear fellow members and friends
15 September 2008
Me again! Ian is still away but returning soon. I've included the Picnic report below – sorry for forgetting it last time!
Jim.
Planning rides
Here are all the remaining dates for 2008: 12 Oct (Roger, Hayling ride), 2 Nov (note 3 week gap), 16, 30 Nov, 14 Dec. The last 4 dates are up for grabs if you fancy planning a ride.
Incidentally, some information on next April's Isle of Wight ride has now been posted on the website, under "Suggestions for Future Rides".
And remember – Monday 22 September is World Car-Free Day. More info at www.worldcarfree.net/wcfd/.
The Next Ride
Sunday 28 September 2008
Chiddingly Festival
There' s bit of history to this one. Back at the end of July I received an email from Fred ('a suggestion – no, I'm not volunteering!') which said – and I quote - 'we could perhaps reprise the ride only me and Ian did for 28 Sept??' This was because Fred had got wind of the Chiddingly Festival and the beer festival that is going to be part of it that weekend. The beer festival bit in the attachment Fred sent read 'Saturday 27 September 12:00 to 7:00pm, Sunday 28 September 12:00 to 5:00pm Chiddingly Village Hall and Marquees, Parking in the Field by the Six Bells Pub' Well I was a bit apprehensive, seeing in my mind's eye the headline 'Brighton Clarion found guilty of drunken cycling (again)' but Roger and Jim to whom Fred also sent the details seemed quite keen. A brief correspondence with Fred followed in which he said:-
the only after thought I had is that if it is a beer festival we may have trouble ordering food in time? It'd be nice to do a quick visit to an open house - some friends of mine are in the one at Graywood studios
And he gave the directions to somewhere in the vicinity of East Hoathly.
At the time of writing Fred is at the Edinburgh Festival and I'll be away by the time he returns. So, no time for further consultations (or second thoughts). Here's what I've decided.
* * *
We'll meet at Berwick station and to make it a bit more interesting for me and Fred (and to get the beer ASAP) we'll reverse the route (give or take) that he and I did a few weeks back. We'll check out the beer festival and either get something to eat there (it says refreshments are available) or at the Six Bells or – failing both – at the King's Head in East Hoathly (backtracking if necessary to visit the 'open house' of Fred's friends) This is fairly flat and only about 17/18 miles – but with all this imbibing and art appreciation that may be enough!
Catch the 10.20 from Brighton station or meet at Berwick station at 10.43.
We can take advantage of the half-price "Groupsave" ticket option if there are at least four of us. To do this, you need to be at the station half an hour before the train leaves, so that there is enough time to organise it. (Please try to be at Brighton Station by 10.05 if you want to get a Groupsave ticket.)
Ian's mobile number is 07770743287
The Origins of the Clarion Cycling Club in 1894 - Latest episode at the end of the Circular as usual.
Boots!
Ian
Clarion Picnic
(Apologies to Joyce, and everyone else who went to the Picnic, and everyone who didn't but wanted to know how it turned out! Joyce sent me this in good time for the last Circular, but I forgot to put it in! Anyway, here it finally is … Jim.)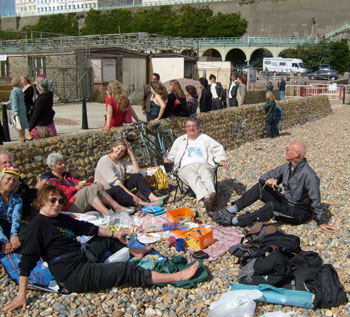 Sunday 24 August started in a very dispiriting way, waking to yet more rain and a sombre overcast sky. But – ever optimistic – a few phone calls proved that Clarion members (well some of them) are a hardy lot. First arrived were Joyce (me) because I was worried that someone would turn up and leave immediately on seeing no-one, and Leon who had kindly turned up to help carry some gear. Once on the front and by 12 the rain had more or less stopped, although the sky remained overcast and the wind still strong.
But people soon arrived, Anne, Ian, Sue, followed soon by Mick and Sheila. After much hesitation we decided that picnic on the beach it would be – no sloping off to the nearest cafe for us! We found a spot behind a handy wall and, by the time covers were out, seats put up – lo and behold the sky was clearing. Putting all the food together revealed a fantastic spread, with the great rock cakes from Leon's wife Joyce who wasn't even there .... And soon the sun was shining. Sue arrived as did people appearing from wherever they had been hiding (down to a very numerous wedding party to whom we serenaded "here comes the bride" in song, mouth organ (Sue) and some strange kind of whistle (Anne)).
We were then joined by two of Sue's friends – (forgotten their names maybe someone will fill in), one of whom had travelled to Brighton by bike from Sweden! The afternoon passed in a typical Clarion way:- eating the scrumptious food, chatting, avoiding political arguments (just), playing "gobs", "five stones" or "dabs" (we couldn't agree on the name since it seems to have a different name in every town!). Joyce won the Clarion Gobs' championship and was duly presented with a signed stone. No one swam because the red flags were out.
So it was a great Brighton afternoon in the sunshine. Let's have another Clarion Social event in the winter at our usual time. And let's have ideas from you all and then we can take a collective decision.
Joyce
The Last Ride – Tessa's Report
Sunday 14 September
Three Bridges Circular
[More photos on Flickr]
Jeff, Jim, Roger, Suzanne, Richard, Ann, Mick and Tessa all caught the train to Three Bridges where we met Leon, his son Lawrence and grandson Luke.
We sped off along a busy road that had a narrow cycle track to join Cycle route 21. On this lovely day it took us first into the woods towards Worth where it would become the Worth Way. I was struck in the dappled sunlight to see no sign of autumn colours yet, everything very lush and green – I wonder why?!
An avenue of limes leads down towards Worth Church, where Sunday service was ending. Children clutching Chocolate Digestives rushed about the graveyard and friendly adults chatted to us about the Saxon Church and its Norman Font.
On leaving the church, Jeff told me that there was a myth that Lord Alfred Douglas (of Oscar Wilde fame) was buried in the churchyard. It's not true, he is buried in Crawley with his mother. Crossing the busy M23 by overhead bridge, Jeff realised he had left his rucksack full of precious books and maps in the church porch, he rushed back for it.
Whilst waiting for him on an open section of the track, Jim treated us to some modern day archaeology. He pointed out a lump of concrete in the field parallel to our track and to the vegetation on either side which differed from the rest of the field. It was the path of the railway line and cutting that had been filled in at the time the M25 was built.
We passed Rowfant station where the station buildings still stand but not the platforms. Our path emerged into suburban Crawley Down and then back into the woods at Crawley Down Pond. We didn't spot a kingfisher though there was a picture of one on the noticeboard.
At East Grinstead station Jim pointed out an old section of line by a wooden painted sculpture which he said would have made a good section of Sustrans route. (I am trying to include railway references!)
A long section of busy Lingfield Road followed, luckily it was mostly downhill and led us to The Star our lunch stop. Our lunches came quickly, dutifully photographed by Leon, and we had to eat them at top speed because although sunny, there was a cold nip in the air. We looked at Jeff's Victorian cycling book and Lawrence told us about his close encounter with a crocodile in Australia. After lunch, those of us sitting in shade moved to bask in the sun and to peruse Jeff's 1877 linen backed map of the area and his Navigator uncle's origami book of maps.
The skip in the Pub carpark provided us with 2 new Clarion members (or mascots) Teddy and Monkey aka George and Julian. They hitched a ride with Leon and Jeff.
We spent longer than we meant to at St Peter and Paul's church in Lingfield as we met an enthusiastic guide who told us its 14th century history. Originally a mausoleum for the Chobham family, alabaster figures lie in state, Saracen infidels below their heads and feet, wishful thinking on their part as none of them took part in the Crusades.
As we left the Church, Leon fell off his bike and got a nasty graze. He was grateful for his helmet as he would have hurt his head as well.
A quiet Sycamore lined avenue followed that had the sense of a private drive. Researching it later, Jim discovered the 'big house' Ardenrun had been razed to the ground by fire. It is known locally as the 'Bentley mile' as there was a family association with the Bentley car firm, Le Mans and racing. It now has speed bumps.
Our first section of 'Off road' – a bit muddier than Jim had anticipated – We saw and photographed a frog.
Our second section of 'Off road' – Jim fell over luckily onto soft wet grass. We had to carry mudcaked bikes over stiles (thank you Lawrence!) through quagmires and puddles, prickly bushes and nettles to the sound of noisy and possibly threatening bullocks.
When we got to the third stile Jim said 'Oh dear…' and trudged back to see where we had gone wrong. Climbing over the third stile I found a clear and perfect path leading in the right direction so bikes were passed over the barbed wire fence and we carried on to emerge onto road. At Brickhouse Lane we stopped to administer plasters and dislodge mud from wheels.
By that time most seemed keen to forgo the tea in a pub stop and head back along quiet roads frequented mostly by faster than us cyclists. We rejoined the Worth Way getting a close view of the concrete archeological artefact mentioned earlier.
We sped into Three Bridges with minutes to spare for the Brighton train.
A crowded train but it did have a tea trolley!
Thank you Jim for a wonderful 27 mile ride!
Tessa
The Origins of the Clarion Cycling Club and cycling in the 1890s
17. 'Swiftsure' anticipates an event in Manchester – and the beginning of his report
Clarion, 6 October 1894 'Swiftsure' reports.
The cyclists' parade and musical ride which takes place tomorrow in
Manchester promises to be a great success. The paraders leave
Albert Street Police Yard at 6 30 for the Botanical Gardens, Old
Trafford.

The musical ride will be a great novelty and the most marvellous thing being how the riders will keep their air-shod 'gee gees' going at a slow pace. Some of them will feel quite qualified to perform as track riders afterwards. It is firmly expected by the promoters that a new record will be established in the amount of support, and in the novelty of the costumes to be paraded.

So, roll up, Clarionettes, and view the fun. You will not miss the coppers which it is hoped will be wheedled out of you.
The following week, 13 October, he followed this up with a long report. Here's the start of it.
Those Manchester readers who failed to witness the cyclists' parade last Saturday missed one of the finest spectacles that has ever passed through the Manchester streets. I can safely say that such a collection of grotesque, burlesque, and every possible style of fancy dresses has never before been seen gathered together in the kingdom. The cyclists of Manchester have been about the last to adopt the idea of parades as a means of assisting charitable objects, but when they did go in for it they did it in the manner which reflects the highest credit upon all concerned.

The police authorities hardly did their duty in keeping the streets clear for it, but excuse can be made for many things, in that few expected such a magnificent and numerous turn-out. Had it been known what a spectacle could be made of such a parade, barriers would have been needed to keep back the crowd to view it.
Next time – More of "Swiftsure's" report