Dear fellow members and friends
14 September 2005
Thanks to Neil for organising last Sunday's ride. Glad to hear a good time was had (see Tessa's report below). I should be OK for the next 4 – the ones below and the next two after that – but can't do 20 November and 4 December. So volunteers for these two – and suggestions for routes I haven't yet thought of please!

Boots!

Ian
The Next Rides
Sunday 25 September
Hickstead – Wineham – Shermonbury – Blackstone – from Hassocks again – but in the opposite direction
Our route goes north for a while, by Hurstpierpoint College then round the lanes to just by the motel off the A23, crosses (on a bridge!) to Hickstead and then takes Bob's Lane across to Wineham (possible lunch stop at The Royal Oak). Then down the lane and track through Shermanbury which I have checked out – much better than that Abbot's Wood stretch on the Cuckoo Trail ride in August. After that there's short unavoidable bit of A281 with another possible pub stop at The Bull (shades of the Archers which seems to do just pasta and pizza and then down the B2116 as far as Blackstone Lane; down that and across and round by Bramlands, joining A281 for just a short spell before Shaves Wood and back to Hurstpierpoint and Hassock via the aptly-named Bedlam Street (or near it). It's about 19 miles and pretty flat mostly.
Catch the 10.58 from Brighton station or meet at Hassocks station at 11.10. Return trains at 38 minutes past the hour. All are no-change Southern trains.

Sunday 9 October
The Centurion Way Revisited
We did this one last November (see archive for report and photos), but I'm suggesting a few changes in the latter parts of the route. First we'll find the roadside cycle path that avoids all or most of that mile and a half of main road to Singleton before turning off onto the little country lanes. We might stop for lunch at The Fox Goes Free at Charlton, like we did last year or go on a mile further on at the Star and Garter at East Dean. In any event this time we'll go on to East Dean. The hill as we turn for home – this is the middle of the South Downs – is a less challenging than the one I misguidedly made a last-minute decision to use last year from Charlton. We can then run steadily down back to Chichester. Finding the Way at East Lavant was a bit of a problem last year, so we can just stay on the little country roads back into the city. Only about 17 miles
There seem to be 2 trains – both Southern – at 10.17 from Brighton station, one direct one that gets to Chichester at 11.19 and a second involving a change at Hove which rather mysteriously gets there only at 11.19. So let's say meet at Chichester station at 11.19. Best bets for return are the 14.53 (15.57 at Brighton) or the 15.15 or 16.15 which involve changing (or getting out at!) Hove.

The Last Ride – Tessa's Report Photos by Joyce
Sunday 11 September
Hassocks Ride 21.4 miles

Joyce and Tessa travelled to Hassocks where they met up with Neil who had planned the route and ridden it during the week. We persuaded a young woman to take the first photo of the day in front of the station before we set off.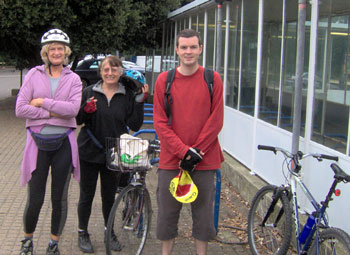 Tessa, Joyce and Neil

The first cool and cloudy day for a while but no threat of rain. We reached quiet roads at Spatham Lane after riding through Keymer to Ditchling. We turned right into 100 Acre Lane travelling through woods to Wivelsfield Green. Right again to East Chiltington past hedgerows of plump blackberries and fields fringed by the Downs. Then on to Plumpton Green and down Mount Pleasant bridleway.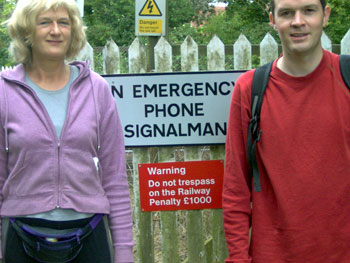 Tessa and Neil living dangerously!

We crossed the railway line carefully avoiding the rails as one was live. We wondered how people on horseback managed? Second photo-opportunity was Tessa and Neil framing the 'live rail' notice. The bridleway continued turning into a concrete farm track. The route formed a loop around East Chiltington and we arrived at the Jolly Sportsman having completed half our mileage. Lunch was good but fairly minimal due to the expense, it is a gastro pub.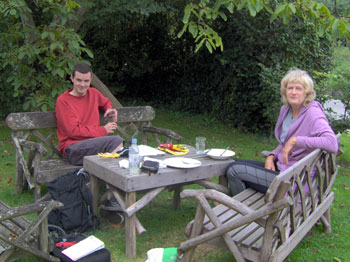 Neil and Tessa take lunch

Back in the saddle down country lanes and another bridleway spotted by Joyce which led to Plumpton racecourse. A concrete path led past Streat church and more blackberries. We stopped to fill the gap left by lunch and to buy marmalade and plants at the church stall.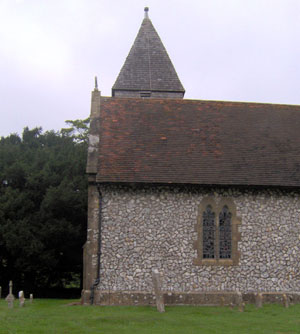 Streat church
The bridleway to Westmeston opened out into an area surrounded by fields contrasting with the woodland we had just passed through. A field of beans caught our interest, they were brown and withered and rattled in their pods. Were they soya? Or a new breed of mini broad bean? We couldn't decide.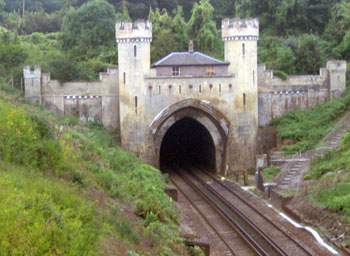 Clayton tunnel

A sharp turn led us to Underhill Lane, the road was closed to cars so we sped with confidence past beautiful views to Clayton. Tessa saw the house built on top of the tunnel with two turrets for the first time and Neil spotted one of the windmills sails turning.
We visited Clayton Church to see the frescoes and tried to have tea at the Jack and Jill pub.

There was no cake on offer and only PG tips (no Earl Grey) so we decided to head back to Hassocks on quiet New Way Lane past Danny House. The Hassocks Hotel by the station was no better as a tea stop, but we weren't to know.
Neil left for home and Joyce and Tessa caught the train feeling it had been a wonderful day out.

Tessa