Dear fellow members and friends
14 April 2008
Thanks, Jim, for taking care of the last circular. Good news about Sheila who is now out of hospital and, I'm told, managing with one stick. Ed is recovering from a throat operation and waiting for a knee replacement – in June with a bit of luck. Best wishes from us all to both. Lot to report this time.
TakePart
I've now confirmed – and completed a 'risk assessment' for (really!) – the Shoreham Harbour 'leisure ride' we're offering as part of this local sport promoting event. It falls on Saturday 5 July the day before one of our scheduled Sunday rides. Last month I wrote 'I'm quite happy to do this one and the 'regular' ride the next day (see below) but it would be nice to have a couple of other Clarionettes (sic) to assist. How about this – if anyone has in mind a ride that's a bit more challenging, and assuming trains and other factors allow, why not schedule that for Sunday 6th? Then anyone who thought it was a bit too challenging would have the option of helping with the 'taster' the day before and would still get their fortnightly ride.' So far no takers. Will there be any or is it going to be just me on 5th? [I can do the ride the next day unless anyone else particular wants to, but it would be handy to have a couple of 'definites' to help with the 'leisure ride.']
The Toll Bridge ride
is scheduled for 27 July this year. This falls between two of our own regular rides. We agreed earlier that if this happened we would try to do the Toll Bridge as an 'extra'. I say we, but I shall almost certainly be away that week (and possibly for the following weekend). But this shouldn't deter anyone and I'll sponsor whoever asks me first! But it might be an idea if someone would take on the task of co-ordinating our participation. Any offers?
Brighton Festival
(At least) two of our members have things to go and see. Tessa will be exhibiting her ceramics on the Hove Arts trail at 51 Wilbury Road. Sat and Sun 11-6pm during the Festival. Fred's new prints will be on display at Dragonfly House, 48 Ditchling Rise
Planning rides
Here are the remaining dates 25 May ; 8, 22 June; 6, 20 July, 3, 17, 31 Aug; 14, 28 Sept, 12 Oct, 2, 16, 30 Nov, 14 Dec.
If you want to lead a ride on one of these dates: -
Work out your route and – very important - check the trains on the possible dates making sure to research train availability (one needs to check the 'details' on the Journey Planner website to make sure it's a 'train' and not a 'replacement bus'.)
Contact me suggesting the proposed date for your ride (I'll then put your name beside the date so everyone can see what's still up for grabs)
If you've booked a date some way ahead please confirm to me that the ride is still on at least 3 weeks before
Just before the previous ride to the one you're planning – or earlier if possible - send me the details laid out in the familiar format so I can put it straight into the next circular.
B&H Cycle Forum Meeting 1 April 2008
Roger attended the Cycle Forum meeting for the first time. Here is his excellent summary [trust the meeting took place after 12 o'clock! I B]
Cobbles in Ann St and Providence Place: these will either be removed or have gaps (1.5m) for cyclists; the cost will be met by the developers under a S.106 agreement which is still being finalised – hence the delay. Expect a result in 2-3 months.
Cycle Freeway in Grand Ave: possibly the first of many at locations yet to be determined. This one is not yet finished – road colouring and better signs are coming, plus a toucan crossing to replace the seafront pedestrian crossing, providing a direct cycle route north from the seafront cycle path.
There have been several accidents at the junction of John Street and Edward Street, often involving cyclists crossing going south into George Street. Improvements are expected, but no details yet.
Using the road where an off-road cycle route is available is still a legal option for cyclists. A recent survey showed about 23% of cyclists still choosing the road rather than the seafront path. The Council wanted to exclude cyclists from new bus lanes on the coast road near Rottingdean; so far Government approval has been refused.
There has been talk of a 5 mph speed limit in New Road, but it is unlikely to come to anything. There were comments about it being difficult to cycle at 5 mph – I resisted the temptation to make any mention of Clarion at this point. A survey in New Road shows that on average cyclists move faster than motorised traffic.
The Council is bidding for a 2nd lump of Cycling Demonstration Town money (now called 'Cycling Town'). If successful it will fund more personal travel plans, cycle training, freeways and advanced stop lines (with an ultimate target of all main junctions).
Under the Council's new leader and cabinet structure, there will be a 'Member champion' for cycling. Could be Tory Cllr. Tony Janio.
The forum is supporting 20 mph limits in residential and retail areas.
The seafront cycle path is being widened and re-surfaced between the Peace Statue and West Street. The boundary line on the south side is raised a little to warn pedestrians against wandering across it.
North Street proposals: the forum is keen to maintain a safe route for cycles in and out of Ship Street and to see the North Street Quadrant route re-instated in some form – I expressed doubts about the safety of mixed use for this paved area.
Roger
Clarion Easter Meet - Bob's Report
113th Clarion Easter Meet, Stamford 2008
Bob and Colette were the fortunate local members who stayed in the wonderful stone town of Stamford over a chilly Easter weekend. Lady Anne's Hotel was a lovely idiosyncratic old set of buildings with creaking floors – stories of ghosts, naturally, an over the top selection of decorative styles and welcome haven from the snow and the icy Fenland winds.
There was some cycling, despite the weather! Saturday afternoon featured a 11.5 hilly mile Time-Trial (it seemed that way round) at Essendine, about 6 miles from Stamford. This was an Open Event, so there were some fast young people using their skinny legs to propel themselves around in half an hour or less; unusually for a race, there were no bare limbs. Flurries of snow, a biting north wind, siren cries to stop and join the pub crew half-way round, and a shock from an East Coast express train only yards from the road, all made it a memorable 41mins 28 secs for Bob; he was well down the field!
Sunday was going to feature the highly organised Sportive rides. There were 150 entries for the events; 150km to start at 8.00am, 100km at 9.00 and 50km at 10.00. The local Clarion Section had signposted the entire course on Saturday, bought mountains of bananas and Eccles cakes, and was ready for a 7.00am signing-on at the hotel. The event was going to make good money for the Club. The heavy snow put paid to all this and a decision to cancel was taken at 7.15 am. Thus Sunday night's Clarion dinner featured bags of bananas and Eccles cakes as compulsory raffle prizes. The event is being rearranged for May Bank Holiday Sunday; does anyone want to impersonate me and make use of my entry number?
However, it did mean a good turnout for the guided town walk later in the morning; Stamford is a gem. It escapes much of the tweeness of Cotswold towns and it doesn't feature the grandeur of Regency terraces, but it was England's first conservation town, for its remarkable unity of stone across many styles. The two hour outdoor stroll called for a decent pub; Stamford has many and we did extensive research on the subject.
There were excellent social events; Ian Clarke's (very) extended family all live in the Peterborough area; they gave us an excellent band for the Saturday night buffet and dance and singer and pianist for the Sunday dinner and presentation. This was our fourth Easter meet (why did we miss the first 109?) and the best yet.
As for the Saturday conference business, it was all a damp squib. Despite leading all to believe that he wished to attend an appeal, Charles Jepson merely gave a letter to the Appeal Panel. I'm not going to waste any more time on him. Full details can be seen in my letter to Section Secretaries.
Next year's Meet is promised for Lancashire; Crosby to Calne, Morecambe to Manchester, somewhere in that area. Colette and I have indicated our support for a Southern Meet in 2010; further details to follow.
Bob
The Origins of the Clarion Cycling Club in 1894 / 'Cyclo-phobia'
Latest episode at the end of the Circular together with a piece by Walter Southgate.
Boots!
Ian
The Next Ride
Sunday 27 April 2008
Centurion Way, Dell Quay, Slaterns Way, and Chichester Canal
Just a short way up Centurion Way – not quite as far as with the 'New Brighton' ride a few weeks back , then off down, initially, the B2178 south to Fishbourne , a short stretch of the old main road and down to Dell quay for lunch at the Crown and Anchor. Then the Slaterns Way cycle route down to the Salterns Marina, over the swing bridge and back via the Chichester Canal with probably time for a tea stop at the open-air café at in the canal basin.
Catch the 10.22 from Brighton Station or meet at Chichester Station at 11.19. Best trains back seems to be the 15.43 or 16.24.
This is the one we did for the first time just over a year ago. Anne's report mentions that the canal 'was thronged with birdlife; a swan's nest with graceful occupant taking after-lunch nap, then dozens of baby coots and moorhens with their respective parents, with their red or white bills, and other nesting birds that could have been curlew.'
The Last Ride - Tessa's Report
13 April 2008
Pevensey Levels Ride
Alice, Fred, Joyce and Tessa took advantage of the group ticket discount and bought day return tickets to Polegate half price, £3.50 each.
Together with Leon who had started his journey in Hassocks, we boarded the train. We did not have to compete for space with any other cyclists so were able to sit together for the journey. Leon spotted a member of the rock band Status Quo going into the toilet so we all stared at him when we came out and speculated as to why he preferred train to Stretch Limo. We decided he was Green.
Nick had been the first to arrive by train from London and had been joined by Ian, Amanda, Anne and Mick.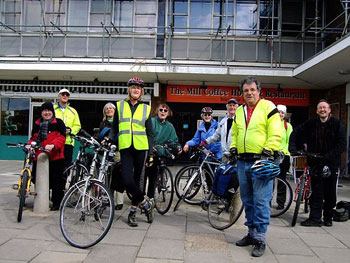 Auto photo at the start
The Group Shot at the Station deserves a closer look when it is put on the website. Rather than ask a passer-by to take our picture, Leon set up a time delay shot on the station wall, ambled over to join the group just as a passer-by threatened to amble past us at the crucial moment. Our expressions range from alarm to hilarity at what is about to happen (but didn't), the picture was taken just in time though his shoulder bag almost brushed the camera off the wall.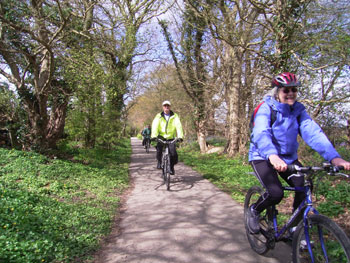 The Cuckoo Trail
We hit the Cuckoo Trail, crossed over the A27 and on leaving the Trail headed towards Rickney on the flat marshy Pevensey Levels lined with tall Sedge grass. Blackthorn was in flower, Leon waxed lyrical about Sloe gin (the fruit of the Blackthorn) and Tessa wondered if sloes could spice up an apple crumble.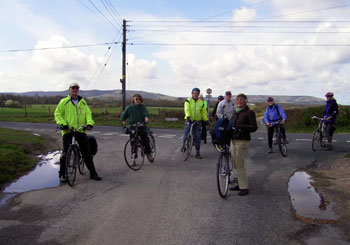 Crossing a road
Bluebells and primroses were seen and purple primulas known as the Scottish Primrose. A stretch of proper road followed leading us towards Wartling where we joined Horsewalk Lane a small downhill road with a sharp turn at the bottom. If you missed the turn you would land in the waterlogged ditch that ran on either side of the road. There was a 'No Diving ' sign on the roadside which seemed a bit excessive.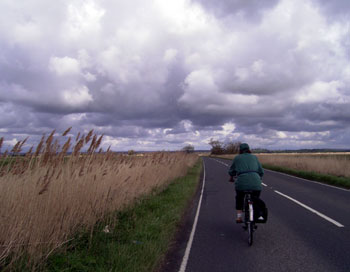 Ominous clouds above the Levels
We climbed a hill and sailed downhill to Hooe Common and the Red Lion.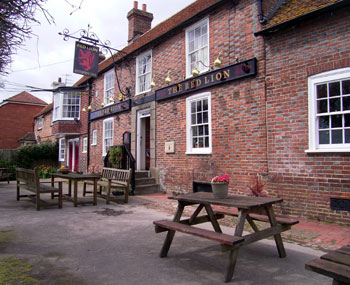 The Red Lion at Hooe
Two tables pushed together and covered with red gingham awaited us (Ian had phoned to book). A warm welcome and a huge menu. Our fare ranged from Cheesy Chips to whitebait eaten over convivial conversation which touched on Clarion politics where it was decided that our group was 'the lonely group of sanity.'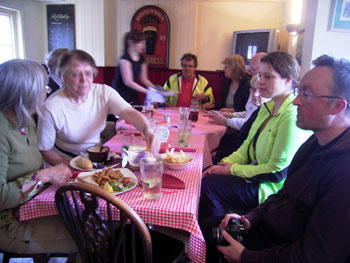 Lunch
Ian promised there would be no more hills in the afternoon. There were. A stiff breeze pushed into us as we headed back towards Rickney. There was no sign of the threatened rain as we passed fields of sheep and lambs, pigs, horses at a gymkhana and a donkey, all this added to the swans and [grey] heron spotted in the morning. Part of the way was spent on a farm track that ran beside the A27, the nearest we got to off-road.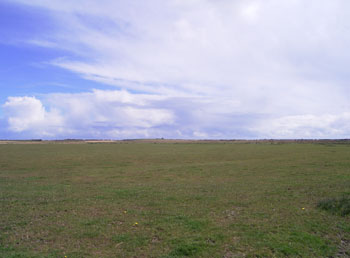 That's what I call Level!
We joined the Cuckoo Trail at a point very close to the Old Loom Teashop so of course we stopped. It was warm enough to sit outside where we admired a brown dog that had come from a Rescue Home in Shoreham. Nick left to catch the London train, the rest of us ambled to the station where we went our separate ways.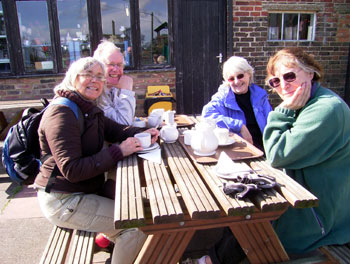 Tea at the Old Loom
Another delightful ride. Thank you Ian
Tessa
[Again, even more and bigger photos on Flickr.]
The Origins of the Clarion Cycling Club and cycling in the 1890s
6. Potteries No 2 Branch, 'Cyclo- Phobia' and 'cycling camps'
The Clarion Cycling Club in Birmingham had started something. The report of their first tour appeared in the Clarion at the end of April. As we've seen in previous instalments (now on the 'history page' of the website) their was considerable enthusiasm to follow suit in other areas. 'Bewicke's' letter from Newcastle appeared in our last Circular. In the same issue, 28 July, 'Swiftsure' (aka Frank Leeming) included another in his now regular 'Cycling Notes'
Potteries (not Hanley) No 2 Branch Clarion CC. Seeing we are such friends with Brum CC we must follow close on their footsteps. Stafford was the run on Saturday last, but local weather spoiled an otherwise enjoyable outing. Just fancy going past Stafford Gaol with Clarion badges on! The club is now 16 strong and still growing. Now, Clarionette cyclists, come up to scratch. Would like to know more about the meet at Ashbourne on the third Sunday in August.
This seems to be the first appearance in connection with the Clarion CC of the word 'meet'. 'Swiftsure' followed this letter with the following plea:-
Might I once more invite all Clarion cycle clubs or cycling Clarionettes to send me any interesting items or news coming under their notice. I desire to make this column as amusing and instructive as other portions of the Clarion, and can only hope to do so by the aid and assistance of its readers.
'Cyclo-phobia'
'Swiftsure' identified this unfortunate mental condition long before most of those Evening Argus correspondents we so enjoy hearing from were even born – or probably their grandparents!
From the Clarion 4 August 1894 'Swiftsure's' Cycling Notes again
Cyclo-phobia is a very prevalent complaint in these trying days; whilst very noticeable in yelping dogs and cap-throwing boys, it reaches its highest development in some magistrates, notably one in Dublin.
Well, at least we don't experience too much trouble from cap-throwing boys on B&H Clarion runs. The bit that followed where 'Swiftsure' turned to the question of 'rules of the road' has perhaps a more definite anticipation of contemporary Brighton and Hove.
If cyclists only observed these rules there would be less reason for the present outcry against them and the risk of an accident to themselves or others would be greatly diminished.
A couple of weeks later, on 18 August, 'Swiftsure' returned to what would become the Easter Meet – with a few modifications.
Cycling 'camps' are all the rage just now. ………..Could not a camp be got up by 'Clarionettes' for next Whit-week in the neighbourhood of Ashbourne?………………..What says Birmingham, Bradford, Manchester and other Clarion CC's?
Next time: badges once more and the Bounder's election as president of B'ham CCC may not be a shoe-in! The Dangle challenge.
Ian
Here's another piece about the Clarion some years on. It was written by long-time Clarionette and Labour Party activist (and much else) Walter Southgate. [For more on him see the history page on our website. Obviously written a lot later looking back at the pre-WWI years but Michael Walker who sent it me hasn't given the source and/or date.]
'We were familiar with the countryside, because I can say truthfully that one of the best periods of my life was the days I spent cycling through the Essex countryside before the motor car and lorries came to spoil it all.
 
In 1910 I had founded the north east London clarion cycling club and when members were too numerous for safety on the road I founded off shoots.
 
Membership was open to both sexes and we explored the rustic villages and pubs for drinks ands teas, there was plenty of bread and butter, cake, shrimps and lettuce.
 
We rode two a breast with the Captain at the front and a vice captain at the rear, giving signals to one another by coded whistles.
 
Our journeys would be accompanied by singing and ringing of bells – it was a real fraternal outing in the fresh air, far from the stinks and grime of East End life'.