Dear fellow members and friends
13 December 2004
Dear fellow members and friends
New Year's Day Ride – to Bob's at Upper Beeding
(see 24 November circular for his invitation and location details)
To 10 Windmill Close in Upper Beeding
Meet at Palace Pier at 10.30 New Year's Day. That allows us 2 hours to cover 12-15 miles which even in a morning-after-the-night before state should be easy and leave time for a possible stop for a cuppa at Carat's Café – we'll go the easy way up the Coastal Link/Downs Link.
I intend to get a lift back – but if you don't want to ride the whole way back, there seem to be trains from Shoreham station back to Brighton at the following times – all of which should avoid having to ride in the dark.
15.17 arrives Brighton 15.34
15.28 arrives Brighton 15.40
15.34 arrives Brighton 15.50
These are all Southern trains as is the next one 15.50 arrives 16.07. The one after that is Wessex 16.01 arrives 16.12. But please check for yourself a day or so before. If you can't or don't want to ride – come anyway!
Last Ride of the Year!
 
Sunday 5 December
Berwick – Golden Cross – Ripe – Selmeston – Berwick
In spite of my efforts to lure hesitant folk out for a very easy one, only two of us made it in the end. There was nearly three. John (Hopper) had driven down from Tonbridge Wells and he and I had a pleasant couple of hours or so. The country roads were even less busy than usual – in spite of being sandwiched between the two main roads – and the weather was good for early December – bit of sun even.
As we arrived at the Lamb at Ripe the local yeomanry were putting up a large Christmas tree on the little traffic island  (if that's what you'd call it)  outside. Sadly, I only remembered that I had my camera with me when it was too late – so no picture for Fred to scan in later in the 'Reports' section.
John and I had very nice bowls of excellent parsnip and honey soup to sustain us – and when I ordered a pint of Old and the barmaid (good salesperson) told me a tale about it being traditional to have a small glass of port by way of 'tops' I'm afraid succumbed to temptation.   
Pity we didn't have more people – though John will be coming to Bob's on New Year's Day so you can meet him there. It's a really nice and easy little route, so I shall 'recycle' it – in both senses - early in 2005. Hope to see you then.
Saturday 11 December
Get-Together at the Swan, Falmer 
Fred writes:-
Should I cycle or should I go by bus? Well, in the end Joyce persuaded me to cycle to Falmer for the Clarion Cycling Club Xmas lunch. Then I wouldn't feel so guilty about scoffing a full Christmas dinner with all the trimmings! It would also make up for the cock-up that led me to miss last Sunday's ride!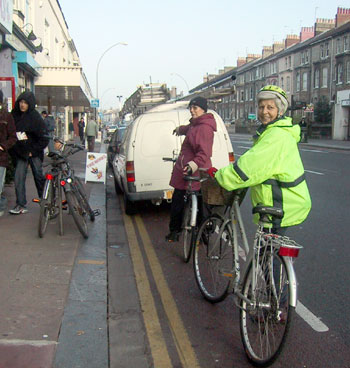 Joyce and Shiela with parked white van
So I met up with Sheila and Joyce outside the Racehill pub at the bottom of Elm Grove and at the start of the newish Lewes Road cycle route, heading North. Almost immediately we encountered parked cars and vans on the cycle lane, which required us to veer out into the heavy traffic! Some parts of Lewes Road have loading bays, with the cycle lane between them and the road, which works better.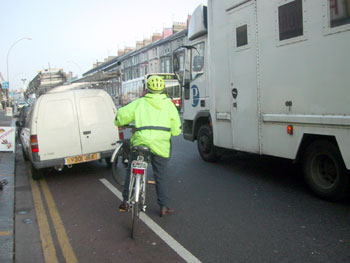 A good start!
At the Vogue Gyratory we dismounted and walked along the route that Joyce thought might make a good cycle lane, then at last we were on the open road! We passed the Preston Barracks development on the left, then various bits of Brighton University, Wild Park and after the Coldean Lane lights, moved onto the shared pavement. Then it was past Stanmer Park, into Sussex University and round the ring road and up our first and only hill of the day. Across the main road we caught a glimpse of the proposed Seagulls stadium site. After a bit of off-road, we entered the village of Falmer and were greeted by Ian outside The Swan Inn.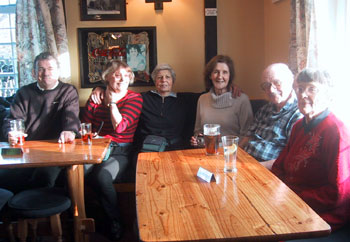 Ian, Joyce, Sheila, Sue, Brian and Mary inside The Swan Inn
Fred, Joyce, Sheila, Ian, Brian and Mary
Inside were Sue Bullock and Brian and Mary Hutton. I confess to be quite relieved that there wasn't a full Xmas menu in operation, but there were some fine real ales and – best of all – it was a smoke-free zone. We were then joined by Bob who had also cycled, and, just as we were about to be chucked out at 3pm, Andie and Terry arrived by car. The way back to Brighton was thankfully downhill and uneventful. Approx 7 miles round trip.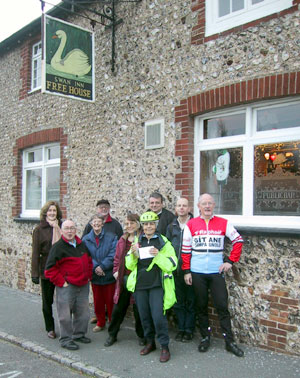 Outside The Swan Inn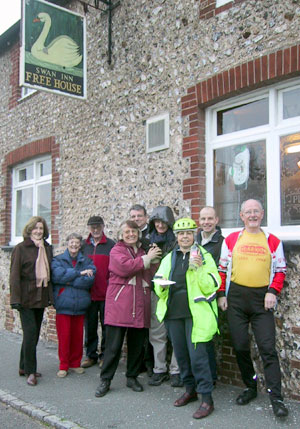 The shy one is Andie!
Ian adds: It was nice to see everyone – and I was especially glad that Brian and Mary who don't cycle any more and live in Worthing and therefore had only met me previously were able to come and get to know at least some of the current Clarion gang. Look out for Brian's cycle race reports in the Argus – usually on Thursdays.
Fred concentrates on the journey there and back – quite understandable for someone who along with Sheila and Joyce made the effort to cycle there. So several bonus points to each of them ('and points mean...')  but the (notional I'm afraid) prize for the participant who came the furthest by bike goes of course to Bob. (I suggested to the other three 'real cyclists' that they might like to return to Brighton via Bob's at Upper Beeding to keep him company but, strange to say, there were no takers. I'd have gone like a shot of course but I've got a puncture in my front tyre and didn't have my bike with me! Gerroff! It's no more unbelievable than Santa Claus and we all believe in him don't we?
Fred forgot to mention that  he used his digital camera to good effect – not only at the pub (photos will be appearing on the webpage) but also in recording some of the only-too-typical parking in cycle lanes/on double yellow lines that makes the local authority's efforts in Lewes Road a bit of a nonsense at the moment. I understand he will be sending these to the appropriate places and asking what's proposed to be done about it.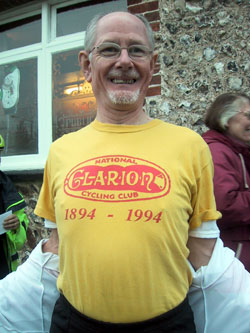 Bob wears his Clarion shirt with pride!
Fred also forgot to mention that Bob was not satisfied with riding such a short distance, so he handicapped himself, race horse style, with two bottles of Fair Trade South African wine one of which he gave to me, which was gratefully received if undeserved, and the other was awarded to Sheila as the most consistent ride participant (other than office-holders who were by general consent excluded). So thanks again, Bob.
--
Merry Christmas and Happy New Year (and hope to see you during the latter)
Boots!
Ian