Dear fellow members and friends
24 November 2004
Below are details of the two 'social' events for Christmas/New Year. As explained last time the next ride will be the last one this year (oh dear!) and we will suspend operations till the New Year since 19 Dec is too close to Christmas) till New Year's Day...
Next Rides
Sunday 5 December   
Berwick Circular –  only 13/14 miles
(and we can make it c 3 miles less by cutting out Selmeston if that's the vote on the day) 
All on quiet country roads from Berwick station to Chalvington and Golden Cross (where we can have a stop at the pub of that name) then back down to Ripe then Selmeston and back to Berwick.
Catch 10.40 from Brighton Station or meet at Berwick Station at 11.13. Aiming for return by 15.04 from Berwick arriving Brighton at 15.35. Both trains involve a change at Lewes.
See below for ride on New Year's Day
Christmas Get-Together  (for lunch and a pint)
Date: Saturday 11 December 
Time: 1 pm  (I'll be there from 12.45)
Venue: The Swan at Falmer.
This is easily accessible by either public transport or bike, it is non-smoking throughout (I've checked)   Brian Hutton recommends the food. And it's not necessary to book but if you know you'll definitely be coming let me know and if it looks necessary I'll ask them to reserve us a table (or two).  i.bullock@ntlworld.com or (01273) 682133. 
If anyone doesn't know how to get there – just ask. Everyone is invited.
New Year's Day – an invitation from Bob Harber
On New Year's Day we invite all cycling friends – and partners, cycling or not, for a visit to their country cousins. I'm giving plenty of notice so that you can put it in any circular.
Come for  lunch at 10 Windmill Close Upper Beeding on 1 Jan from 12.30 onwards.  We anticipate a total of 20-30 cycling and other friends in line with last year's experience. All food provided. Should you wish to supplement drinks provision, the offy will be open. (Or you could bring some with you  IB)
An indication of numbers welcome, but prior booking not essential. (I suggest that if you're definitely going you might send Bob an email on bobharber@tiscali.co.uk  IB)
Route from Rising Sun: Left along High Street past BP station.
In 100 yds R at mini roundabout down Hyde Lane.
200 yds 2nd R Hyde Square [Costcutter store and off-licence].
200 yds 2nd L Towers Road.
100 yds L Windmill Close.
Before lunch [OPTIONAL}
Start the year with a bang.
Meet on A283 just beyond Steyning [Wiston Pond] for BECC 10 mile time trial. First rider off at 11.00; be there by 10.45.
This is an opportunity for some to use a variety of machines with varying degrees of seriousness.
Bob
New Year's Day Ride
Thanks very much, Bob.  I hope as many of us  as possible will be there. Normally  the next day (2 Jan) would be the day for one of our regular rides – but this time let's move it forward to 1 January and make our destination 10 Windmill Close in Upper Beeding.
So, unless you want to go to the TT – and after last Sunday's performance Sheila may be considering entering for it – meet at Palace Pier at 10.30 New Year's Day.  That allows us 2 hours to cover 12-15 miles  which even in a morning-after-the-night before state should be easy and leave time for a possible stop for a cuppa at Carat's Café – we'll go the easy way up the Coastal Link/Downs Link.
I  intend to get a lift back – but if you don't want to ride the whole way back, there seem to be trains from Shoreham station back to Brighton at the following times – all of which should avoid having to ride in the dark.
15.17 arrives Brighton 15.34
15.28 arrives Brighton 15.40
15.34 arrives Brighton 15.50
These are all Southern trains as is the next one 15.50 arrives 16.07. The one after that is Wessex 16.01 arrives 16.12.  But please check for yourself a day or so before. If you can't or don't want to ride – come anyway!
The Last Ride
Sunday 21 November 
'Brunch Ride' to Carat's Café, Shoreham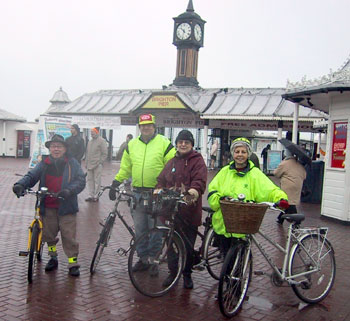 The intention of yesterday's (21 November) cycle was to have a very easy, short ride along the seafront, to encourage people who had not used their bikes for years, to get out. We even started at a fairly civilised hour of 10.30. In fact, it was wet and overcast and only four intrepid cyclists turned up. The first thing we did was have our photo taken. The most remarkable thing about us was the variety of headgear. We knew that winter had officially arrived as Fred swapped his panama hat for a trilby. Joyce wore her winter beany hat. Ian continued to wear his Clarion cap and I wore a cycle helmet (circa 1980). We cycled along the track on the front, which is now Sustrans route 2.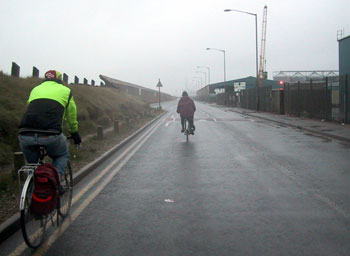 The Shoreham port road is always impressive, with seaplants growing on one side of the road and vast heaps of useful stuff on the other. There was no traffic and we were cycling peacefully along when we came upon Pudsey and some children doing a 10mile walk for Children in Need.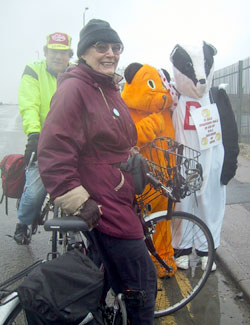 After a chat we finally arrived at Carat's Cafe for the traditional fryup. We were rather wet but dried out rapidly.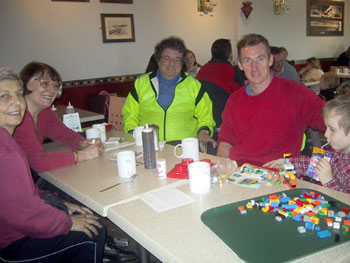 We were tucking in happily when along came Chris with his six year old son Finn.  He had also brought some Lego pieces. After a second cup of tea we ambled back to Brighton. It was a pity that more people did not get out for the cycle. Cycling in gentle rain has a charm of its own. 
Sheila
Thanks Sheila.  Good to see you out on your bike again.
The New Website
Is at  www.brightonandhove-clarion.org.uk. Well worth a look if you haven't checked it out already.
Boots!
Ian