Dear fellow members and friends
12 May 2008
Ed Furey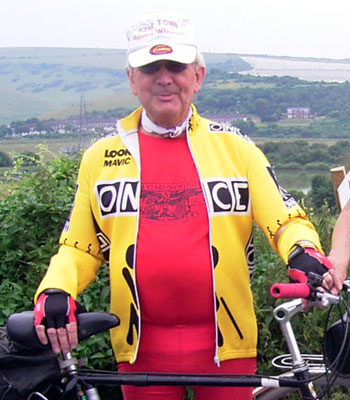 Ed on the Toll Bridge Ride, 2006
I sent a message to members nearly two weeks ago about the death of Ed Furey, and I guess that anyone on the 'general' mailing list who knew him will have heard the very sad news by now.
 
Ed was, with Joyce and myself, one of the original founding members of the Section back in 2004. He was our Chair until he decided to stand down at this year's AGM but continued as Social Secretary. Though we saw him only rarely on rides, of late owing, particularly, to his various medical conditions and especially his knee problem which made what he always referred to as 'cranking' impossible, he was always a very active member of the Club. He will be terribly missed.
Mick and Anne have passed on the following message to me:-
On Monday May 19th 2008, there will be a short blessing for Edward at 12 noon at St George's Church, Kemp Town for those who wish to attend, followed by his funeral at Woodvale Chapel, Brighton Crematorium at 12.45am. Colourful clothes please and no flowers - contributions towards Ted's charities can be given if people wish to donate something. Afterwards, friends are welcome at 70 Larkfield Way, Brighton.
I think Clarion T-shirts and/or caps might qualify as 'colourful'.
Planning rides
Here are the remaining dates 8, 22 June; 6 (Jim), 20 July, 3, 17, 31 Aug; 14, 28 Sept, 12 Oct, 2, 16, 30 Nov, 14 Dec.
If you want to lead a ride on one of these dates: -
Work out your route and – very important - check the trains on the possible dates making sure to research train availability – one needs to check the 'details' on the Journey Planner website to make sure it's a 'train' and not a 'replacement bus'.)
Contact me suggesting the proposed date for your ride (I'll then put your name beside the date so everyone can see what's still up for grabs)
If you've booked a date some way ahead please confirm to me that the ride is still on at least 3 weeks before
Just before the previous ride to the one you're planning – or earlier if possible - send me the details laid out in the familiar format so I can put it straight into the next circular.
The Origins of the Clarion Cycling Club in 1894 - Latest episode at the end of the Circular as usual.
IoW - A Message from Jim
The YHA closed Sandown hostel last year and so Totland is the only hostel on the island apart from a tiny scout hut that's only available in the school holidays. Consequently Totland is already booked for the whole of July and most of September.
 
I did trawl through a few B&Bs (about 20 in fact) online before giving up. Basically the B&B accommodation is aimed at holidaymakers, they don't like people staying for only one night, it's too posh and it's too expensive. Also most places don't say how many rooms they have so it's impossible to work out whether a group of say 6-10 cyclists could be accommodated at one place without having to become extraordinarily intimate!
 
The Clarion Dorset secretary has been over to do a recce; the only solution he could offer to the accommodation problem was possibly a camp site, but (a) that might mean taking all the clobber with us, and (b) camp sites might be equally booked up in the holiday period.
 
I would suggest our most sensible option would be to forget about it for this year, book Totland for some time next year (yes, the warden there said that, particularly for a group, you have to book that much in advance now!) and hope we can persuade him to accept multiple bookings for different weekends on the understanding that we'll confirm one and cancel the others once we hit the 12-week window for train info.
 
As alternatives, we talked about a New Forest trip (but the youth hostel there may suffer from the same problem) or even a Dieppe trip (which Joyce is looking into). But at the moment it's looking like July 20th will NOT be the IOW trip.
 
Jim
I'm still terribly busy at the moment, so apologies to Michael Walker – I will have a look at all the 'history page' stuff you've sent me as soon as things slacken off a bit and to everyone for simply scheduling rides we have done before rather than coming up with new routes (which gets more difficult as ones that don't involve eg riding up Ditchling Beacon get harder to find!). But now more people – like most recently Roger – are taking on ride planning and are breaking into territories that have hitherto eluded me that shouldn't be a problem. Jim was going to offer a ride for 8 June but now finds it's not possible, but he has bagged 6 July. Any more offers?
The one below we last did in the late autumn of 2006 – so it's quite a while and at a different time of year. We've always found the Royal Oak very welcoming –though the menu tends to be a bit more limited than at some of the pubs we visit. (You could always bring some sandwiches if you're worried about 'cyclo-starvation'.) We've done quite a few rides based on Hassocks station – but it seems quite a while since the last one.
Boots!
Ian
The Next Ride
Sunday 25 May 2008
Hurstpierpoint – Hickstead – Twineham – Wineham – Blackstone c 18 miles
 
Taking the little roads past Hurstpierpoint College crossing the main A27 (by bridge) at Hickstead, more quiet lanes to Twineham and then Wineham, where we'll stop for lunch at the Royal Oak. Then down to the pretty hamlet of Blackstone and via Bramlands back to Hurstpierpoint,with a possible tea stop at Washbrooks Farm, and on to Hassocks station
  
Catch the 10.44 from Brighton or meet at Hassocks station at 10.52 (a mere 8 minute journey). Trains back should be no problem
We can take advantage of the half-price 'Groupsave' ticket option if there are at least four of us. To do this, you need to be at the station half an hour before the train leaves, so that there is enough time to organise it.
The Last Ride - Alice's Report
Sunday 11 May 2008
Littlehampton Ride
A good turnout on a beautiful summer's day of Roger, Suzanne, Leon, Joyce, Jeff, Jim, Anne and Alice set of from Brighton station to Littlehampton. For those who were on last trip you will be pleased to learn that Jeff has been reunited with his lost wallet.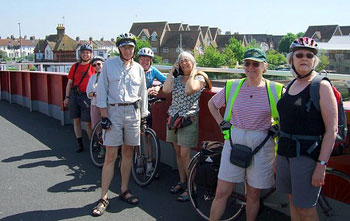 The start
All of us were suitably attired with slathering of factor 50 sun cream, some covered exposed upper limbs but fully exposed 16 sets of various shapely knees. Summer had arrived!
Conversation on the train journey was of the usual high standard with many comments to Jim on the best ways to mend his ageing waterproof jacket (alas the sewing kit was left at home), the pros and cons of cardboard coffins, funerals and finally solutions for a fairer system of calculating council taxes.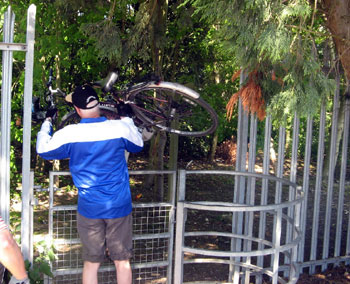 Leon tackles the gate - Jim's photo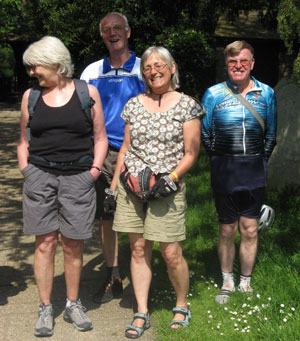 Anne's sporran - Jim's photo
At Littlehampton we cycled as far as the bridge over the river Arun where we stopped for a scenic photo opportunity. Back onto our bikes and cycled through containers and mobile homes until we came to a gate that would only allow bikes to pass through placed upright. Leon came to the rescue lifting the bikes over with Roger catching them on the other side. Our journey now was along a bumpy track next to the river and Alice being too busy looking at the large stinging nettles crashed into the back of Jim's bike. Joyce had suddenly stopped when faced with a large pothole that needed careful navigation. No damage occurred to Jim's bike. Most of us took the high scenic route along the bank of the river Arun passing the slow boats, while Roger carried along the track below. Many of us came to regret this decision after having negotiated many potholes and being stung by the nettles finally decided to make the steep decent down the bank and join Roger below.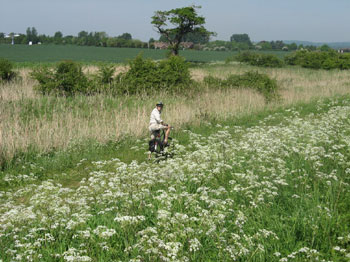 Roger takes the low road - Jim's photo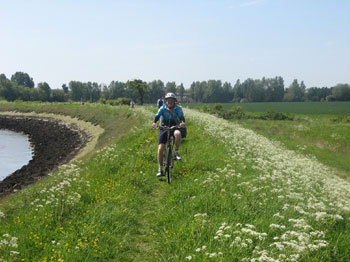 ...but we all ended up on the bank - Jim's photo
When we arrived at the site of the first gate on the now abandoned Arundel to Portsmouth navigation route we dismounted and walked along the narrow path, stopping to chat to people who lived in a house boats with many noisy dogs and then down through the marina and caravan park.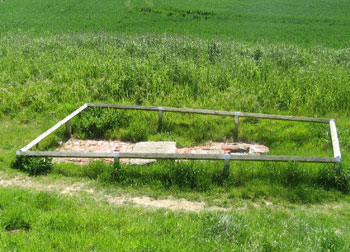 Remains of a lock - Jim's photo
From here our route was in welcome shade until we joined the road into Ford. Once through Ford we turned off onto Tortington Lane and travelled into a quiet tranquil world that reminded many of cycling through France. Passing a field of blue flowers (which according to Leon was linseed) we gradually climbed through shaded woods before a welcome downhill descent.
On Binsted Lane we dismounted to view St Margaret's Church, which had a tree behind it, shaped like a cross. According to Jeff's book (Sussex in the 'Buildings of England' series by Nairn & Pevsner) it consists of a small shingled bell tower with no aisles and is Norman in origin. If we had gone inside we could have viewed a badly faded painting of St Margaret and a weird three headed tree of life. Jim was more interested in the sign next to the church warning us to be aware of the golf course. Not long past the church Joyce had to slow down to allow a duck to cross the road while its mate sat on the hedge watching.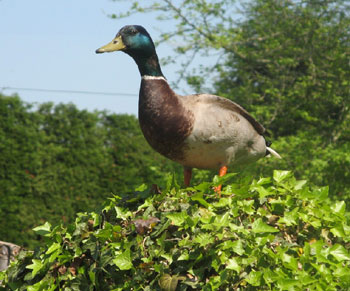 Duck topiary - Jim's photo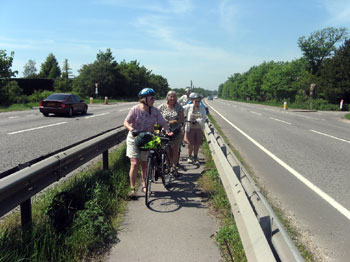 Crossing the A27 - Jim's photo
Next we had to negotiate crossing one by one the busy A27 with its busy fast traffic. Leon had a near miss but we all came to the conclusion that the car was going far to fast, not Leon being reckless. Our path took us into Slindon with its many churches and the birthplace of English cricket marked by a wooden monument of a bat and wicket. We took advantage off the steep inclines of the village to dismount and walk for a bit. We came across an old rail carriage with a thatched roof that was admired but presented the camera happy with a problem of how to photograph from an advantages angle. Some suggested it should be towed to the Bluebell line.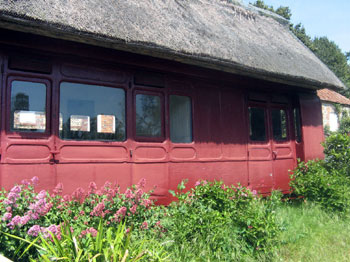 Thatched railway carriage - Jim's photo
We continued on our way out of Slindon past the college where we heard with envy the young residents enjoying themselves in what we assumed was the swimming pool.
Once more we headed off through the woods towards Walberton. We passed Quince cottage with its thatched roof and exited Slindon Bottom Road into Walberton and onwards to The Holly Tree pub for our much needed lunch stop. The table was booked and the food arrived promptly. Leon opted for the chilli and chips in a basket and was most relieved when it arrived in a plastic basket not wicker! Again the conversation was back to the subject of death and living wills. Anne added a lighter note offering festival tickets for the opera if anyone was interested.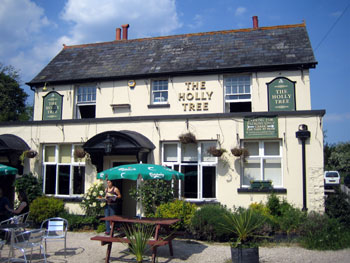 The Holly Tree - Anne's photo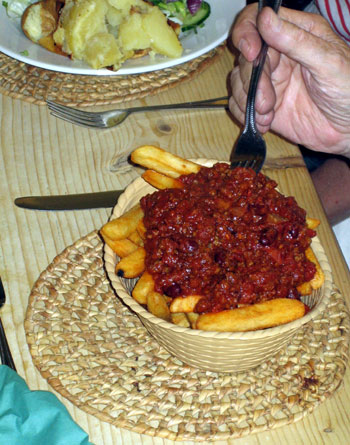 Leon's chilli chips - Anne's photo
Over lunch a decision was made to visit St. Mary's church in Walberton and view the stained glass windows by Carl Edwards in memory of Lord and Lady Woolton. The theme of the windows is unemployment in Liverpool prior to the 1930-44 war and the bombing of London during the war when Lord Woolton was a Cabinet Minister and Minister of Food. The arms of Manchester Grammar School, Manchester University, City of London, the City of Westminster and the Worshipful Company of Salters of London are included in the window, together with Lord Woolton's arms and badge of honour warded by the British Red Cross Society.
Within the churchyard was a large Yew tree with a trunk by Leon's calculations of pacing at least 9 meters in circumference. According to the church guide the tree is thought to be at least a thousand years old.
Our journey back to Littlehampton took us past the Olive Branch pub where we stopped and Jim suggested that Jeff should use his Allen key to adjust his very worrying erect bike seat before he sustained an injury to parts of his anatomy. The conversation became very smutty as you can imagine, while Suzanne wisely sheltered in the shade of the Olive Branch pub. A decision was made to make a detour for Climping beach and at the thought Jeff appeared to be completely overwhelmed with anticipation and cycled straight off the road onto the verge (or maybe in was the readjusted seat).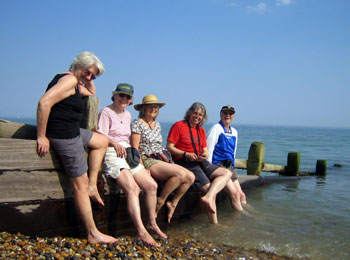 At Climping Beach - Anne's photo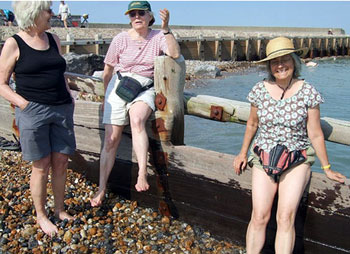 A relaxing end to the day - Leon's photo
Climping beach allowed for much hobbling over the stones for paddling in the refreshing but warm enough waters edge. Many 'oohs and aahs' were heard as the waves rolled in. This all too brief paddling in the sea had to be interrupted for a short cycle ride back to Littlehampton to catch the train. A very tired but happy group collapsed into the air-conditioned train to discuss the options for rides in France or the Isle of Wright.
A big thank you to Roger for organising a wonderful day out.
Alice
[Again, even more and bigger photos on Flickr.]
The Origins of the Clarion Cycling Club and cycling in the 1890s
A 'lady bikist' and Potteries' tours in Wales and Jersey
I got a little ahead of things last time – with reports from the Clarion from early September 1894. I shall have to back-track a little. But first, here's another snippet that brings home something of that phenomenon of the 1890s – the 'lady cyclist' (or 'bikist'.) 'Swiftsure wrote:
A Kendall correspondent sends me the following account of a little jaunt he had in the country in the company of a young lady

'On Thursday, August 23, a certain young lady 'bikist' did ride, in the company of yours truly from Kendall to Furness Abbey, and back to Windermere station – distance 54 miles
Meanwhile, on 25 August the following report had appeared in 'Swiftsure's' cycling column.
Potteries Branch "Clarion" CC, Stoke-on-Trent

We have been touring in penny numbers in all parts of our domains – some getting even as far as Jersey, and others to all parts of England and Wales. Two of us who were making for Barmouth, had the good fortune to drop in on our Birmingham comrades. We were passing through Llangmyneck, at a speed something under 60 miles an hour, when we were hailed by their gallant captain, whose other name is Atkinson. Finding they were bound for Dolgelly, at the captain's invitation we joined their part, and, thereby hangs a tale, which no doubt the "O'Groomeo" will unfold.

We stayed at Dolgelly till Friday morn, when we commenced our return journey, travelling via Bala, Corwen, and the Vale of Llangollen, thence to Chester. None of these places espaped a fusillade of Clarion leaflets, not even the cathedral at Chester. During the whole time we were well supplied with moisture both inside and out. Most of the riding was hard 'plugging' amongst the slush, while the gentle rain from heaven dropped upon the earth beneath. It was twice blessed – only more so. Selah!

All cyclists should join one of the Clarion CCs if it is only to cultivate the acquaintance of our Birmingham comrades. We have found them full of good fellowship and humanity of which we hear so much but see so little. Without doubt they are worth a guinea in the box. With kind regards, I am

CLINCHER

**********************************

A company of five of the Hanley Potteries CC started for a tour of Jersey on Saturday, August 4th, starting at 7 a m, the route being via Stafford, Brum, Stratford-on-Avon, Oxford, Reading, Basingstoke, Winchester and Southampton, which place was reached at about nine o'clock on Sunday night, in time to find that no boats run on Sunday night. However, we took to sailing on Monday night at 12 p m and were good sailors as long as we were asleep. Jersey was reached at 9 a m, when tracks for the Queen's Hotel were made, which place we found quite a home; being very reasonable, could recommend to Clarionettes touring that way.

On Tuesday, we visited real places of interest in the interior of the island. Wednesday wet. Thursday a run was made all round the coast, near as possible, which I can assure you was exceedingly pretty, and well worth our long ride to see. What price the Bounder with a 12 foot cabbage for a walking-stick?

Return journey was started on Friday morning; Southampton was reached at 4 pm , Winchester, Marlborogh, Cheltenham, Worcester, Wolverhampton being our route for home, which was reached about 6 pm on Sunday.

Total distance about 700 miles. What price that, Brum?
Next time: 'Brum's' response and report.