Dear fellow members and friends
12 June 2007

Thanks to Roger and Jim, I'm getting a bit of time off from organising the Sunday rides – which is very welcome. Other prospective volunteers please don't be shy!
Roger is doing the next one (details below), then we will have Jim's Downs Link ride on 8 July followed by the Save the Shoreham Old Toll Bridge ride on 22 July. Apparently, the bridge will have to close unless £140,000 can be raised in the next 6 months – so we'll need to get plenty of sponsor money in.
If you have a look at the report from last year on our website, you'll see that we had a total of 13 Clarion participants – which didn't turn out to be at all unlucky. I suggest that we do the same again – everyone enters for whichever version they feel comfortable with – there are 5, 10, 29 and 39 mile ones – and then we'll start off with a group photo with everyone on, have reports (and photos) from as many different groups (distance-wise) who are participating as possible and perhaps try and meet up for a cuppa at the end of the day at Shoreham Airport. I'm enrolling for the 29 mile version (bet it's 30 miles really!)
There are two particular points to note.
1. Send in your enrolment form by 30 June. It costs only £5 up to then but £9 thereafter (and £15 for anyone who enters on the day).
2. The start/finish seems to have moved to Coombes Farm – although the form doesn't make this as clear as it might have done. For those using the train you'll need to take into account the extra time and distance from Shoreham station.
To get the details the easiest is to link to www.cycling-support.co.uk. Then click 'Rides' on the menu, then right-click (PC) or ctrl-click (Mac) the link below Tollbridge ride to download the flyer to your computer. [Fred's instructions]
As well as the usual report of Sunday's ride from Anne, we have this time one from Joyce on the Naked Bike Ride – photos are promised for the website version.
Richard and Bernie, who came out with us for the first time on the Hooe Common run, are doing the London-Brighton next weekend. I'm hoping to be able to include a report or two on this next time.
Ian
The Next Ride
Sunday 24 June
Littlehampton Circular (about 23 miles)
We leave Littlehampton by the bridge over the Arun and follow a track alongside the river as far as Ford, passing behind the open prison on the way. We then transfer to the road to climb gently from Tortington and meander through the woods to Binstead. Crossing the A27 we meet our only serious climb; it takes us into Slindon, possibly a good opportunity for a walk.
We pass Slindon College and Fontwell Race Course, on the way to Walberton for a lunch break at the Holly Tree. We should pay a visit to Walberton church to see the stained glass window in honour of the first Earl of Woolton, campaigner on behalf of Liverpool dockers, and minister of food during WW2.
After lunch, a short and gentle ride south through Yapton and back to Littlehampton, with an optional 2 mile detour to Atherington beach if there's time. Train times permitting, we can stroll along the river at Littlehampton admiring the new housing, and keeping an eye open for a cup of tea.
Travel on the 9.50 From Brighton (Hove at 9:53), or meet at Littlehampton Station at 10.35. There are trains from Littlehampton to Hove and Brighton at 41 minutes past the hour and to Hove with a change for Brighton at 14 minutes past.

The Last Ride – Anne's Report
10 June 2007
Pevensey (not really) Levels; Walter's Haven & elderflower fritters.
Mick and I again took the lazy (and slower) option of the car, due to unfitness, having not been on a Clarion ride for weeks. Arrived well after the train with its 7 Clarionettes, but just before Richard and just in time for the usual station group photo, which was taken by a passing boy, whom Joyce entrusted with her camera. The station Co-op supplied water and food for those already needing sustenance and the ten of us set off for the Cuckoo Trail.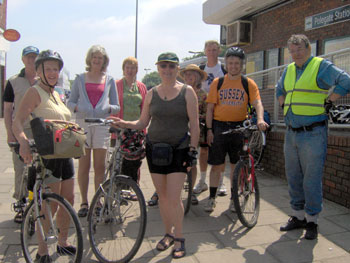 Station group photo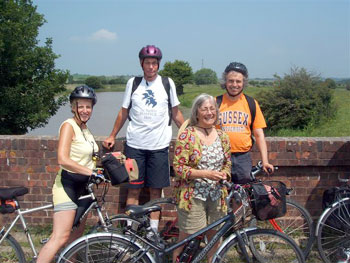 Crossing Walter's Haven, 1st time
We soon left the trail and took a right turn onto pretty, leafy Shepham Lane. Heading east on a trail less busy than the more famous Cuckoo and totally happy and relaxing, amid blooming bushes and trilling birdsong. Ian had warned of the Wartling Road that it was often busy. He didn't say it was often too hilly to be Level. The sounds of clicking gears and noisome cars playing dodgems with us, accompanied this section, with its bends and undulations unbefitting to a Level. However, Wartling, though sounding like a medieval curse, looked a picture and The Lamb gastro pub beckoned invitingly. Mick deemed this a pub to return to, but Ian had chosen well in The Red Lion at Hooe Common (haunt of smugglers), which we eventually reached, after more hills, bends, clicking gears and clonking wheels (from Bernie and me) and Jim's chain coming off as he attempted to find a gear low enough for him to climb to the pub.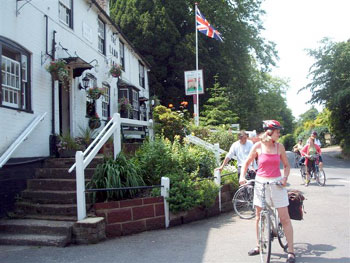 The Lamb looks luscious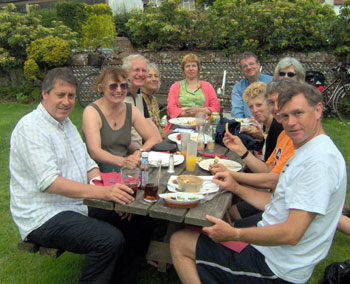 Lunch
Finally we all reached The Red Lion and its garden and were delighted by the comprehensive menu and fine cooking. Lunchtime conversation turned to the fellow travellers on the Brighton train, including an interesting transdresser with an interest in pole dancing. This led to pondering the difference between lap dancing and pole dancing and to yesterday's Naked Bike Ride in which Joyce participated enthusiastically and reports separately for us. The dismal local election results were dissected along with the whitebait, meatballs, soups, salads and pies. International issues were covered with the help of Tessa's friend, Angelika, who was able to fill us in on German films (to avoid) while Mick and I highly recommended Lives of Others. Denmark and Danes, led on from poles and laps and we all fancied sand-yachting as recommended by Helen.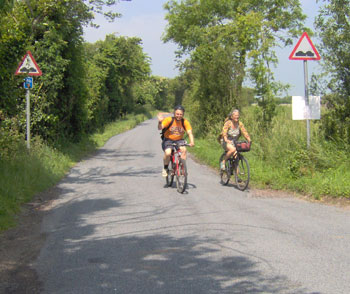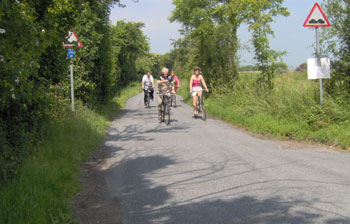 A bumpy road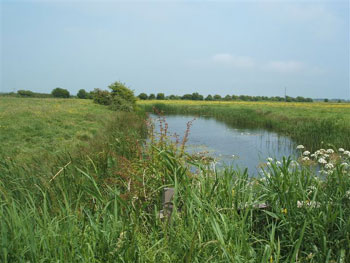 Walter's Haven from Horse Bridge
Off again, we re-crossed Walter's Haven at Horse Bridge with water-lilies in profusion beneath and buttercup meadows beyond. Tessa and Angelika began to collect the perfumed elderflowers from the hedgerows for their teatime fritters, for which they were later fortunate to find a cottage-side stall selling eggs. Bikes bedecked with elderflowers should have been photographed but we didn't want to tail too far behind. Ditches and willows and private fishing grounds and Environmental Agency fields surrounded the quiet narrow road. A short stretch of the fast B2095 had to be crossed, but soon we were off it and back again to gentle green trails and almost home to the Cuckoo Trail and the Old Loom Mill Tearooms. A perky little pied wagtail joined us for tea, coffee and most moist and delicious coffee and walnut cake. Joyce, Jim and Ian's table planned the Isle of Wight Clarion Cycling Weekend for next April, staying in youth hostels.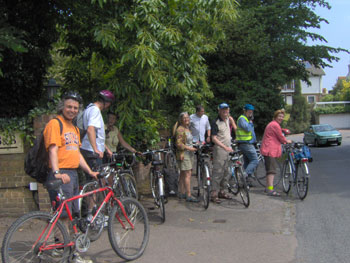 Another group shot
Good luck to Richard and Bernie for the London to Brighton next weekend. Thanks to Ian for organising a perfect summer's day, refreshing the parts and the people from busy cities – Richard and Angelica had to go back to London on Sunday night, but even Brighton bustles compared to those green and pleasant lanes, where the village website suggests remote and peaceful Walter's Haven and Horse Bridge may not have changed in 1000 years. Confusingly, same site suggests that hilly Hooe may have been where William landed in 1066, sea-levels having been 5 metres higher, thus (surely) inundating any surrounding land.
Anne
The Naked Bike Ride – Joyce's Report
I took part in the Brighton section of the 'World Naked Bike Ride' on Saturday. It was fantastic – 200+ cyclists in various states of undress, body paint and
carnival-gear rode around Brighton for three hours. The weather was glorious, there was tremendous supportfrom people – out shopping, walking as well as those
in cars. There was a serious message of course – the ride is held every year in cities all over the world (this year in London, York, Manchester and Southampton as well as Brighton & Hove in the UK), to highlight the destructive effects of oil dependency and car culture and to ride in celebration of the human body and the bike.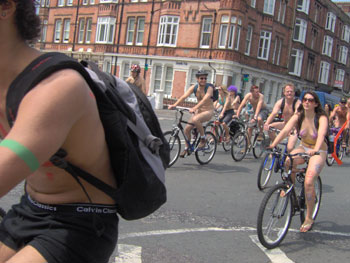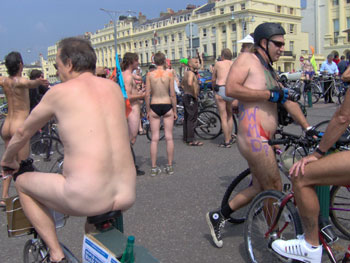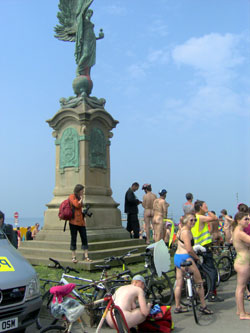 We all ended up at 1pm on the nudist beach where everyone went for a swim (yes the water was freezing but it was great getting out). It is a really great occasion and that really befits Brighton. Next year I hope to persuade many Clarion people to take part – you don't have to go nude if you don't want to - just 'go as bare as you dare' ... [Fred was on the ride too, wearing shorts as a concession to nudity!]
Joyce