Archive
Reports from Summer 2007
30 September 2007
Pier to Pier (Roger's report)
This one was planned by Fred. We met at the Palace Pier, we being Fred, Alice (on her first Clarion ride), Jeff, Suzanne, Roger and Amanda, a friend of Fred's from London (and originally Auckland, NZ). As we set off westward the sun started to appear and warm things up a bit.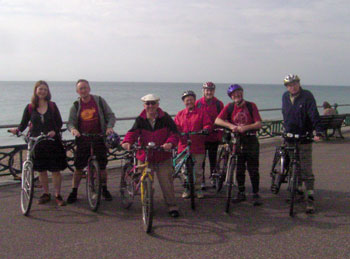 Amanda, Nick, Fred, Suzanne, Alice, Jeff and Roger outside Marocco's
At Marocco's café in Hove we were caught by Nick, another of Fred's friends, who had been chasing us ever since the Palace Pier. After the statutory group photo we were off.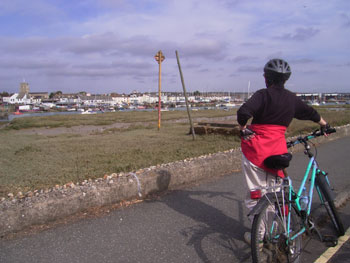 Suzanne surveys the view of Shoreham across the river
At Shoreham we crossed via the foot bridge to Shoreham Beach and paused for another group photo on the Gaudiesque concrete seat, complete with its embedded Barbie Doll remains!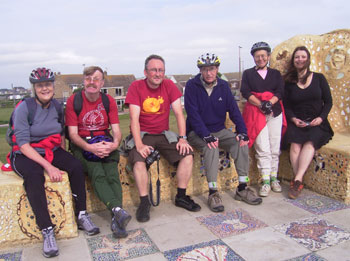 Barcelona in Shoreham Beach
Next stop, the loos at the eastern end of the Widewater Lagoon. This particular stop would not have deserved a mention had not Amanda dismounted from her smart new Dahon folding bike and collapsed in a heap in the thistles at the side of the cycle path. She was quickly helped to her feet and appeared to be suffering from nothing more serious than embarrassment. It would perhaps have been more polite for us not to laugh so loudly, not to photograph the incident and not to mention it in the report. [No, I can't bring myself to include the photo - Fred]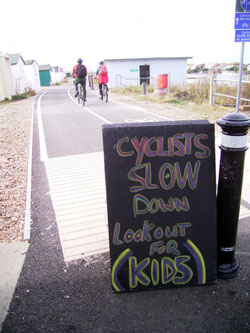 The start of the lagoon cycle path with vigilante notice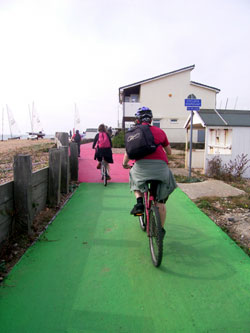 The changing colours of the cycle path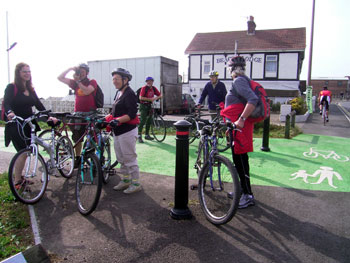 A quick breather at the end of the Lancing section
The cycle path along the 1,200 metre man-made lagoon continues all the way into the centre of Worthing, where we arrived just in time for lunch. The Denton Lounge was the chosen venue, a splendid building, opened in 1959 at the shore end of the Pier, commanding fine sea views through its huge windows.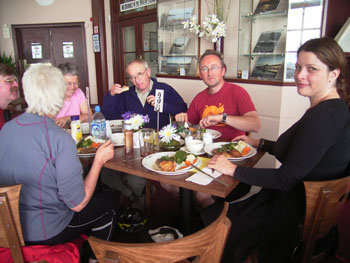 Veggie Sunday roast at the Denton Lounge
The menu looked promising, and the bar served Harvey's which is why Fred chose it. How was he to know that most of the meals would take anything up to 40 minutes to arrive, and then only after polite reminders. However, the waitress did chase up the missing Yorkshire puddings and satisfy Fred's craving for extra gravy.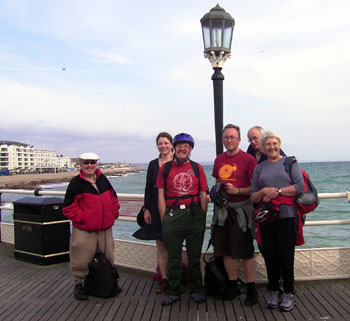 On Worthing Pier with a view towards Brighton
Then Sue and Terry arrived. They had left Brighton rather later than the main group but had made good time. While they waited for their meals someone suggested a stroll down the pier, an idea that lost its appeal once we discovered that the sun was rapidly disappearing, and, worse, the wind was getting up from the east.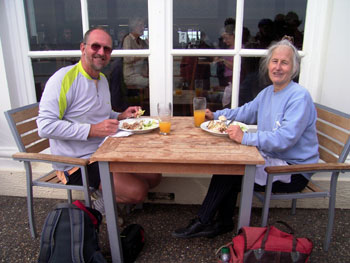 Terry and Sue tuck in al fresco
So we set off homeward into the wind, leaving Sue and Terry tucking into plates full of prawns – they soon caught us up on the route back, which took us through Shoreham airport (yes we did stop for tea and in some cases, cake and pudding).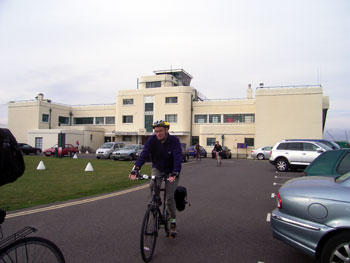 Leaving Shoreham Airport
The airport was busy: planes were taking off couple of minutes. The flag flew at half mast for the pilot who had died in a crash during a display at the recent air show.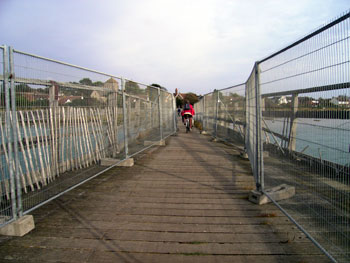 Over the rickety Toll Bridge
It was a pleasure to ride over the increasingly rickety Toll Bridge, knowing that its future is now assured, thanks to the efforts of Clarion members, amongst many others.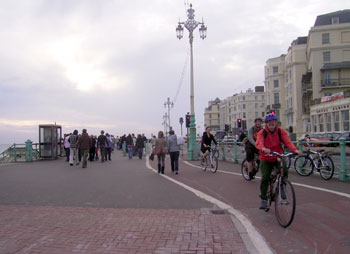 Finishing where we started
We took the inland route most of the way home, to avoid the worst of the head wind, and arrived back in Brighton after 24 miles of very enjoyable cycling.
Thanks Fred for a good day out!
Roger
Sunday 16 September
Worth Way and Bluebell Railway
Jim, Fred, Tessa, Jeffrey, Sue and a new recruit, Debbie, set out from Three Bridges station.   Jim guided us along the route of the old 3 Bridges to East Grinstead railway line, now a cycle/walkway called Worth Way.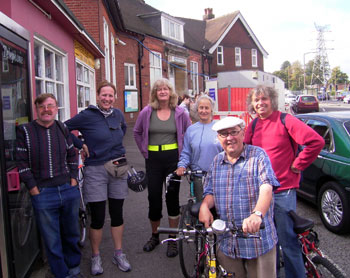 Jeff, Debbie, Tessa, Sue Fred and Jim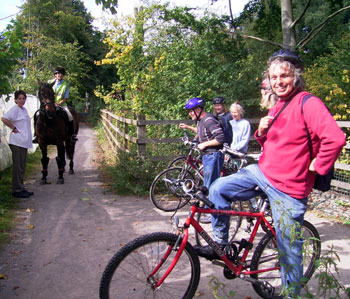 Encounter with horse
 
We cycled off-road through woodlands - on a good surface, meeting shortly round a sharp bend with a fine old horse. The rider turned and backed her horse out of the way to allow us to pass, and we paused to admire the horse and chat  with  his rider. The pathway looped through countryside and meandered through housing estates where land had been developed over the old track. Tessa, always first to go off road, particularly enjoyed the section that provided a concrete path through open fields!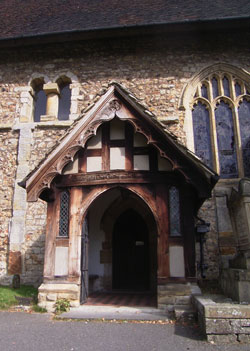 Worth church
 
Soon we  came  to our first stop - Worth Church. Jeff offered a wealth of information on its history. It is one of the few Saxon churches left in Sussex, being built in the 12th Century.  Original stone arches are still visible inside the well kept  church though some artwork previously on the walls is not. The stone font was brought back from the crusades and a carved wooden pulpit dates from the 15th Century. The  overall design of the church is also based on the shape of the crucifix, another feature of churches of that era.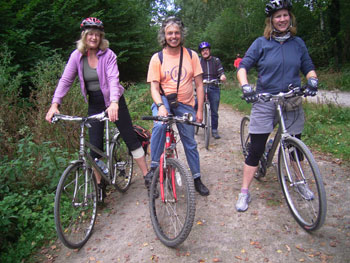 Admiring the view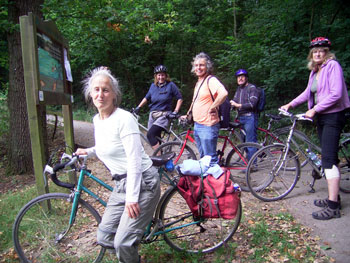 The pond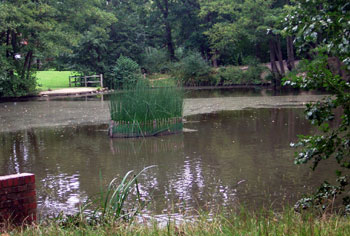 The pond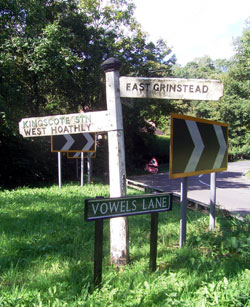 Vowels Lane!
 
Jim has a wealth of knowledge about the old railway and stopped to show us several old station buildings still standing by  the site of the old line. These included two buildings at Rowfant which took its name from the Rowfant estate. Apparently it has been known for a  landowner  to negotiate an agreement  that a station be built on his land in return for allowing the railway to be built through it. Later in the day he showed us where a branch line leads out of Haywards Heath station to one of the old station buildings we had stopped to look at earlier.  This line is still used 3 times a week to carry material from a quarry. Some talk of possibilities for reinstating track on the old routes.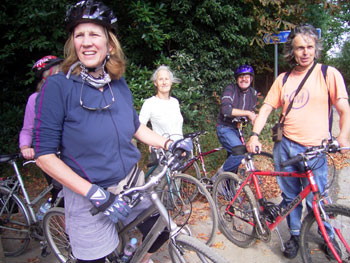 A breather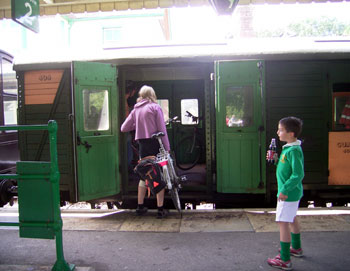 Into the Guard's van
 
Lunch was taken at Horsted Keynes station  buffet after a delightful ride on the Bluebell railway from Kingscott. We were delighted to place our bikes in the spacious guards van and travel in a third class carriage. (Though some had hoped to go first class!)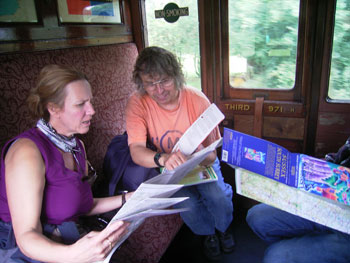 Third-class travel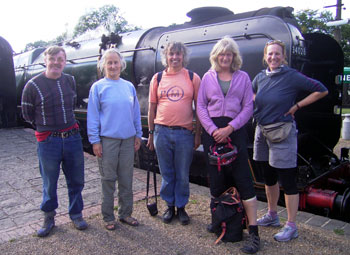 Posing in front of 'Eddystone' (not our loco)
 
We spent a long time over a basic but satisfying lunch and watched several steam engines come through. We also took a peak into the shed where old stock is renovated. We  had a brief view of the first-class Pullman dining car with its passengers having lunch and raising their glasses to us. (A mere £59 a head!) Glimpsing an upper crust life-style?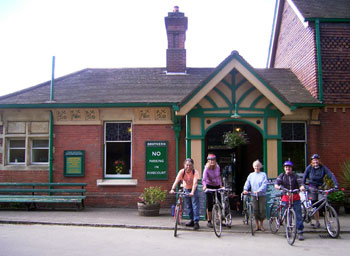 Outside Horstead Keynes
 
After a flat ride in the morning we complained to Jim about the introduction of a few minor gradients in the afternoon. He duly apologized for such inconvenience – the terrain around Hayward Heath being noticeably hilly!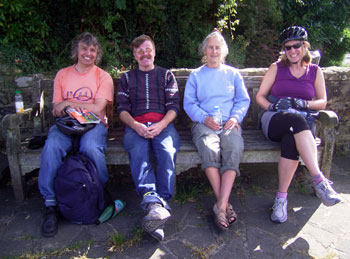 The bench at Ardingly
Sue also put in a plea for a tea stop (any excuse to get off the bike) and he valiantly explored the possibilities - Tessa did a recce in Ardingly while the rest of us sat on a bench recovering from the hill climb - but no teashop appeared. Even the Lemon Tree at Hayward Heath station was closed. Just as well Tessa took the precaution of having a Mars bar after lunch. However, we had had a long and interesting stop at the Bluebell and returned home tired and satisfied - although minus Jeff. He nobly chose to miss our train to hand in some lost property left on the station, just as our train drew in.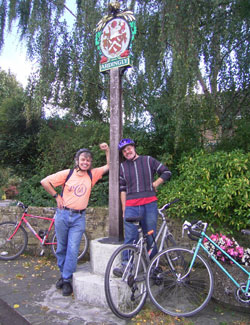 Jim and Jeff pose by the Ardingly sign
 
Debbie enjoyed her first outing with Clarion and expressed her intention of coming again so I am looking forward to meeting her again. Fred vied with Jim to take the most photos.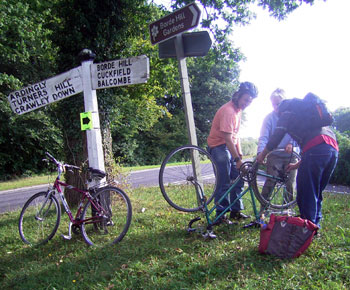 Fixing Sue's chain
 
Altogether a lovely, enjoyable day. The weather was fine with some sunshine, with a slight autumn coolness in the air. A wealth of historical information and places to see – Jim even had an illustrated book with him about the railway. Thank you Jim.
Sue P (written under protest, as a forfeit for listening to the Archers on the way out)
Additional photos by Jim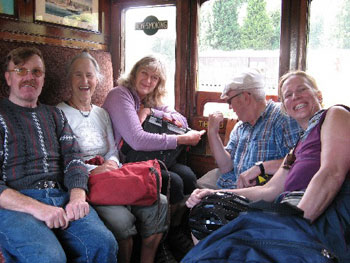 On the train (3rd class)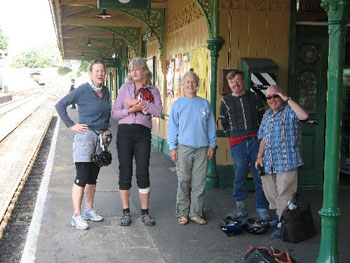 After lunch, at Horsted Keynes station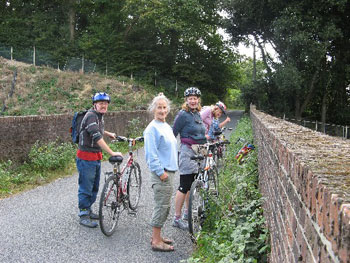 On the bridge in Copyhold Lane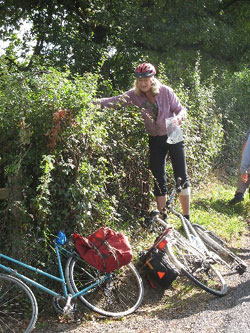 Tessa foraging for blackberries
Sunday 2 September
NO MISTS BUT LOTS OF MELLOW FRUITFULNESS
Fred met Joyce met Richard met Roger met Suzanne met Ian at Berwick station (photo to prove it) and gently rolled off in a northerly direction past a paddockful of 'My Little Pony' look-alikes.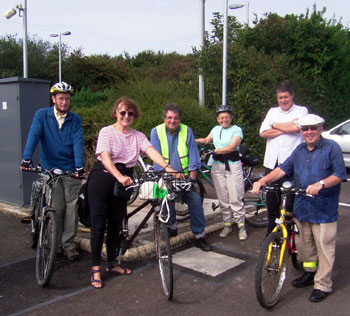 Roger, Joyce, Ian, Suzanne, Richard and Fred at Berwick station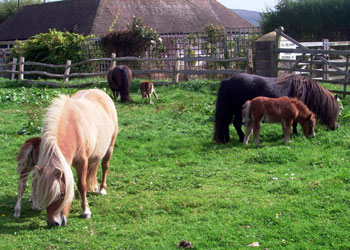 Shetland ponies
Fred and Joyce could not resist the siren call of the tables at garden gates laden with blackberries, damsons, aubergines, tomatoes and herbs, so they did a bit of marketing. At Ripe we all had to resist the temptation to have lunch at 11am at The Lamb – a Clarion favourite – and so pushed on to Vert Wood which we skirted, to Whitesmith which we traversed and Gray Wood which we skimmed past before turning right to Foxhunt Green and finally on to Waldron and the Star Inn where excellent sandwiches / soup etc filled us up.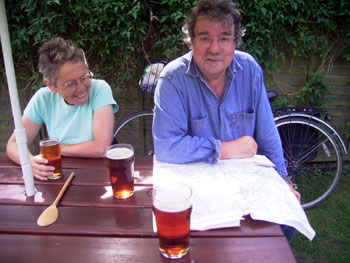 Harvey's on tap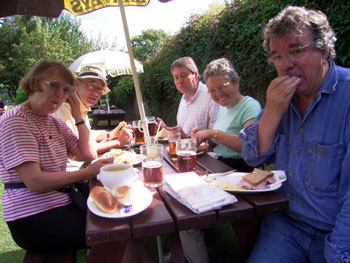 Lunch
Unfortunately Joyce's inner tube decided that it no longer wanted to be filled up, in fact, it looked positively deflated by the end of lunch. The customers of the pub were then treated to the sight of four grown men and one lady changing an inner tube. The publican was not in the least put out. How could she be? The people at the next table were changing their baby at the same time.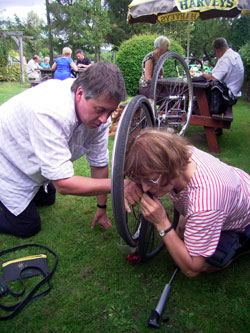 How many Clarionettes does it take to change an inner tube?
The Star Inn at Waldron
With virtually no time lost after the excellent Olympic display of team-tyre-changing and with Ian's promise that 'it was all downhill after lunch' we set off, as indeed Ian had said, down through the curious cutting out of Waldron. The miniature chalk cutting is not spectacular in itself, but the lofty trees rising each side overhang the road and cling to the sides, winding their enormous, exposed roots like fingers round the cut faces of the chalk.
But what's this. Oh, it's a steep hill out of the river valley up to Lions Green. But it's a beautiful wood and here we go down again… on into the same, winding river valley and as we all know (where river valleys are concerned) what goes down must go up. This time to Summerbrook Wood. At which point Joyce realised she had left her purse in The Star. Once Richard had leaped to his mobile and made sure that the purse had been found and was secure, there was the dilemma – go on and reclaim the purse later in the day, or return to the pub. We decided to press on with Joyce and Ian forging ahead so that Ian could give Joyce a lift back to The Star. Fred, Richard, Roger and Suzanne brought up the rear.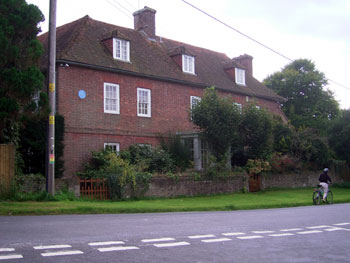 Suzanne scoots past Lee Miller's house
Joyce had had an unfortunate series of mishaps. Ian had not only planned a lovely day out, but come to the rescue with his car. And the rest of us? Honestly Ian, if you say it was all downhill to Berwick, then you must have been right. The aching legs and sore b…s were all a figment of our collective imagination.
Suzanne
Sunday 19 August
Chichester Harbour Ride
Ian, Sue, Mick, Anne, Terry and Tessa
Sue was the only one to leave Brighton by the 10.17 train so was delighted to meet up with Tessa who boarded at Hove. A pleasant journey spent catching up with news, and eating a second breakfast.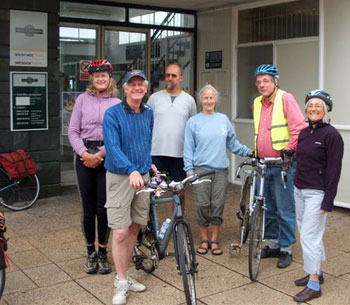 Tessa, Mick, Terry,Sue, Ian and Anne
Ian met us and we were joined by Terry who had travelled from Hampshire and Mick and Anne who had come by car from Brighton. We had our photo taken by an extrovert walker, full of jokes and repartee and then set off to join the canal footpath.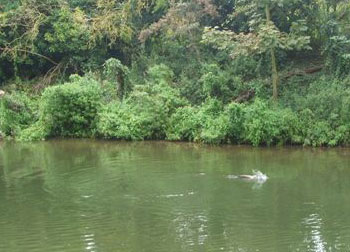 Never sure whether duck would eat eel or eel would eat duck. The thrashing fight to the death took around 10 minutes, then the victorious bird took off in an attempt to digest its kill
The tranquillity of this lovely path was disturbed by a truly amazing sight:
A cormorant/shag or similar long necked bird struggling with, and then swallowing whole a 2 foot long eel! Those who saw the whole event were transfixed and we kept referring to it throughout the day.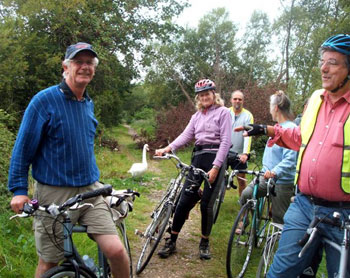 Swan on the trail
We moved on to a track that wove between tree-lined lakes, really beautiful. Sue thought they were old quarries which were now fishing lakes.
Little roads through North Mundham led onto a bridleway with brand new gates, all part of the Sustrans route. One gate had been padlocked, an act of sabotage which we decided needed reporting to Sustrans. We came across a field of cows. Just as we were wondering if there might be a bull among them we witnessed a modern day version of 'Rawhide' - the farmer raced in on a three-wheeled motorbike and rounded the herd up (for milking we presumed).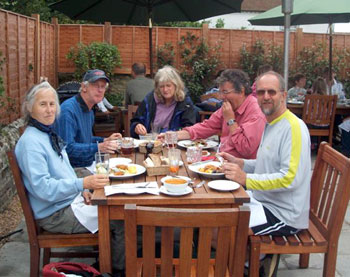 Anne says: Mine's red lentil soup; best ever! Over £5 but well worth it; pity it took an hour to arrive though
A stretch of road led us to Sidlesham quay on the edge of Pagham harbour where we had lunch in the garden of the Crab and Lobster. The menu's emphasis was on seafood , which was most people's choice. It took a while to arrive but while we waited, they had supplied us with baskets of delicious bread and a little pot of fish pate. The food was beautifully presented, delicious and expensive.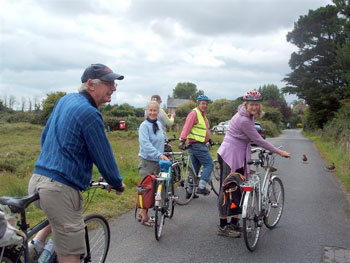 Ducks on the trail
We got a good view the wildlife sanctuary that is Pagham harbour as we set off in a headwind after lunch, stopping to photograph a formation of ducks that we passed.
Anne and I spotted a dead rat on the road, I realised we had passed quite a lot of roadkill in the morning, fox, rabbit and bird, and of course there was the bird/eel struggle on the canal. Perhaps the eel bit its way out of the bird's neck?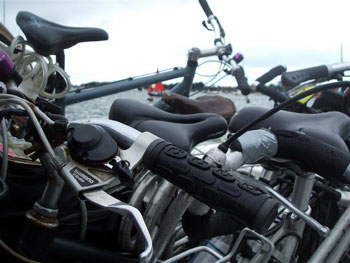 Bikes on board
We arrived at Itchinor ferry and got straight on the boat, no wait this time. As it was high tide it delivered us onto the pebbles so there was no pushing the bikes on mudflats to the shore.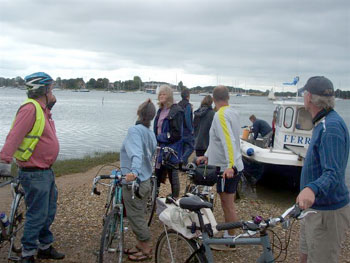 Unloading the bikes from the ferry
Soon we were in Bosham, riding through a very light drizzle, our only encounter with rain. The road was flooded because of the high tide so we wheeled our bikes along past the lovely gardens that line the coast to the teashop. A table awaited us and we all had cake except for Ian who sloped off to eat a very inferior looking ice-cream from the van outside. [I enjoyed it! IB]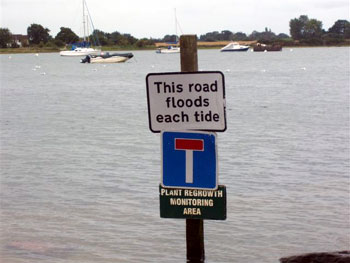 High tide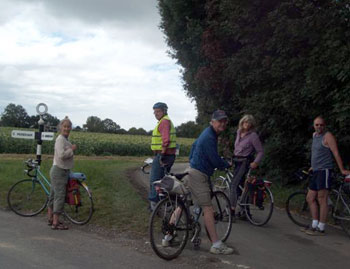 Storm clouds loom
Our only encounter with mud on our 23-mile ride was the bike path/bridleway that led us back to Chichester where we all dispersed for our various ways home.
A very delightful varied ride. Thank you Ian.
Tessa [photos by Anne]
Sunday 5 August 2007
Amberley ride by Linda (my 2nd ride!)
I was pleased to meet up with Jim and Joyce at Barnham station, having started off on a different train. It was just us – 3 intrepid adventurers on this sweltering day! Smothered in suncream (it already felt tropical!) we quickly found ourselves away from the road and riding through beautiful countryside – wheat-coloured fields with haystacks against the bluest sky, woods, hills, the gentle Arun River. Then onto lanes with high hedgerows winding through some pretty Sussex villages – thatched cottages, fabulous well-kept gardens and a few sports cars!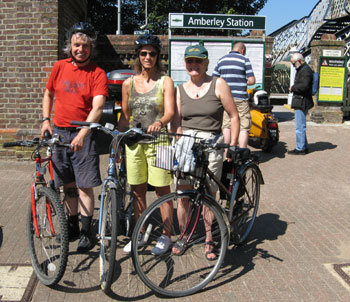 Under starter's orders – Jim, Linda and Joyce
At Bignor Villa we decided to have a look. After seeing fragments of pottery, tiny brass objects and even the boney remains of infant burials there were the amazing mosaics, so well preserved: Ganymede and the Eagle, Venus with cupid - gladiators, Medusa - wonderful intricate designs in ochre, terra cotta, white and grey-blue. Check Jim's pics on the website. It's really worth a visit.
Bignor - Ganymede and the Eagle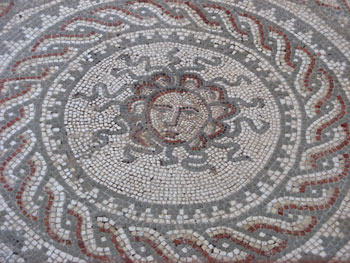 Bignor - Medusa
After the hot riding and dose of culture we were ready for lunch! We came upon the White Horse in Sutton and changed our plan to stop there for refreshment in a shaded garden. Food OK – the veggies had to ask for various things to be removed, but they obliged!!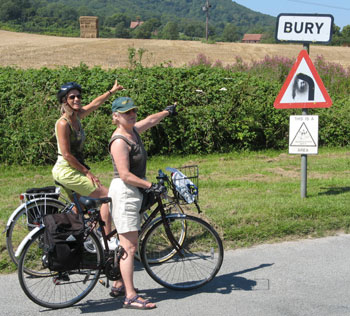 Fred's home town!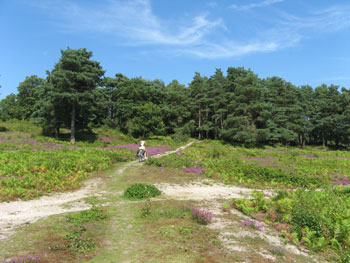 Linda at Lord's Piece
In the afternoon there was some off-road cycling through lovely quiet woods – mmm the smell of the ferns – a few sandy and then muddy bits to negotiate – Joyce's wheels got clogged up but soon recovered. The Lord's Piece was a sudden change of terrain – a triangle of bright heather and heathland, populated by the rare and elusive field cricket. We didn't actually see one but were fascinated to read all about them in a detailed account of their comings and goings pinned up at the entrance, while we revived ourselves with the first blackberries of the year.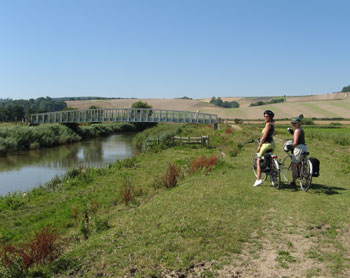 River Arun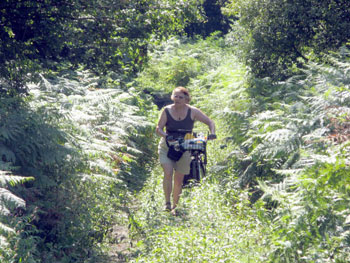 Joyce emerging from the undergrowth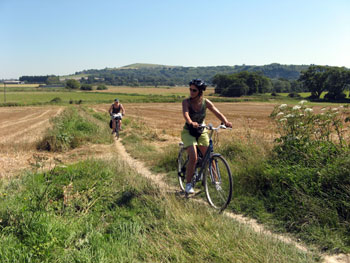 A rural idyll
The afternoon was sometimes a bit strenuous with some hilly, sunny stretches – but relieved by long shady lanes through silent, deep and tall woods. Joyce and I were tempted to explore them on foot – another time... Back in Amberley and some time to spare, we just had to have a cuppa at the Riverside café by the bridge. Wonderful cakes – Jim took photos of them and they deserve a mention!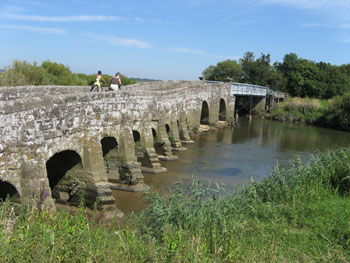 Greatham Bridge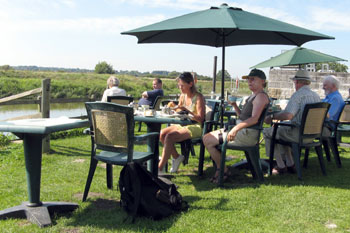 Tea by the river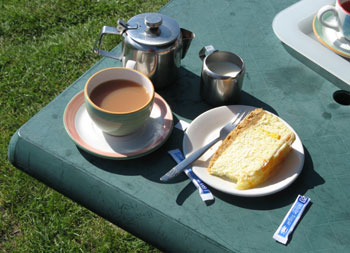 Mango cheesecake and tea
Mango cheesecake, apple crumble cake, lemon and almond were all delicious and very right on and organic too. So a fabulous, diverse treat of a day out. Thanks Jim for a great ride and to you both for good company. Finally back in Hove, achy, dusty and sweaty I plunged into the sea – a perfect end to the day!
Linda
Sunday 22 July 2007
Save the Shoreham Old Tollbridge charity ride
I've waited as long as possible in the hope of receiving the promised report of what Fred (below) calls the 'peleton' from Bernie – which will have to wait now for the next issue. Briefly, apart from Anne, Phil and Fred who did the 10 mile ride, there was Allen, Bernie, Helen, Jim, Joyce and me (Ian) on the 29 mile event. We were all very lucky with the weather – given the downpours of the preceding days. Those of us who didn't need to be back early took things ultra easily, made our usual lunch stop at Wiston and arrived back just a little after the (silly in our view) recommended 'lastest time' of 2.30. I'll leave it at that so as not to pre-empt Bernie's report – which I still hope to receive albeit not in time for this edition.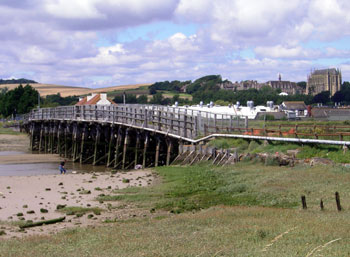 The Tollbridge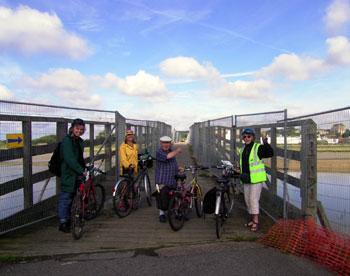 Jim, Anne, Fred and Joyce attempt the crossing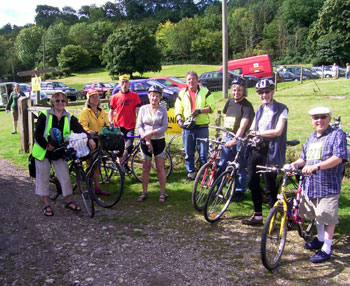 At the start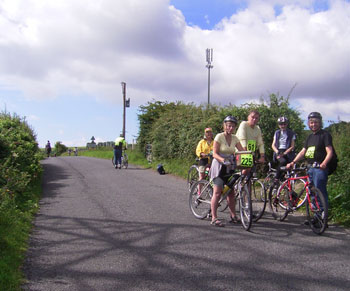 ian has a little bike trouble at the top of the first hill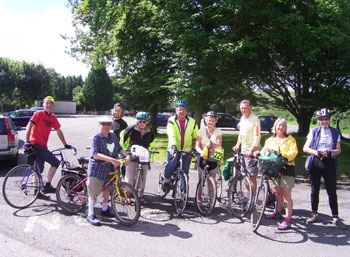 At Steyning, where the party split
Meanwhile, Fred writes:
After bidding goodbye to the peleton at Steyning, the 10-milers - Anne, Fred and Honorary Clarionette Phil - headed back to the start at a pace leisurely enough to examine the flora and fauna of the chalkland. First, however, there was a category 2 hill to negotiate, which Anne, despite her recent Alpine training, had to abandon and join Fred in a slow foot slog to the summit. After that it was pretty easy. Fred stopped off to buy a bag of greengages at a roadside farm and then we pondered for a while what the beasts in the field by St Botolph's might be. They looked a cross between sheep and cows, distinctly spotty (they were the ancient breed of Jacob's sheep, we found out back at the farm - according to Genesis 30:31-70, Jacob took every speckled and spotted sheep as his own from Laban's flock).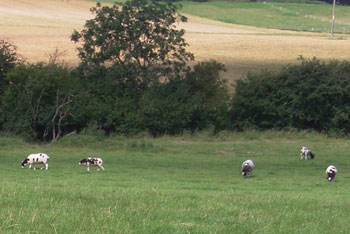 Jacob's sheep in the distance
Another less steep hill then it was orchid spotting by the roadside - only one lone example this year (maybe a consequence of global warming?) - a pyramidal orchid (Anacamptis pyramidalis), a native of these parts. According to Wikipedia: 'its scent is described as"foxy" and the dried and ground tuber gives a fine white powder, called salep, a nutritious sweet starchlike substance used in drinks, cereals, making bread, and Turkish Delight.' We, however, left it alone and travelled on down the hill to the Finish, where we received our medals, cups of tea and slices of delicious home-made tea bread.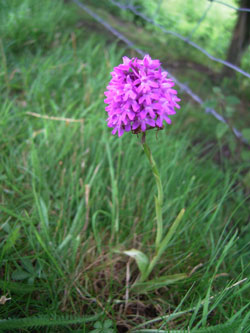 Pyramidal orchid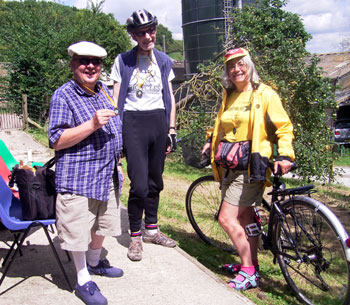 Fred, Phil and Anne show off their medals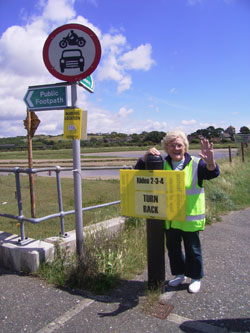 Happy marshall at the Tollbridge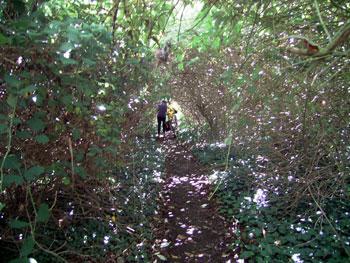 Light at the end of the tunnel
Then to complete the ride we headed back to the Tollbridge, hoping it wouldn't collapse while we were crossing it! Anne spotted Egrets wading and flying either side of the Tollbridge. Fred wanted to explore the tow-path route, as a way of getting to the Ropetackle development, so we set off along a path that got narrower and more overgrown, ending in a tunnel of wisteria and a dead end. After retracing our steps and sampling the first blackberries of the summer, Fred decided to take another narrow path closer to the river (which turned out to be the lost passage to Ropetackle), while Anne and Phil chose the road option. All in all, a great day out, which for me [Fred] could have been a little longer (I did 16.5 miles door to door) though probably not as much as 36 miles!
Fred
Ian's photos from the peleton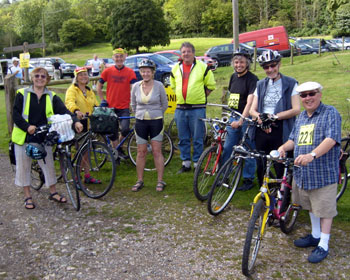 The start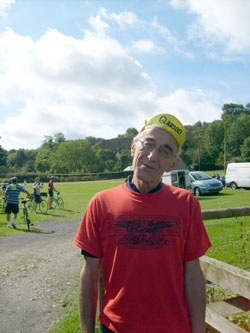 Allen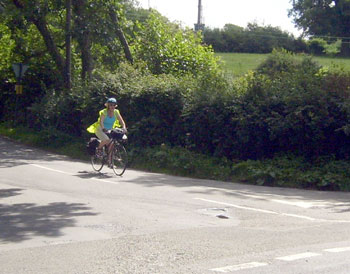 Joyce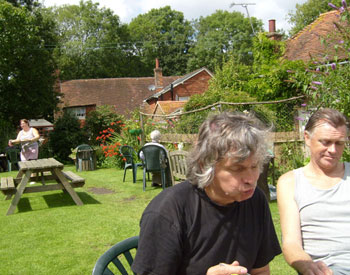 Jim and Bernie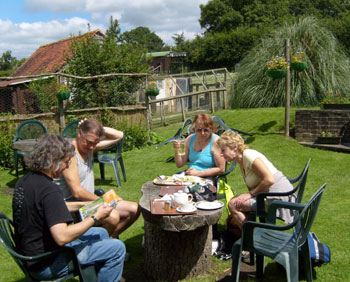 Lunch
Sunday 8 July 2007
The Downs Link: Christ's Hospital to Shoreham
This was one of Jim's rides, which he advertised as mainly off road and a bit stony. So, I worried that there might be rather a lot of mud given the recent rain. I also worried that we might get some heavy showers en route, given what I had seen on the BBC weather web site. I even worried about how my backside would cope with 20 miles of bumpy track.
On the train from Brighton Joyce, fresh from her Buddhist retreat in Wales, described how the regime of meditation, study and housework enabled her to stop worrying.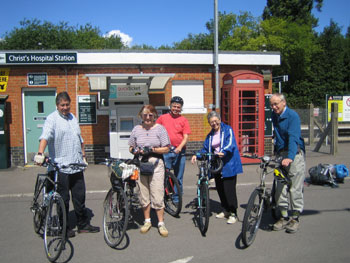 Richard, Joyce, Jim, Suzanne and Roger
After a change of trains at Three Bridges we arrived at Christ's Hospital's sleepy station. One of the few other people there was persuaded to photograph all five of us, Jim, Joyce, Richard, Roger and Suzanne.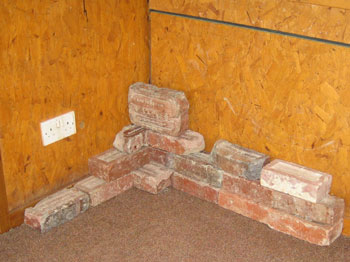 Jim's bricks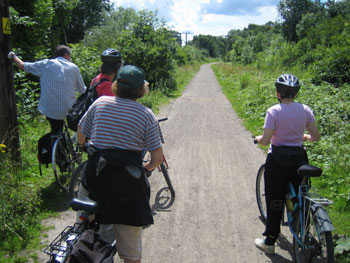 Along the old railway
Soon we were rolling southwards on the Downs Link path, which in a previous life was a railway line. First stop at Southwater for a brief visit to the country park where the old brick quarry has been turned into a boating lake. Jim's eye for detail found an unpretentious pile of Southwater bricks in the corner of the visitor's centre.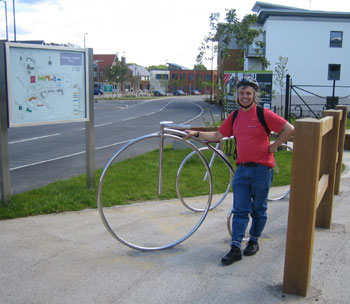 Jim's new bike
In Southwater village Jim toyed with the idea of swapping his trusty ATB for something a little more elegant, but then realised it was glued to the ground. Dodging horses and overhanging branches, we sped on to our next stop at West (yes West) Grinstead, where we found an old railway carriage packed with memorabilia from the age of steam.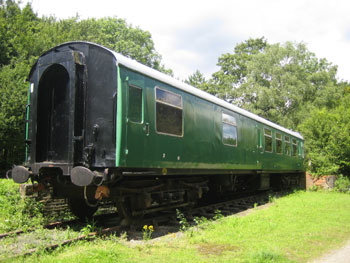 An old railway carriage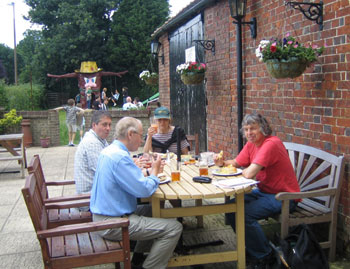 Lunch
Lunch was at the Partridge pub in Partridge Green. Then on to Henfield where we had to deviate briefly from the route of the old railway because of a new housing estate built across it after the line was closed in 1966. I wonder which wag it was who decided to call the estate 'Beechings'?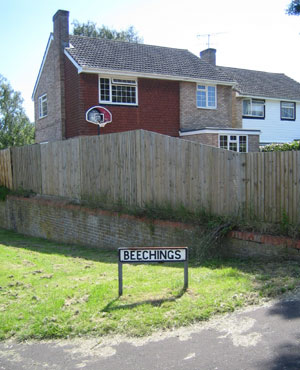 Beechings
South of Henfield we glimpsed the mediaeval Stretham Manor through the trees before speeding on to Bramber to photograph the now mandatory sewage works.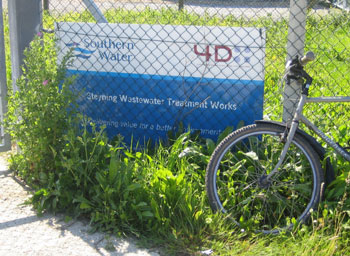 The now mandatory sewage works
The last stage of the ride took us past the old cement works to the end of the path at Shoreham. Jim's eye for detail came up trumps again when he spotted a carved wooden bench at the side of the path; it was in the form of a train, complete with steam billowing from its funnel.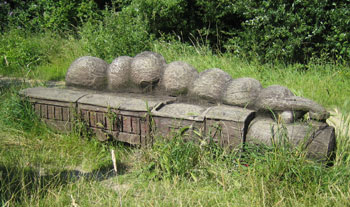 Train bench
After a brief stop for coffee, Jim and Joyce opted for the train from Shoreham while the others took advantage of the brisk westerly wind to sail home along the harbour road and sea front cycle path.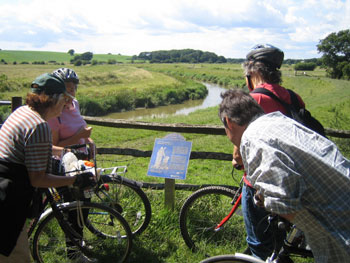 An informative fence
And all those worries? Well there was surprisingly little mud, no rain and as for my backside, no comment!
Many thanks to Jim for a very enjoyable day out.
Roger
24 June 2007
Littlehampton to Slindon and Walberton
Jim, Roger and Suzanne met at Brighton station for the 9:50 to Littlehampton and we can report that there were a few other, very damp, people around at that time on a Sunday morning.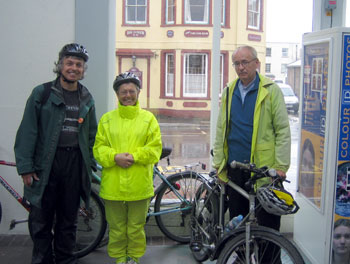 Jim, Suzanne and Roger
From Littlehampton we cycled north along the river, photographing en route the sewage farm, included especially for Ian's benefit - but he must have got wind of it and so was not able to be with us. After crossing the remains of an ancient canal we took to the quiet and occasionally muddy lanes through the forest to Binstead.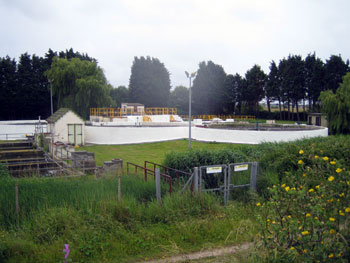 Sewage farm

We had to dismount to cross the A27, dodging amongst the aqua-planing traffic. We did not think it was a good idea to try to get a good glimpse of the Red Arrows as they flashed across the horizon at the same time; conversation for the next mile or so focussed on why people need to move so fast. Arriving at Slindon we paused by the cricket memorial for a quick photo and then, with all reference to speed in abeyance, we plunged in top gear down a glorious hill and back into the forest: was that pitter-patter just water dropping from the leaf canopy – or was it really rain pelting down? At the time your correspondent was not sure, as her glasses were covered in water and had steamed up!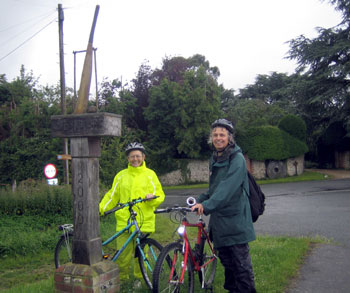 Slindon cricket memorial
Over the A27 again, past Fontwell Race Course and then to the Holly Tree at Walberton. It was packed. 'Are you part of the seven who are coming to eat?' was their polite way of saying: you can't sit at that table. In spite of reservations galore they did finally squeeze us in, on condition that we ate quickly.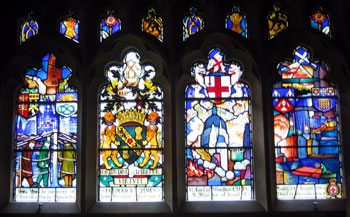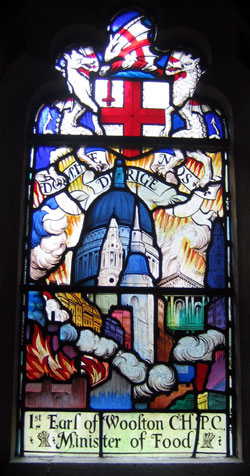 Lord Woolton's commemorative windows
After lunch we popped into the well-cared-for parish church of St Mary's to photograph Lord Woolton's commemorative windows. They pay tribute to his work in Liverpool and London so Jim asked the obvious question: why are they in Walberton? After a quick Google I can now reveal that in 1954 he bought Walberton House plus 160 acres and became squire of the manor; in 1956 when he was made an Earl, he was also given the newly-created title of Viscount Walberton. (Recipes for the wartime favourite 'Woolton Pie' available on request.)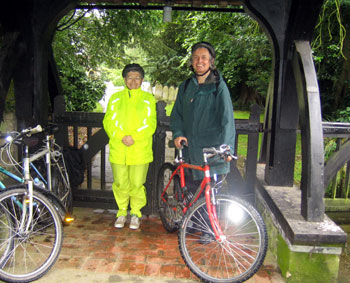 Suzanne and Jim at the church gate
Another photo opportunity at the church gate, and then the last few miles back to Littlehampton flew by. At the station we squelched gratefully onto the train for home (well Hove actually).
And that weather: well, we all know that idyllically sunny, summer Sundays were getting a bit boring, so today's grey skies and continuous rain were a refreshing change.
Suzanne
10 June 2007
Pevensey (not really) Levels; Walter's Haven & elderflower fritters.
Mick and I again took the lazy (and slower) option of the car, due to unfitness, having not been on a Clarion ride for weeks. Arrived well after the train with its 7 Clarionettes, but just before Richard and just in time for the usual station group photo, which was taken by a passing boy, whom Joyce entrusted with her camera. The station Co-op supplied water and food for those already needing sustenance and the ten of us set off for the Cuckoo Trail.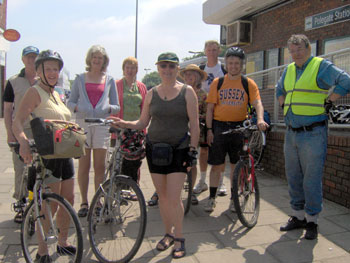 Station group photo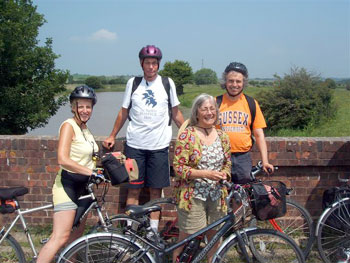 Crossing Walter's Haven, 1st time
We soon left the trail and took a right turn onto pretty, leafy Shepham Lane. Heading east on a trail less busy than the more famous Cuckoo and totally happy and relaxing, amid blooming bushes and trilling birdsong. Ian had warned of the Wartling Road that it was often busy. He didn't say it was often too hilly to be Level. The sounds of clicking gears and noisome cars playing dodgems with us, accompanied this section, with its bends and undulations unbefitting to a Level. However, Wartling, though sounding like a medieval curse, looked a picture and The Lamb gastro pub beckoned invitingly. Mick deemed this a pub to return to, but Ian had chosen well in The Red Lion at Hooe Common (haunt of smugglers), which we eventually reached, after more hills, bends, clicking gears and clonking wheels (from Bernie and me) and Jim's chain coming off as he attempted to find a gear low enough for him to climb to the pub.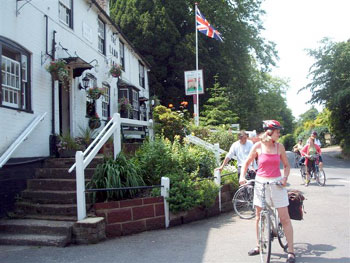 The Lamb looks luscious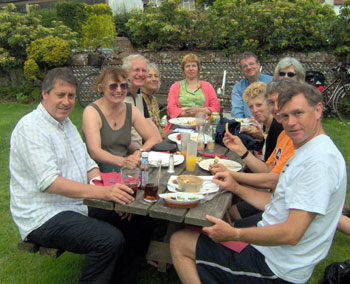 Lunch
Finally we all reached The Red Lion and its garden and were delighted by the comprehensive menu and fine cooking. Lunchtime conversation turned to the fellow travellers on the Brighton train, including an interesting transdresser with an interest in pole dancing. This led to pondering the difference between lap dancing and pole dancing and to yesterday's Naked Bike Ride in which Joyce participated enthusiastically and reports separately for us. The dismal local election results were dissected along with the whitebait, meatballs, soups, salads and pies. International issues were covered with the help of Tessa's friend, Angelika, who was able to fill us in on German films (to avoid) while Mick and I highly recommended Lives of Others. Denmark and Danes, led on from poles and laps and we all fancied sand-yachting as recommended by Helen.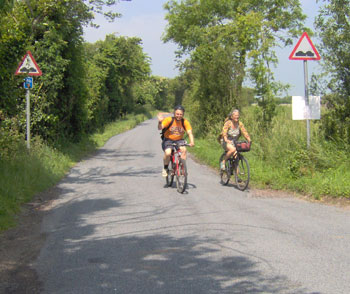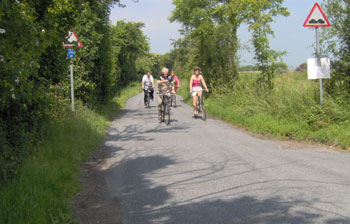 A bumpy road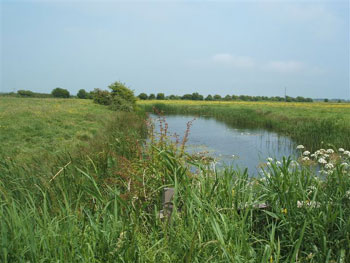 Walter's Haven from Horse Bridge
Off again, we re-crossed Walter's Haven at Horse Bridge with water-lilies in profusion beneath and buttercup meadows beyond. Tessa and Angelika began to collect the perfumed elderflowers from the hedgerows for their teatime fritters, for which they were later fortunate to find a cottage-side stall selling eggs. Bikes bedecked with elderflowers should have been photographed but we didn't want to tail too far behind. Ditches and willows and private fishing grounds and Environmental Agency fields surrounded the quiet narrow road. A short stretch of the fast B2095 had to be crossed, but soon we were off it and back again to gentle green trails and almost home to the Cuckoo Trail and the Old Loom Mill Tearooms. A perky little pied wagtail joined us for tea, coffee and most moist and delicious coffee and walnut cake. Joyce, Jim and Ian's table planned the Isle of Wight Clarion Cycling Weekend for next April, staying in youth hostels.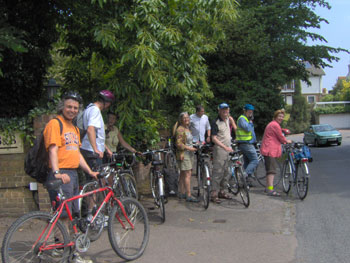 Another group shot
Good luck to Richard and Bernie for the London to Brighton next weekend. Thanks to Ian for organising a perfect summer's day, refreshing the parts and the people from busy cities – Richard and Angelica had to go back to London on Sunday night, but even Brighton bustles compared to those green and pleasant lanes, where the village website suggests remote and peaceful Walter's Haven and Horse Bridge may not have changed in 1000 years. Confusingly, same site suggests that hilly Hooe may have been where William landed in 1066, sea-levels having been 5 metres higher, thus (surely) inundating any surrounding land.
Anne
Sunday 27 May
East Hoathly (via Potato Lane)
As forecast, the day gloomed – overcast and threatening and, not surprisingly, only Richard and I were at the station, Fred, we knew, was involved with Festival work, and, of course, Ian was there steadfastly waiting for us at Glynde. Setting off we joked that the last times a ride had started at Glynde there had been problems (once when Ian's bike had problems and he had to turn back and the last time when it absolutely poured and Jeff also had bike problems, so the ride was cut short. 'Was it jinxed?' we asked ourselves – with me adding light-heartedly 'well there is never two without three' … Little did we know…
Richard and Ian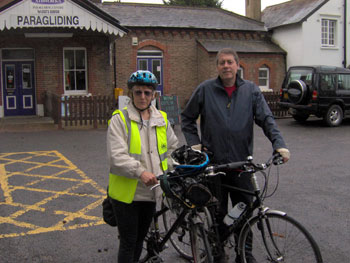 Joyce and Richard
In fact the rain held off and we started off jauntily after the traditional photo at the station (or two just to bulk the numbers…). Off we went up that daunting hill (that Ian calls 'the little hill') with the two men making the trail and me gasping on behind. After the hill Richard and I found ourselves out front, Ian having had some problems with his gears. But eventually we realised that we had been bowling along for some long time and still no Ian on the horizon. We wait around and then retrace our route to the top of the hill and wait there some more, this time beginning to get concerned at not seeing him.
Finally Richard decides to go back to look for him. No sign – we then wait some more, with me telephoning his mobile only to get a 'turned off' signal. We ask another cyclist who had just come from Glynde whether he had seen a rider in a bright yellow jacket – No sign! This was beginning to look like a Doctor Who episode … Quiet country lanes and the sudden disappearance of a cyclist!
After riding up and down for about 4 miles-worth, we finally spot him coming along. The story was nothing like the many we had been positing … On getting to the top of the hill, he had realised that he did not have his car keys and had left his car open. By that time we were way ahead and did not hear his calls so, after pursuing us for a while, he turned back to look for them. When we finally met up again, despite going all the way back to Glynde, he had still not found his car keys. Was this another doomed ride? None of us could imagine what he had done with the keys – but in retracing every action we recalled the photo session at the station – Ian had taken the first photo … To do so he had put his helmet in my basket – but - no car keys in the basket ! Then – brainwave! – Ian takes off his helmet – and there are the car keys ... he had put them in his helmet and been riding around with them on his head all the time. Hilarity all round … But the car was still unlocked so Richard and Ian went back to Glynde to lock the car – whilst I waited at the top of the hill and communed with the sheep. So that made three times up and down that hill for Ian and twice for Richard. I didn't feel too guilty though about not going back with them, Richard is in training for the London to Brighton and I probably would not have made the rest of the ride if I had.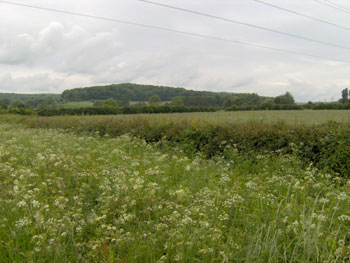 Beautiful even under a grey sky
Despite the setback we decided to continue the ride – and still the rain held off. In fact this is a very beautiful ride – one to be repeated, unjinxed next time. Quiet smooth lanes, mostly flat with only the occasional slope upwards and some lovely long downhill bits. At times the Downs to the left and woodlands to the right – through woods, and high hedgerows. The exact route is clearly spelt out in Ian's description and we dutifully saluted the alpacas and noted H's palace – presumably now left to rot? And, after our to-ing and fro-ing the Kings Head was a very welcome sight indeed and the good food a needed restoration.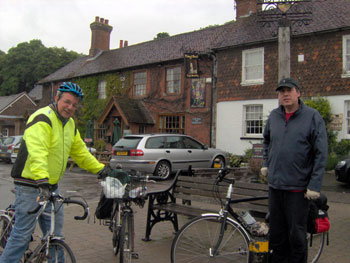 Outside the pub - refreshed and ready to go
During a longish lunch the rain decided to make an appearance and the ride back was mostly in the wet but downhill and – as we kept saying - 'once you are wet you can't get any wetter', and again a very beautiful route … By the time we reached the station though we felt that home as quickly as possible into a hot shower was wiser than stopping for tea.
My computer stopped working in the rain but by my calculation Ian had done about 35, Richard probably 32 miles and me not far off 30.
Joyce