Dear fellow members and friends

9 January 2007
For members, it's time to renew our subscriptions for 2007. The national subscriptions are now £6 for over 18s and £3 for those under that age. As far as the section is concerned, we have enough in the kitty to see us through the year comfortably so we are going to suspend our £1 sub for the time being. This will be formally confirmed at the AGM. The size of our cardvote at the national conference in April, which might be of some importance this year, depends on the number of paid-up members, so please don't delay doing this too long.
So it's all very straightforward. Send me a cheque for £6 made out to National Clarion Cycling Club and I will send them on in batches to Donald Lever, the national membership secretary. I did, by the way, sound out Donald about 'cutting out the middle man' and everyone writing direct to him, but he prefers to do it this way – no doubt for perfectly good reasons. So send to:-
Ian Bullock, 104 Bonchurch Road, Brighton BN2 3PH
If you're not yet a member, but would like to join us, please download and print off the membership form (note that the subscriptions given at the bottom are out of date) fill it in and send it to me – with your cheque, of course, made out as above.
Can I remind members that the 2007 AGM will take place at 8pm on Wednesday 7 February at Joyce's house? [32 Bentham Road – directions on request.] Please suggest any items for the agenda – which I will be sending out as soon as I get information about the national secretary elections and other issues that we will need to take a view on.
I've had an email from Colin Cartwright, who is researching his maternal great grandfather, Isaac Christmas who seems to have owned a bike shop in the Brighton/Hove area and during the 1890s and 1900s was a racing cyclist. If the name rings any bells let me know and I'll put you in touch with Colin.
Last week I mentioned Brian Hutton's 1954 exploits. The other day I had a letter from Brian enclosing an item he thought might amuse us. I was very puzzled to begin with – until I got to the last line. Here it is – unexpurgated!
WELCOME TO WONGA WONGA SAFARI PARK
Australia's finest collection of lions, tigers, panthers, leopards, brown bears, crocodiles, anacondas and poisonous snakes, all existing in complete freedom in our scenic parkland

WARNING  All vehicle doors and windows to be kept closed while in the park.
ADMISSION PRICES: Coaches 200 dollars. Cars (up to 4 passengers): 20 dollars
SPECIAL CONCESSION – POMS ON BICYCLES WILL BE ADMITTED FREE
Well I can't resist a bargain or special offer – so I was sorely tempted to make Wonga Wonga our goal for the next ride – but it turns out to be just a bit too far. So I've settled for Lindfield instead. 
Boots!
Ian
The Next Ride
 
Sunday 21 January
Lindfield c 23 miles
This is similar to a ride that Tessa, Sue P and myself did back in September 2004 – except that we based it on Wivelsfield station, which, since it involved carrying bikes up and down long flights of stairs was not such a good idea. So this ride starts at Hassocks!
 
This time, for a change, we'll pass the road to Hurstpierpoint College, go through Hurstpierpoint and take the little lane just before the bridge across the A23. Then we'll veer a little to the east and go through Goddards Green, crossing the A230 at the traffic island and on to Ansty. From there into Cuckfield and then the bridleway through the Borde Hill estate. 
 
The next two or three miles will be a bit suburban, skirting round the northern extremities of Haywards Heath to Lindfield. There are 5 pubs in Lindfield, so we should be OK. In the past we've stopped – for tea rather than for lunch – at the White Horse down by the pond. I gather from Google that this is under new management and incorporates a Thai restaurant. We'll see what's on offer and what people feel like on the day.
 
We'll return by a route that will be familiar to anyone who's done the London to Brighton BHF ride – featuring Slugwash Lane – but after passing Ditchling Common we'll take the B2113 towards Burgess Hill then the lane down to Keymer and from thence (thence!) back to Hassocks station.
 
Catch the 11am from Brighton or meet at Hassocks station at 11.10. 
Trains back – best bet = 15.38 (next one is 16.38 which might still be a bit late lightwise?).
 
Points of interest: Cuckfield and Lindfield, both on the fringes of Haywards Heath, are attractive villages. We won't be able to see much of the Elizabethan Cuckfield Park as we pass by, but Cuckfield itself is – in Pevsner's words – 'an unspoilt village' He says there are 'no special houses' but then goes on to mention several timber-framed ones and the Kings Head with its 'Early Victorian Tuscan porch.' He was even more impressed by Lindfield whose High Street he says is 'without doubt the finest village street in East Sussex' (except that unless I'm very much mistaken it's now in West Sussex.) The 'alternation of timber-framing and stately Georgian brick is the leitmotif, as one goes down S from the church.'
 
 
The Last Ride – Roger's Report
 
7 January 2007
Lewes – Newick
 
The BBC weather website was not exactly clear about its forecast for this particular Sunday. You could have expected anything from 30mph winds and rain to sunshine with a gentle breeze.
 
So five gamblers took their chances. Fred, Joyce, Suzanne and Roger met at Brighton station for the 10:39 to Lewes. Ian was waiting at Lewes to lead us through the back streets and out of the town, but not before the usual bystander had been persuaded to take our photo on the station forecourt.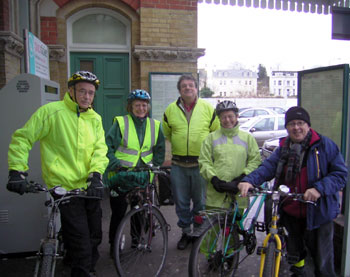 Roger, Joyce, Ian, Suzanne and Fred at Lewes station
 
The lane along by the river had become fairly waterlogged in the recent rain so there was quite a bit of slipping and sliding, both on and off the saddle. By the time we reached Offham church, tyres, brakes and shoes were all well covered in mud.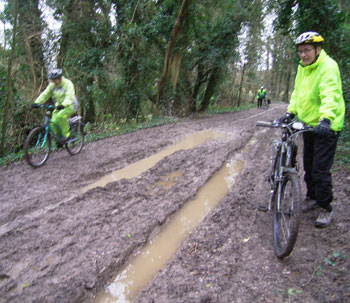 Suzanne braves the mud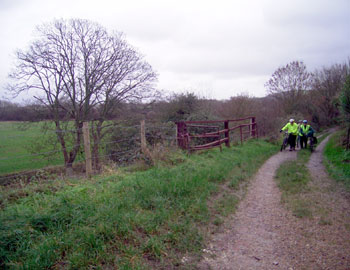 Up the hill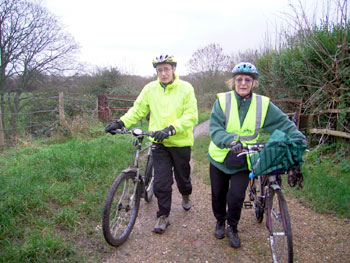 Roger and Joyce near the top
 
However, it was good clean tar macadam after that. We bowled along, up hill and down dale, with the occasional latter-day Toad shooting past in a low slung sports car.  
 
By 1pm we were in Newick. The Royal Oak is obviously a very popular pub. As we squeezed our way through the crowds it felt almost as though the village was still enjoying the festive season. However, we soon found a table in the corner and settled down to enjoy a variety of food, drink and conversation.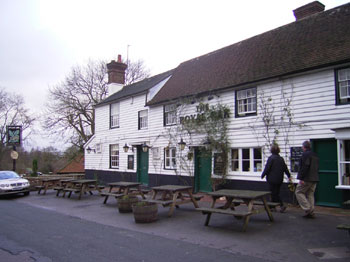 The Royal Oak at Newick
 
It wasn't long before the talk turned to politics – Clarion politics that is: it seems that there is a move afoot to change the club's constitution in a way, which may possibly undermine its socialist heritage. Ian promised to circulate more details when he gets them.
 
It's not surprising perhaps that the discussion then moved on to issues such as the true nature of socialism, whether calling yourself a democratic socialist implies that you believe there could be such a thing as an undemocratic socialist, and whether Roger would be willing to share his chips.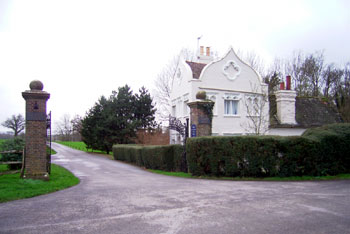 Pinnacle Lodge … a charming Late Georgian folly
 
It's not entirely clear whether it was the direction of the wind or the size of the lunch, but the ride back to Lewes, via Barcombe Cross and the interestingly named Earwig Corner, was undoubtedly harder work than the ride out. Everyone was glad to see the final hill down into town. And, in spite of grey skies, there had not been a drop of rain.
 
Many thanks to Ian for a well planned day out.
 
Roger