Dear fellow members and friends
7 December 2005
First a quick reminder about this coming Saturday's Christmas Get-Together at The Swan at Falmer 1 pm. It's not necessary to book. But if you know you'll definitely be coming let me know and if it seems a good idea I'll ask them to reserve us a table (or two). i.bullock@ntlworld.com or (01273) 682133. If anyone doesn't know how to get there – just ask. Everyone is invited.
I've recently received a letter from Charles Jepson, our National Secretary which includes the following paragraph.
'Last week we re-formed a Clarion Section at the Bolton Wood Socialist Club, one of the few remaining truly Socialist Clubs in the country. One of that Section's first actions was to pledge to produce a large painted "trade union style" banner in memory of Ray Cox (Southampton Clarion) and Roy Watts (Portsmouth Clarion) who fell defending the democratically elected government of Spain against the forces of fascism. I am delighted to say that UNISON has donated £500 towards this project. I will shortly be writing to the Trades Councils of Portsmouth and of Southampton asking that they too may consider supporting this project. Whilst I am not asking, nor do I particularly expect, Clarion Sections to financially support this project, messages of support from those Sections who value our history would be greatly appreciated by those involved. I would therefore be most grateful if you could discuss this with your comrades on some suitable occasion.'
We can certainly discuss this informally on Saturday, and I will put a suitable motion of support for the project on the agenda for our AGM (no date yet fixed – suggestions welcomed) next month. In the meantime, as Charles goes on to say, 'Should any individuals be inclined to contribute, donations should be made out to Bolton Wood Street Clarion and forwarded to me.'
Charles's address is:
Charles Jepson, Aysgaard, Beardwood Brow, Blackburn, Lancashire, BB2 7AT
On the subject of Clarion history, I'm very grateful to Michael Walker of UNISON for sending me several extracts from a 1937 Bolton Clarion magazine. Fred will put them on the History page as soon as he has time [done – Fred].
Boots!
Ian
The Next Ride
 
Sunday 18 December – Last Ride of the Year!
And now for something … completely flat. Shoreham Airport and Back. c 20 miles.
Stopping at Carat's Café for coffee and Shoreham Airport for lunch. I've worked out a route which, though the return part is sometimes only a few yards from the outward one, only involves coming back exactly the same way for about a quarter of the total – mainly the cycle path along the seafront.
 
Not one of our idyllic rural routes, but it does make even the Pevensey Levels seem hilly. And it's not devoid of scenic bits – the seafront of course, the views from the Shoreham Harbour locks, the footbridge over the Adur, and the toll bridge later, the splendidly 1930s Shoreham Airport building itself – most recently spotted on TV in a repeat of Fortunes of War masquerading as Bucharest Airport – and the view from there of that gem of the Gothic Revival by R H Carpenter, Lancing College chapel. And we pass by both the medieval churches in Old (St Nicholas) and New (St Mary de Haura) Shoreham. (For those who don't know the difference, Old Shoreham is where the Old Shoreham Road goes to.)
 
Meet by the Palace Pier at 10.30 – or along the route at eg Maroccos. About 20 miles give or take depending on where you live/or are cycling from. 
 
The Last Ride
Sunday 4 December – Sue Pringle's report
Although the weather forecast had been promising, Joyce and myself (Sue P.) set out for the Palace Pier meeting place in the rain. I was very impressed to find Fred already there in spite of the wetness. He had a message from Joyce who had gone back home to fetch her pannier – adding several miles to her day's cycling! So Fred and myself sauntered along to the King Alfred via the cycle lane to meet up with Mark.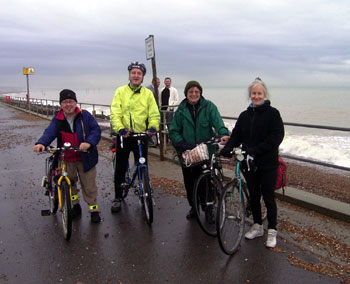 Fred, Mark, Sue and Joyce outside Carat's Cafe
A short consultation led to a unanimous decision that we would wait for Joyce at Carat's Cafe, treating ourselves to a well-deserved coffee break - after all - it was raining!
Once Fred saw the menu he could not resist ordering a breakfast, and to keep him company I did the same. Joyce arrived just as we were finishing, having raced all the way, wet outside with the rain, and inside with condensation! As we emerged from Carat's we found the sky clearing and the rain stopped.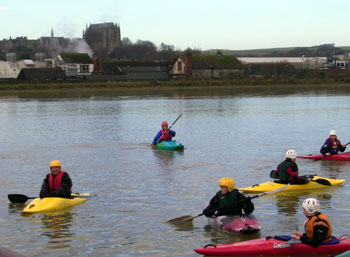 View of the Adur and Lancing College from the toll bridge
We crossed the locks, and Southwick Green, making our way to Shoreham by the back roads. The ground was still very wet and we chose to cycle over the wooden bridge and to Steyning via Coombe Lane, where Mark showed us a clean pair of heels up each incline. A little concerned about time, Joyce pointed out the three old churches we could have stopped and looked at, including St Botolphs, but we zoomed past and on through Steyning to our lunch at The Star. Service here was good and the staff helpful so we enjoyed a pleasant hour of r and r.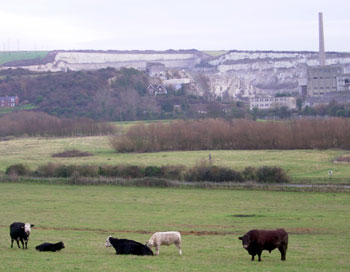 Bull in field from one of the hills, overlooking the cement works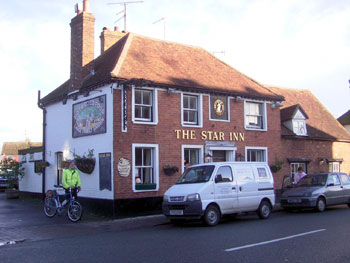 The Star Inn at Steyning
Wishing to avoid the main road, we made a detour round the backroads, stopping to visit the 12th Century church of St Andrew where a service was about to begin. Thence cycling over the main road to reach the Downs link which took us back to the old wooden bridge and Shoreham. There was a general consensus that mud and puddles on the flat cycle track would be preferable to retracing out journey over the hills of Coombe Lane. So we all returned with our bikes covered in mud!
St Andrew's, Steyning – note the blue sky!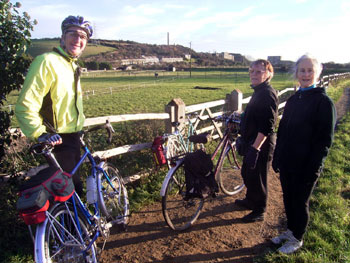 Mark, Joyce and Sue get ready to take on the mud!
At Shoreham station, no-one cared to wait 20 minutes for the next train, so we all set off back to the Palace Pier, arriving as the sun set, having dropped Mark off on the way. We were all pretty pleased with ourselves, having completed about 26 miles on a day that had started out so grim.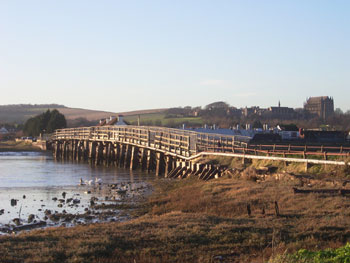 Old Shoreham toll bridge on the way back
Fred has recorded much of the ride on his camera, giving us plenty of little breathers as we rode – so all is dutifully recorded.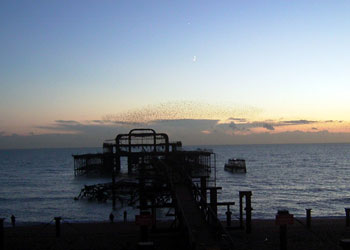 Starlings swarm over the remains of the West Pier
Well, in spite of the wet beginning, I really enjoyed being outside, and in good company. A pleasantly flat ride and satisfying to having begun and ended by bicycle, all on our own steam!
Thank you to all four of us!!
Sue