Dear fellow members and friends
6 February 2007
I'm about to send off the subs so far received plus any I'm given – hint – at tomorrow's AGM. Also, of course the membership forms of our new members. Thanks. I'd like to finish messing about with cheques by the end of this month if I can. So if you were a 2006 member and haven't yet sent me your £6 (or £3 if you're under 18) I'd greatly appreciate receiving a cheque made out to the National Clarion Cycling Club some time in the next 3 weeks. Send it to:-
Ian Bullock, 104 Bonchurch Road, Brighton BN2 3PH
If you're not yet a member, but would like to join us, please go to the homepage of our website, download and print off the membership form fill it in and send it to me – with your cheque, of course, made out as above.
Last week I received an email from Fred Louchel, originally from Dieppe but currently living in London. He writes 'I ride a fold-up bike everyday, to go to work or for my leisure whereabouts. Lately, I met the man who founded a bicycle riders association in Dieppe ("Dieppe a velo"), Christian Avril... Christian is thinking of the fold-up bike to use as a symbol to promote cycling further in Dieppe, as a way to travel environmentally but also conveniently. As I'm UK based, he asked if I could talk to fold-up bike riders in the UK and propose them a fun day out in Dieppe... it could possibly be a day-trip, and Christian would be happy to prepare suggestions of itineraries (and restaurants!) for anyone coming over. Can you think of any fold-up bike riders at Clarion who might be up for such an outing ? If so, I'd be extremely grateful if you let me know how to contact them. I often travel to Dieppe by ferry and could easily stop over in Brighton to chat with them about the project.'
Well, that sounds interesting – but I don't know who has got a folding bike (though I remember that Mark (Strong) had one stolen last year – ironically while he was attending a cycle reps meeting at Hove Town Hall). If you might be interested, why not contact Fred direct – his email is f_louchel2@yahoo.co.uk and if you copy the message to me, I'll be able to see if there is sufficient interest for us to think about getting involved in it as a Section.
Sorry about missing Sunday's ride. I had my bike in the back of the car ready and then was struck down by the dreaded lurgie in the early hours of Sunday. Thanks for the good wishes, Fred, Joyce and Jim. Should be OK for the next one (fingers crossed!)
Boots!
Ian
Neil has asked me to include the following in this circular. I haven't edited it – though I have to say I don't think there's anything at all to apologise for. And I'm sure we all hope things go ultra-smoothly for Cara.
Easter Meet 2007 – an apology
Sorry to sound like one of those BBC announcers with an embarrassing judgement from the Broadcasting Complaints Commission but I'm afraid it's time for me to pen a note of contrition.
Regular readers of the circular will recall that last Summer I hatched a plan to ride to this year's Easter Meet in Hereford. It perhaps sounded like a hair-brained scheme and so it has turned out, scuppered by a hatching of a different kind – Cara's expecting our second child just a few days before the Meet (no conspiracy theories please!). With wild rumours circulating about the state of Sussex's maternity wards I did consider checking out the hospitals in Hereford but Cara put a delicate end to this line of research.
So there we go, I'll have to forego the Easter Meet for another year. Bob and John had both indicated their intention to do the ride with me – my humblest apologies to them and to anyone else who was planning to join us. We'd hoped that our accumulated miles would be sufficient to claim the Clarion trophy for the highest mileage riding to the Easter Meet. I don't know if Bob and John are still intending to do the ride but if you are I just hope that my absence doesn't leave you short of miles. Whatever happens I owe you both a pint or two!
I appreciate that my stock in these matters may now be running a little low but, for what it's worth, I'll be up for another attempt 2008!! (I'm sensing yawns and yeah yeahs). On a more definite and positive note, I've just sent in my application for the London to Brighton ride this year. Don't know if anyone else is planning to take part (it's on 17 June and I'm not sure if that'll be a Clarion Sunday) but if they are and you want to meet up just let me know.
Boots!
Neil
The Next Ride
Sunday 18 February
Chiddingly - only 18/19 miles
It seems an age since we visited the Six Bells. Strictly speaking this is a new ride – although I think I'm right in saying that we've done all the different bits of it at least once. I've just joined them up differently!
Starting at Berwick station we head across to Mark Cross and Laughton – cross the main road – and make towards Shortgate but then take the track through the woods (Vert Wood etc) to Whitesmith and from there make our way to Chiddingly – for lunch at the Bells. We can return via Golden Cross and the 'airfield' road to Ripe and then loop down to Selmeston (possible tea stop) and back to Berwick (another possible tea stop at the Berwick Inn).
Catch 10.20 from Brighton Station or meet at Berwick Station at 10.43. Aiming to return by 15.48 from Brighton arriving Brighton at 16.12. But by then even the next train, the 16.48 arriving Brighton 17.12 may be OK with the evenings getting lighter.

The Last Ride – Jim's Report
Sunday 14 February – Pevensey Levels
This was a sort of 'DIY' ride, because our leader, Ian, was unable to make it owing to a bout of the flu. So the four of us (Fred, Jeff, Joyce and I) had to make do with a printout of Ian's route description and two OS maps.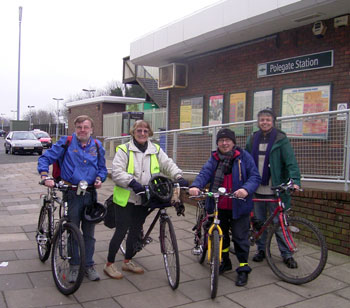 Jeff, Joyce, Fred and Jim
The first bit shouldn't have been a problem, because we knew that on alighting from the train at Polegate Station (and after the obligatory photo, taken by the second person we asked, the first having been frightened off, probably by Joyce's luminous yellow coat) we had to make for the Cuckoo Trail.
Unfortunately, neither of the maps actually showed the Cuckoo Trail; mine (dated 1974) only had the wispy geological features left by the cuttings and embankments of a 'Dismantled Railway', while Fred's (thought to be late 19th century [1960, actually! – fred]) showed an actual railway (and both, incidentally, showed Polegate Station in its old position, about a quarter of a mile east of the current one). Of course, both of us had planned to buy new maps for the occasion, but unfortunately we had to blow SIX WHOLE POUNDS on our Clarion membership renewals instead …
Luckily, the Cuckoo Trail features very regularly in Clarion rides, so we could do that particular journey with our eyes closed, although we'd probably be run over in the process. I was interested to note that the first section of the Trail does not actually follow the track bed of the old railway, but instead descends gently down the side of a cutting. At the foot of this incline, if you look back towards Polegate you can see the (non-asphalted, and rather overgrown) old track bed curving away to the left, but as we did not stop here that was all I could see. I had another look on the way back, and thought I could discern a bridge or a tunnel at the Polegate end, but since by this time we were racing for the 3.42 train home, there was no time to do any more; so there was simply nothing for it but to go back the next day and have a proper look. OK, I'll be honest, I'm not really that much of a nerd; I just happened to have an appointment at Herstmonceux the next day, so I made sure my return journey took me along this section of the Trail.
What I saw was (a) a whole army of Men In Hard Hats 'coppicing', making it look a lot less overgrown, and (b) a vertical bank at the end – how disappointing – I had hoped to discover a scary old tunnel! The cutting must have been filled in before building the new estate that starts just at that point and extends to the main road, since on the other side of said road you can see the (very overgrown) cutting reappearing.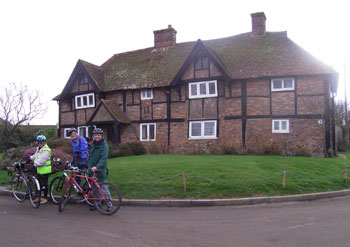 The Dog House
Back to the ride. Well, we turned off the Cuckoo Trail proper almost immediately, and went eastwards along a pleasant tree-lined path that is also described as 'The Cuckoo Trail' but is clearly not an old railway line. At the end of this path we turned northwards, joining a lane which, according to the 1974 map, turned off the aforementioned main road (then known as the A27) in the direction of Hankham and Rickney. Of course, since then, a new by-pass has been built, and usurped the name A27, and the lane now crosses over it via a bridge. From here we could see the other bridge, perhaps half a mile to the west, where the Cuckoo Trail crosses over the bypass. We continued along this lane – very narrow, quiet and cycle-friendly, although I wouldn't have liked to meet a fire engine coming in the opposite direction, or, indeed, any direction – across the south-west corner of Pevensey Levels, meeting a slightly wider road and eventually turning southwards at a junction known, according to my map, as 'The Horns', and into Hankham. Here we passed a rather impressive looking house called 'The Dog House', which had featured in an earlier ride. If that is the sort of accommodation they give their dogs out there, the humans must live in palaces! On the way, we had noticed another substantial edifice – Lusteds Farm House – which had a cute little thatched hut in front of the main building, by the road, and wondered what it was for. I found out the next day; as I passed the house, a huge yellow drain tanker was parked there; the hut obviously houses their septic tank!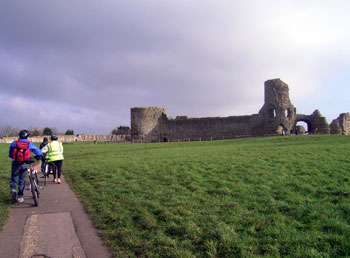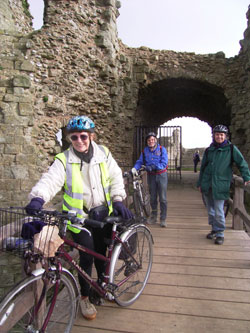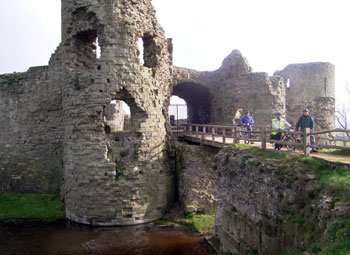 Pevensey Castle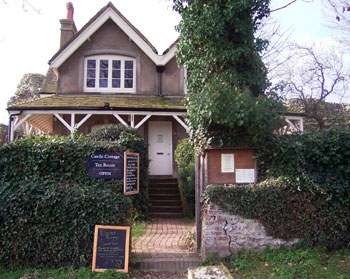 Castle Cottage Tea Room
On to Pevensey, crossing the A27 yet again, via the intriguingly named Peelings Lane. Then round the castle grounds; we shunned the £3.20 entrance fee for the castle itself and instead headed for a coffee (or in Joyce's case a jasmine tea) at the Castle Tea Rooms. The church next to the Castle is apparently the first one the Normans built in Britain. Of course in those days, Pevensey was on the coast (and indeed was shown as such on Fred's map - no, only kidding) – an honour that nowadays goes to Pevensey Bay, a collection of various weird designs of bungalow (some semicircular, or perhaps elliptical), a Martello tower that is apparently being converted into something, and a railway station where hardly any trains ever stop.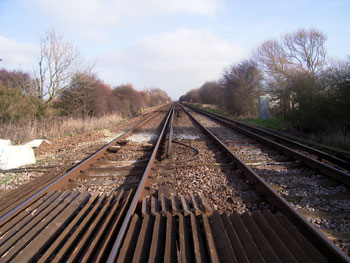 A study in one-point perspective
Eventually the coast road runs out of houses altogether and there is a caravan site – yes, we are in Norman's Bay. Here the road crosses the railway line at an attended crossing; Fred thought the middle of this very straight stretch of railway line would be a good place for a photographic study of Single-Point Perspective, but unfortunately the crossing keeper thought otherwise; however, I think he got at least one shot before being turfed off.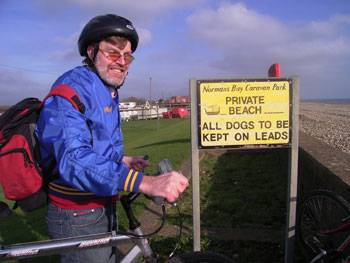 Jeff heeds the notice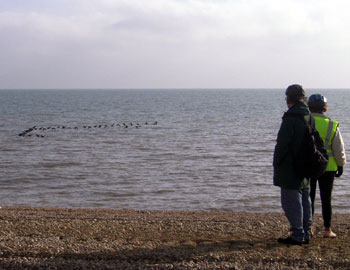 A formation of geese practice low-level flying for Jim and Joyce
After having a quick look at the (private!) beach and deciding it was too cold to go in the sea, we re-crossed the railway and made for the pub – The Star at Norman's Bay. We had been warned that this might be a bit crowded and noisy, but it seems the cold weather had put enough people off to allay our fears. In fact we sat outside! The conversation over lunch was of the forthcoming Clarion branch AGM (Wed 7th at Joyce's), rumblings of a threatened takeover of the national organisation by Lycra-clad Blairites, and the importance of mandating our delegate to vote in an appropriate fashion.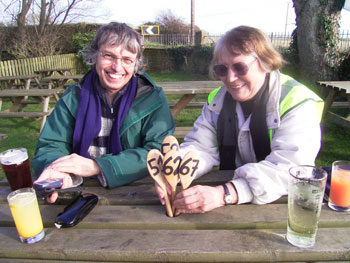 Joyce practices her numeracy and dexterity skills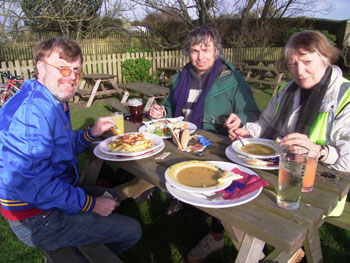 Lunch arrives
After lunch we turned back towards Polegate, taking the more inland route to the roundabout on the A27 (in fact, this is where it starts, on its epic journey to Southampton) and up the Wartling road, turning left towards Rickney and retracing part of our outward route, eventually joining the Cuckoo Trail further north than we had left it in the morning. A possible afternoon tea stop was eschewed because of the imminence of the train.
A very pleasant eighteen and a half miles, and hardly a hill in sight. Thanks Ian, and we hope you feel better soon.
Jim