Dear fellow members and friends
8 June 2005
We've had some new members and ride participants recently, so I thought a few reminders might be timely. I have a few Clarion cycling caps, reproduction 'trumpet' and remaindered 'oval' badges as well as copies of Denis Pye's history of the Club. For details click on items for sale. I can also lend recordings on both cassette and CD of the short programme on the Clarion CC in last year's R4 series 'Pedalling to Freedom.' Check out the 'reports' on the previous circulars page for the illustrated version of ride reports.
Boots!
Ian
The Next Rides
Sunday 12 June
Shoreham Tollbridge fund-raising ride
As explained in the last circular, in the normal way our next ride would be on 19 June – but apart from various birthday celebrations likely to distract that weekend – the 19th is the day of the London-Brighton Bike Ride. And the previous week is National Bike Week with lots of events we might want to participate (to check this out use www.bikeweek.org.uk and put in postcode for what's on locally.)
So we decided to make the Tollbridge ride on Sunday our next event – even though at a time when central and local government are supposed to be busy promoting cycling and walking it does seem odd that repairing the bridge should rely on donations from private individuals and organisations. I was a bit late in getting the details out. But at least 4 Brighton Clarion regulars are taking part. There are rides of 5, 9.5, 15.5, 32 and 38 miles. It may be too late by the time you get this to register but worth a try – phone 01273 463473.
Otherwise you might consider sending a donation. Make cheque out to Old Shoreham Toll Bridge Cycle Ride and send to Tollbridge Community Partnership, 130 Old Fort Road, Shoreham-by-Sea, West Sussex, BN43 5HL
We've always tried to keep to a consistent fortnightly schedule so that we know where we are in terms of arranging to do other things on 'non-Clarion Sundays'. So this time there'll be a gap of 3 weeks before the next ride – don't go away!
Sunday 3 July
Lewes – Isfield- Piltdown- Lewes - about 22 miles
This is the one we did last summer – only going the opposite way round on this (mildly) undulating route. Apart from the scene looking different going in the other direction, the main advantage is that we get the main road bit – up the hill out of Lewes and for about a mile along the A26 out of the way at the beginning instead of doing that stretch at the end and having to negotiate the island by the entrance to the tunnel which can be a bit scary on the bike. Going the other way is much easier in that respect.
We'll leave the A26 and take the little road down through Upper Wellingham to Barcombe Mills then take the bridleway along the old railway track. Reaching the next road we can make a diversion for coffee (beer, or even lunch) to the Anchor Inn then the bridleway to Isfield where the Laughing Fish is another possibility for a stop. Or 3 miles further on and nearly at Piltdown is the Peacock described in my ancient Sussex CAMRA guide as a 'Picturesque oak-beamed pub' (you have been warned!)
By Piltdown Pond we turn south and head back to Lewes. Before the day I will investigate the possibility of tea-stops – either in Barcombe or – if it's still in business (anyone know?) the old place at or near the Post Office at Offham. Then we'll return to Lewes via the track that we used last year for our 'escape' And so back to the station.
Catch the 10.40 from Brighton Station at or meet a Lewes Station at 10.55. Trains back leave at 19 and 49 minutes past the hour.

Sunday 17 July
Polegate – Pevensey Levels – Normans Bay – Hooe – Wartling – Polegate 25 miles
Bit longer but pretty easy going, this is the ride we intended to do in February – but shortened because of the snow storms.
We kick off as though we're going along the Cuckoo trail but turn off almost immediately along a connecting cycle route that takes us out onto the Levels and then down to Pevensey. Then we continue down to Normans Bay and into the outskirts of Bexhill. Then there's a couple of miles of suburban road before we're out on the open Levels again near Gotham (lookout for Robin and friend) and on to Hooe Common, Hooe and Wartling before dropping down again to Rickney, and heading across to join the Cuckoo Trail just up from the usual tea stop.
Pubs. The Star at Norman Bay is one possibility or the Red Lion at Hooe.
Catch 10.14 from Brighton Station or meet at Polegate Station at 10.46 (no changes). 'No change' return trains at 28 minutes past the hour (change in Lewes ones at 58 minutes past)
The Last Ride
Sunday 5 June – Annie's Report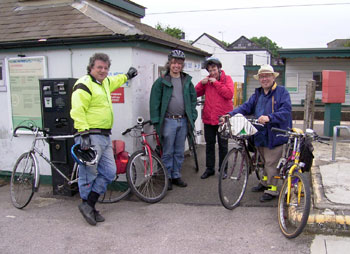 Ian, Jim, Annie and Fred at Berwick station
Four of us, Joyce, Jim, Fred and myself, met Ian at Berwick station and we made our way to Michelham Priory; there was a flower show and a wedding on but we weren't properly dressed so we looked at Mr & Mrs Swan and their cygnets and learnt that the river Cuckmere was re-routed to make the moat.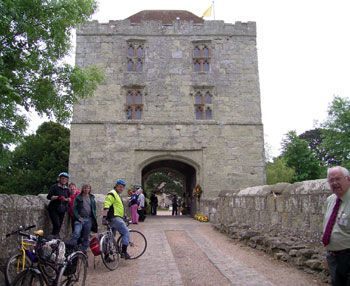 Michelham Priory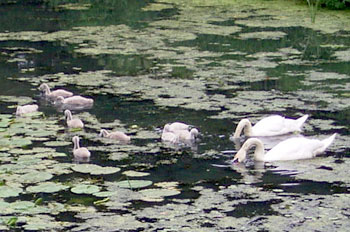 Cygnets in the moat
We then made our way to Wilmington, stopping off at a viewing point on the way to look at the Long Man, it seemed to have an important appendage missing but then we realised that we were confusing it with the Cerne Abbas Giant.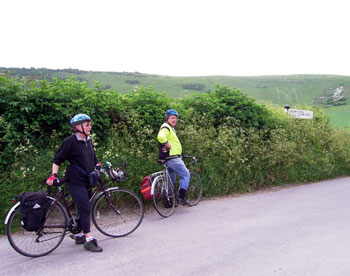 Joyce, Ian and The Long Man
At this point Jim also realised that his helmet was missing (but the two things are not related). We stopped for a very edible lunch at the Sussex Ox (approx 8 and a half miles of cycling).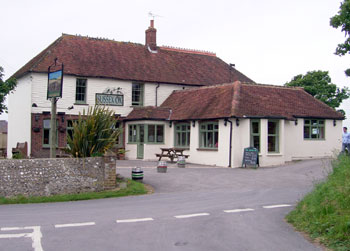 Sussex Ox
We then cycled through Alfriston and stopped to look at the village green and the church, the Clergy House next to the church is notable because it was the first National Trust property ever purchased (in 1896).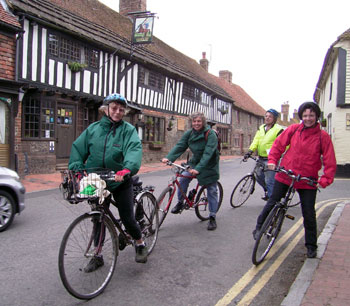 Joyce, Jim, Ian and Annie in Alfriston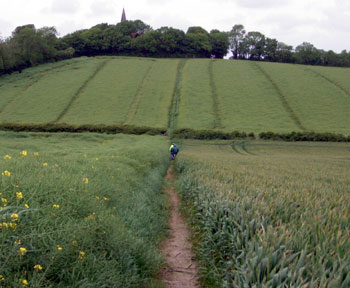 A short cut thought the oil-seed rape fields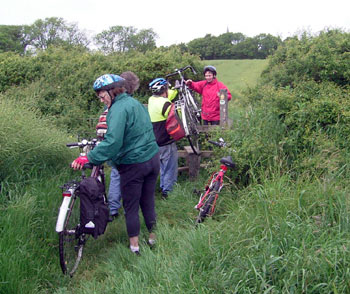 Stiles are no obstacle to the Clarion!
We then headed for Berwick, Joyce realised that her newly purchased saddle cover was missing, so we went into the church to pray to St Anthony* and look at the paintings by members of the Bloomsbury Group (Vanessa Bell, Duncan Grant and Quentin Bell).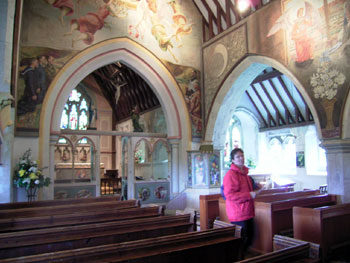 Annie inside Berwick church
We decided that there wasn't time to stop for tea in Selmeston so we cycled back via the old coach road and across the main road to Berwick station. Jim was reunited with his helmet, but Joyce is still waiting for St Anthony to answer her prayers. This was the first Clarion ride I had been on and I found the pace leisurely and the day very enjoyable.
Annie
*the patron saint of lost things