Dear fellow members and friends
5 April 2005
Back again!  Just reminders …and Fred's report.
~Boots!
Ian
Next Rides
Sunday 10 April  
Upper Beeding  
C 25 miles Palace Pier to Palace Pier – adjust for your own starting point.
Meet 10.30 by Palace Pier. (I'm assuming the currently closed part of the  cycle track  will be open again by then. Will confirm meeting place during previous week.) If you live at the Hove end I suggest joining us near the King Alfred – outside Marocco's café on the seafront where the cycle track goes round the houses. We can  wait for you there if you're going to be late – as long as I know. Phone me before 10.10 on 682133 or after that on my mobile number 07787528433. Total distance is about 25 miles (Pier to Pier).
We'll follow the same route as on New Year's Day – subject to the Coastal Link track being dry enough and as last year have lunch at the Bridge at Upper Beeding - in the garden if it's  warm enough. For the return, as last year, but this time with Ed still with us (if participating) we'll cross onto the Coombes Road near Botolphs and then go to Shoreham Airport for tea.
Architecture notes (for Fred especially)
After the seafront and Shoreham Harbour we'll be passing near a number of medieval churches – including the two Romanesque-Gothic Transitional ones in Shoreham: St Mary de Haura and St Nicholas. Near the latter where we'll join the Coastal Link along the track of the old railway line, there's a very good view across the river of Lancing College Chapel, described by Ian Nairn in The Buildings of England of expressing perfectly 'that elusive dream of the Gothic Revival'.  At Bramber there's the ruins of the castle and what's left of St Mary's 15th century house and on the way back more survivals from the Middle Ages in the parish churches at Botolphs and (my favourite) the tiny 11th century one at Coombes before we get at least a distant glimpse of the terminal at Shoreham Airport which was used in at least one episode of Poirot to impersonate a Croyden airport.
The next ride(s) after that will be the New Forest Youth Hostel Weekend on 22-24 April which Joyce is organising. Please get in touch with her via Joyce.Edmond-Smith@brighton-hove.gov.uk for the latest.
The Last Ride
Sunday 27 March [Easter Sunday]
Easiest bike ride... ever!
After a scorching Good Friday, Easter Sunday was dull with a little nip in the air. We'd turned the clocks forward, so that meant an even earlier start than usual! I was the only one at Brighton station, but I'd co-opted a couple of friends from Hastings – Erica and Melita – so I wouldn't have to do my debut ride as facilitator alone.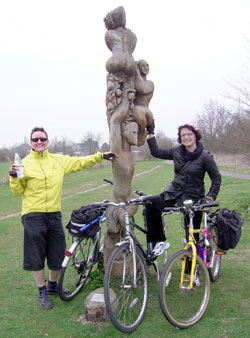 Melita and Erica at Jennifer Ulrich's sculpture 'Harvesters' (2002)
I waited for the Hastings train at Polegate and we set off up the Cuckoo Trail, which should have been renamed the Primrose Trail for the day, as they were out in force.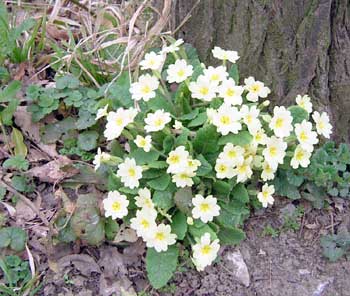 There were plenty of dog walkers and kids on bikes too, but they didn't really impede our progress.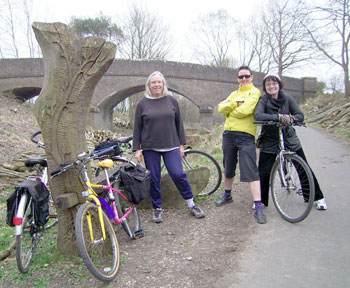 Sue, Melita and Erica
Just north of Hailsham we stopped at Woodhams Bridge picnic area for sandwiches, and were joined by Sue from GROWL (Green Radicals On Wheels in Lewes), who accompanied us through woodland carpeted by white wood anenomes (I had them identified later!), along the most unpleasantly surfaced part of the Trail, to Horam, where she went off for tea.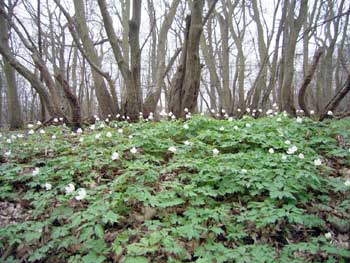 Wood anenomes
We carried on, wondering where we'd find a pub for lunch. An enterprising Runt in Tun however had posted up a sign advertising their whereabouts just south of Heathfield. We continued to the carpark at the top end of the Trail then turned round and headed back to the pub, parked our bikes and crossed a field of Thelwell-type horse riders and a busy main road to the Free House where we supped some Harvey's.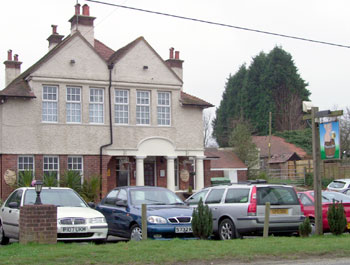 The Runt in Tun
The Cuckoo Trail has a very gentle incline up to Heathfield which means that you can coast virtually all the way back (apart from the various dips to cross roads). After a brief stop at Hailsham Pond to admire the ducks and Canada geese, we had our customary tea at the Old Loom Mill tea rooms and headed back to Polegate station.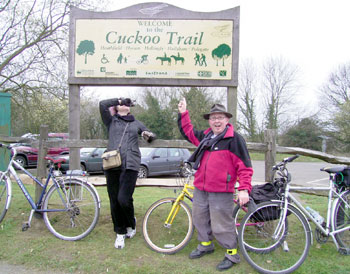 Erica and Fred at the top end of the Cuckoo Trail – made it!
Fred