Dear fellow members and friends
4 March 2007
I don't want anyone to feel they're being harassed, so this will be the final reminder – apart perhaps from an individual message which I may send out if I have time – for those who still haven't sent me their membership subscription for 2007. If you do want to continue your membership, please to do by sending me a cheque for £6 (or £3 if you're under 18) made out to the National Clarion Cycling Club. Send it to
Ian Bullock, 104 Bonchurch Road, Brighton BN2 3PH.
Please write your address on the back of the cheque.
-------------------------------
Today's (very short!) ride.
I was joined at Glynde station by four stalwarts – Fred, Jim, Jeff, the latter two's friend, John. Jim duly recruited someone to take the usual 'setting out' photo (which will appear on the website in due course, no doubt) and ignoring the precipitation which at that point was somewhere midway between steady drizzle and light but serious rain, we made a start.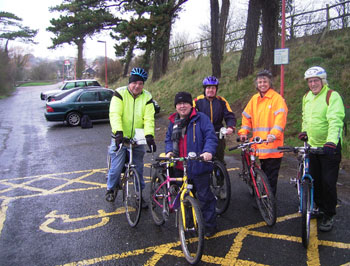 Ian, Fred, Jeff, Jim and John at Glynde station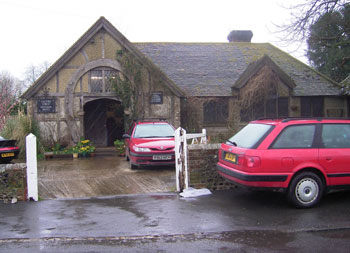 Glynde Forge
On this route most of the uphill is accounted for in the little hill up past Glynde Place right at the beginning. We had almost reached the top when misfortune struck with Jeff's gear-arm breaking off completely – making the bike impossible to ride. [It could have been far worse – it might have happened when there would have been a ten or twelve mile walk back to the station instead of half a mile.]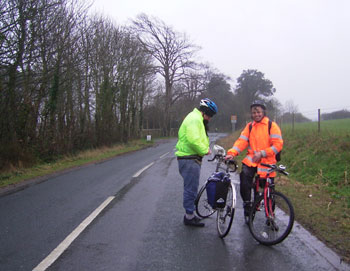 At the summit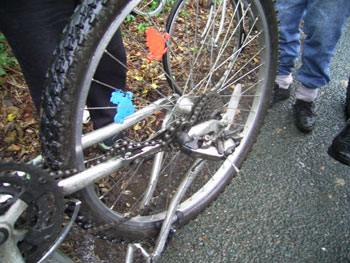 Jeff's broken gears
By this time the rain had moved up a couple of gears and was coming down pretty sheet-like. I was already pretty drenched and I imagine this was true of the others. We debated whether or not to continue, minus Jeff, obviously – or to call it a day – not something we would ever do lightly, needless to say. The decision to abandon was unanimous, so we walked back to that station with Jeff and then repaired to the Trevor Arms next door where, although strictly speaking they weren't open, they kindly rustled up cups of coffee for us. We had an interesting chat there for twenty-five minutes or so before it was time for the train.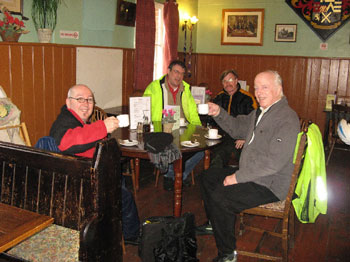 Coffee in the pub – Jim's photo
Quite honestly, had I not been down to lead the ride, I'd have thought twice about turning up today. I've still got a bit of an excuse in the shape of the tail-end (I hope!) of the very bad cold I've had since a couple of days after the Chiddingly ride and the local weather forecast for the day was (and is!) rain throughout the day, cold and very windy.
[Note from Fred: my camera packed up shortly after taking a snap of Jeff's broken derailleur gears, but a spell on the radiator when I got it home dried it out and brought it back to life!]
I had thought I might 'recycle' – sorry about the pun – this ride for next time – but I'd forgotten that it's a bus from Lewes eastward that day. Never mind, it can go back into the store of possibilities for later on.
Jim has his viva for his D Phil coming up soon. Best wishes from all of us, Jim.
I've just had an email from Ed saying that some nasty young kid snatched his bag (containing his Filofax) and ran off with it as he was waiting for a bus in Eastern Road. It's still missing. I'm sure everyone will be appalled. I wish we could offer more than sympathy, Ed.
---------------------------------
We've participated in the rides to raise money for the Old Tollbridge for the last two years, so it's sad to hear that its future is still – like the bridge itself – on shaky foundations. Fred sent me this bit from the Argus. I'd missed it – so you may have done too.
'Old Shoreham Tollbridge might have to shut for good if an extra £140,000 cannot be found towards its renovation. The money needs to be raised within the next six months or a grant of £192,000 from the Heritage Lottery will be withdrawn.

Liza McKinney, chairman of Old Shoreham Tollbridge Community Trust, said: "This would mean that the bridge would eventually be closed for good as the long beams that hold the deck are rotting."

Delays in starting the restoration are believed to have caused the increased expense. So far, £364,000 has been raised but the Trust feels trying to get another £140,000 in such a short time would be "almost impossible".

Mrs McKinney added: "it will be a tragedy for Adur and for all the people who use it to get to work, as well as for leisure, and they will not take kindly if the council has to close the bridge for safety reasons."

Louise Goldsmith, West Sussex County Councillor for the environment, said: "We are still exploring possibilities of where we can find finance for the toll bridge.

"I would like to reassure residents that the county council is committed to finding a solution as quickly as possible."

The tollbridge dates back to 1781 and is a Grade II listed structure.'
Let's hope there's a positive outcome. Will keep you posted if I hear of further developments.
Boots!
Ian
The Next Ride
Sunday 18 March
Ditchling, Plumpton, Underhill Lane, Clayton – barely 17 miles
This is a shorter than usual one – and not very hilly either – so we can make it a late start.
Leaving Hassocks station we take the B road through Keymer and Ditchling before turning north and going round in quite a wide circle past East Chiltington which brings us out on the road at the bottom of the Downs. We can stop in Plumpton for lunch at the Half Moon. [I don't think we've been there since that time when Sharen and Richard joined the rest of us there unexpectedly.] At Westmeston we can get onto Underhill Lane – which has restricted car access, but that doesn't always deter drivers – and make our way westward along to Clayton. We can take the little lane that goes off beside the Jack and Jill pub to avoid the main road back and return to Hassocks station via that lane – which goes past Danny (now retirement homes) and eventually joins up with the road we started on at a point familiar from other rides.
Catch 11.00 from Brighton Station or meet at Hassocks Station at 11.10. Trains back are at 49 minutes past the hour – with a few more after 5pm
Points of Interest: Pevsner describes Ditchling as 'disappointing' – although on the previous page he has had quite a lot to say about the church. Apart from that, he says, the 'only major effect' is the Anne of Cleve's House 'which has nothing to do with her, but is eminently picturesque in a watercolourist's way'. [Talk about damning with faint praise, eh?]
Some time later we will pass – but will probably be able to see nothing of – Plumpton Place [which he did like – 'An enchanted place due to Lutyens and rare birds'] Having softened so much at Plumpton, Pevsner is keen to get back on form down the road at Westmeston whose church contains stained glass by Capronnier of 1873 'as terrible as only Continental mid C19 glass can be.'
Clayton of course is home to what Pevsner calls 'one overwhelming surprise and two engaging oddities'. The latter are the castellated entrance to the railway tunnel of 1840 and the Jack and Jill windmills – a tower mill and a post mill respectively – both of C19 up on the Downs. The 'surprise' – but hardly to us or to anyone really these days – is of course the wall paintings in the church - which services, time, and weather permitting we can go and have a look at. They are, says Pevsner, 'unique in England for their extent, preservation, and date'. He gave the date as c1140 but we may find that that has been revised since the Sussex volume of The Buildings of England was published in 1965, We'll only get a glimpse of Danny Park from afar. The East front is late Elizabethan and the South front dates from 1728.