Dear fellow members and friends
3 January 2006
Happy New Year. Since I have them planned I'm giving details of all the rides for January and February [Still looking for volunteers for 12 and 26 March and 9 April. Please don't leave it too long!]
I think it's time we started to collect as much info as we can about the previous manifestation of the Brighton Clarion. I'm asking the previous members I know of to jot down their memories. We know that the secretary in those days was Wally Newman. We know a little bit about him but it would be good to know more – and about the section and its members generally. Please ask around in likely quarters and let me know of any positive results.
To save sending out a separate 'members-only' message, I give notice that the 2006 AGM will take place at 8 pm on Wednesday 1 February at Joyce's house. [52 Bentham Road – directions later] Members please suggest any items for the agenda – which I will include in another circular well before the meeting.
You may remember that a few circulars back (7 December) I included a paragraph from Charles Jepson, the National Secretary about the Bolton Wood Street's Memorial Banner project suggesting that anyone who would like to support it should send a donation via Charles. With mine I included a copy of the circular – since I wanted Charles to see that I'd passed on the appeal. He sent me the usual acknowledgement letter – but having read the whole of the piece commented as follows (with pedantic footnotes by me for people not that familiar with Clarion history – for further enlightenment see Denis Pye Fellowship is Life – 'items for sale' on the website)
'I thought that Sue Pringle's report of the ride on December 4th was absolutely excellent. Comrades riding out ignoring the rain, a café stop, a bit of zooming, bounderising [1] in the Star, an historical church (sadly not a Labour church [2]); mud and puddles. However, best of all, in spite of the wet weather, a pleasant ride in good company, a ride begun and ended by bicycle. Could there be a better definition of Clarion fellowship – I doubt it. Daily distance, average speed, hills conquered, number of rides all count for nothing when measured against having fun in the company of good friends.'
Absolutely! Since this was one of the rides I had to miss I can second Charles's plaudits with a clear conscience. Well done, Sue. I think you may have to join us now! [See WebPages for membership form etc.]
Boots!
Ian
The Next Rides
January and February Rides
Not in the order I originally intended – sorry about the concentration on the Lewes – Eastbourne line – but I was defeated by works-on-the-line. If you're planning a ride for 12, 26 March or 9 April bear this problem in mind and check the rail timetable before deciding definitely on your jumping off point.
 
Sunday 15 January
Berwick Circular – only about 14 miles
This is the one we did at the end of January this year (and we can make it c 3 miles less by cutting out Selmeston if that's the vote on the day. Could hardly be easier) 
All on quiet and pleasant country roads from Berwick station to Chalvington and Golden Cross then back down to Ripe (possible stop at The Lamb) then Selmeston (tea rooms?) and back to Berwick (with another 'tea' opportunity at the Berwick Inn next door to the station.
Catch10.20 from Brighton Station or meet at Berwick Station at 10.43. Aiming for return by either the 14.48 or the 15.48 which get back to Brighton at 12 minutes past the hour. All are Southern trains and involve no changes (unlike last year).
 
Sunday 29 January
Glynde-East Hoathly – Glynde 20-21 miles
Leaving the station we go up the little hill (sorry about that, Fred) past Glynde Place and at the bottom of the hill take the right fork avoiding the hilly Glyndebourne road. We cross the Ringmer-Laughton road, skirt Plashett Wood cross the A22 (carefully) and head for East Hoathly where we can try the King's Head for lunch. [The pub featured in 1990 in The Hidden Places of Sussex – by Anon but with a foreword by Angela Rippon! – which tells us 'The history of this pub is written in the diaries of Thomas Turner, who worked as schoolmaster, haberdasher, grocer and undertaker, and who divided his spare time between drinking, quarrelling with his mother-in-law and keeping a diary which he began in 1754' Spare time?] Heading home, we take the A22 for just a short spell then the road down through Vert Wood (Upper and Lower) cross the B road again down to Mark Cross after which we will cut across our trail of the previous fortnight into Ripe and from there down to the A27 where we'll follow the cycle route back to Glynde station.
 
Same trains as last week. Catch 10.20 from Brighton station or meet at Glynde station at 10.37 Trains back at 53 minutes past the hour arriving in Brighton at 12 minutes past.
 
Sunday 12 February
Pevensey Levels & Herstmonceux c 23 miles
Starting just for a short way on the Cuckoo Trail, this route takes us out onto the Levels and via Rickney northwards to Herstmonceux Castle (Science Centre) dating from c 1440 where we will try to find the bridleway route and avoid the ire of the man on the entrance this time.
 
A couple of miles on the A272 take us through Boreham Street (where we might stop for lunch at the Bull's Head, Windmill Hill, (which does have a post mill) and Herstmonceux where we head out on quieter roads to Cowbeech Hill then loop downwards to rejoin the Trail at Hellingly. Possibility of tea at the usual place near the Polegate end of the Trail.
 
Catch the 10.20 (again!) from Brighton station or meet at Polegate station at 10.49. Trains back are at 2 minutes past the hour with a change at Lewes and 42 minutes past for direct services
 
Sunday 26 February
Hurstpierpoint – Hickstead – Twineham – Wineham – Blackstone (late risers' special) c 22 miles
 
Taking the little roads past Hurstpierpoint College crossing the main A27 (by bridge) at Hickstead, more quiet lanes to Twineham then a loop up round the A272 and back to Wineham where we'll stop for lunch at the Royal Oak – such a pleasant surprise when we did a similar (but not identical) ride last September. Then down to the pretty hamlet of Blackstone and via Bramlands back to Hurstpierpoint and Hassocks
 
Catch 11am from Brighton station or meet at Hassocks station at 11.10. Trains back are at 38 minute past the hour.
 
The Last Ride
Sunday 1 January
New Year's Day Brunch Ride to Carats Café – Mei's Report
 
The city seemed still asleep that morning after the previous night's celebration of the New Year. Clarion riders gathered by the Palace Pier for the first ride in 2006. Ian wasn't sure who would be coming. Fred, Shelia and myself were waiting to see if there would be others. Luckily, Jim and Annie came toward us, then Anna, Lucy and Stuart. Finally there was Joyce.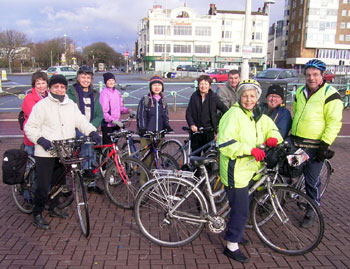 Annie, Joyce, Jim, Lucy, Mei, Anna, Stuart, Sheila, Fred, and Ian
As usual, Fred took a group photo by the Palace Pier then we set off to the Carats Cafe. The clouds were thick and grey. Seagulls appeared and disappeared in the gloomy sky.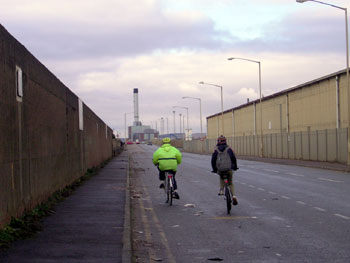 Sheila and Mei on the desolate road to Carats
Around noon we arrived at Carats Cafe. It had already lots of people inside so, despite the cold wind, we sat outside. Everyone introduced himself/herself again and we had a relaxing talk. Stuart mentioned that he had seen a line of cars with their wing mirrors smashed, presumably as part of the New Year's Eve 'celebrations'. Also, Shelia asked where the 'Boots and Spurs' came from and Ian explained its history to us.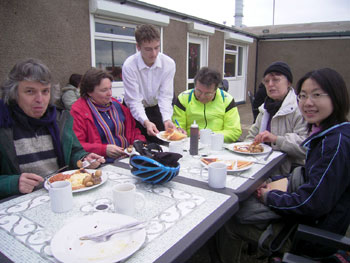 Jim, Annie, Ian, Joyce and Mei at Carats cafe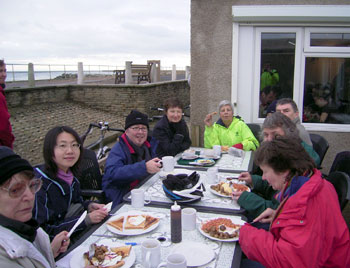 The other end of the table: Joyce, Mei, Fred, Anna, Sheila, Stuart, [Lucy], Jim and Annie
After the food and chat, we set off home all looking forward to the next ride. Joyce, Shelia and Fred cycled to the end of the Carats café area.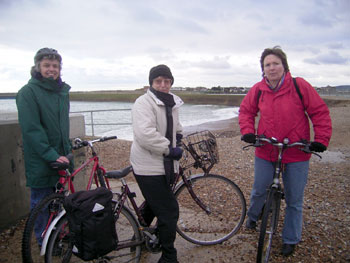 Jim, Joyce and Annie go as far as they can along the harbour wall
Ian thought they would come back so we could cycle back together to the pier. However, they still didn't reappear after ten minutes or more. So Ian and I decided to leave. On the way home, more and more people seemed to have appeared on the seafront on that windy New Year's Day.
Mei
[1] 'The Bounder' was the pen-name of one of the founder-journalists of the Clarion, Edward Fay. He was very large both in stature and appetites. Hence 'Bounderise' ('verb irregular – very – meaning to imbibe liquors of various degrees of strength, to assimilate resuscitating comestibles, to walk on one's heels, and to generally spread one's self') From the report of the Clarion Cycle Club Easter tour in 1894 quoted in Pye pp 10-11
[2] The Clarion Cycling Club began in 1894 when Tom Groom. Secretary of the Labour Church, Constitutional Hill, Birmingham held a meeting with five others. The Labour Church movement was begun in 1891 by John Trevor – until that time a Unitarian minister.