Dear fellow members and friends
31 October 2005
The latest on Ed Furey. He had to go back into hospital but is now out again and making good progress.
Well done Joyce! If anyone hasn 't heard yet (or seen her being interviewed on TV) Joyce played a key role in West Brighton & Hove being accepted to become a Cycling Demonstration Town. This means a total input of £1 million a year to promote cycling for the next 3 years. I 'm hoping Joyce will do us a more informative piece on this for the next circular. (See also report on Cycle reps meeting at the end of this circular)
Boots!
Ian
The Next Rides
Sunday 6 November
Berwick/Firle Circular – a short and seasonable variation
British Summer Time will have ended – so with this in mind and the desirability of getting back to Brighton (or Hassocks or wherever) before dark and the increasing possibility of cold and/or wet weather I've planned a very short one (only about 15/16 miles) which can even be shortened a bit further if it's raining, very cold or very very windy. It also involves quite a stretch of 'track' which always slows things down a lot as well as making the distance seem further.
Leaving Berwick station we go down to the A27 near Selmeston – cross it carefully – and follow the little road opposite down to Bo-Peep where we will pick up the Old Coach Road – one of the bits we didn't do last time we came this way – as far as Firle. Then well follow both bits of the old main road recrossing the present A27 back to Ripe for lunch at the Lamb. A loop round Golden Cross and Chalvington will bring us back to Berwick where, train times permitting, we can have tea at the Berwick Inn like we did last time we came this way.
Catch the 10.14 from Brighton station or meet at Berwick station at 10.41. Best return train is 15.34 which gets into Brighton at 16.05. Both are direct trains.
 
Sunday 20 November
Seaford/Litlington/Seaford
Neil has responded to my plea for volunteers and is organising this short (c 15 mile) ride based on Seaford station. There are several possibilities for the exact route – and for stops, the latter including the Plough and Harrow at Littleton, the Sussex Ox at Milton Street, the Smugglers' Inn at Alfriston, and the Golden Galleon at Exceat Bridge. Let Neil know your preference on the day. [No, you can't stop for a pint at all of them. Fred!]
 
Catch the 10.40 from Brighton station or meet at Seaford station at 11.23 Aiming to return on the 14.54 – reaches Brighton at 15.35.
 
 
The Last Ride
Sheffield Park – Bluebell Railway – a Fred Special 23 October 2005
Fred's Report
 
It was a record turn-out for the Clarion - the train was full to bursting point with bikes (luckily we had a sympathetic guard) and by the time we met Ian outside Lewes station, we were 12-strong: Joyce, Mei, Roger and Suzanne, Tessa, Sue and Helen, Mano, new riders Jennifer and Terry, and myself, the train spotter!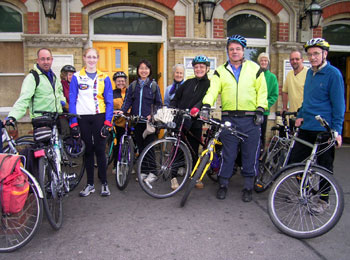 Mano, Helen, Jennifer, Suzanne, Mei, Sue, Joyce, Ian, Tessa, Terry and Roger
 
Ian led us a labyrinthine route through the twittens and alleyways of Lewes,
avoiding steep hills and main roads and eventually we arrived at the woodland trail we came down in the opposite direction, the last time we were cycling this way (3 July). Unfortunately, although the weather had been kind to us yet again, there was a fair amount of mud, which didn't suit the road bikes.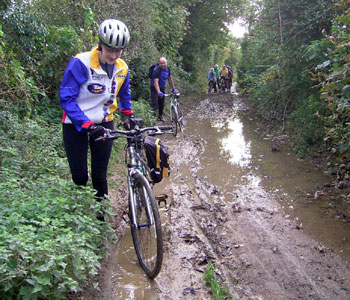 Jennifer and Mano avoid the mud
After some encounters with runners and ramblers, we reached the top (and Ian had the first of two spills - Mano had one a little later, while dismounting!) and were able to relax on the tarmac of Offham, where freewheeling down the hill the mud flew off the tyres and into the air.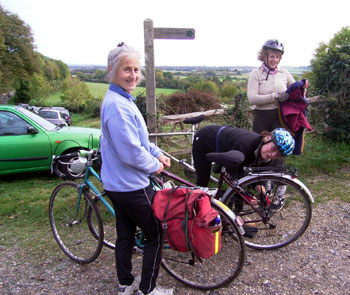 Sue, Joyce and Helen after the mud
Thence to the outskirts of Barcombe, a place signposted 'Narrow Road', and eventually on a short stretch of main road, to Sheffield Park and the 'Giants of Steam' gala at the Bluebell Railway.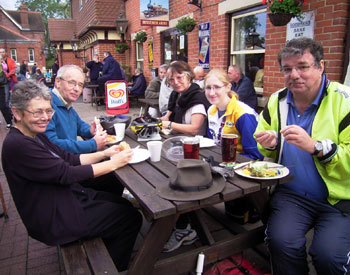 Suzanne, Roger, Joyce, Jennifer and Ian at lunch
We took lunch and a pint at The Bessemer Arms, within the station (for which we had to purchase a platform ticket), sitting out on picnic tables on the platform, and were able to watch several locomotives steam by, some of which had been built at Brighton loco works. After a quick visit to the sheds, we were back on the road.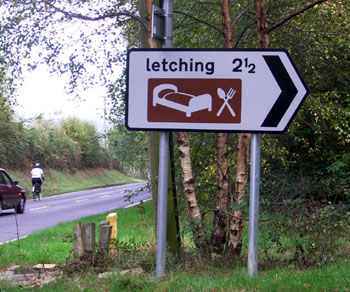 The [F]letching turn-off
The trouble with such a large group is keeping track of everybody. We lost three of our number at the Fletching (signposted 'letching') turnoff, but Roger gallantly rode off to reel them in.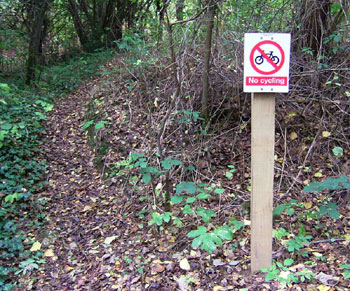 No cycling in the woods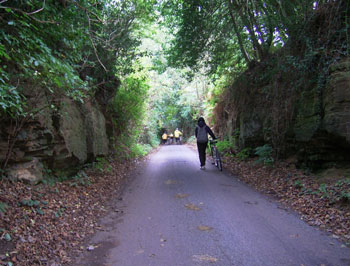 Walking up through the sandstone gorge
There was a spot of rain going through the woods, but it eased off as we went through Newick (a village with many pubs!) and on to Barcombe Cross for tea (plus puddings, such as Eton Mess and cheesecake) in the garden of the Royal Oak.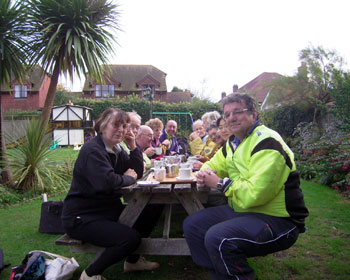 Tea at the Royal Oak
Then it was a short ride back to Lewes, with Sue leading us off the busy main road through another maze of lanes and tracks in the outskirts, until we caught the welcome sight of Tescos by the river.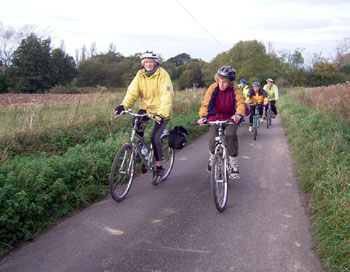 Not far to go!
It was 26 satisfying miles in all, and a bit on the undulating side (even Ian had to get off and push at one point), but another splendid day out with the Clarion. Cheers Ian!
Fred
 
 
Brighton and Hove Cycle Reps meeting 13 October
Ian's report
 
It was just as well I managed to get to this one – otherwise the 'representatives ' would have been outnumbered (instead of merely equalled) by the three people who gave us a quick rundown on the Eco-Brighton project and related ventures such as the Bike Ballet (sic).
 
On the innovative Jan Gehl New Road scheme, which you may have read about in the Argus, Dean Spears, the Cycling and Walking Officer, reported that so far there had been a good response in consultations. There had been a massive response to the invitation to suggest sites for new bike stands as part of the City Cycling project.
 
My only contribution was to follow up on a suggestion I'd already made to Dean that there should be a regular agenda item dealing with particular small-scale problems – eg defects in cycle paths or signing at specific places. I believe that this is something that could get everyone involved and where the organisations represented could be really useful in pointing out where we think there are issues that need looking at by the Council. The problem with most of the things we discuss at the Reps' meetings is that they tend to be long term; much more important than 'niggles' about present problem spots but more remote from our day-to-day concerns perhaps. Dean has promised to put this on the agenda for the next regular meeting. He also assured me that there is going to be an effort to get some effective enforcement to prevent parking in cycle lanes in Lewes Road and other areas where this makes a nonsense of having any designated cycle provision at all.
 
Following the success of the Cycling Demonstration Town bid – mention at the top of this circular – there is going to be a Special Cycle Rep's Meeting on Thursday 3 November, 2005, 5.30-7pm, Hove Town Hall, largely to hear more about how it is planned to spend the money. I can't make it this time and have sent my apologies. If anyone else can (apart from Joyce who will be there anyway) let me know and I 'll tell Dean that you will be representing us.
 
Boots!
 
Ian